We caught up with Flokk textile designer Pernille Jensen Stoltze who spoke to us about what it means to win a DOGA-merket, how the collaboration came to be, and the future of Norwegian Wool.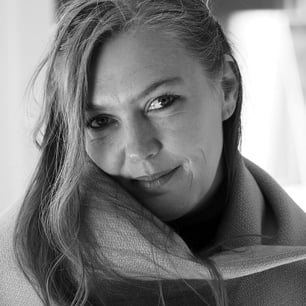 Sitting down with Pernille in Flokk's Oslo headquarters, we begin our conversation, naturally, at the start of the story. It all began some years ago, and Pernille was at the centre of it all; "In March 2013 I was reading the newspaper and I saw an article about a comeback for Norwegian wool in fashion, and it triggered something in me – If it works for fashion why not for furniture design as well?"
In 2013, all the fabrics in Flokk's collection used wool from New Zealand. Although Norwegian wool is noted for its strength and sturdiness, since the 70's a majority has been exported to the UK for washing and then used in carpet production. So what had changed?
"It turns out that Norwegian wool had become better" says Pernille bluntly, and after some research, she contacted Gudbrandsdalens Uldvarefabrik (GU), A Norwegian manufacturer of upholstery textiles which had recently began using Norwegian wool in their fabrics for National Costumes. "GU had started using Norwegian wool again for production of traditional costumes. So it was a perfect timing to start a joint project for creating upholstery fabrics in Norwegian wool along with GU."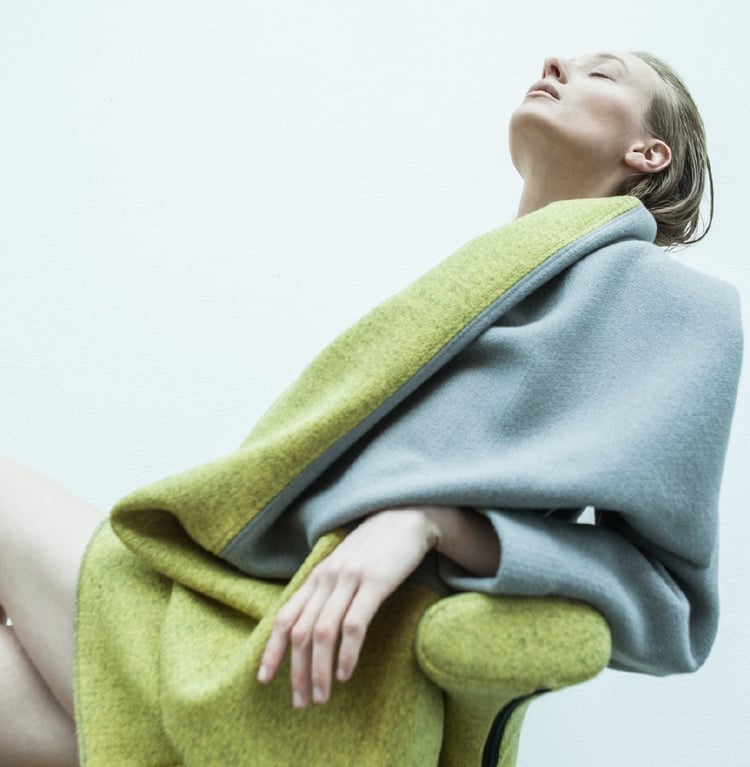 Designer Collin Cherry created this draped jacket using Norwegian Wool
Fast forward a few months and many emails & phone calls, and a project was formulated; to create a line of fabrics perfectly for Flokk furniture, using sustainably sourced Norwegian wool. "It started on a sunny autumn day at GU's workshop in Lillehammer, where I met GU Designer Ragnhild Nordhagen for the first time. It was a magical meeting because we are both textile designers and wool enthusiasts. The first seeds were planted there at the archives at GU. And it came to be a project that means a lot to the both of us."
The result of the project was three stunning fabrics, Sirdal, Setesdal and Suldal, released in 2014. Inspired by Norwegian nature, hand knitting and traditional fences, the fabric is meant to evoke authenticity paired with chic and modern comfort. The fabrics certainly stand out from Flokk's other range of materials, but what is it that makes it so special?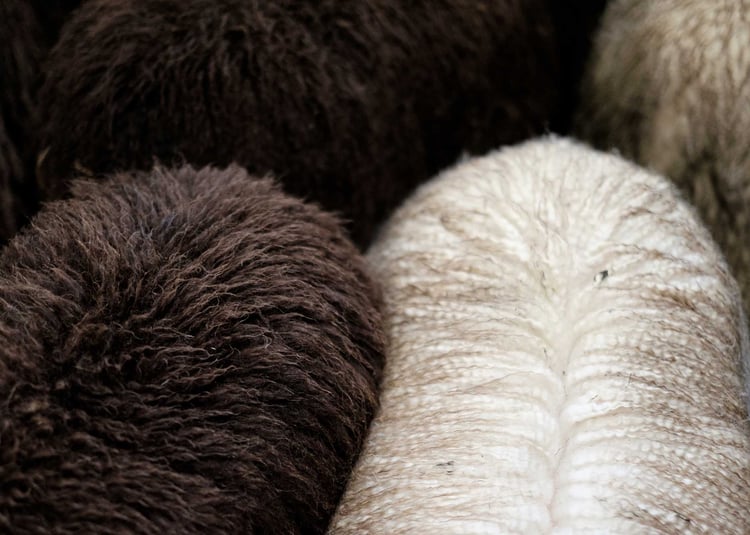 Norwegian wool is of exceptional quality. It is strong and sturdy with a special lustre. Norwegian sheep are allowed to roam free during the grazing season. That is one of the reasons why Norwegian wool is more varied and rough than wool from New Zealand where the sheep are kept on cultivated land.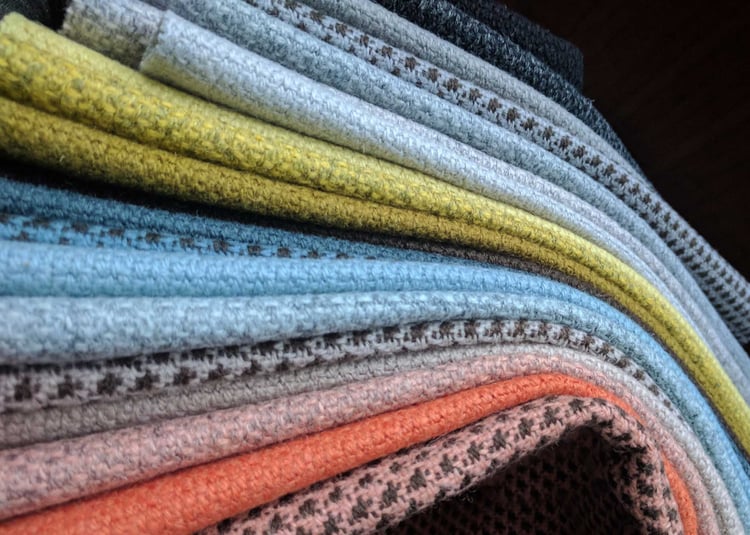 The Norwegian wool fabrics are named after the Norwegian valleys; Sirdal, Suldal, Setesdal and come in a wide range of colours, just recently updated in delicate clear shades. The launch colours (above) are all inspired by Nordic nature and urban settings.
"Norwegian wool has very particular features. It is very shiny meaning you can get beautiful bright colours. It's flexible which makes it easier for our upholstery colleagues to work with. Also it doesn't wear out, and our chairs live longer. This all means our chairs look really good."
It's not just the aesthetics which appeal either, the localised production makes it a much more sustainable product. "Quality and the environment are two of our key focuses as a company. The materials in our products are the part that leaves the largest CO2 footprint in our value chain, and the textiles are a part of that. The Norwegian wool travels short distances reducing our impact on the environment."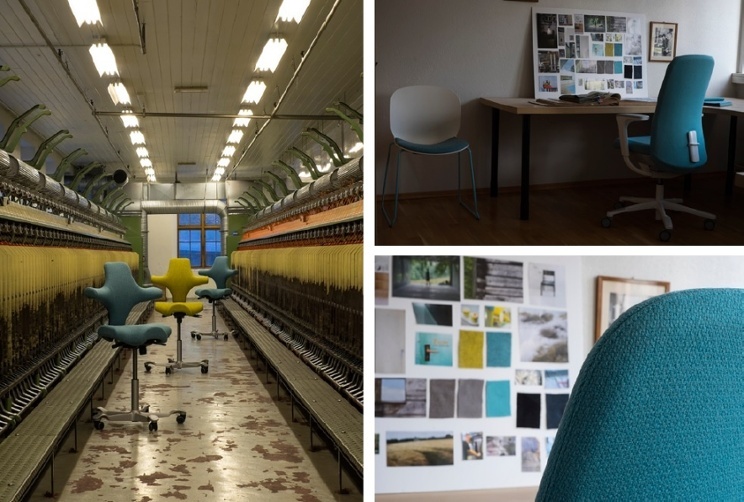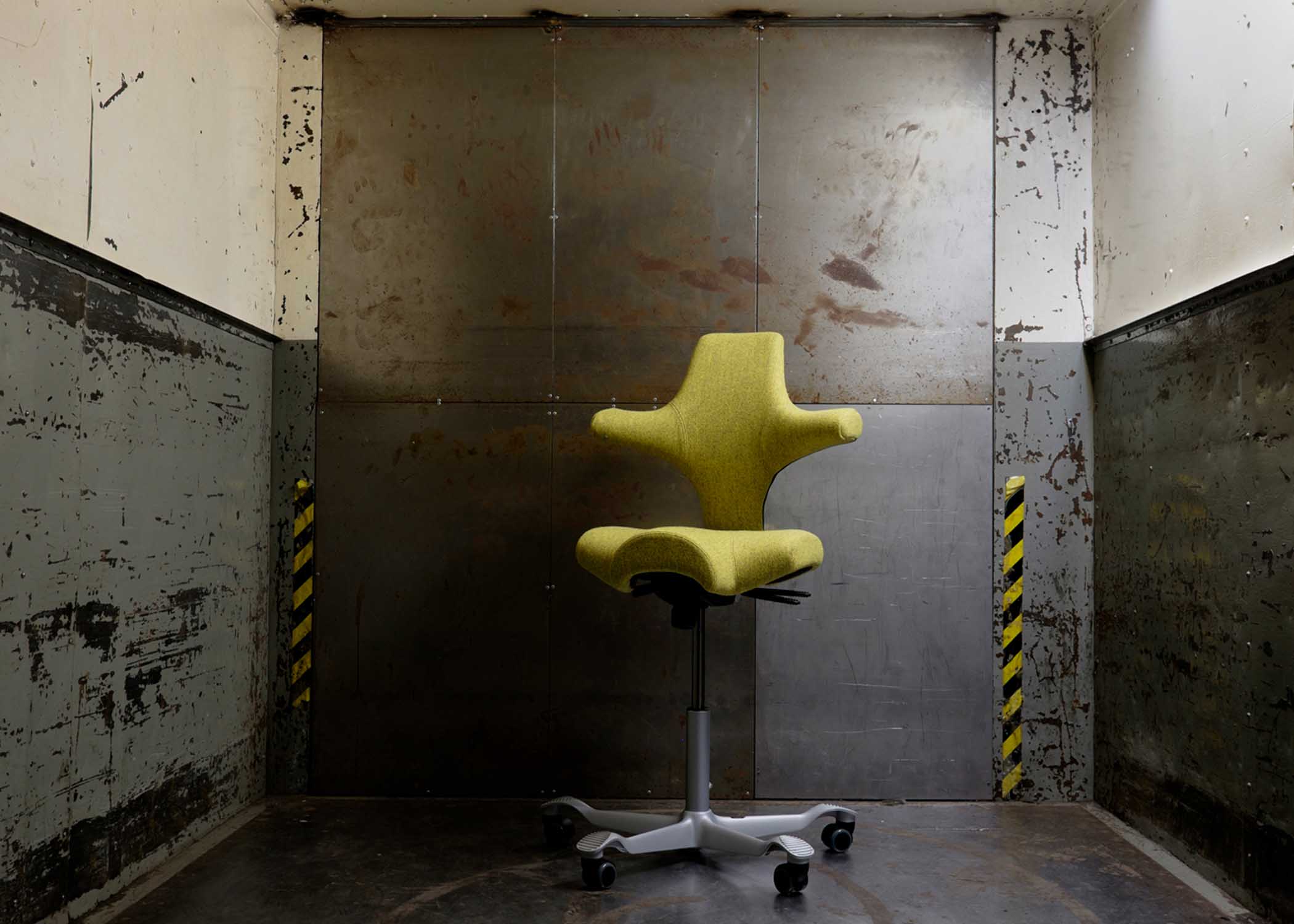 It took a year for the collaboration to get off the ground, and 3 years later all the hard work has paid off. The three fabrics, available in a variety of colours, are a huge success, and having the partnership with GU recognised by DOGA is just the icing on the cake, as Pernille explains
"To win this award, it is big. It's important to be recognized by a jury of designers and professionals, that makes it all the more special. In the criteria, there is a particular focus on collaboration, and that is the basis of this project. To win this award also gives more attention to the project, and we hope that means that more people want to sit on Norwegian wool!"
The story of the Norwegian Wool project is about returning to local resources and bringing the advantages and potential of Norwegian wool back to life. It is about origin, about working together and appreciating the value of an important resource, making sure it is being used to its full potential.
Posted by
Richard Ferris on 20-Nov-2017 10:17:32