How many of you have been caught out by the London Tube map's depiction of Bank and Monument being conjoined? We're guessing quite a few of you! We've certainly been there – running late for a meeting and thinking 'Monument's right next door'.
For those of you who have no idea what we're talking about, Monument and Bank stations might be linked underground, but it's a bit of schlep!
This article originally appeared in Mix Interiors Magazine - October 2017
We're on King William Street, in the heart of the City of London, and if we look behind us we can see Bank station. Ahead, in the distance, is Monument itself. No wonder that felt a long walk underground!
We're here to see the new working home of Alpha Bank London – part of the Alpha Bank Group, one of the leading groups in the financial sector in Greece. Alpha Bank London was established in 1922 and is a UK regulated bank. It provides a comprehensive range of banking and investment products delivered through its Private Banking Unit.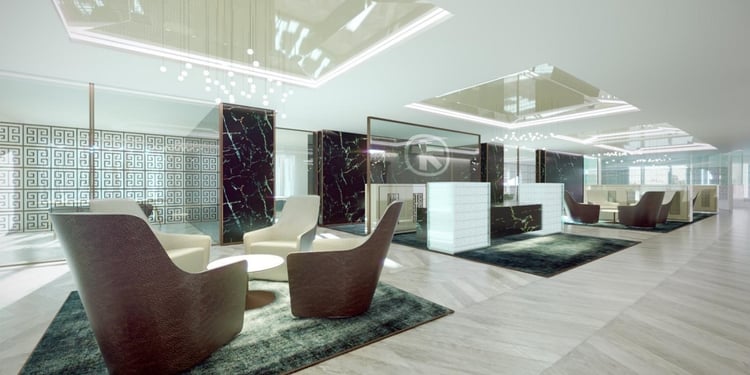 Resonate Interiors was selected to work with Alpha Bank London on designing its new HQ here on King William Street. The bank was previously located in a traditional environment on Cannon Street, with small floorplates on many levels, which meant it was not conducive to modern ways of working and no longer provided the workplace and client facing facilities it required. Resonate's Pernille Stafford meets us at the impressive 5th floor reception and tells us more about the origins of the project and the design challenges here. 'They were in 66 Cannon Street, over six storeys of tiny floorplates,' Pernille begins. 'It was such a different environment. Now they are quite open plan, they are all on the one floor, they are all collaborating – they have a central breakout area – and it's just a much more pleasant space for them to be working in.
'They have sold 66 Cannon Street and leased this space. They had some major expansion plans and really wanted to be on one floor. The old building simply no longer worked for them.
'There were quite a lot of motivators behind the move – and they did look for a new space for quite a long time.
Read - The story of Les Magasin Generaux, the new home of BETC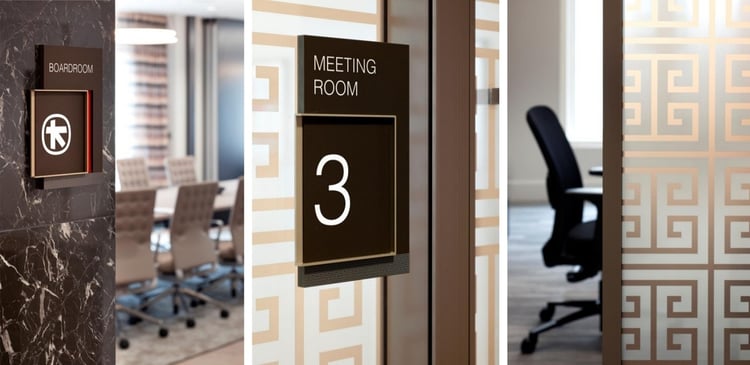 'This is essentially a doughnut-shaped building, with the core and the lifts in the middle. We've got the client facing suite and meeting rooms overlooking the Bank of England, then a team of people to the left and another team on the right – and we've deliberately placed the breakout space in the middle of them so that everyone can come together.
'They have a lot of private clients – so it was important that the look and feel of the suite was right.
'They were quite brave to take this building because it is so different from where they were. They were extremely keen to keep the heritage – this doesn't feel like a harshly contemporary office, it's quite subtle and elegant. They have a number of Greek works of art, which they were keen to show off, so we've made a real visual statement with them throughout the client facing suite – to celebrate their history and heritage.
'We've taken their logo – which is from the Greek alphabet – and applied it to the reception desk design and the manifestations throughout the client facing space. We really wanted to celebrate the fact that, when you go to the far corner of the boardroom, not only do you get an amazing amount of natural light, you also have a view out to the Bank of England – so their clients get that real sense of London. The boardroom can be completely opened up – these beautiful Zebrano wood panels can be folded back to allow the space to be used for receptions, events and parties.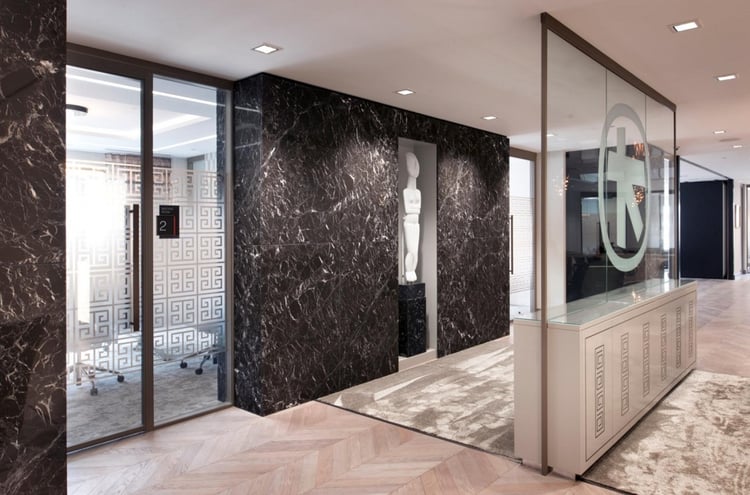 'There are lots of little details throughout. They didn't want the space to be overly technical – so we've used simple, stylish elements such as sliding signs to show whether the meeting rooms are occupied.
'We've used lots of different textures and finishes throughout – but all in similar tones. We wanted it to feel subtle and harmonious.
'It's been a really smooth project – it was run really well by Parkeray. We worked with them on the furniture. They were great. There are a lot of pieces and once you get into all the joinery and the inlay and the details, there was a lot of work. We constantly made sure that the quality of the design and the joinery carried throughout the project.
'The very first visual we did for the project was for this boardroom space and it looks almost exactly the same as the CGI! We didn't have to make many design changes at all. We had taken a good brief, they loved that vision – and that's pretty much what we've delivered. It was a really nice project. They put a lot of trust in us. The original look and feel is what they've got – which was really special.'
Read - Creating an office paradise at Yoox Net-a-Porter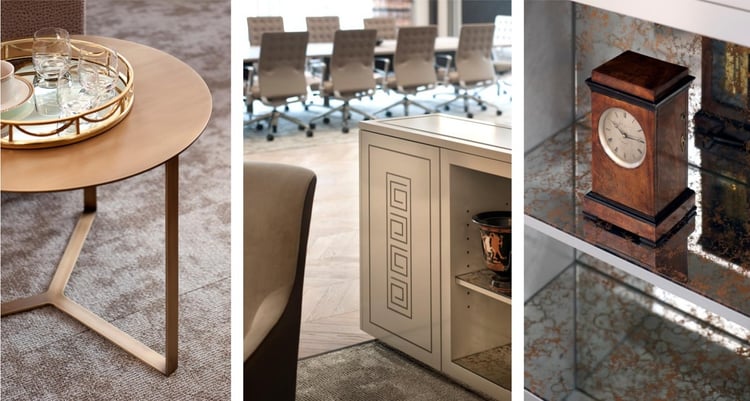 The result of that hard work is that Alpha Bank London can now boast an amazing client experience and a truly modern and supportive workplace.
The front of house space is calm, deeply detailed, considered and represents and celebrates the ethos of this heritage bank.
On entry, visitors and staff are greeted with a serene reception space encompassing beautifully appointed seating areas, with eye-catching lighting features and a gleaming glass and marble reception desk, flanked by marble panels, providing an air of solidity and elegance.
The meeting rooms are designed to surround this space, ensuring an easy transition from one area to the next. These are constructed from glazed partitions in bronze framework and feature the Greek logo manifestation. The impressive finishes are in a muted and sophisticated colour scheme of taupes and bronzes.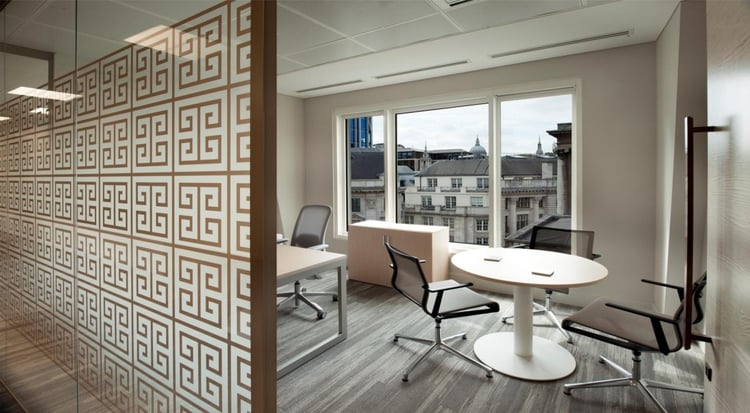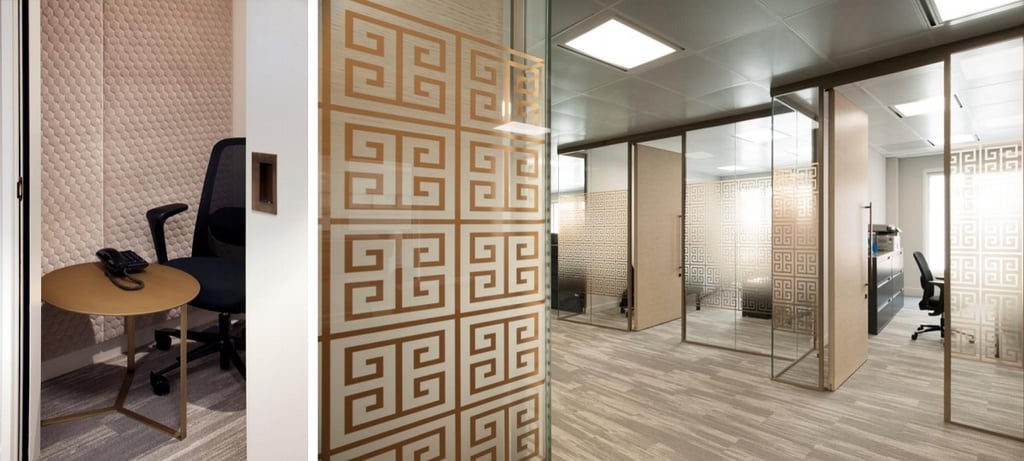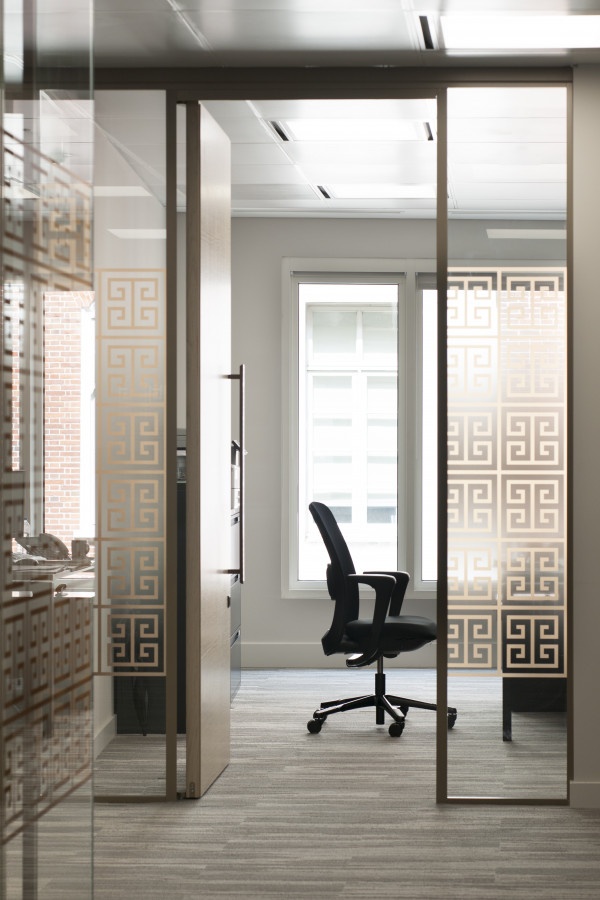 The main office side of the space has been designed in keeping with the front of house in, once again, a soft and sophisticated palette, while contemporary furniture has been integrated throughout. We particularly like the special taupe finish on the worksurfaces of Task's systems furniture.
Following the same language as the client facing areas, the working spaces feature leading furniture manufacturers such as Flokk, which set the scene for a professional and well-appointed environment.
We can't help but stop and admire more of WJ White's joinery, in the shape of a beautiful round meeting table placed in a large, bright corner room. We're told that the space was originally designated to Alpha Bank London's CEO – but he took one look at the great views and the generous natural light the room attracts and decided it should be for everyone to use and that he would be just as happy in one of the smaller adjacent cellular spaces. We like that.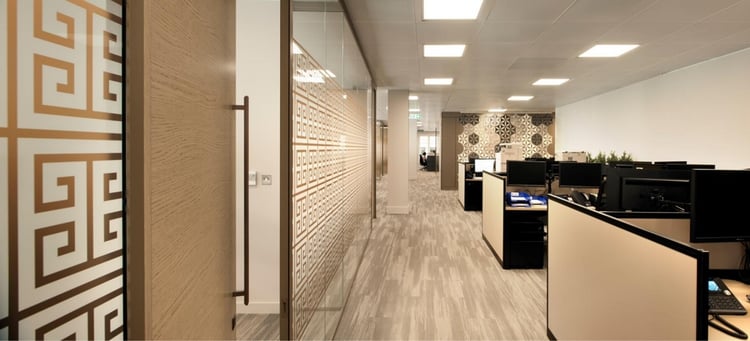 The staff café/breakout area that sits between the two working 'wings' is a perfect escape from the serene, professional working floors. The space features a marble self-serve counter and coffee point (it was important to the client that the coffee was good, we're told) and a variety of seating options to accommodate agile working and lunchtime meetings and gatherings. We particularly liked the feature walls, which incorporate the Alpha logo in a bronze film.
'They did want to invest a lot of money in things like the coffee machines,' Pernille confirms. 'They really wanted to look after their staff and enhance the facilities to provide a contemporary workplace. We had to ensure we had designed in for wheelchair access, so the doors here are semi-automatic, which allows movement throughout the entire workplace and we have also put in lowered counters – it was important to them that the design was totally inclusive, which is great.'
Subtle, inclusive, elegant – not always words you'd use when describing a bank. Then again, Alpha Bank London clearly isn't just any old bank.
Posted by
Richard Ferris on 24-Oct-2017 12:10:06