Choosing cafeteria chairs is not just a matter of giving your students and staff somewhere to sit while eating - chairs are one of many physical factors that affect the overall experience of the room and the behaviour of the people using it.
Comfortable and ergonomic?
According to Baraban and Durocher (Successful restaurant designs, 2010) the combination of all environmental elements affects how people feel, and consequently how they act in a given space; how long they stay, how comfortable they are, what they remember and how often they will come back.
You should choose cafeteria chairs depending on what behaviour you want. If you have a lot of space and know there won't be any trouble fitting everyone in there, you can go for comfortable, soft and ergonomic seats. This will help students feel more relaxed and they will wish to stay for a longer time. Avoid chairs with plastic upholstery in warm temperatures - everyone hates the sticky and sweaty sensation that gives.
Explore - RBM, Bringing Life to Schools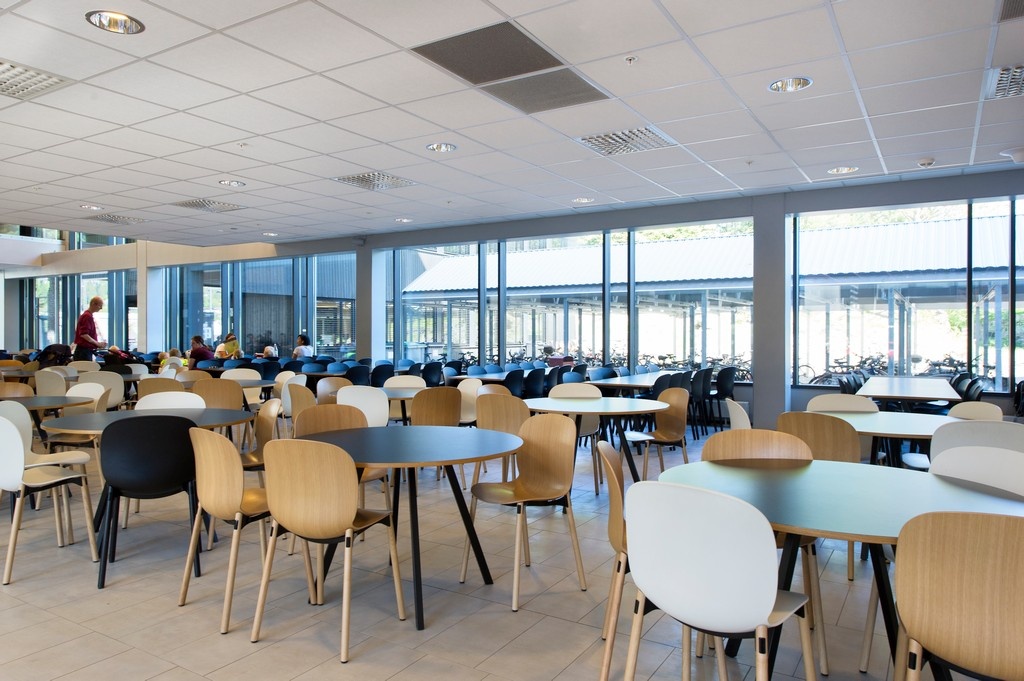 Bergen University Cafeteria. Featured - RBM Noor
Download our 'Bringing life to schools' Educational seating guide
If your cafeteria space is small and you know that even with a good traffic control system it could be difficult to fit everyone, you should prevent students from lingering for too long. A cafeteria chair in a hard material could then be a good choice. It will prevent people from feeling too comfy, which will lead them to finish their lunch faster and give space for others. Harder chairs are often cheaper as well, which makes you kill two birds with one stone. The chairs can still be of a nice design, which will give a good overall impression of the lunch area.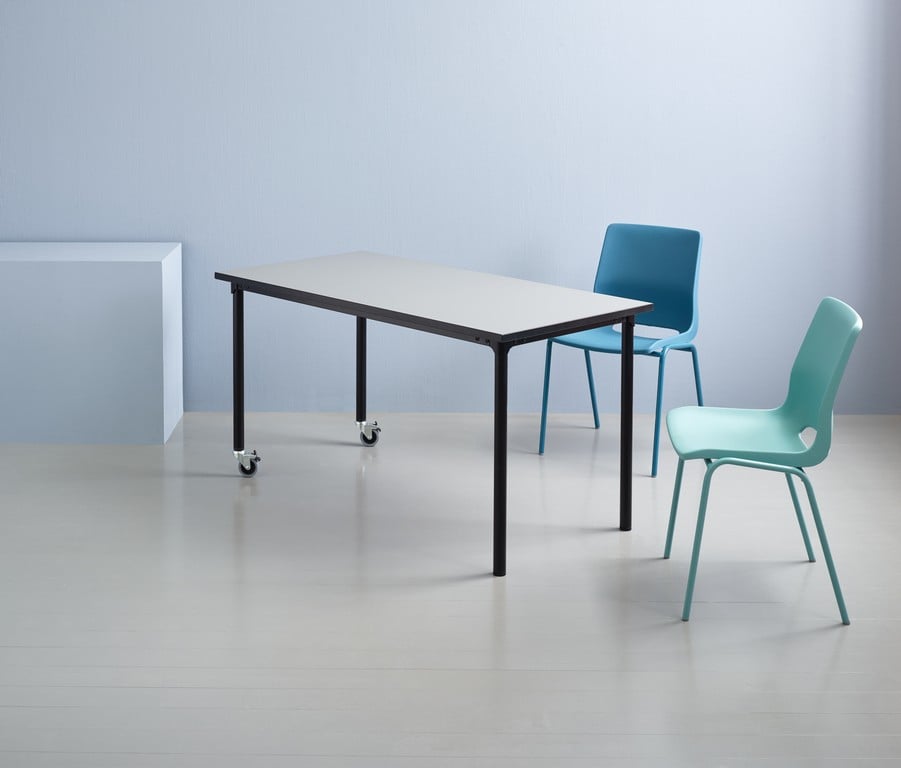 RBM Ana is a simple yet durable design, offering visual appeal and great ergonomics, perfect for canteens and classrooms alike
Durable and high-quality cafeteria chairs
A cafeteria is normally exposed to a lot of activity. Not only is it serving hundreds of guests food every day, but students often use the room for studies and coffee breaks as well. Investing in high quality chairs will therefore save you money in the long run. Before choosing cafeteria chairs, you should also consider how easy they are to clean. That can save you a lot of sweat.
How to design a successful high school, college or university cafeteria
Importance of design
Yes, a nice-looking chair will of course help improve the whole atmosphere in the room. The design doesn't have to be advanced and expensive, but remember to choose colours that reflect your school's identity and that work well with the overall interior design in the room and the atmosphere you want to create. If you have invested a lot of time and money on creating an inspiring room, it's a shame destroying everything with chairs wafting of bad design and quality.
Visit our series of articles around design for learning environments