Located in the old city of London, Hatton Garden is world famous as a jewellery hotspot and the epicentre of the UK diamond trade. It is full of established and emerging talent, from goldsmiths to engravers, with a host of new designers re-invigorating the area.
When Designer Ruth Tomlinson relocated there late last year, she chose Flokk to help furnish her new workspace, giving us a chance to speak to her about her unique perspective on jewellery design, and how having the perfect working environment helps to foster creativity and craftsmanship.
"I am driven by my passion for the earths treasures"
When taking a look around Ruth's new atelier, it's immediately apparent that she has an unusual approach to the way she designs her pieces.
Ruth: "We try to use metal in quite a different way, so it looks like it's grown around the stone and it's quite organic, and almost sort of liquid… It never looks sort of highly polished and shiny but it's supposed to look like it's had a bit of a life."
Whilst unconventional, her work is undoubtedly beautiful, and the organic, life inspired designs are truly fascinating to behold. The unpolished metals, the often unsymmetrical placement of jewels, and the shear individuality adds a magical quality, making them feel like treasures of the past.
Asked about what inspires her work, Ruth explains her joint love of antique jewellery and the world around her.
Learn More - Crafting Modern Treasures, with Ruth Tomlinson
Ruth: "I am driven by my passion for the earths treasures; the magic of minutiae, tiny intricacies, small imperfections, and the individual's search for preciousness… and I just really loved the fact that people wanted to wear what I had created and it's something that I loved making."
"I'm very much a designer-maker creating sort of quite ethereal sort of romantic feeling jewellery. And jewellery that's inspired by both historical and antique jewellery but using the stones in quite an unusual and modern way. We often use grey diamonds, and they don't have to be perfect… a lot of antique ones are hand cut so they have quite a human feel to them."
Healthy, happy working environment
After graduating from her MA at the Royal College of Art, Ruth set up her first studio in Holborn, where she housed her entire operation for 16 years. And it was 16 years ago that she first encountered Flokk, with a HÅG Capisco her first studio chair. Moving into her new workshop, she wanted to fit out her entire workshop with this chair, as she explains.
Ruth: "It's really important I think that they have the right chairs for posture and for a healthy, happy working environment. We are using the HÅG Capisco in all the areas of the atelier… They are really comfortable, they look good, and they really allow lots of movement for the body."
Click here to design your own HÅG Capisco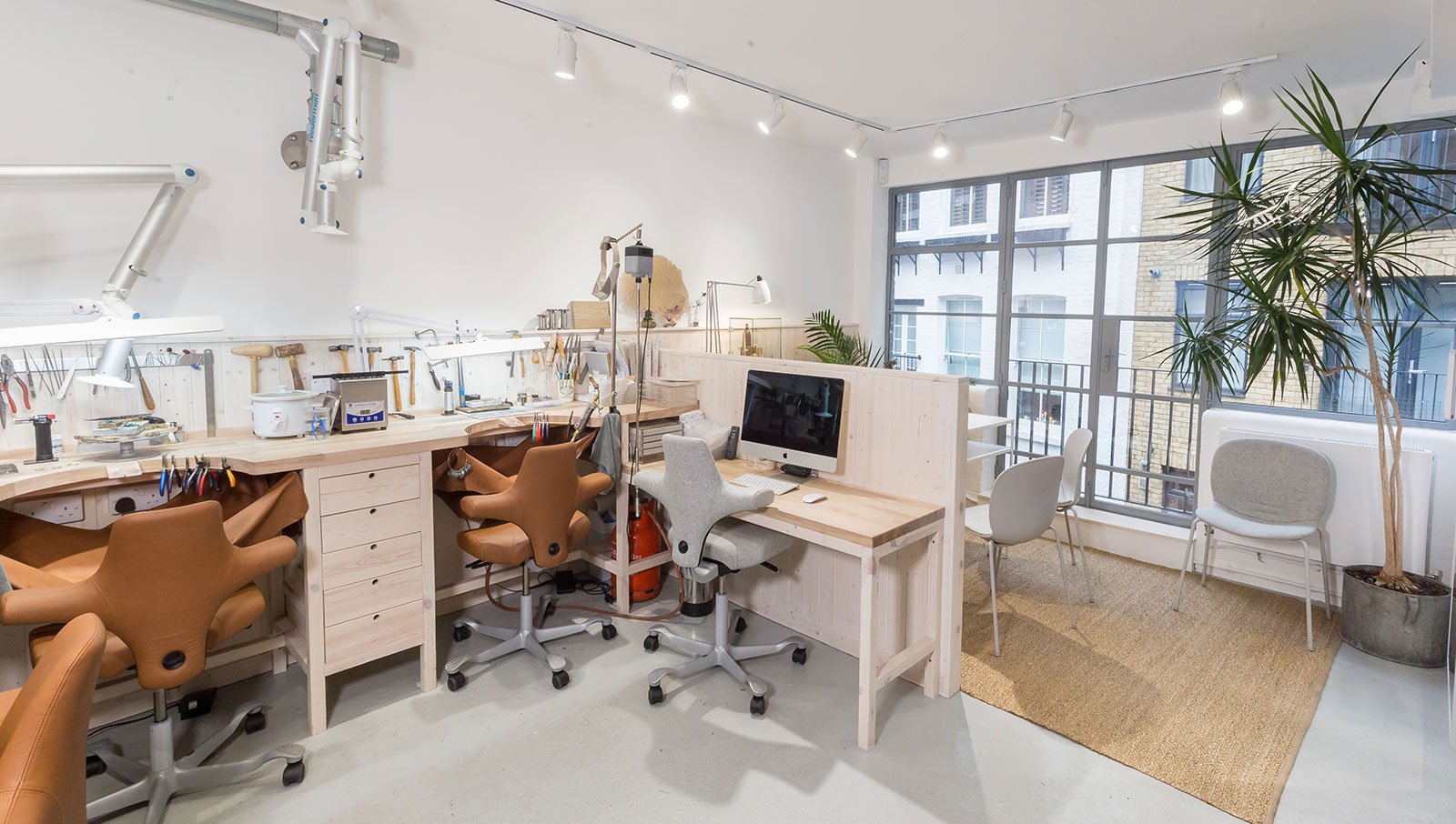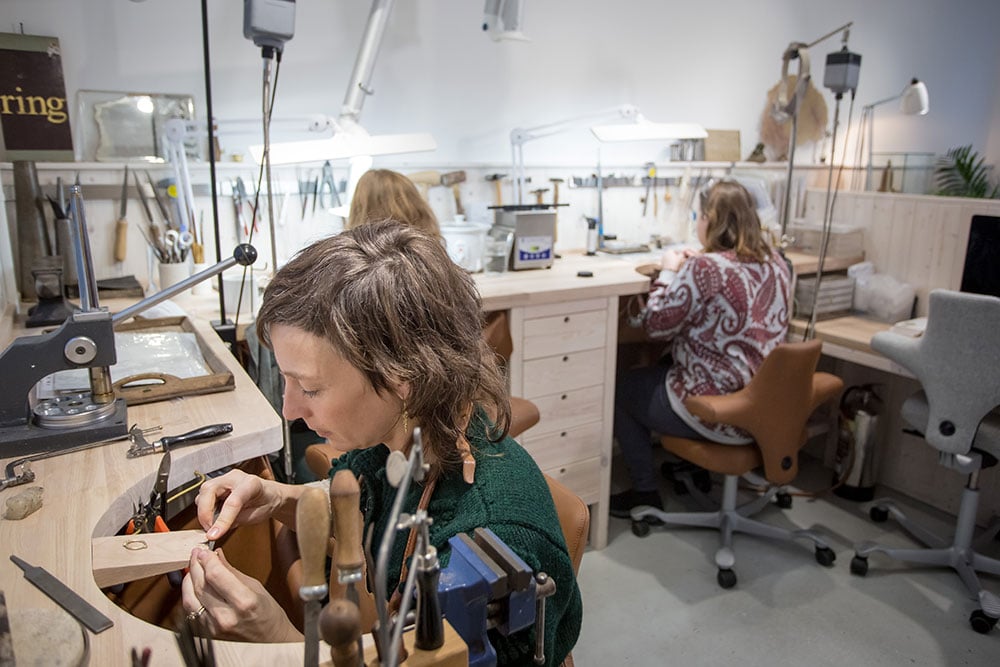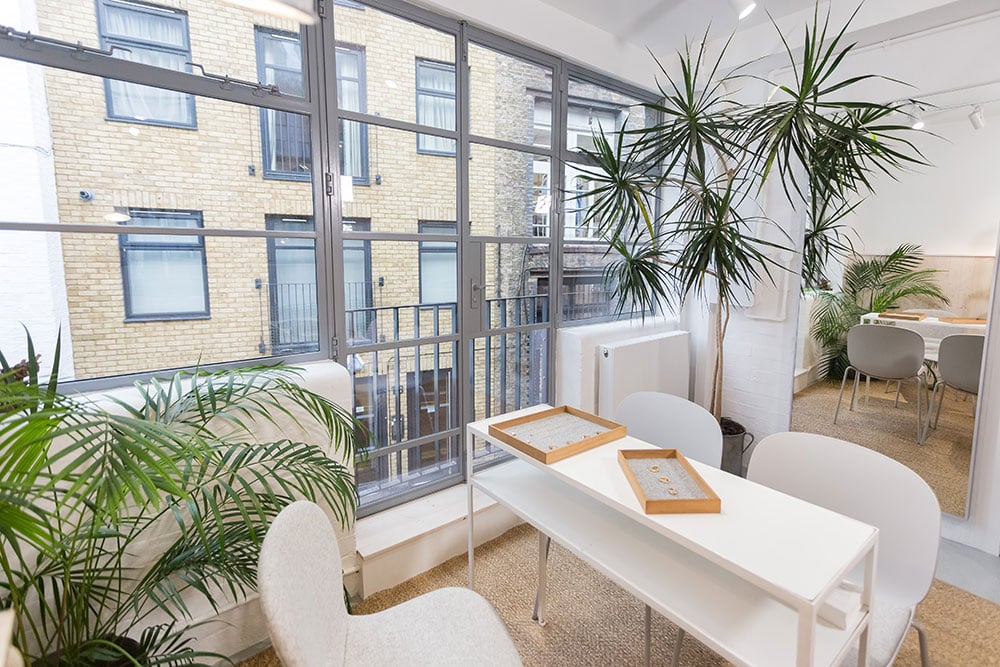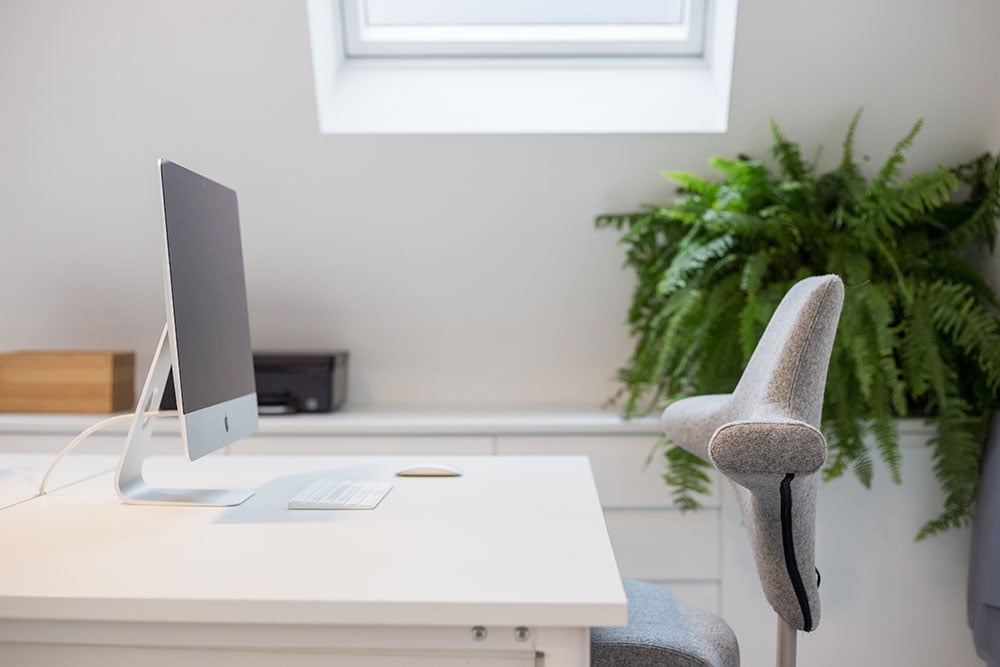 With a range of fabric choices, Ruth was able to find the right combination that worked in her space, opting for leather in the creative spaces, and a grey felt in the client zone.
Ruth: "Leather was incredibly practical for the workshop, and we really wanted a natural colour which goes with everything else in the atelier and something that will age well with time… and we love the felt because it also got that craft kind of feel, it's got a softness to it and its really nice for our client areas because it feels sort of a more homely."
Ruth complimented the HÅG Capisco with RBM Noor chairs, a smaller more functional chair for tighter spaces.
Ruth "We chose the RBM Noor because we really liked the sort of slick sort of Scandinavian feel to the chair. They look really beautiful and they are also really comfortable and feel very luxurious. I love the fact that it's stackable, because we have got a small space so it's perfect for us."
Click here to design your own RBM Noor
"We went into the showroom and there were just so many different options for colour and upholstery, so we could really tailor what we wanted and what we needed for the workshop and the consultation area… I really love they are made to order and the fact that it's made out of sustainable materials. It blends so well with what we do and the company and our ethos."
Click here to watch more videos about our collaboration with Ruth Tomlinson
To find out more, subscribe to our Facebook or Instagram page and watch out for updates.