When Norway's number one mobile payment provider Vipps needed a new place to work, they embraced the need for change and put in motion a bold plan to radically change the way their company operated.
What they created was the "anti-office" – and this is their story.

Vipps - Making Payment Easy
In 2015, Den Norske Bank (DNB) launched their first mobile payment application, Vipps. Within 6 months the app had over 1 million users and was fast becoming a national institute. After banking regulations changed (making it possible for non-banking firms to facilitate mobile payments), June 2018 saw Vipps merge with two other mobile payment firms (BankID & BankAxept), an act to counter the looming presence of international competitors and to cement their place as the national leading provider. Overnight, Vipps employee count had tripled, and the brand needed a new location to bring everyone together under one roof.
Bringing three teams together not only required a larger work space, but an environment that helped to unify the workers, to encourage communication and collaboration, and to prevent the original teams from sticking in their own tribes. They also wanted their new workplace to be an enjoyable experience. To be everything a normal workplace is not, whilst maintaining productivity and output levels.
Vipps Chief Innovation Officer Narve Hansen explains, "The vision was to find the right type of environment for the new employees that different cultures merge together, get to know each other, and actually get inspired to go to work."
"The environment we created... we worked a lot on trying to make people work efficiently. And in order to be efficient you can't sit just one place, and work like a machine. You need to be able to be laid back, go to other places where you can actually sit down and then go back and be more focused on one task again."
The Workspace
Architects Radius Design were tasked with bringing this dream to life and they created what they lovingly call the "anti-office", as Interior Architect & Project Manager for Radius Design Einar Erdahl describes;
"The overall idea was to make an "anti-office"… an office that was something out of the ordinary, without the reception desk, with a good combination between work spaces, drop out zones, focus rooms, meeting rooms, bar and multi-functional work spaces."
The centrepiece of the floor plan is "the heart", a multi-functional environment, with opportunities to work, relax, eat or chat – but a space that encourages communication and collaboration – where ideas can bounce off each other.
A variety of work spaces encircle the central zone, featuring a selection of colourful and playful aesthetics – designed to inspire and motivate creativity. This includes The Jungle Room ("For..monkey business"), the Hubba Bubba Room, The Garage, The Event Space, The Children's Corner, The Secret Room and more. Einar gave us a little insight into what inspired some of these areas.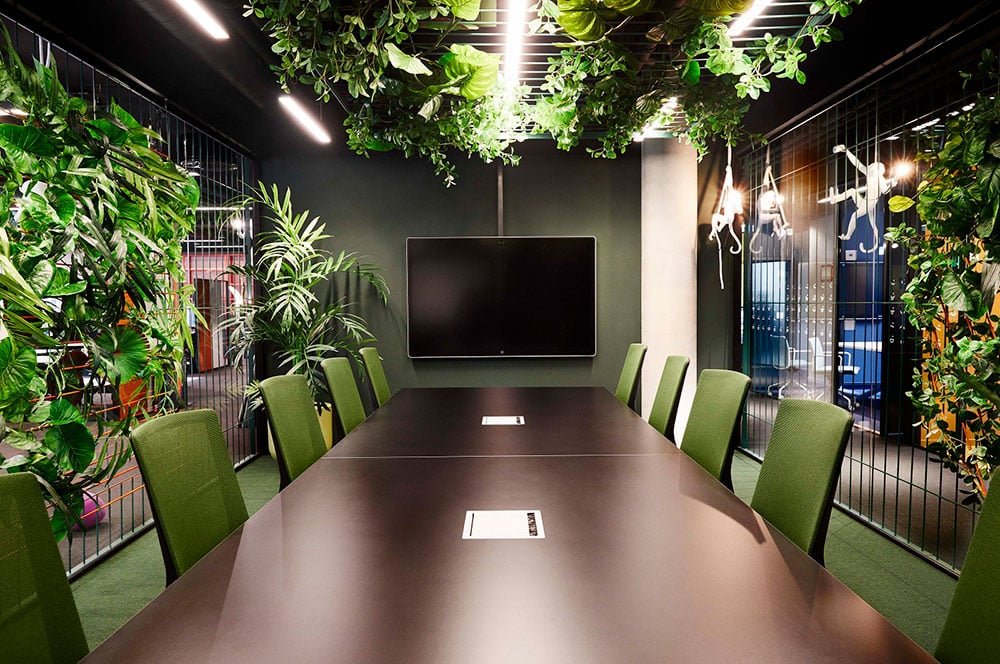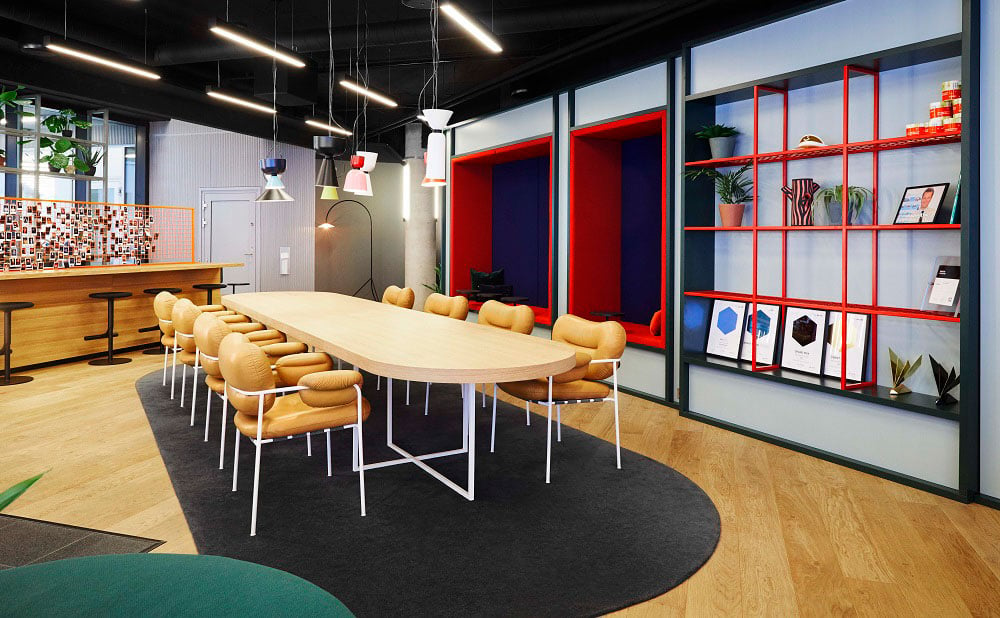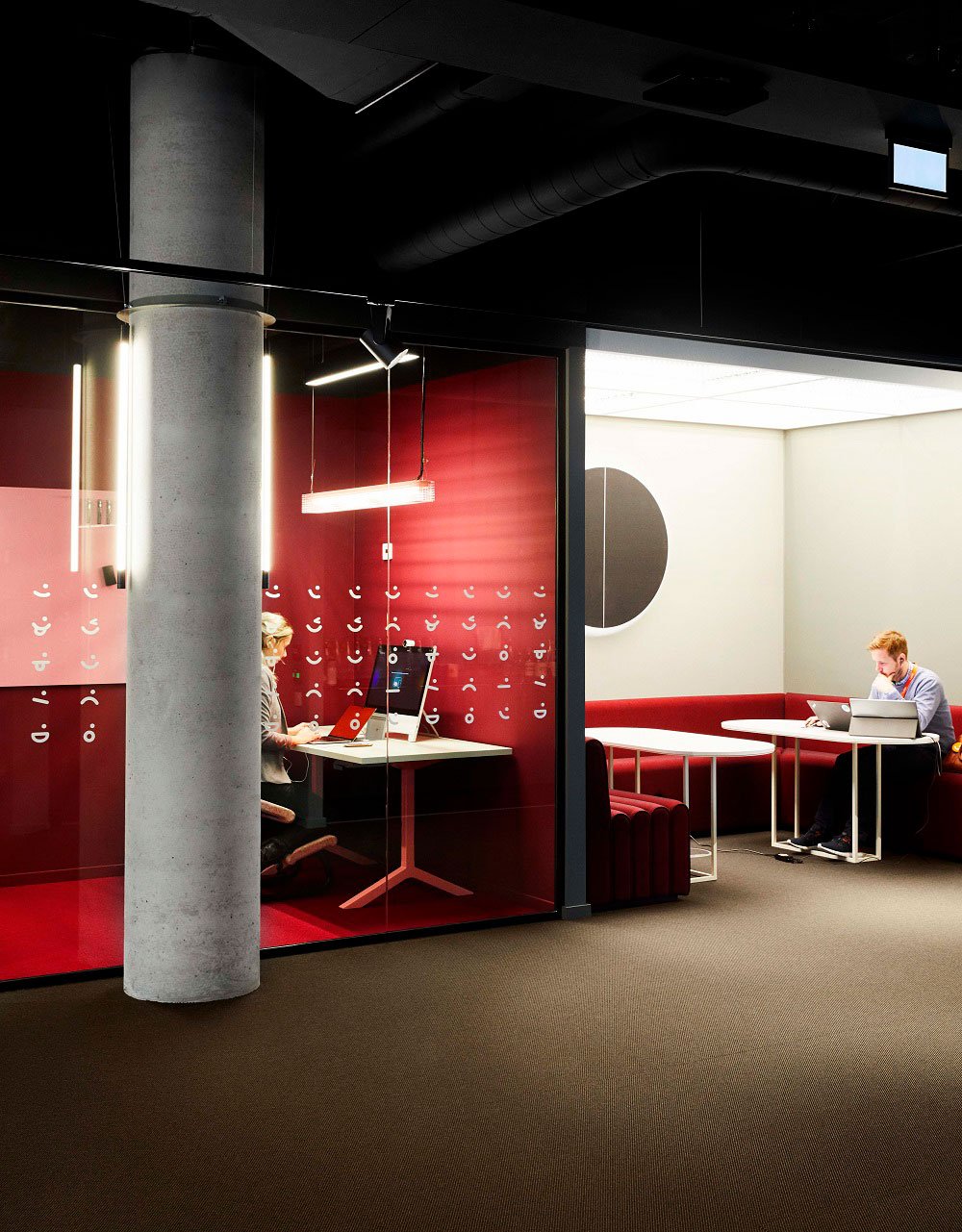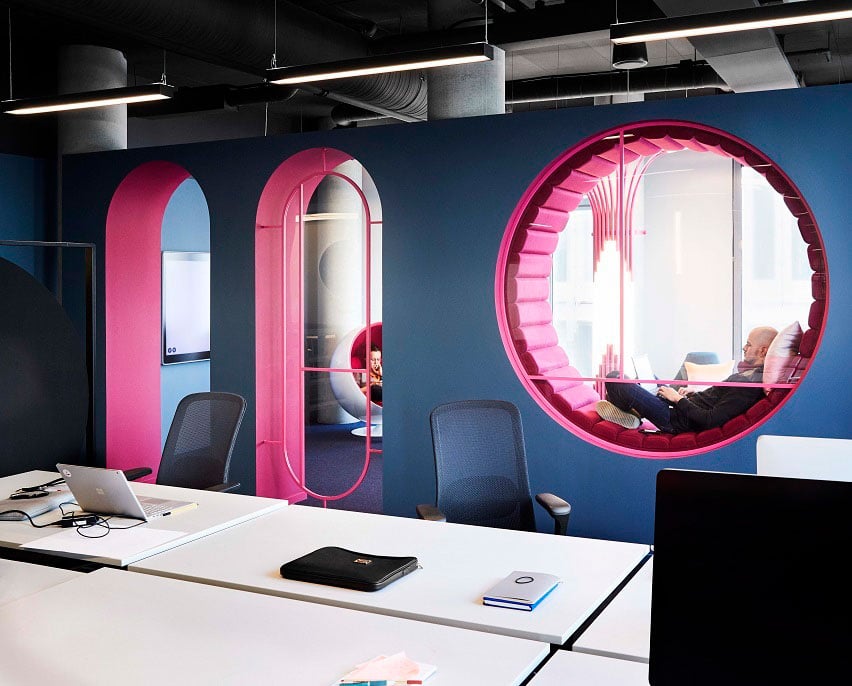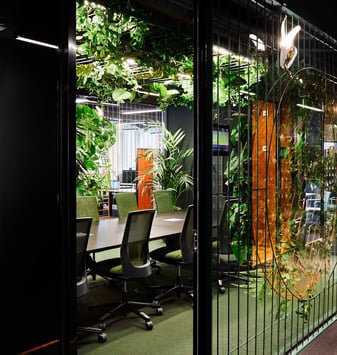 The Hubba Bubba Room
"The idea was to go nuts with florescent clear colours inspired by Verner Panton and Erno Arnio pop-art. Big geometrical shapes and really clear colours, kind of like bubble gum - sugar sweet. To give the office space another dimension."
The Jungle Room
"Inspires you to be creative. We chose the HÅG Futu chair for the jungle room because it's a minimalistic chair that is comfortable with a colour scheme that fits great to the concept."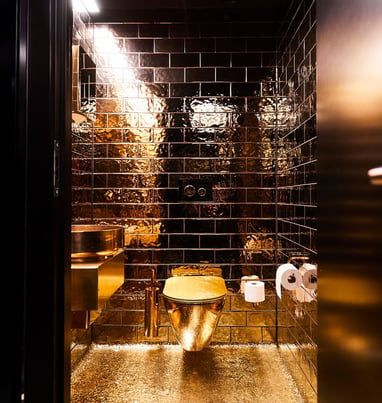 The Secret Room
"The Secret Room was an idea of making a room, a fully functional meeting room, but with a loungy feel and the reason we call it The Secret Room is because you need to go through a revolving wall to get into it."
The Bathroom
"We wanted to play with the stigma of banking, so we did a golden toilet where everything is gold..."
"Hardcore, straight to business, minimalistic rooms"
There was still a need for traditional desk space, and the floor plan includes a selection of minimalistic areas with muted colour schemes, and the ability to quietly and efficiently complete individual desk-based tasks.
Flexibility was a key feature for these environments, especially when it came to selecting the right furniture, as highlighted by Vipps CIO Narve Hansen; "Flexibility for us is very important. We have a lot of people that sit a lot during the day; they need a good chair, and they need the possibility of moving."
After a lengthy selection process, and with a recommendation from one of the merging brands (who already use the chair), Vipps chose the HÅG SoFi mesh to complement every workstation.
Narve Hansen: "We tried a lot of different chairs… the HÅG SoFi is a good chair because it's very easy to use… after looking at the market we found out that this was the perfect chair for our company."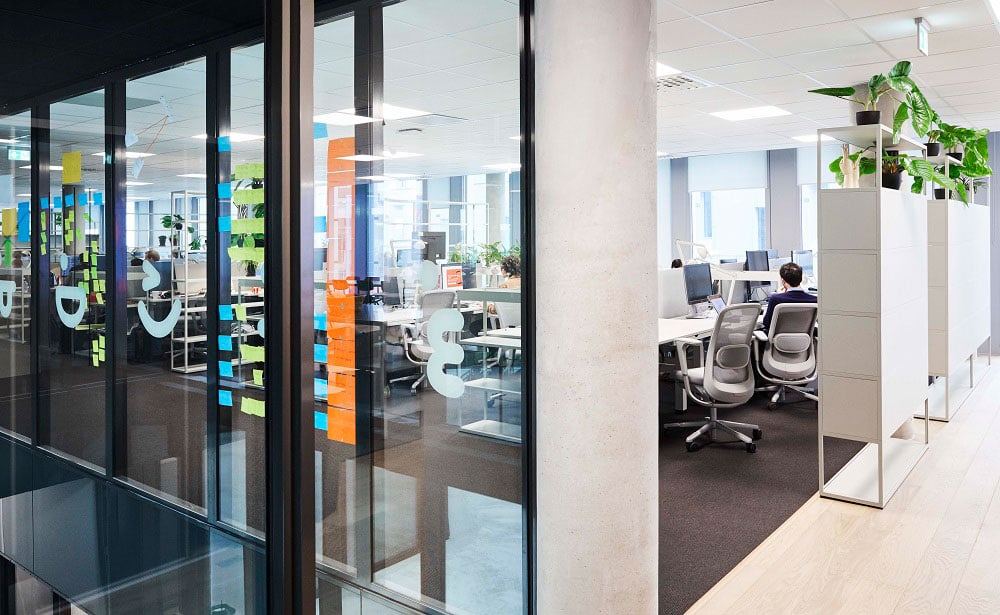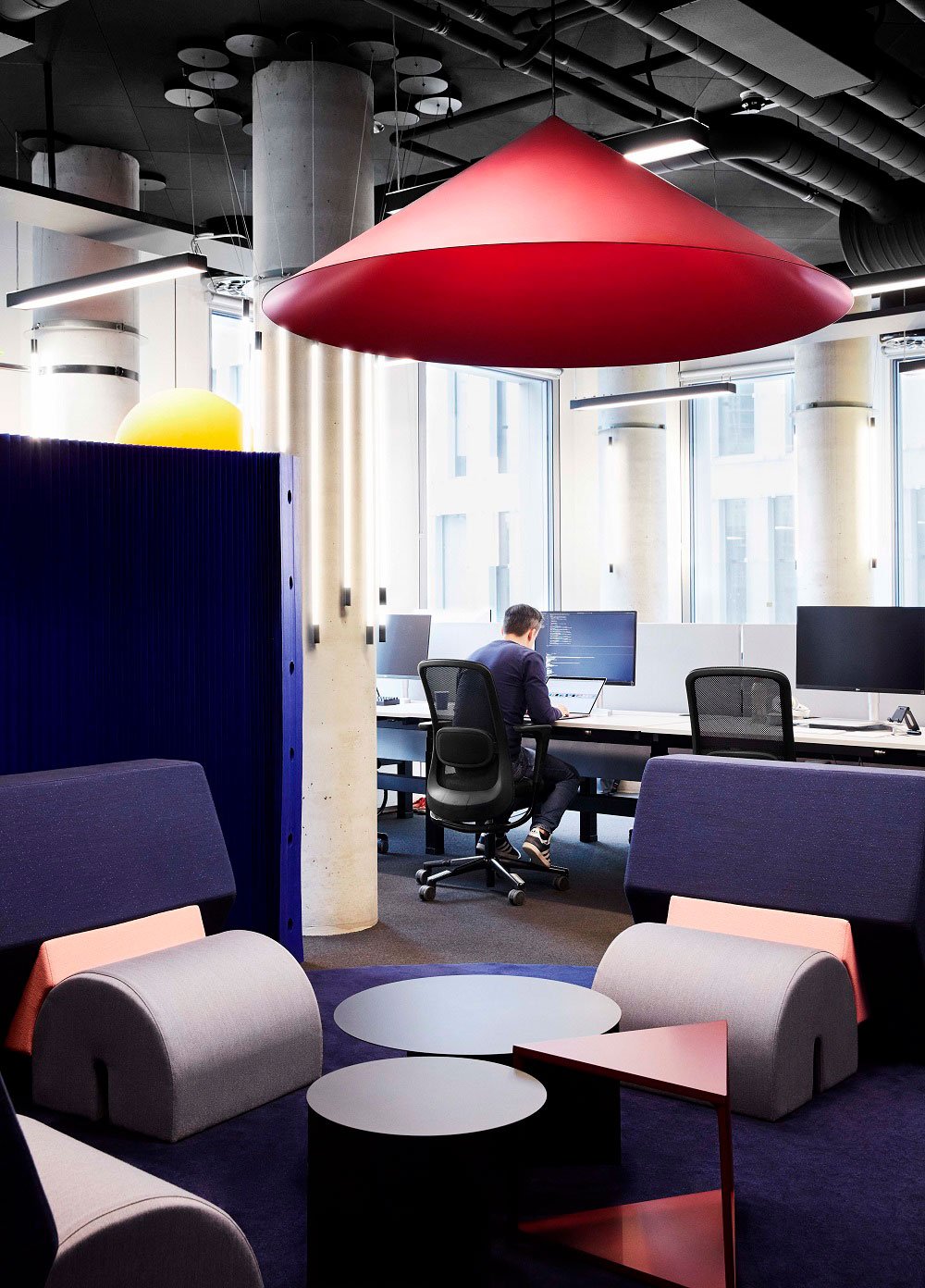 Moving in at the beginning of 2019, the workplace has been received well by the new employees, and Vipps have been encouraged by the way everyone has embraced their new workplace and the three companies have merged together to work effectively together. We asked Narve for his final thoughts on the project.
"I think a part of being an efficient solution for the company is that you can sit down, take a coffee, take a break, or you can talk business. And I think a lot of people when they sit down in the coffee room environment they don't think that they are actually at work. So they end up being more relaxed, and they talk and get ideas that they wouldn't find just sitting in front of a computer in a normal setting. I think this is a place where we managed to combine the different things that our coworkers needed. We will see in the future if this is the perfect place for that."
Check out more pics and videos about Vipps "anti-office"
Read more articles
Crafting modern treasures - with Ruth Tomlinson Jewellery
Norwegian University wins architectural prize for its sustainability and design
Global firm promotes new corporate identity with complete office redesign
Architects M Moser deliver immersive brand experience at new Diageo Offices
Posted by
Richard Ferris on 29-Apr-2019 15:21:54