Flokk Benelux works intensively with various schools in the area thanks to the new Design Center in Rotterdam. This week nearly 100 second-year students of HMC vocational college for woodworking, furniture and interior design visited the Flokk Design Centre. They participated in various workshops on current topics such as 'the healthy working environment', product design, and circularity.
The workshops were given by Flokk and two of the partners in the Design Centre in Rotterdam: Glamox (lighting solutions) and Milliken (floor covering). The students gained knowledge as part of an assignment to fictitiously design an office.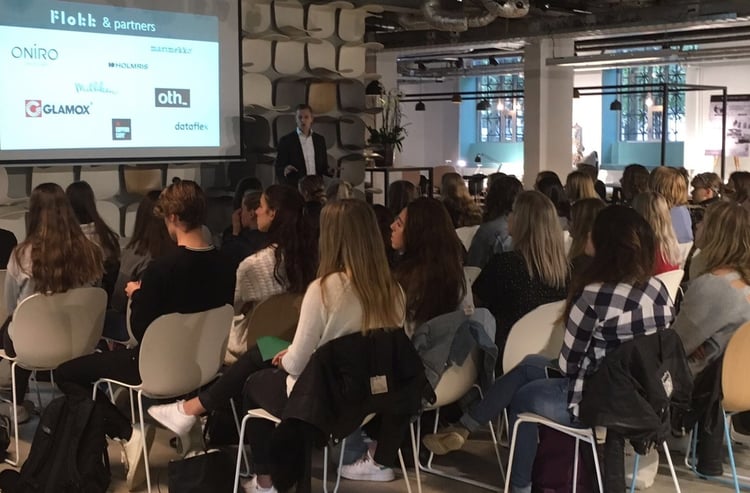 Circular Design
Flokk introduced the students to the 'why, what and how' of circular design. Circular economy prolongs the anticipated lifetime of the products, and eases the pressure on a planet under enormous strain. There is increasing pressure for sustainability in manufacturing, and creating a sense of urgency for circular design was one of the goals in the workshop, knowing that they will all be working with interior products in the future, either designing, selling or using them.
It was rewarding to notice that many of them agreed on this, even though they did not yet have a clue how to make the change from linear to circular. Looking at a way to change this, it was established in some of the groups that making non-environmental friendly products more expensive could encourage them to make this change.
Read more about the circular economy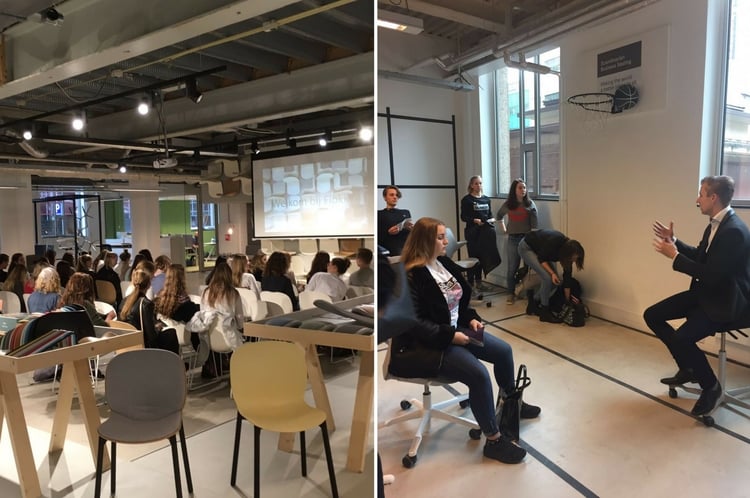 While simplifying the circular design concept, we came to the conclusion that in designing products, the designer must bear in mind that every material that goes into the product, should stay (or can easily be turned into another) raw material and never become waste. In explaining this part of the "how", our Flokk 5III Design Principles were a good example of what to look for in a product that is based on Circular Design and that really helped them in creating a different look at design and products.
Interaction and fun were also very important during the day, so the students were challenged to sit in as many different ways on a HÅG Capisco, to celebrate movement!
Human Centric Lighting
Glamox taught the students the basic principles to create a good lighting solution for the office according to the NEN-EN 12464-1 regulations. Special attention was drawn to ergonomics by using the most energy friendly solution of task lights. To promote the well-being of office users Glamox explained the use of Human Centric Lighting. An inspiring session to realize their own office design with excellent lighting for user and building owner.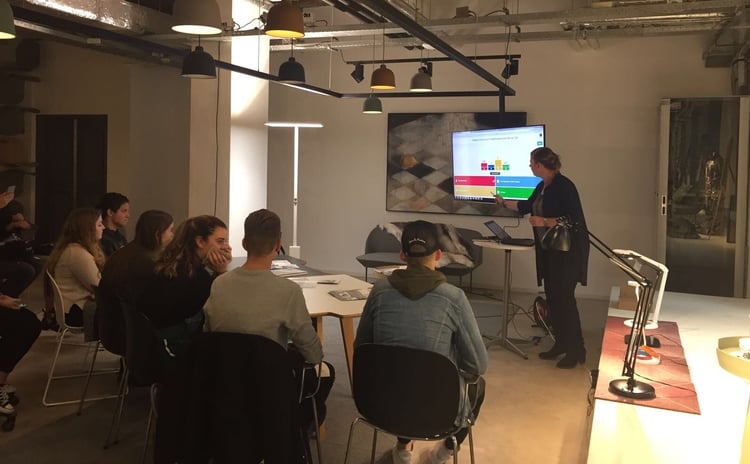 During this beautiful opportunity to inspire the new generation of designers, Milliken showed that applying carpet tiles in offices is not necessarily boring or 'office-like' but can also be sexy and versatile. With the added value of the innovative Milliken carpets in acoustics, comfort and durability, the students learned that these are important elements to create a fun and productive office environment. Milliken's extensive colors and production techniques give future designers the opportunity to create a complete and unique concept both inside and outside an office building.

What a great day and what a talented group of young people. We know for sure that they will 'Inspire Great Work' today and in the future!
Top Photo: by Christiaan de Bruijne
Posted by
Hélène van den Dungen on 13-Oct-2017 11:34:05