Designers Saturday kicks off on 8th September showcasing the latest on offer from leading design & interior brands from around the world. Industry professionals and the public alike will be inspired by the latest offerings, attending talks, competitions and more.
From 9am on Saturday 9th, Flokk will be taking up residence in Nedre Gate 7, a listed building in the heart of a growing art and design district, where we shall be celebrating the recent launch of Flokk and our Scandinavian legacy in striving for authentic, essential and human-centred design.
REDUCE and RE-USE / A Nordic Saturday feeling
Built as an old textile mill in 1890, Nedre Gate 7 was completely refurbished in 2008 by award-winning architects Space Group for the OCA (Office for Contemporary Art), transforming it into an open space, keeping the original grand windows and ceiling constructions.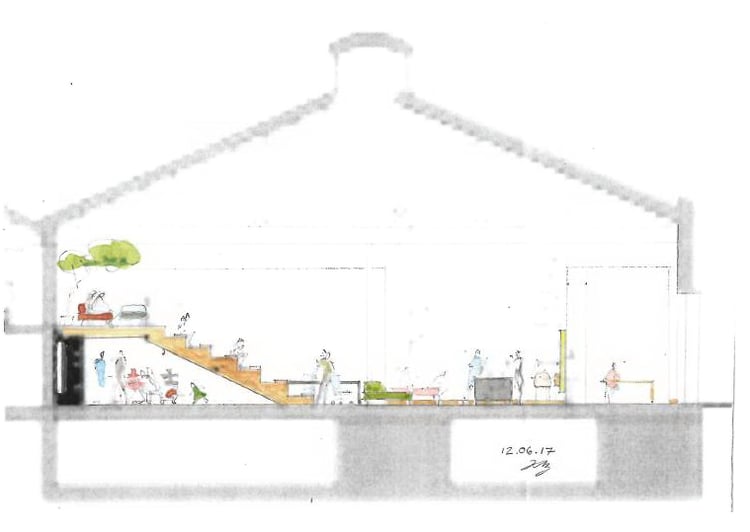 The vast space will be transformed by a plethora of colour, taking advantage of the stark interior and central staircase to invest the character of Flokk into the interior. Soft seating brand LK Hjelle and kitchenware manufacturer Vipp will be sharing the exhibition space with us over the two days, uniting three interior design companies under one roof.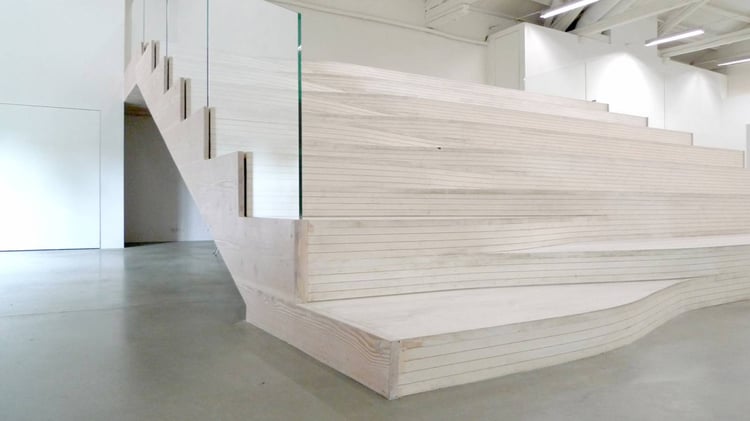 Two large wooden podiums will help to define the different display areas, showcasing our products in a variety of settings, from work to rest areas. The Nordic lightly coloured wood will work in harmony with the abundant natural light to give a soft, friendly atmosphere. Wool in beautiful colours will add comfort to the ambiance, the stairs filled with pillows in new Norwegian wool and with presentations due to take place infront of them. A generously large counter will serve fresh pastry-buns, coffee, juice and an array of international newspapers throughout the weekend.

As with our previous two large exhibition stands at Orgatec & Stockholm Furniture Fair, there will be no waste from our display. The podiums will be dismantled, the wooden pallets returned to our factory, and the untreated plywood will find a second life as a floor in a barn outside of Oslo, where the farmer will build a social space for guests. Being sustainable is achievable with a little thought and effort.
Colour kicks!
Throughout the building the main palette will be a mixture of medium tones and lighter scales combined in harmonic variations to create a sense of structures and colours being affected by time. Inspired by the colours of the 1950´s, we will see scarlet pink, beige green, sandy yellow and bluish grey.

New fabrics from a variety of our suppliers will also be used. New colours from Kvadrat Steelcut Trio 3 including the newly launched Forest Nap fabric, the tweed styled Mainline Flax from Camira, as well as the new fabric Balance from Svensson. GU will also be launching new colours for the Norwegian wool collection.
In our more casual areas, we hope to bring the relaxed feeling of being in a garden a late summer day, feeling the crisp air and light changing the colours and surfaces surrounding you.
Come and say hello!
If you are heading the Designers Saturday next month, come and find us at Nedre Gate 7, on the banks of the Akerselva, and conveniently right by stop 1 on the free bus route put on by the event organisers, which departs every 10 minutes from one stop to the next.
Doors open from 9am to 6pm Saturday 9th, 11am to 4pm Sunday 10th. Come drop in, take a seat, and see what it's all about!