Flokk brand and Scandinavian furniture designer, HÅG invited three award-winning design agencies to work on a brand new concept for the ever changing office environment. With the working title 'Essence', the ongoing project team met up this week to share ideas on how to design for the workplace of the future.
A vision of the future
The world of work is constantly changing, and always has been. Ever since the hunter-gatherers of old said "I think we can do better", humanity has strived for progress, and our tools have had to adapt too. In the office environment, a workers chair is often his most used tool, so instead of playing catch up, it is our responsibility to be ready to meet the ever changing demands, providing solutions that work for everyone.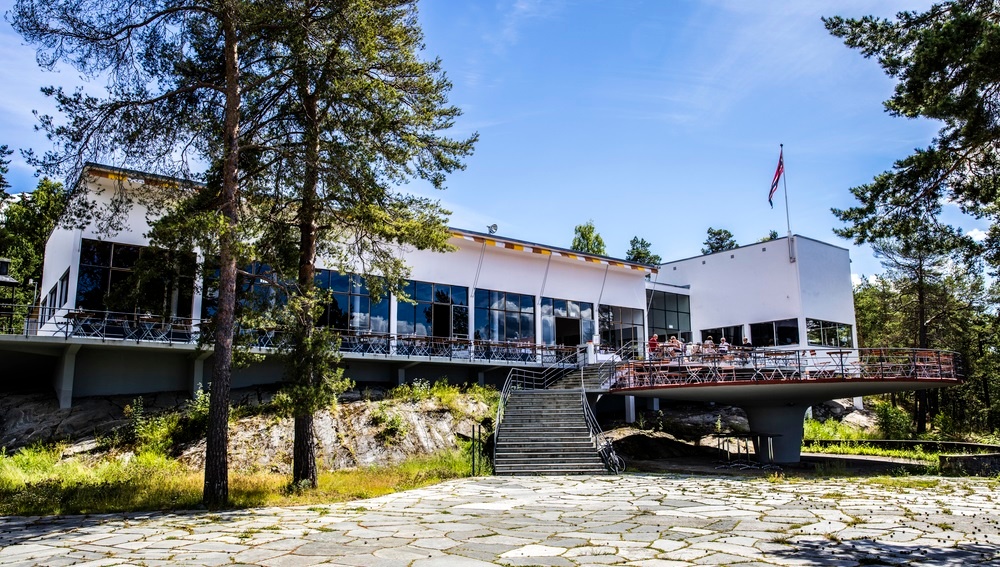 The Ingierstrand Bad Hotel sits on the shores of the Bunne Fjord, just south of Oslo
It is perhaps fitting then, that the location of this week's workshop is the Ingierstrand Bad Hotel, an iconic building designed by Ole Lined Schistad and Eivind Moestue. Pioneers in modern Norwegian architecture, the duo aimed to create a building which was adapted to the hilly terrain of the region, to work with and not against the environment. First opening in 1934, the restaurant was completely renovated in 2013, having gone through a period of neglection before.
Meet the team
It is at this location, a 20 minute drive south of Oslo, that we have assembled our trio of design houses to help create a set of tools for tomorrow. Spending a week on the edge of a Fjord, the workshop is an exploration into the demands likely to be faced, and the best ways to meet these challenges.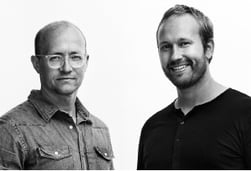 The first of our team is Anderssen Voll, an award winning agency who have received recognition for their work with furniture, lighting and home accessories in both their native lands of Norway and beyond, being named Norwegian & Scandinavian designers of the year on separate occasions. Founders Torbjørn Anderssen and Espen Voll were previously founders and running partners of the design group Norway Says.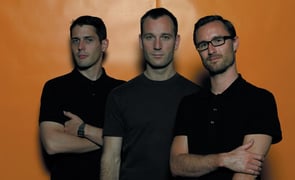 They are joined by BIG-GAME, a product & interior studio set-up in 2004 by Augustin Scott de Martinville (French), Elric Petit (Belgian) and Grégoire Jeanmonod (Swiss). Based in Switzerland, they relish any challenge, working on designs for everything from ballpoint pens to suitcases, all of them unique. The studio has numerous awards ot their name including the Good Design Award, the Hublot Design Award and the Swiss Design Award.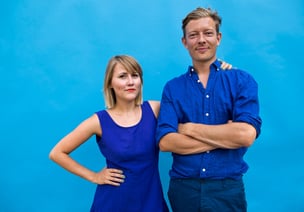 The final piece of the puzzle is London based Norwegian designers Hunting & Narud. In true Scandinavian style, the team say "We strongly believe in honest materials, simplicity and strive to create clever and strong solutions – whilst making sure we strip away anything unnecessary." They have an enviable list of clients and collaborators, having worked with the Norwegian Design Council, the Tate Modern, and London Fashion Week, among many others.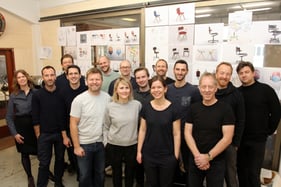 Overseeing the entire project and putting the pieces together are several members of our internal design team. Flokk designers Øystein Austad, Marianne Sælid, Magnus Scherman and Sigmund Øvreng are working on this project. Our in-house designers have a long tradition of collaborating with external design studios, helping to broaden our overall knowledge and expertise, to create the very best Scandinavian furniture.
The way we work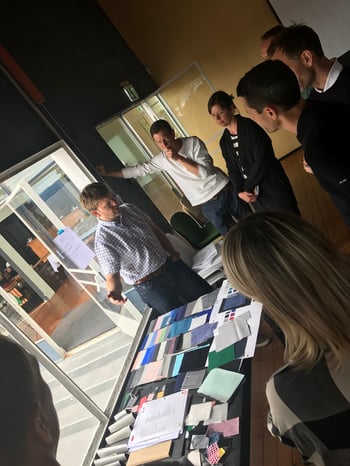 When it comes to designing a new chair, we like to look at every minute detail. With a minimum guarantee of 5 years, our products are built to last, so they must be ready to face whatever the future throws at them. It can take several years before a final design is put into production.
When our design teams met up this week, they began by sharing their latest insights, what they each felt was an important aspect to consider. Discussions looked into fabric choices, colours and materials, the latest workplace trends and perceived user needs.
All of our projects stem from extensive research, and everyone is equally motivated to create something which combines striking visual design with sustainable production, whilst also creating a tool which is both effortlessly comfortable and caters for the wellbeing of the user – a delicate balancing act.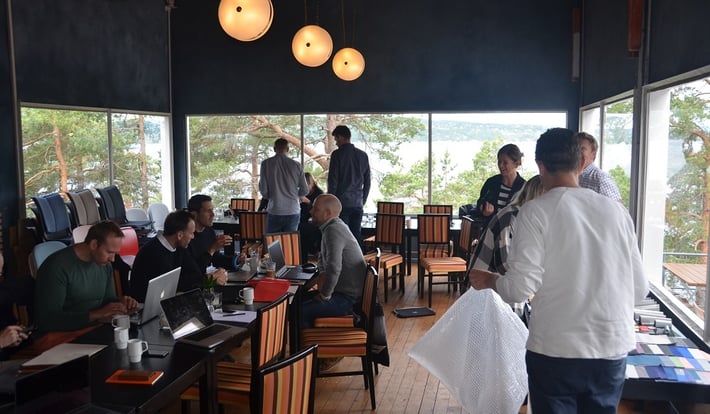 Workshop in full flow @ Ingierstrand Bad Hotel, Norway
As with many workshops, catchy buzzwords and slogans abound, as the team try to encapsulate the broader themes of the product. Words such as "relaxed futurism" and the phrase "embracing the aesthetics of sustainability" can be seen scrawled on visual displays. It is an ongoing process, but steps are being made, and soon the prototyping stage can begin...
Next time
As with all of our designs, we want it to tell a story too, to be more than just a chair. As the journey from idea to product continues, we will endeavour to stay abreast of the developments here, with interviews films and more.
Subscribe below to keep up to date with all our latest news.
Posted by
Stacey Turner on 04-Jul-2017 15:08:41