Last week more than 300,000 people travelled to Eindhoven for the annual Dutch Design Week, an event of ground-breaking design and innovation from a plethora of industries.
Sustainability and sustainable design was a common theme throughout the week-long event.
We've picked out our favourite moments from DDW which show amazing progress in the realms of sustainability.
The People's Pavilion & closed-loop construction
Spatial designers Reinder Bakker and Hester van Dijk, working under the name Overtreders W collaborated with architects Bureau SLA to design and build a temporary People's Pavilion made entirely from recycled or borrowed materials. The building, which hosted a variety of talks during Dutch Design week was designed to inspire people to think about circular and closed-loop construction cycles, and creating products with little to no waste.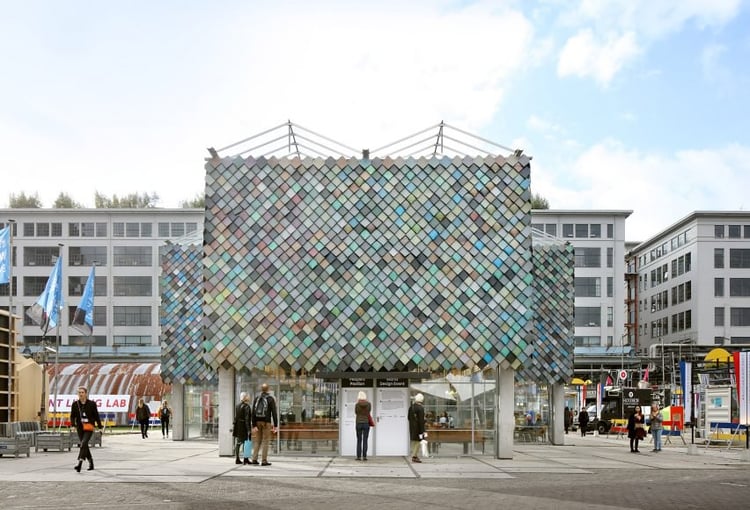 Photo: Dezeen
The building comprised of a façade of multi-coloured recycled plastic plates, as well as a whole host of borrowed materials which had to be returned after use, meaning that a new approach of construction was required in order to be able to return the materials. The glass which surrounded the lower levels was left over material from an office project in Utrecht. Once dismantled, this will be used for another project.
Read more – in the loop – the circular economy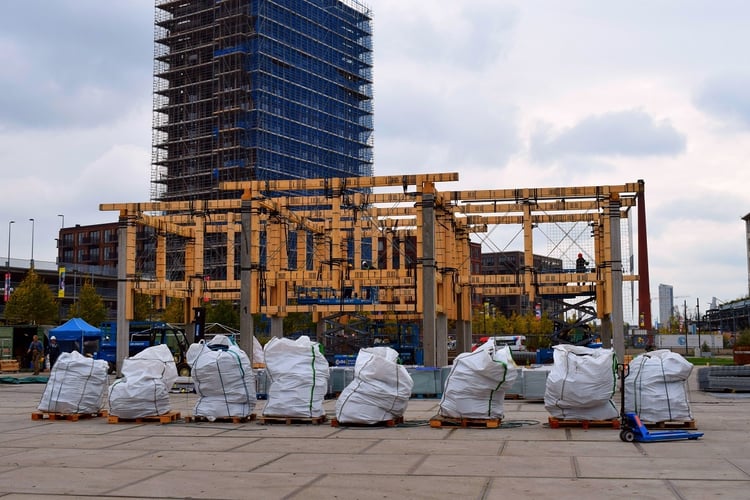 Zero-waste bio based flooring

Exclusive to Dutch Design Week, Aectual presented their very first product last week, a flooring system that utilises 3d printing techniques coupled with a bio-based terrazzo plastic material. The result is the ability to allow endless pattern designs without an repetition, and flooring that is made to fit any space, meaning that waste is at 0%. An automated production system means that designers can customise premade patterns, or make their own before having them shipped out.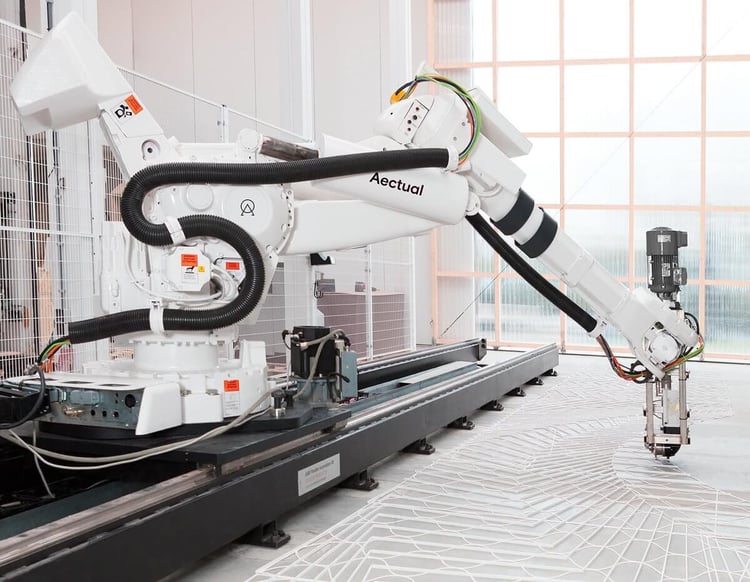 A brilliant innovation, this cuts down waste, whilst using bio-based and biodegradable materials, creating simple and aesthetically pleasing floors, with a reduced effect on the environment.
Synthetic alternative food sources
Initiated in 2014 by Royal College of Art graduate Johanna Schmeer, Bioplastic Fantastic is a project aiming to find synthetic alternative to conventional foods. The project builds upon the knowledge that there are seven "biological devices" which produce all food and energy needed for humans to survive, simply by being exposed to light.
Bioplastic Fantastic aims to artificially create these biological devices to produce nutrients from enzyme-enhanced bioplastics, as a replacement when natural sources are depleted or unavailable.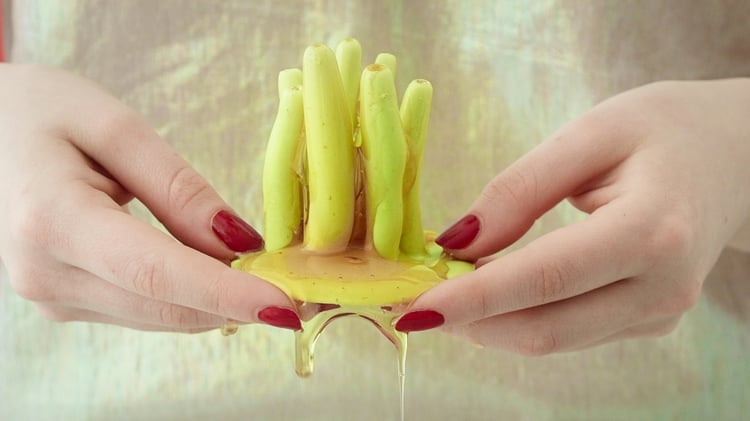 Speaking about her project, Johanna says "Rather than being a proposal or a solution, the project aims at asking questions and provoking discussions about which kinds of applications of bio- and nanotechnology we would want to be part of our future everyday lives."
Read more – sustainable design dealing with waste material
Good Design for a Bad World
Online design magazine Dezeen hosted a series of talks on how design has the power to take on some of the world's biggest problems. All 5 discussions were hosted within the aforementioned People's Pavilion.
The series, titled Good Design for a Bad World started with Dezeen Editor-in-Chief Marcus Fairs chairing a discussion on climate change, looking at ways good design can help alleviate the pressures of climate change and protect people from its effects. Marcus was joined by Richard van der Lacken, initiator of the Climate Action Challenge, a competition that tasks designers to coming up with solutions to global warming. Atelier NL co-founder Lonny van Ryswky and Museum Boijmans Van Beuningen curator Annemartine van Kesteren were also on the panel, alongside industrial designer Babette Porcelijn, who has written a book exploring humanity's impact on the planet.
You can watch a recording of the discussion in full here.
Read more – Norwegian wool & a local sustainable partnership
Recycling plastic on a local level
Precious Plastic is a global community of hundreds of people all working towards a sustainable solution to plastic pollution. Started in 2013 by Dave Hakkens, the project is under continual development, and on 16th of October 2017, the third iteration was launched.

Above: The machine designs, Below: Some product samples.

The enterprise consists of a central team of developers, who have designed a self-contained plastic recycling centre, which can fit into a single storage container (or other available space). They have also worked on techniques to make a plethora of different materials and products from the waste material. All of these designs and ideas are made available online for free, and the team have created a web of individuals who have made components or set up recycling factories of their own.
The overall goal is to have these facilities setup all over the world, where small communities can collect and reconstitute their own waste plastic independently. It is a bold idea, but the enthusiasm of the team combined with the achievements so far make it one to watch for the future.
Check out the latest video below highlighting the launch of Version 3 below.
Posted by
Richard Ferris on 31-Oct-2017 13:13:19