The workplace is constantly changing. We live in a time of unprecedented technological and manufacturing advancements, so it's no wonder that the offices we work in are continually adapting, taking on these new ideas to boost employee wellbeing, connectivity and production.
Many of these changes are gradual and continual, but each year we expect to see some new ideas begin to emerge. Here are a few of the design trends we expect to see emerging in workplaces during 2018.
Going Green 2.0
Adding a touch of green into the office has become more prominent in recent years. Introducing plants into the environment increases happiness & wellbeing, and can improve air quality too, having a direct impact on health. Now, none of this is breaking news, but incorporating plants into furniture and fittings is what we anticipate more of this year.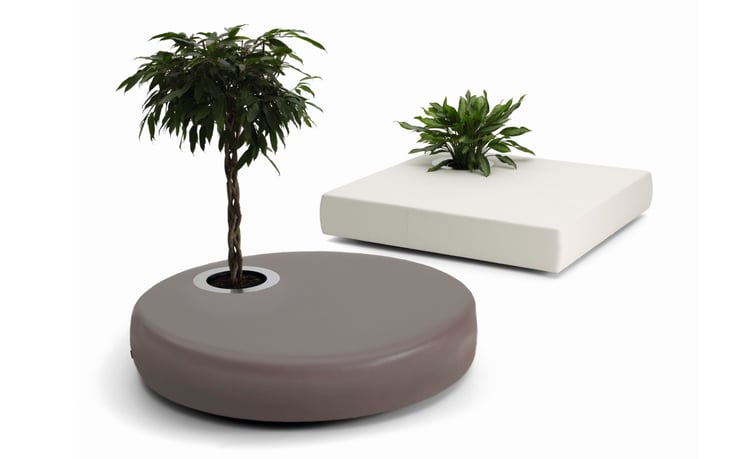 Green Island by Offecct is a great example of furniture and flora coming together to create an interesting office piece
In 2018, we expect to see more sophisticated and inventive ways of introducing biophilic designs into offices come into play. This not only includes more dynamic and playful furnishings such as living dividers, and office design built around foliage, but in all aspects of the workplace; from seeking renewable energy sources, to carbon offsetting, and locally sourced food for the cafeteria, and even green web-hosting alternatives.
Ascertaining the sustainability of the products you use, from the chairs you sit on to the paper you print with, is fast becoming standard practice.
New Year, New Colours
At the tail end of 2017, Pantone Colour Institute executive director Leatrice Eiseman revealed what colour and design trends to expect this year, with a bit of something for just about everyone across the 8 trend palettes offered by Pantone. Whilst the colour of the year, Ultra Violet, has been met by some scepticism, the complete spectrum of colour trends offered is a vibrant selection.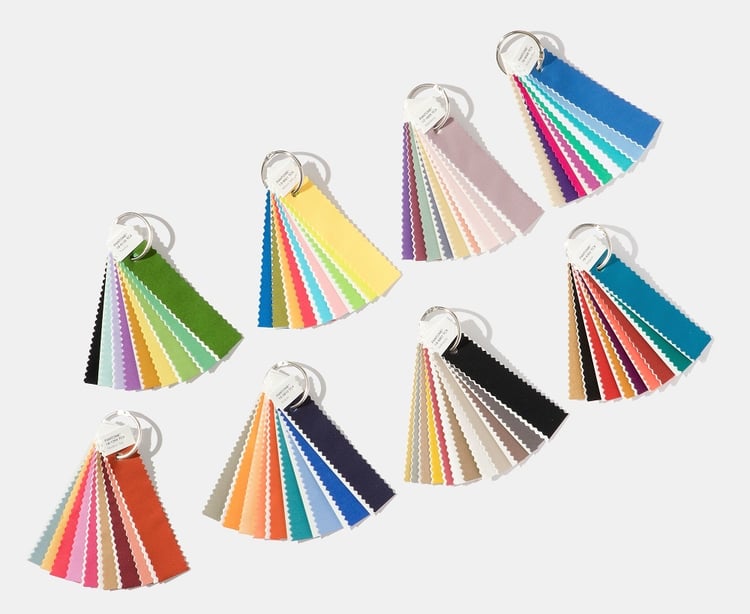 The 8 colour palettes offered by Pantone are called Resourceful, Verdure, Playful, Discretion, Far-Fetched, Intricacy, Intensity and TECH-nique
"Resourceful", which combines warm and cool tones is an interesting combination, which keeps things bright and fresh. If you're looking for something a bit more fun, the "Playful" palette combines Bright Yellow, Lime Popsicle and other sprightly colours. "Intricacy" might also be compelling for offices looking for a more neutral yet future thinking look. The palette of neutral metallic with the additions of emotive Holly Berry red and yellow Sulfur add life to the trends.
Speaking at the International Home + Housewares Show, Eiseman said "Metallics we know are classic, but they have really moved over into neutrals… Intense colours seem to be a natural application of our intense lifestyles and thought processes these days."
Dynamic Design
Flexible working spaces is a trend we expect to continue to gain prominence in 2018. The limitations of relying solely on open plan offices have frequently been exposed, and providing a multitude of working environments is increasingly being seen as the answer to the problem. As well as building distinctive rooms within offices, modular furniture is improving, offering lightweight and stylish options when building actual walls isn't an option. Furniture needs to be versatile, adapting to multiple users and environments, as and when people require them.
From meeting pods to high backed booths, there has never been such an attractive array of options available to create dynamic designs within the workplace.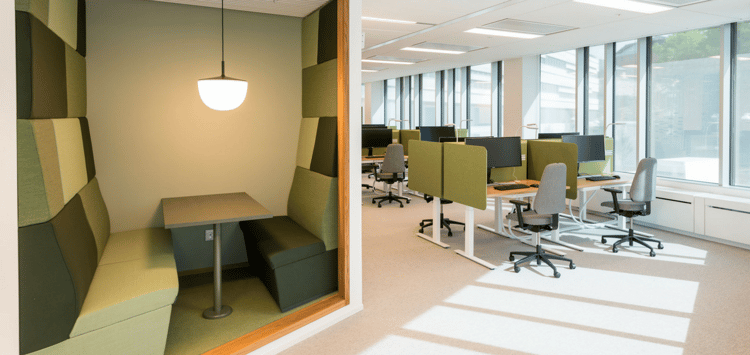 Segerstedthuset, a university building in Uppsala, Sweden, features a variety of workspaces for the 800 employees, from sit stand desking to meeting pods.
Texture
With workspaces favouring neutral of minimalist designs of late, variety is introduced through the use of multiple textures. Plants and biophilia is one way to do this, but also in the variety of textures used in furniture and fittings. Combining woods, metals, textiles, and stone is a trend that has been growing, and one we expect to continue.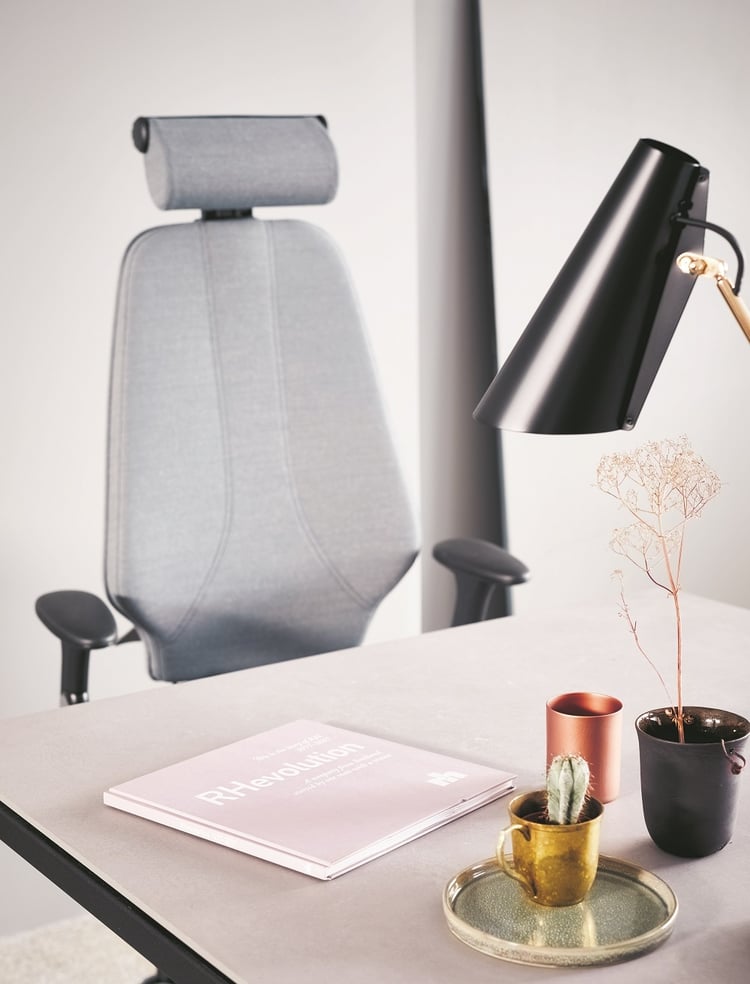 The RH Logic Elegance is available in a variety of materials, offering a more homely feel to a powerful business tool.
Furniture is a great way of adding extra texture and colour into environments, without introducing additional clutter. Look for desking and chairs which offer the colours and materials that match your office schemes, as well as those which evoke a sense of nature and the outside. Acoustic panelling, woven rugs, and handmade décor are additional examples.
Textures enhance the sensory aspects of an environment, and these natural and homely touches give a sense of being at home and in a comfortable place.
VR hits the mainstream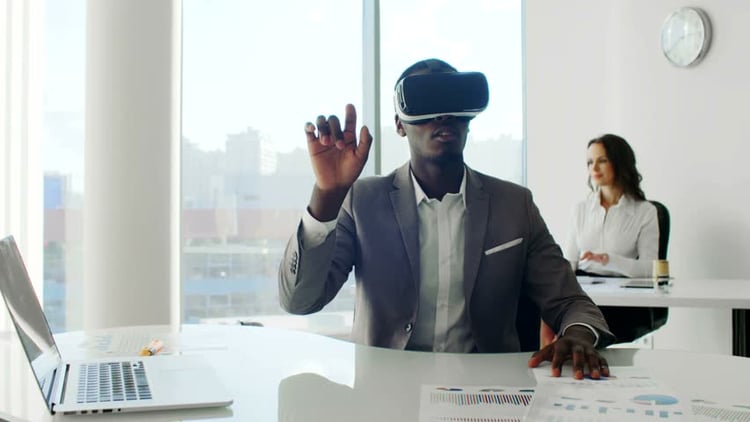 Virtual reality isn't new, but it is starting to reach the tipping point where it is becoming a viable product in the real world, outside of heavily controlled environments. Gaming enterprise The Void are pioneers in immersive gaming, with several temporary exhibits to compliment their Salt Lake City HQ.
With the big players in the world of technology developing their own technologies, apps are slowly making their way from gaming platforms into the world of business. There are already fully functional and commercially available applications for architects, but in 2018 we expect to see VR and AR began to permeate into other industries. New players including 3D.Run are developing ever more intelligent ways of working in VR. Their Cybershoes are a unique way of simulating movement, without needing a lot of space.
Now we don't imagine the office landscape to change overnight, but what we do expect to see is some early adopters at the top end of the tech office scale to start using this technology more and more in their daily working lives.
Posted by
Richard Ferris on 17-Jan-2018 13:47:28