In 2018, Flokk set out in search of a small business in need of an urgent office makeover, with a mission to give them the work space of their dreams. After whittling down our entries, UK brand Northern Monk came out on top, and we sent our team or designers to spruce up their office. We explore what went into the design process, and how the team are getting on with their new working environment.
About Northern Monk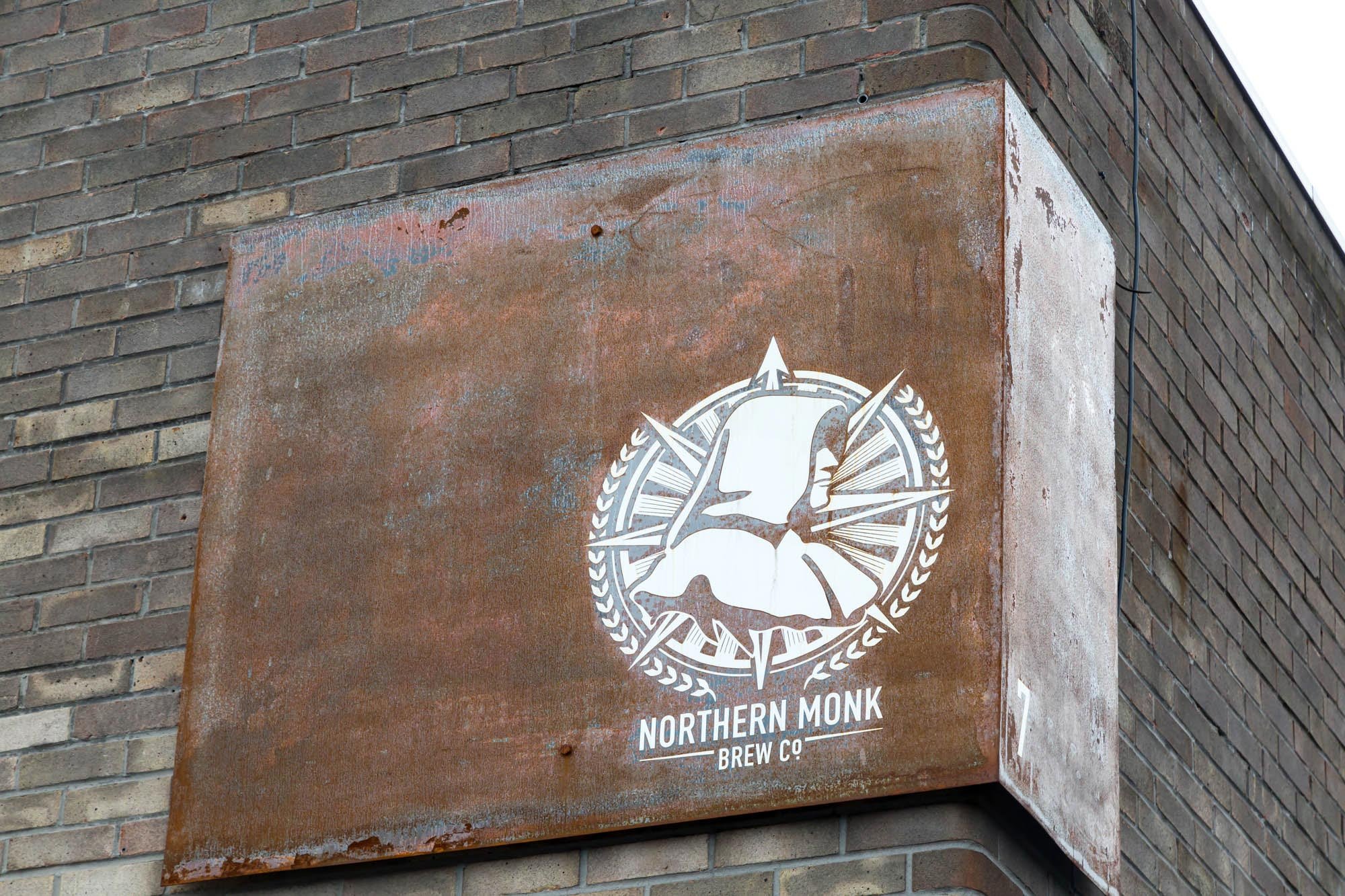 Northern Monk is a craft brewery based in the North of England. Started in 2013, the business has grown rapidly, and with their progressive and creative approach, they are at the forefront of the craft beer movement, recognised globally as one of the best.
Expanding from two to 60 employees in just four years, Northern Monk's central office is located above their main brewery in the city of Leeds. A hub of creativity, the work space is where concepts are developed, label are designed, and most importantly, the beers are named. One of the goals of the redesign was to make a space which reflects this creative process.
Collaboration is also very important to Northern Monk, something you can see in their successful Patrons Project series of beers created in cooperation with local artists, athletes and creatives. The brewery works with these partners to create unique tasting beers that aim to reflect each individual patron, such as the Raspberry Ripple Donut IPA created with Temple Coffee & Donuts, through the taste of the beer, and the limited edition can designs.
Collaboration was therefore another crucial element to consider when redesigning the workplace, to create an environment which allowed cross pollination of ideas, where the team could meet informally as well as discuss ideas throughout the day.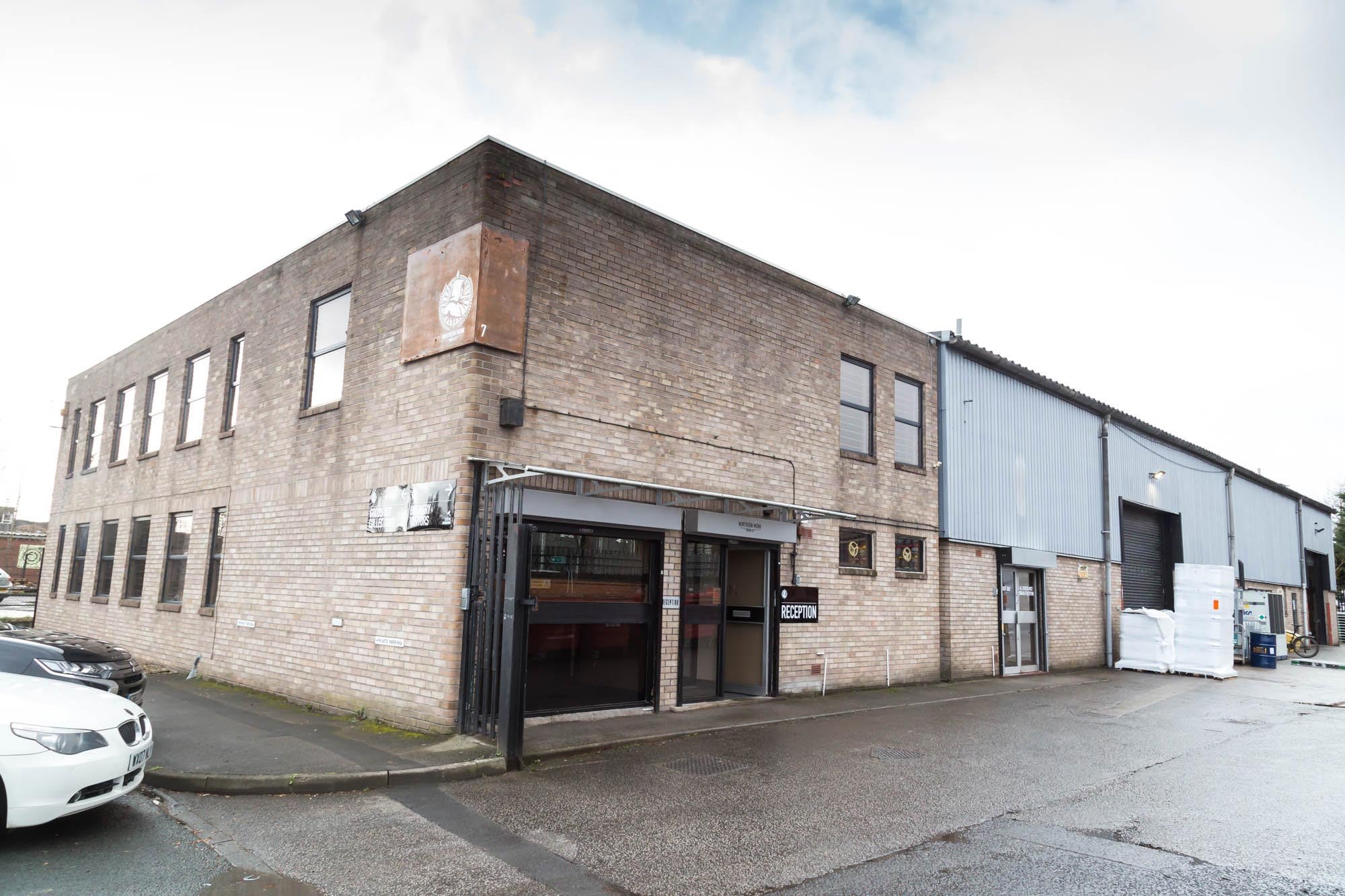 Northern Monk's second brewery location and current central office, located in Leeds, UK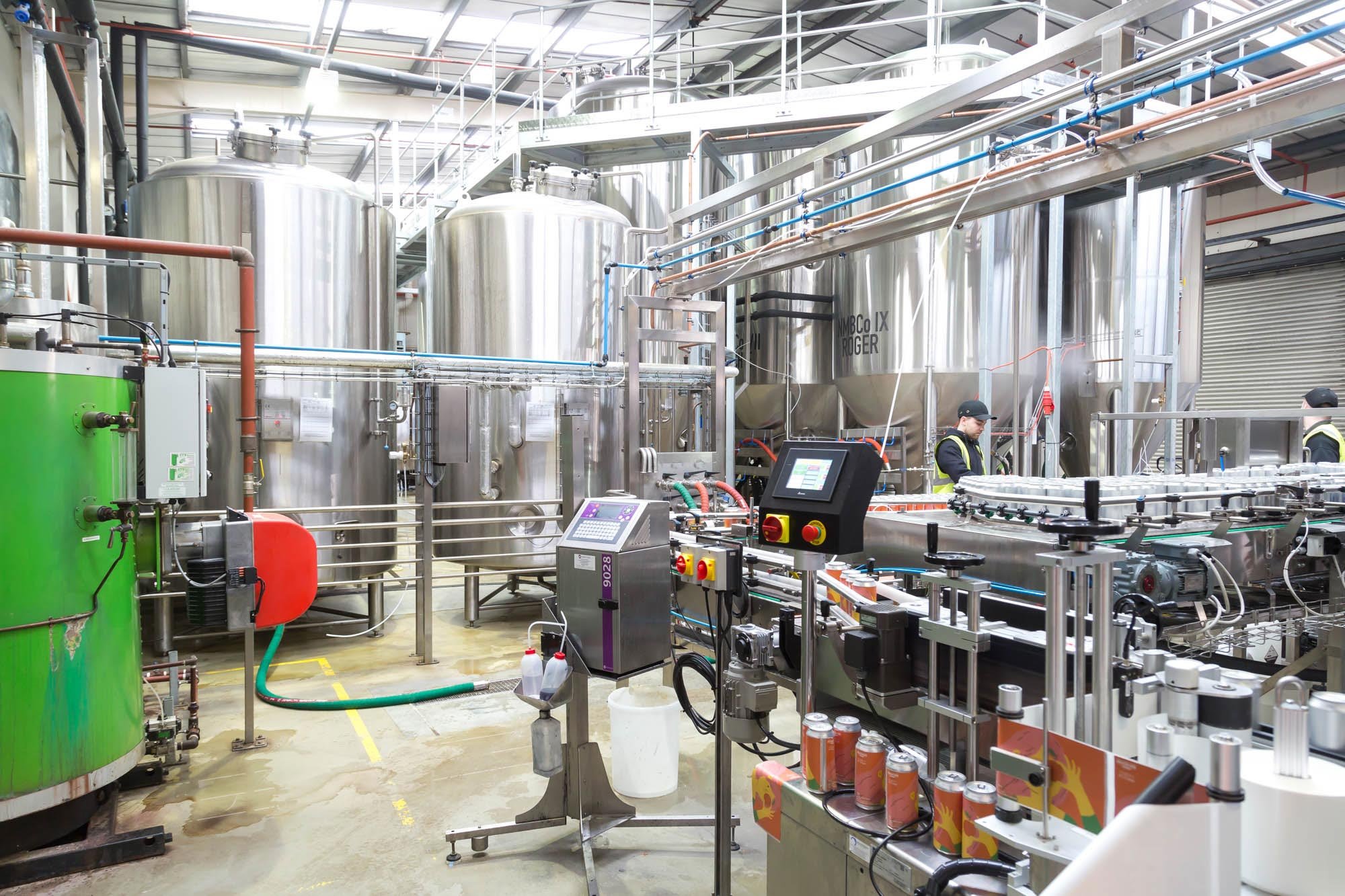 Northern Monk have two breweries, meaning they can brew up to 18 different beers at a time.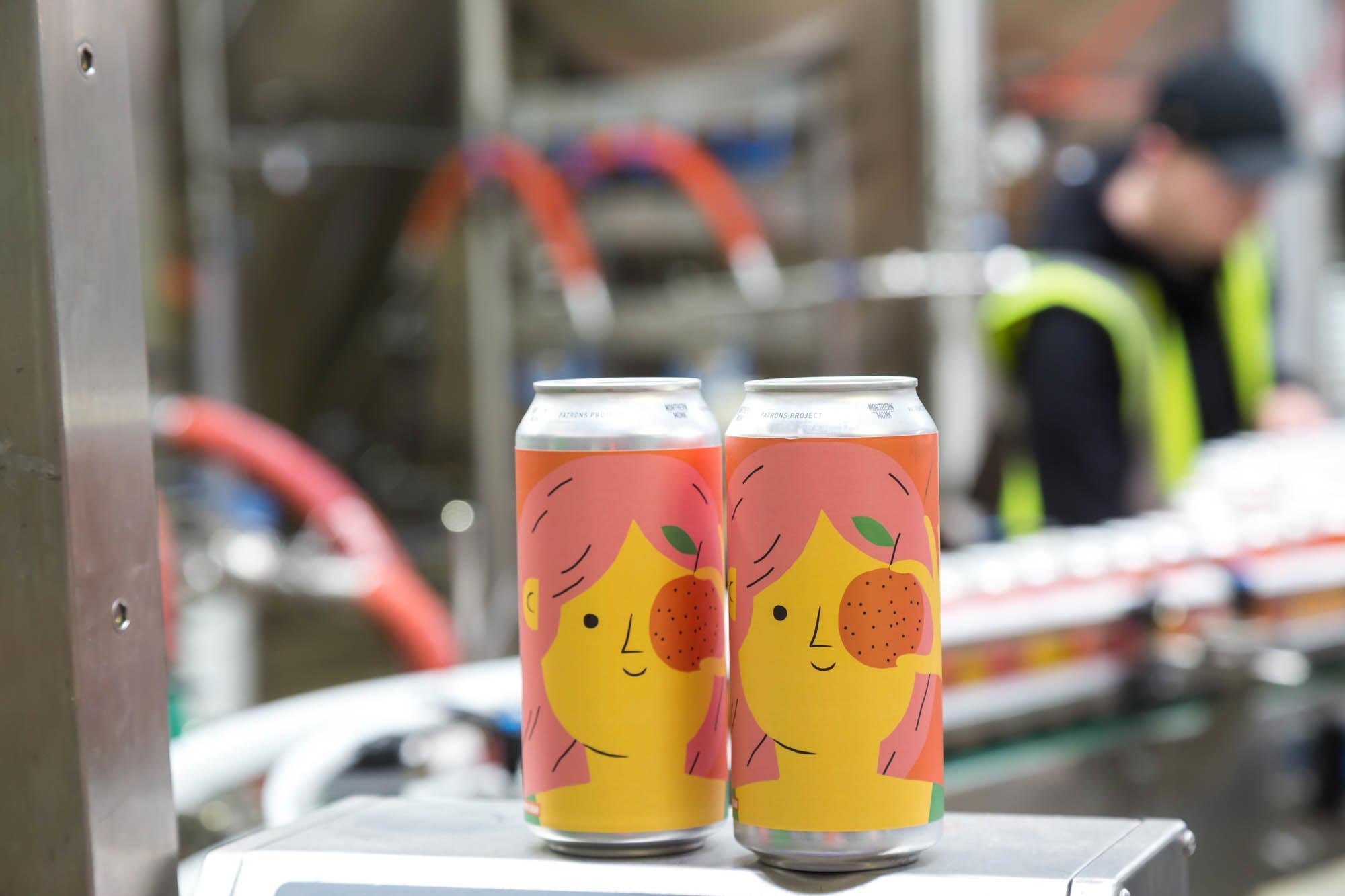 For their 15th Patrons series, Northern Monk worked with textile designers and illustrator Lucy Ketchin to create Farewell Tangerina (pictured), a fruited sour ale inspired by her artwork and love of music.
The Redesign
Working closely with Northern Monk, Flokk interior designer Kari Nost Bergem set about work on the redesign. A new central desk space was built, turning multiple desks into one single work surface, creating an additional two workstations in the process. The new desk also hides all unsightly cables, establishing a clean and spacious tabletop.
One end features two stand-up desks, allowing for stand-up work, and incorporates a beer board to showcase stickers or cans for the latest ideas the team are working on. A new storage area which matches the desk was created along one wall, and an array of plants have been introduced to brighten up the interior. Desking is complimented by HÅG Futu mesh chairs for the main desk, with HÅG Capisco seating for the flexible sit-stand desks.
For the flooring, Northern Monk required something that is easily cleaned, with frequent trips to the brewery floor often creating dirty footprints and spillages. Their dark carpet was replaced with a robust rubber flooring, provided by Artigo.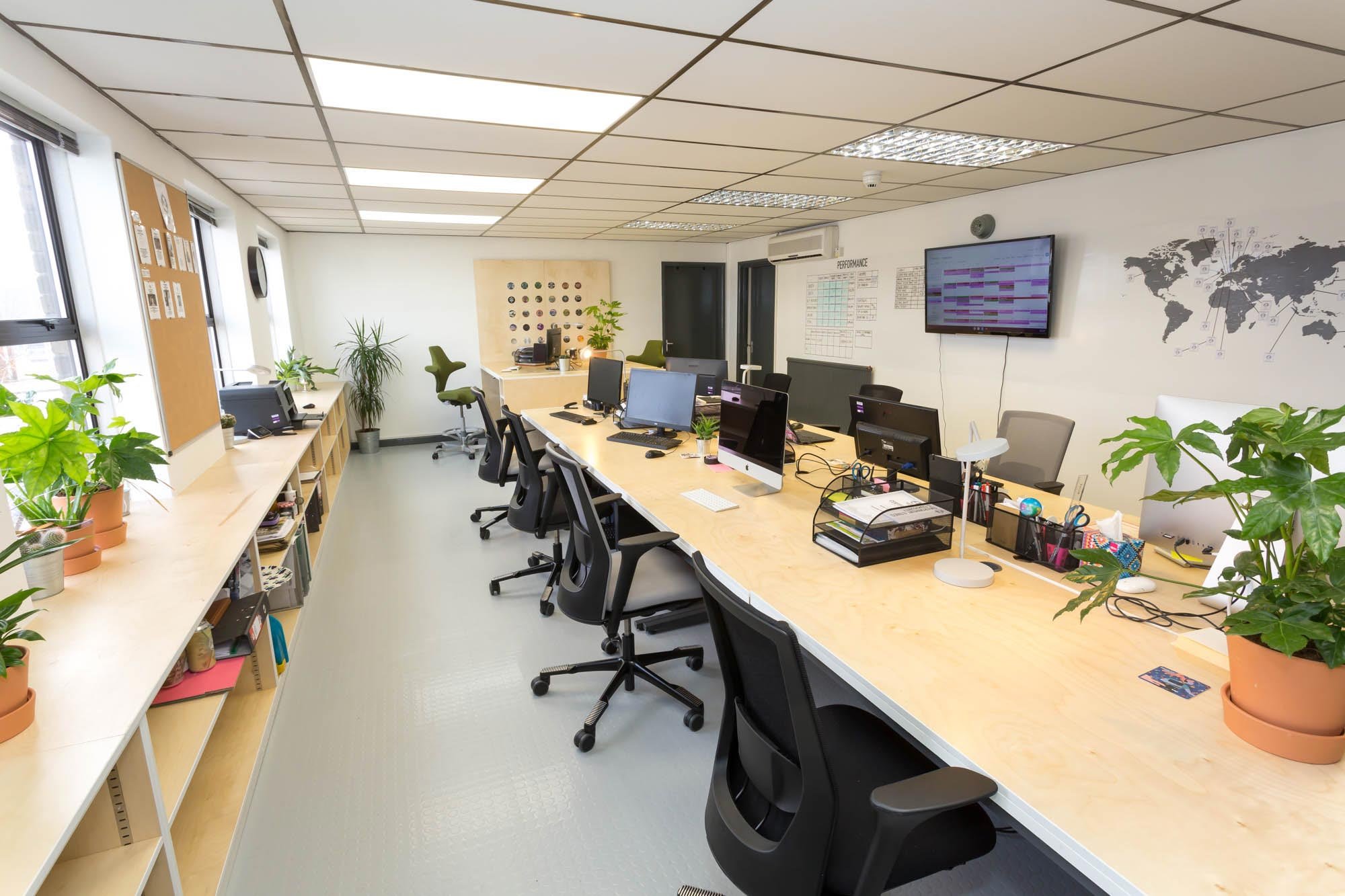 The new central work space features new matching furniture, flooring, decorations and plants to create a light airy and inviting environment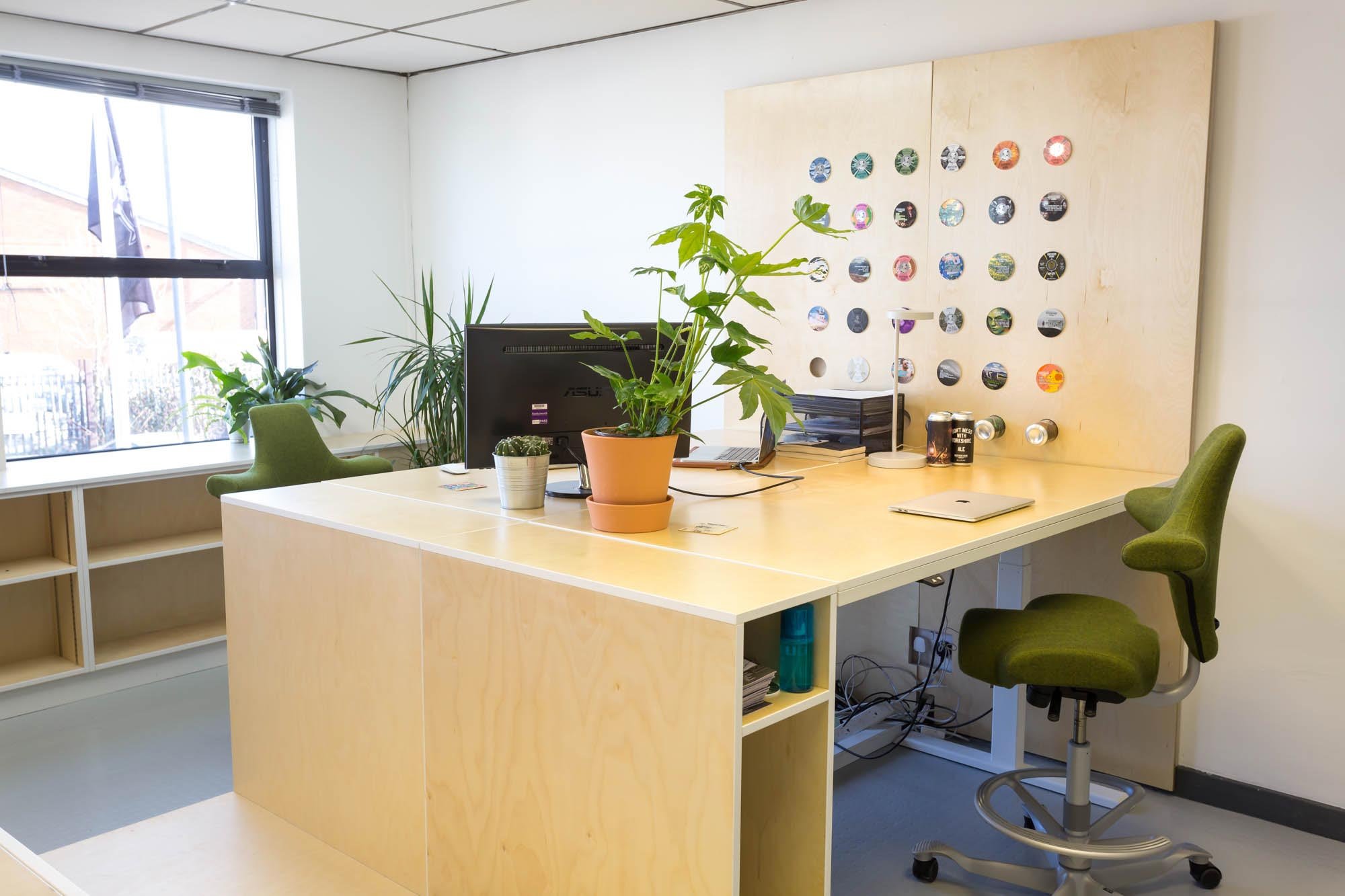 Two sit-stand desks are complimented by HÅG Capisco chairs, perfect for flexible work.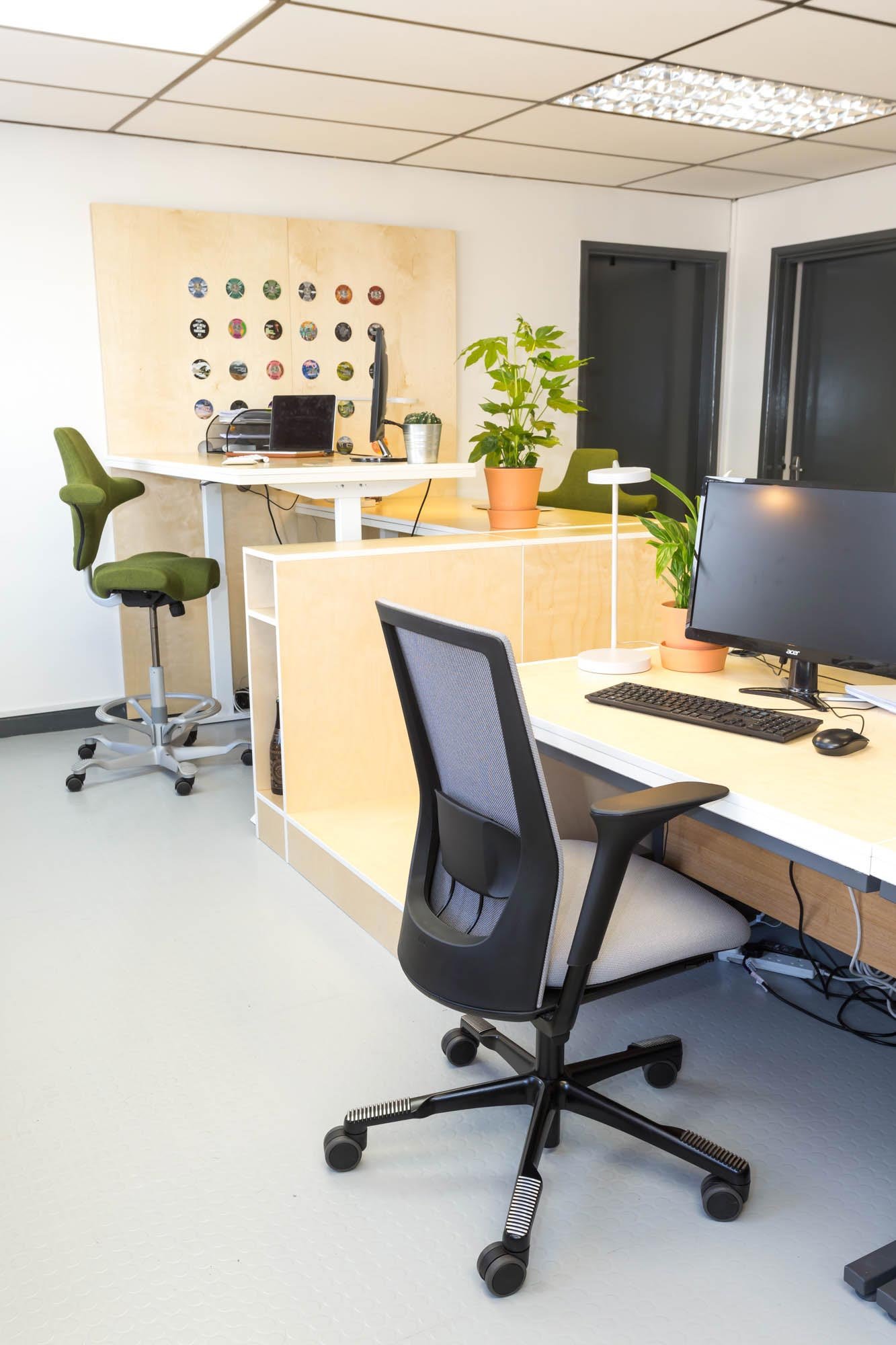 The HÅG Futu chair is the main office chair of choice, with grey and black facrics chosen by Northern Monk to match their corporate branding.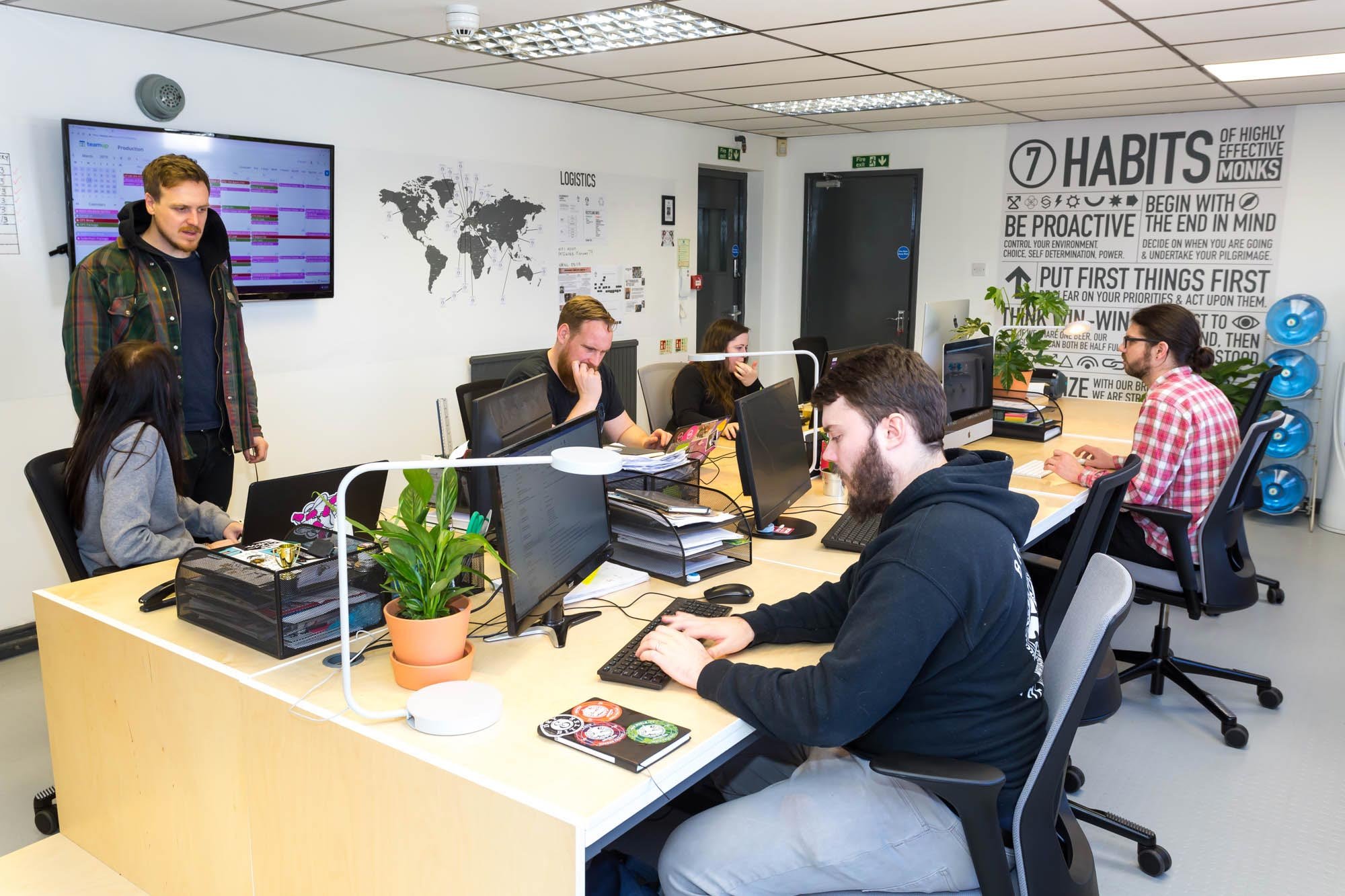 The main office is a hub of creativity, and the central desk allows easy communication and collaboration between the team
The colours were picked in dialogue with the brewery, who wanted to keep the interior aesthetic as close to their logo and brand-identity as possible. Grey tones, with some hints of traditional deep green in addition to black were selected for the furniture, with light birch wood used in the desking, adding a Scandinavian touch to the environment. The floor is also a light colour, and the team opted for a shade of grey to match the HÅG Futu mesh colour.
The Break room
The break room needed to be a place where workers could eat, relax, and chat. A new central table has been installed, the On-point Table by Offecct, complimented with a set of RBM Noor chairs. Fabrics and chair shell colours were matched to the same greys and greens as the other furniture.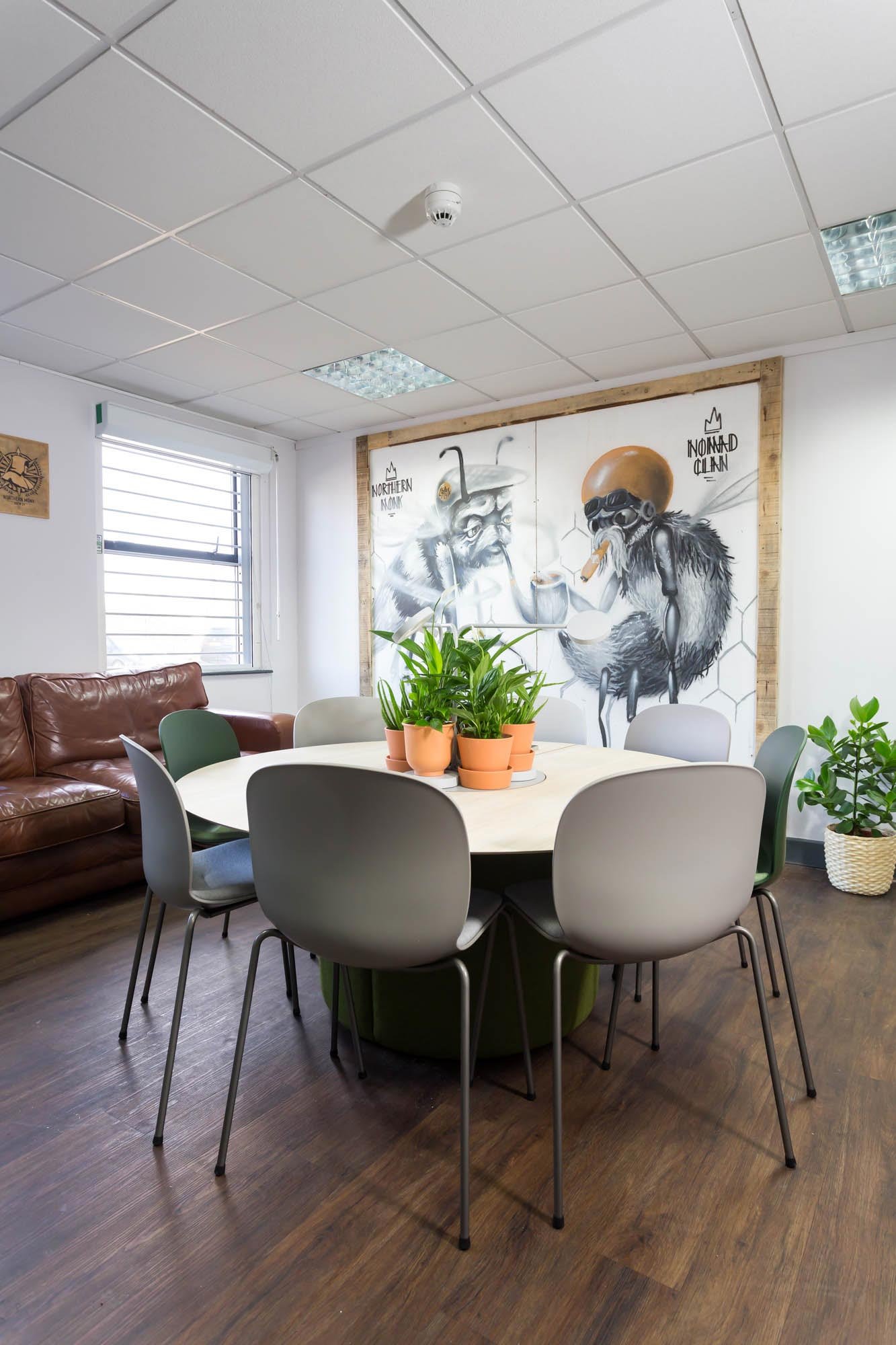 The On-point table by Offecct is joined by a set of RBM Noor chairs, allowing the staff to take a break, or hold an informal discussion.
The Office
The final room to be made over was the boss's office, where private chats and phone calls could be made. New seating has been installed to ensure that the same furniture ran throughout the building, with a HÅG Futu mesh and two further RBM Noor chairs, in green and black this time.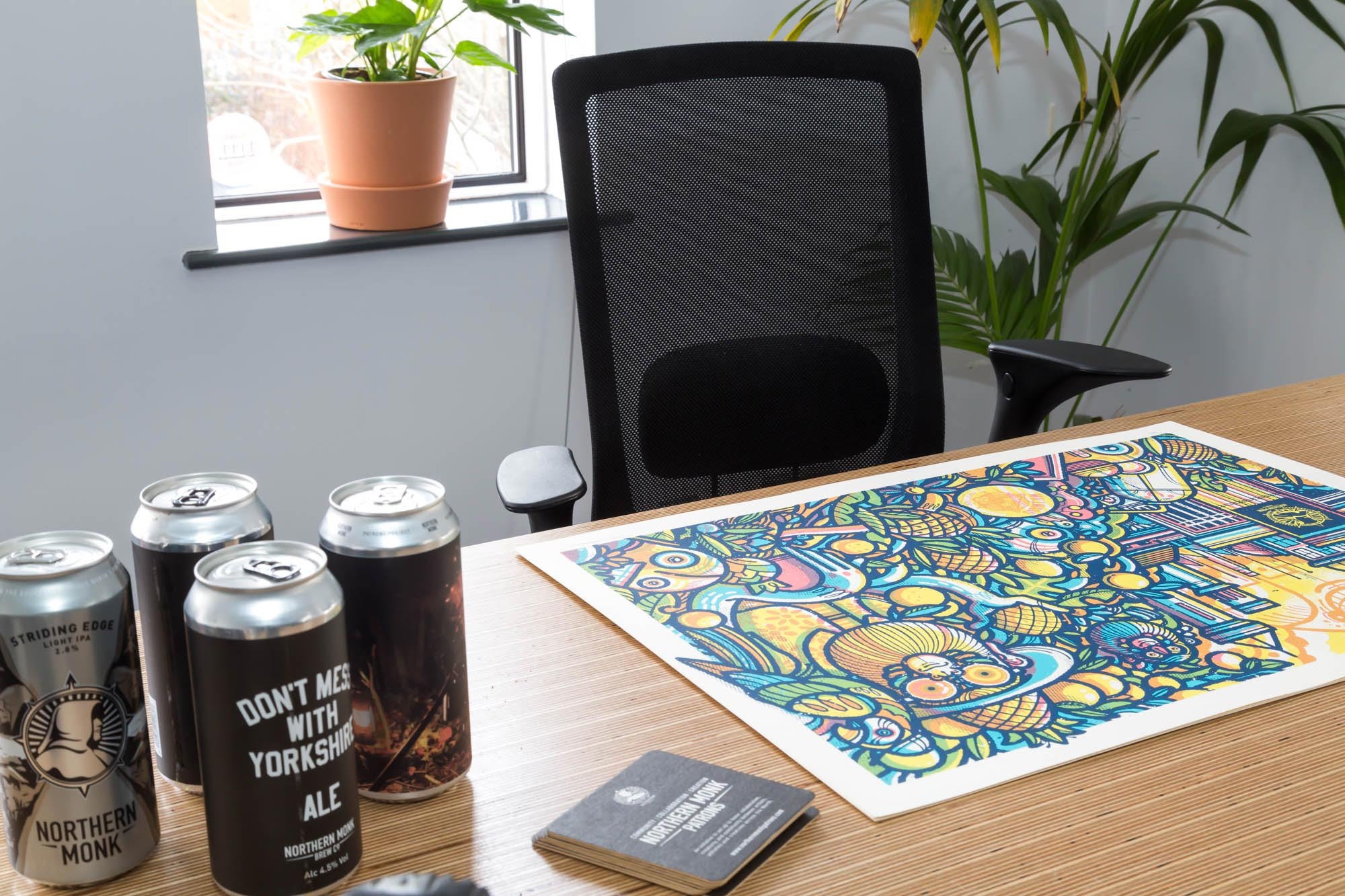 The office features one further HÅG Futu mesh with two RBM Noor chairs, also in brand colours.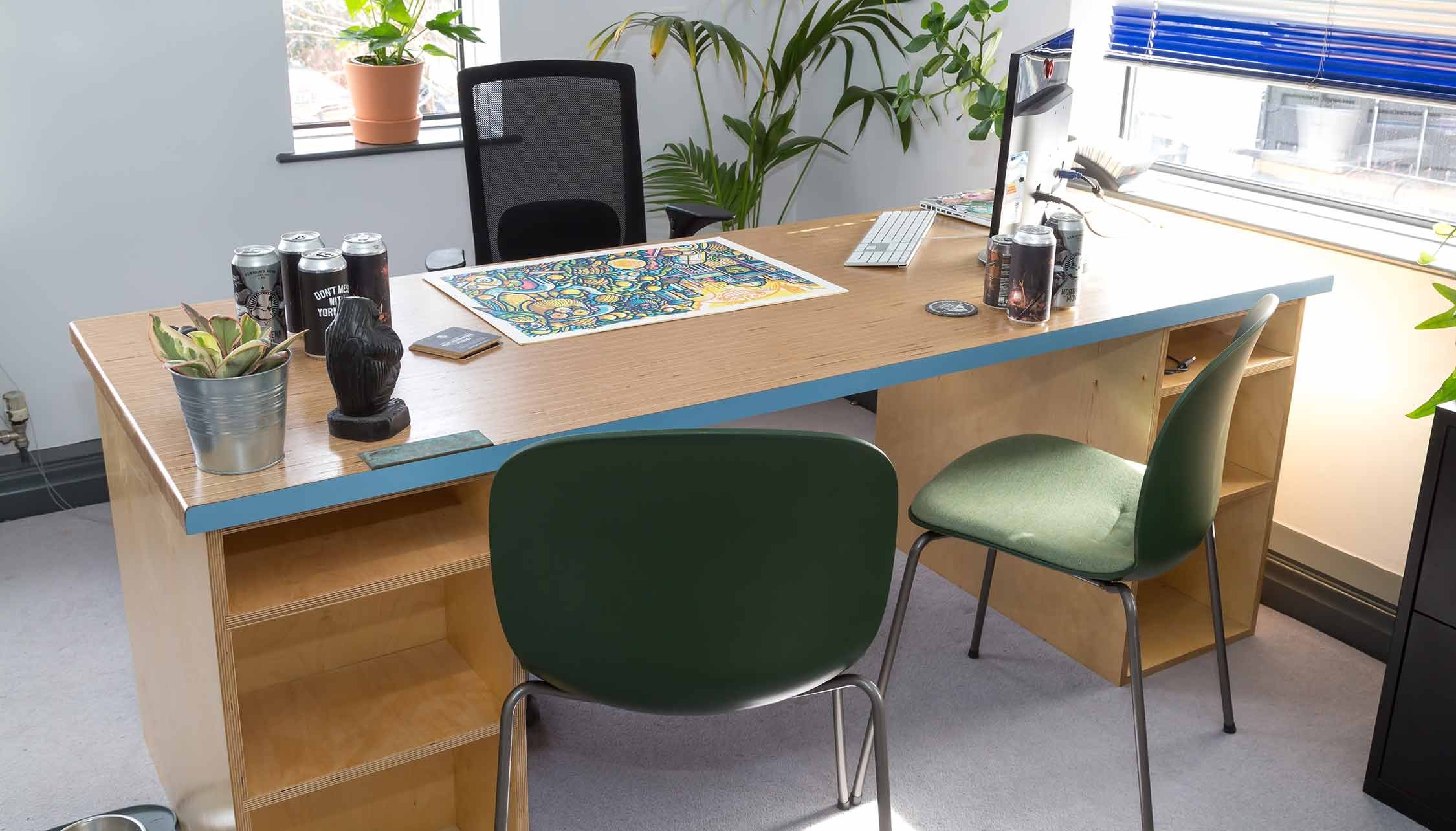 The office also has a sofa and settee, allowing for small private discussions when necessary.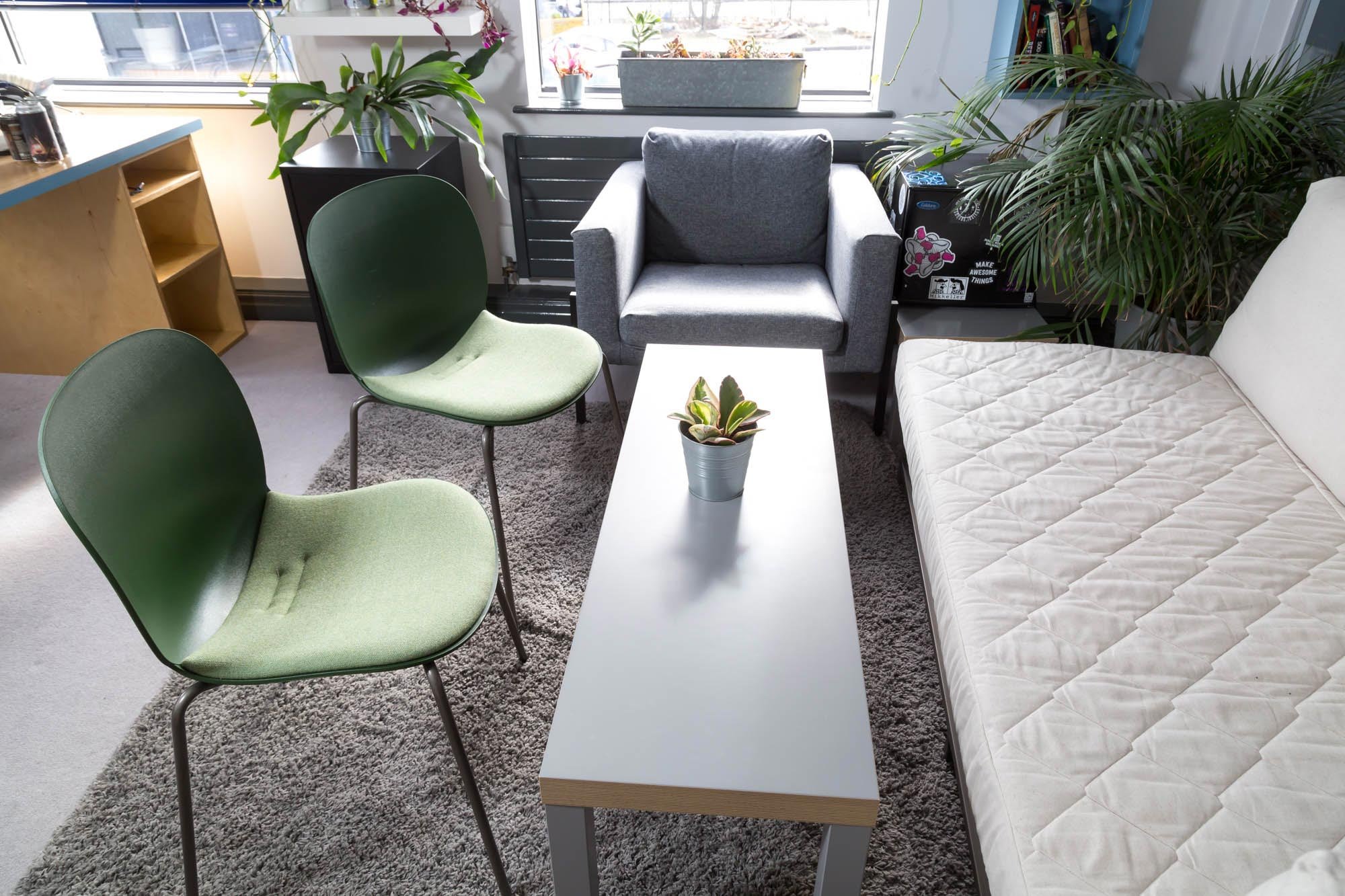 The Result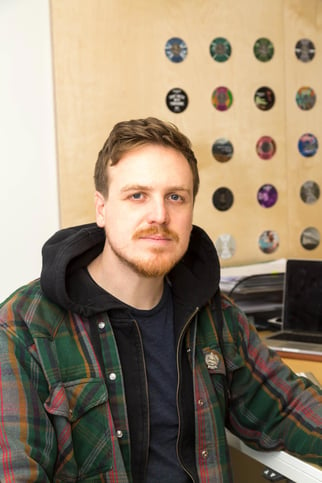 Northern Monk Founder Russel Bisset: Here at Northern Monk our inspiration comes from the history and heritage of brewing, but also our northern identity as a business. When we were working with the designers at Flokk they really took that into account. They've taken what we had envisaged the brand and our working environment to be and just taken it up that extra level with their input.
I'm currently using the HÅG Capisco, which has been great for me. In my role I'm involved in every bit of the business and I'm constantly on the move, in and out of meetings. The flexibility that chair offers is really unrivalled, I think it's been fantastic for me.
The whole office feels such a bright, positive and collaborative working environment at the moment. The office makeover has been so powerful, because it has coincided with an increased amount of professionalism and I think it really reflects where we are as a brand now. It's a beautiful bright space, it's a hub of creativity and I think it's really helped to foster a working environment and culture we've got at the business."
Northern Monk head of HR Sophie Lennon: "As HR it's my job to make sure we've got a really productive positive working environment and I feel like the office has really added to that... The office is a really creative space, it's where our beers are named, the labels are created and our marketing strategies are pulled together. It's a massively collaborative environment, and to have a space that's a lot brighter and open really fosters that atmosphere."
It has been a real pleasure to work with Northern Monk on their new workplace, and we hope that their new interior design plays a part in helping them to achieve even greater success in the future!
More Articles
Creating the 'anti-office' with Vipps & Radius Design
Norwegian university campus wins architectural prize for its sustainable & stylish design
Global firm promotes corporate identity with complete office redesign
Architects M Moser deliver immersive brand experience at new APAC offices for global drinks firm Diageo
Posted by
Richard Ferris on 13-Jun-2019 14:43:43