Sustainability. It's a word we hear a lot these days, but what does it actually mean? In environmental terms, it's about striking a balance between giving and taking, about not using up natural resources quicker than they are created, and about recycling and reusing materials faster than they are discarded.
For HÅG, sustainability is a big part of our heritage, and a concept which comes naturally to the people of our hometown Røros. Over the centuries, the harsh environment of rural Norway encompassing the town meant the people had to ensure they made the most out of the limited resources at hand. This spirit continues to this day and after over 50 years, has become a part of the HÅG philosophy.
Missed the first blog? Read - The home of HÅG
Røros – A sustainable destination
The aesthetic quality of Røros has largely remained the same over the years. New buildings have popped up, but the central area is lovingly preserved. The town is built entirely of wood and is interlinked with a cultural landscape that shows – in an outstanding and almost complete manner – how mining operations, transportation, and the way of life had to be adapted to the requirements of the natural environment.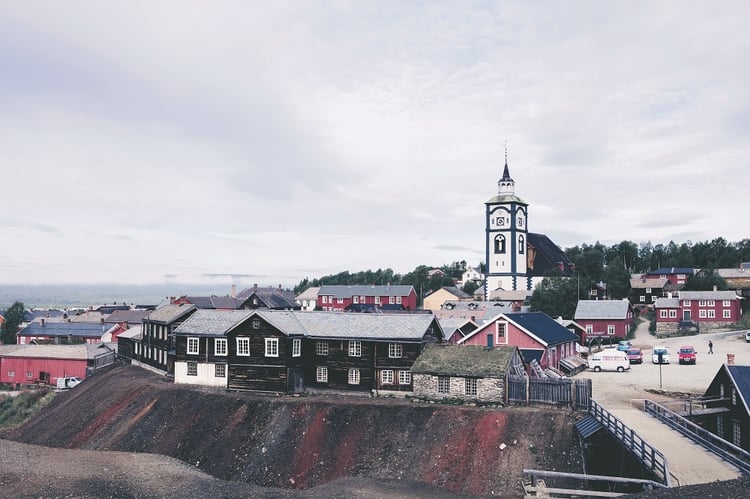 After the closure of the last mine, Røros itself became the most important industry to the town, largely due to its unchanged appearance and remarkable preservation as a historic settlement. In 1980, the town became a UNESCO World heritage site, and transformed into a tourist destination.
In 2013, Røros received the prestigious certificate "Sustainable Destination", a quality label awarded to destinations that work systematically to reduce the environmental impact of tourism while maintaining a high-quality experience for visitors, as well as preserving the destination's history, character and nature.
Both of these achievements are seen as something to cherish and gives the people a sense of responsibility to safe guard the environment for future generations
Sustainable furniture
Based in this town, it's hard not to absorb these ideas, and combined with our own desire to be a more sustainable company, HÅG are pioneers in the field. We appointed a dedicated environmental manager back in 1990, the first company in Norway to do so. By 1995 we began to use recycled plastic in our production chain, running a national campaign encouraging people to send us their bottle tops.
Today all kinds of recycled plastics make it into our chairs, and we are forever working on increasing our recycled material content without compromising the standard of our chairs. In 2015 one of our chairs, the HÅG Capisco, was named "Best Recycled Plastic Product in Europe", an award presented by the European Association of Plastics, Recycling and Recovery Organisations.
At present the Capisco uses 100% recycled PP, and an array of recycled or sustainable fabrics dependant on selection, including 100% recycled polyester in the Xtreme range, or sustainable Norwegian wool, as part of an award-winning collaboration with Gudbrandsdalens Uldvarefabrik and Sandnes Garn.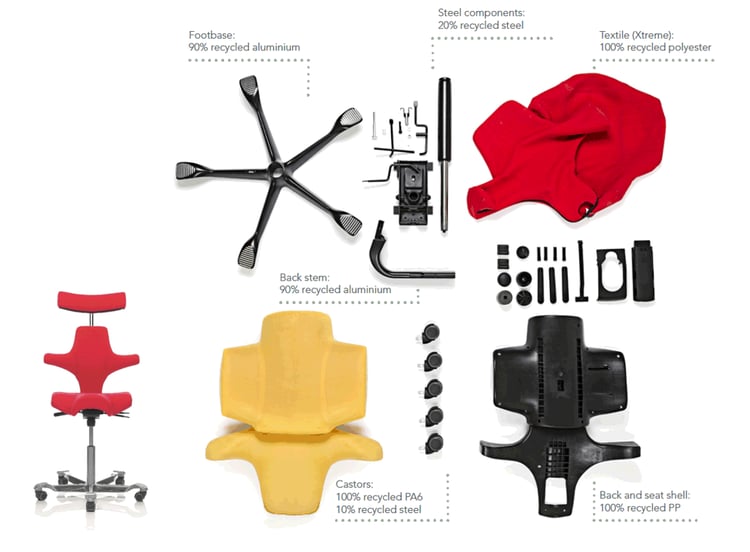 Recycling is only one side of the puzzle though. In 2004, after years of strenuous work, we received our first EPD (Environmental Product Declaration), independently verified and registered document that communicates transparent and comparable information about the life-cycle environmental impact of products. It calculates the complete impact on the environment, from material sourcing to final delivery, declaring important indicators such as the product's carbon footprint and share of recycled materials.
More than 95% of the total environmental impact of our products is generated before parts and components even arrive at our factories. Therefore we make sure we pay particular attention to where we source our materials from, and how far they have to travel to reach us.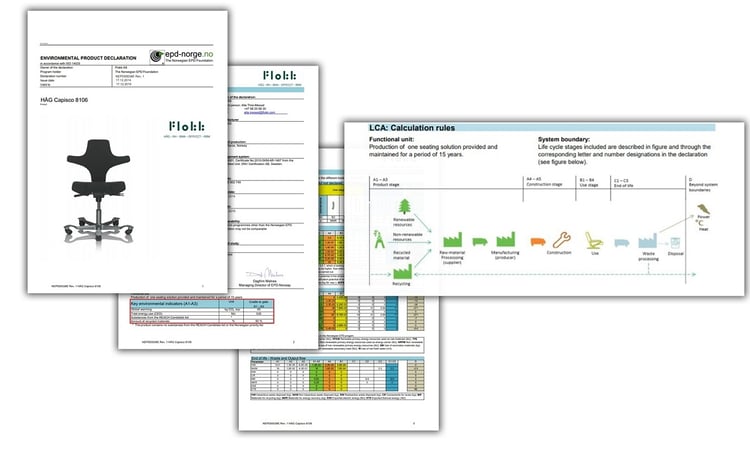 Recognising Sustainability
Having an EPD does not necessarily mean that a product is environmentally friendly, but it gives you a clear indication of the total impact the product has, and you can to some extent compare product EPD's to see the difference between manufacturer's products. We are proud that our EPD's acknowledge that we have some of the lowest CO2 emissions in the furniture industry, and now all HÅG products go through this process.
Aside from EPD's we have our chairs Greenguard certified, meaning they don't emit any harmful gases, and contribute to a healthy indoor climate. This means we cut toxic glues completely out of our production chain, replacing them with other techniques such as using twine. In 2010 one of our chairs, the HÅG Capisco, was the first office chair to be awarded the renowned Nordic Swan Ecolabel, an award which recognises that a product adheres to one of the world's toughest and most recognised environment requirements, which looks at minimal use of chemicals and a high share of recycled materials through all phases of a products life cycle and continuously tightens those requirements.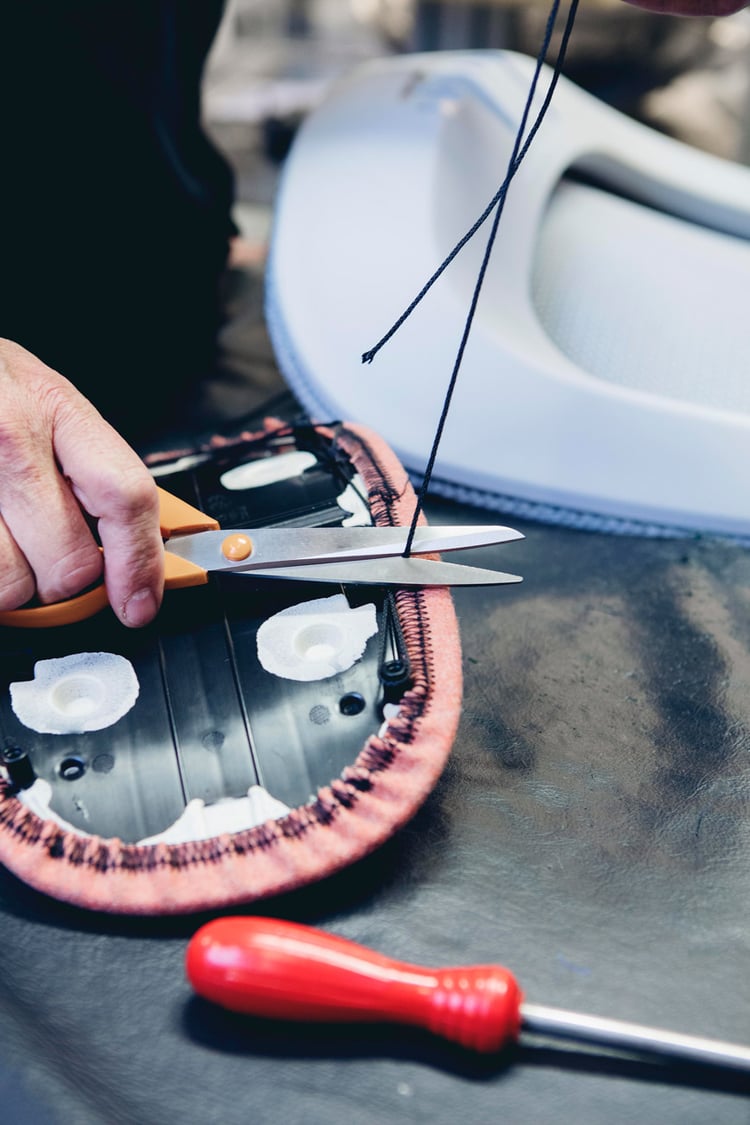 On all our chairs, we cut glue out of the equation, and instead use strong ropes and twine to keep seatpads cushions and material in place.
The Future
To be sustainable is a simple concept, but putting it into practice is one of the greatest challenges our society faces. Humanity uses more ecological resources and services than nature can regenerate, through over-fishing, over-harvesting forests, and emitting more carbon dioxide into the atmosphere than forests can sequester.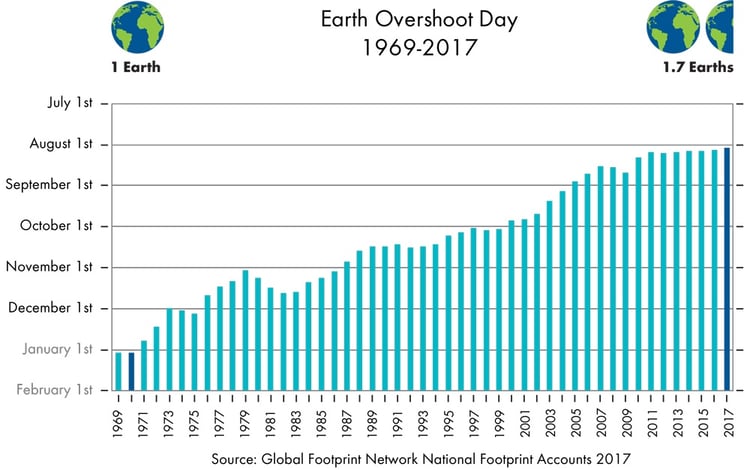 Since the 1970's, scientists have been assessing our ecological 'debt'. Each year a specific date, today known as Earth Overshoot Day, marks the official day we have exhausted our annual allowance of resources, and begin eating into the next year. In 1971, that date was 24th December. In 2017 it was August 2nd. But it is through continued commitment to sustainable practices that we can begin to push this date back to where it belongs.
More Articles
The story of a design icon - HÅG Capisco
Exciting developments in sustainability are changing the way we deal with waste
Sweden's most beautiful office 2019 Award includes multiple stunning projects featuring Flokk
Flokk interior architect designs new office space for craft brewers Northern Monk
Posted by
Richard Ferris on 20-Mar-2018 11:43:47