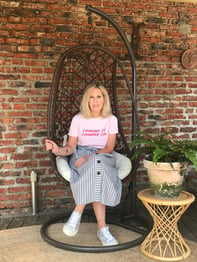 Multi award winning blogger, writer, presenter, and columnist for Real Homes Lisa Dawson featured the RBM Noor in a recent blog detailing the interior design transformation of her home kitchen.
You can read Lisa's blog in full via the link at the bottom of this page.
Sustainable Design
The aim of Lisa's redesign was to make the space cosier. She was happy with the layout, but not the colour and styles. Influenced by a Pinterest board - "Ply doors, wooden floor, farmhouse table, neutral decor. The whole effect was light and bright but also sustainable and bursting with natural materials. I wanted this look for my own kitchen" – she set out on her project.
Having only renovated 4 years previously, Lisa's goal was to restyle in as sustainable method as possible, reusing and recycling elements wherever possible, and 'freecycling' (gifting for free) anything she no longer wanted.
Out with the old
Lisa freecycled an unwanted ornate cupboard, recycled and replaced her cupboard doors, and installed new worktops, with her old ones re-purposed in student houses by her builder friend, along with the kitchen sink. Old lighting was sold online, whilst the radiator given away for free.
In with the new
The old elements were replaced, creating a natural feet to the kitchen, with a new wooden floor, table, and cupboard doors, with light marble work surfaces.
Lisa wanted a colour contrast to the rest of the room and loved the idea of pale pink against the birch wood ply. She visited the Flokk showroom in Clerkenwell and picked both a wool seat and shell from a huge variety of colours.
Five RBM Noor chairs and two sleigh stacking chairs completed the seating arrangements. They're made from recyclable and recycled materials so they not only look good, they're also good for the environment.




The Result
And how does she feel about the transformation?
Lisa: "I'm really happy with the end result. It feels so much lighter and the gloss ceiling and white worktops have made a huge difference to the space. The revamped table is bigger than the old one and doubles up as a work space when cooking which was an unexpected bonus. Removing the excess cupboards has also made a difference and it's a room that the family linger in for longer than previous, in part due to the fact that the heating now actually works. Hopefully the new look and feel of the room will help get my kids out of the door in a calm and measured fashion. We can always dream."
Click here to read the blog in full
More Articles
6 tips to design a home office that works
HÅG Collaborate with award-winning interiors blogger for in-store pop up
Flokk at Stockholm Furniture & Light Fair 2019
What is the best office chair for back pain?
Posted by
Stacey Turner on 31-Jan-2019 10:20:27