Living and working in a city can often leave you feeling exhausted, both physically and mentally. Whilst a daily commute can increase these feelings, incorporating a 'daily commune' with nature is a great way to relax, and scientifically proven to make you feel better.
Researchers in Finland led by the Finnish Forest Research Institute found that people began to feel psychologically restored after just 15 minutes of being outside in either a park or a forest. If you can incorporate nature into your daily routine, or better yet whilst at work, chances are you'll feel a whole lot better. It's no surprise that biophilia is becoming ever more popular in the workplace, with plants and plant inspired decor now often part of an office's interior design.
That's why global retail giant Amazon have built a "cloud forest" for its headquarters in Seattle. Officially opened at the end of January, these giant plant-filled spheres provide both work areas for employees and green spaces for members of the public.
More than 40,000 individual plants from over 300 plant species are inside, as well as treehouse meeting rooms, river and waterfall features and palladiums to name a few. Speaking via their blog, Amazon said the spheres "all provide something that is missing from a typical office space, a direct link to nature."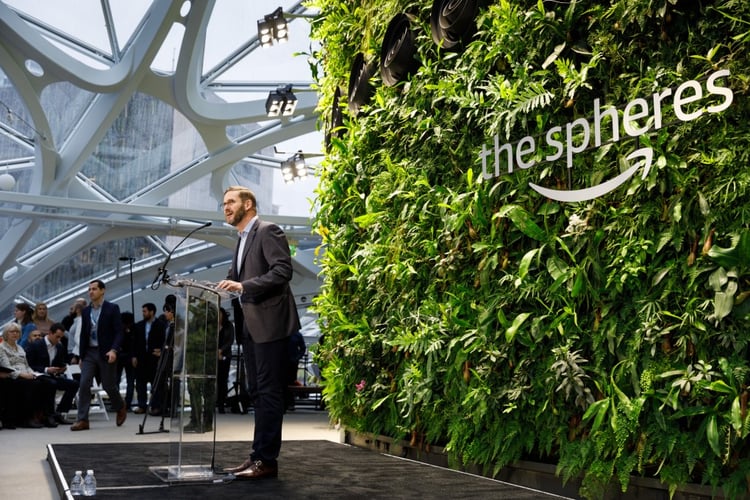 Photo by Jordan Stead, Amazon
At the launch on 29th January, Amazon Vice President of Global Real Estate and Facilities, John Schoettler said "Our goal with The Spheres was to create a unique gathering place where employees could collaborate and innovate together, and where the Seattle community could gather to experience biodiversity in the center of the city,"
Whilst Amazon employees and the Seattle community are blessed with the introduction of this new biodome, other cities around the world have some similar biological attractions which help people to destress and unwind. We've picked out some of our favourite urban green spaces.
Read more - Office installs rooftop running track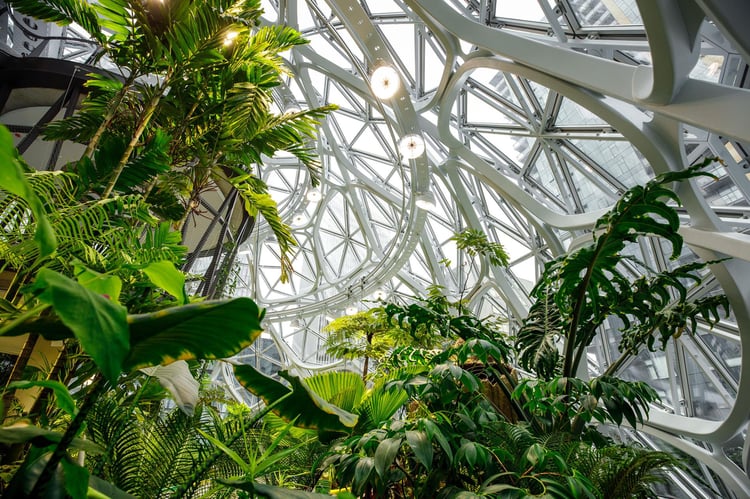 Photo by Jordan Stead, Amazon
Gardens by the Bay | Singapore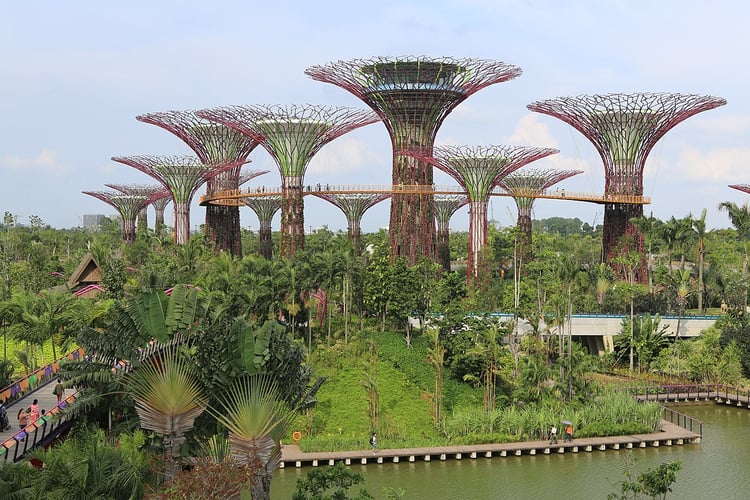 Photo by Shiny Things
Gardens by the Bay is a unique attraction in the heart of Singapore, a showpiece of horticultural artistry. Built on reclaimed land in the Marina, the sprawling 250 acre park was built as the premier urban outdoor recreation space.
Bay East, the second largest of 3 distinctive areas, offers a tranquil respite from the bustling city. This green space is open to the public and is designed as a series of large tropical leaf-shaped gardens, each with its own specific landscaping design, character and theme. A 2km track runs through this section, offering a scenic walking route at the end of a long day.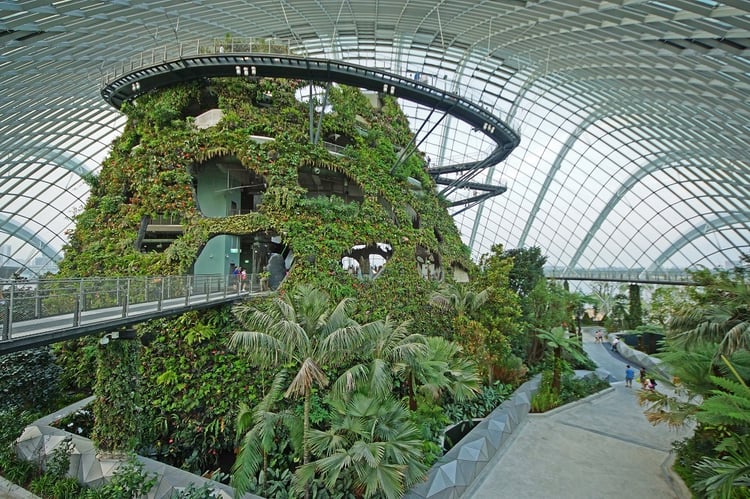 Photo by Allie Caulfield
Walking in parks is a great way to boost good moods, with studies at Stanford University showing just a 50 minute walk in a park can yield significant increases in happiness and contentment.
Read more - Dealing with stress in the workplace
Royal National City Park | Stockholm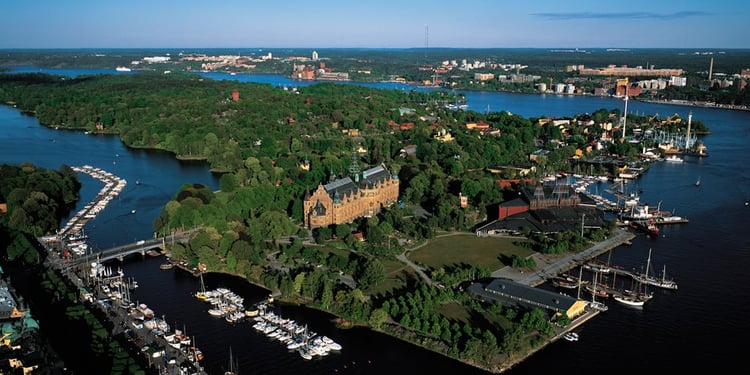 Photo by Visit Stockholm
Just a short train ride from Stockholm's Central Station is Royal National City Park, the 'world's first national urban park', right near the centre of the Swedish capital. A vast area more than 6 miles long, it contains an exceptional wealth of species including deer, moose, rare birds and a forest of trees. Dotted throughout the park are an array of amusements and facilities as well as secluded swimming spots, rocky hilltops and wilderness, making it difficult to imagine you are in the middle of a big city.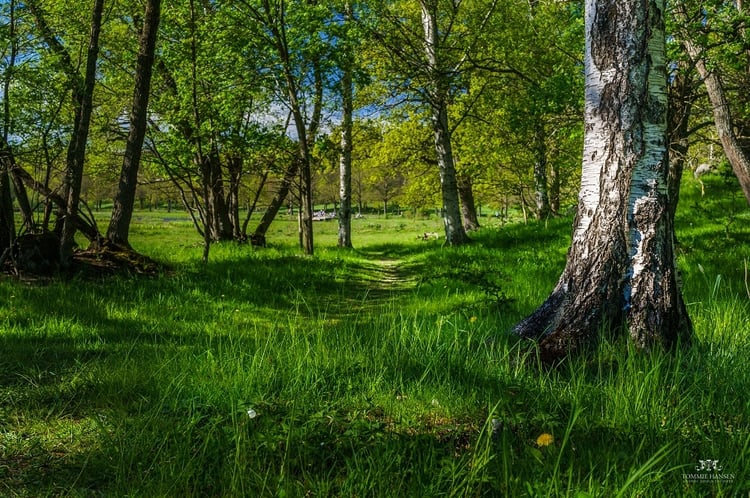 And that's what it's all about - forgetting your urban environment. As well as feeling better, it can help us be more creative too. A 2012 study found that a group of colleagues on a backpacking trip in the wild were able to solve significantly more puzzles that required creativity than the control group not on the hike – 47% more to be exact. Whilst other factors may have had an effect on the results, this is just one of several studies highlighting this fact.
Englischer Garten | Munich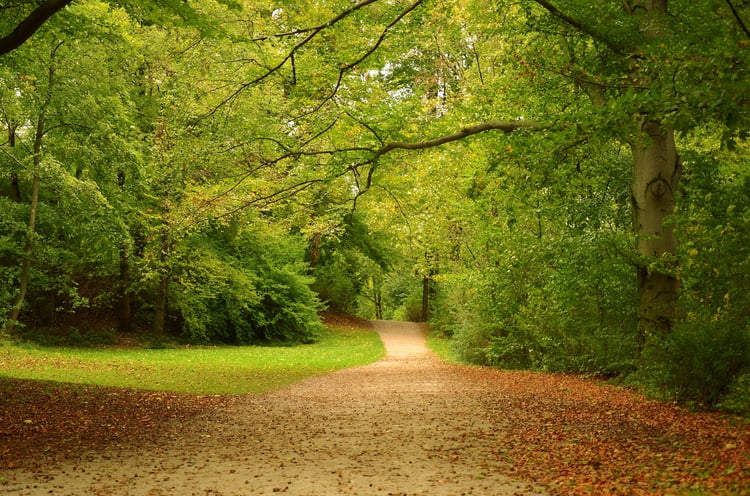 Created in 1789 by Sir Benjamin Thompson, Munich's premier green space is runs parallel to the river Isar, right into the city centre. The layout has undergone constant change throughout the centuries as new buildings and green spaces were added time and again, but today it is a glorious urban park, and the perfect escape from city life.
Cyclists and joggers can enjoy a 78km track which runs right around the park and in the summer the river is perfect for swimming in. In one of these streams there is a standing wave, with surfers flocking to enjoy this unique experience.
Namba Parks | Osaka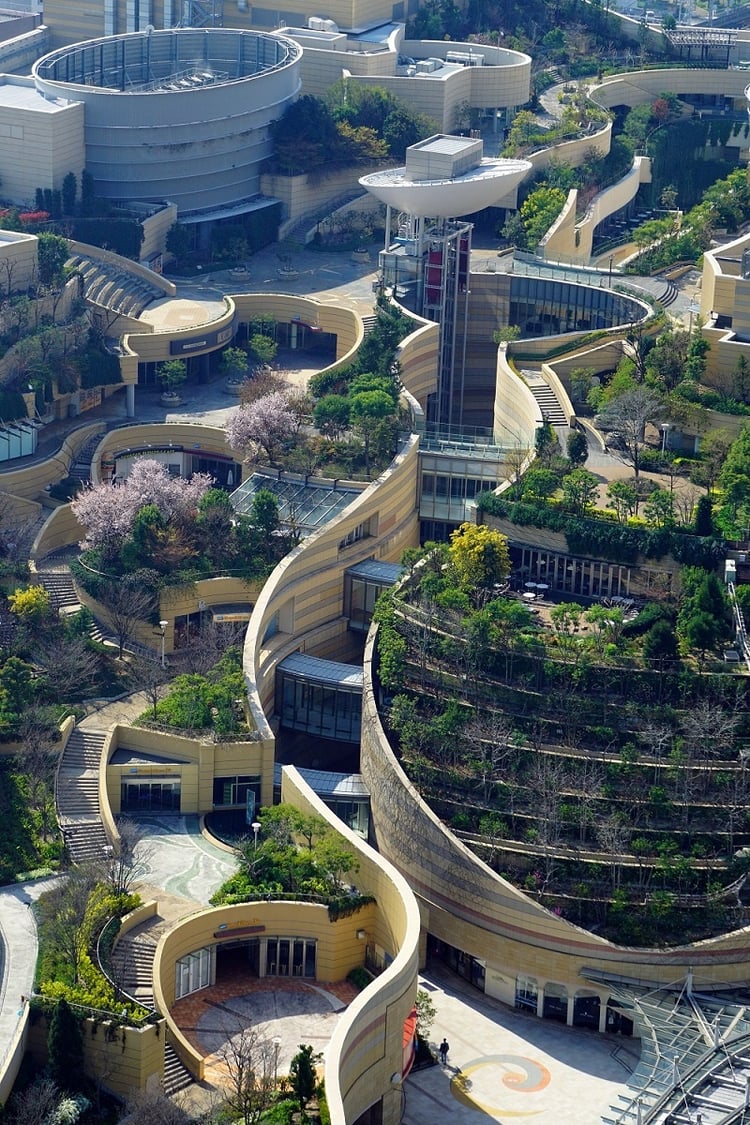 Sometimes big isn't always best, but whilst Namba Parks in Japan may not be large, it certainly is an architectural triumph, providing a naturistic environment in Japan's third most populous city. Built in the footprint of the old Osaka baseball stadium, the amazing development, completed in 2003 by the Jerde Partnership, has an eight level rooftop garden that spans several city blocks and features an assortment of tree groves, cliffs and canyons, rocks, lawns, streams, waterfalls, ponds as well as an area to grow vegetables!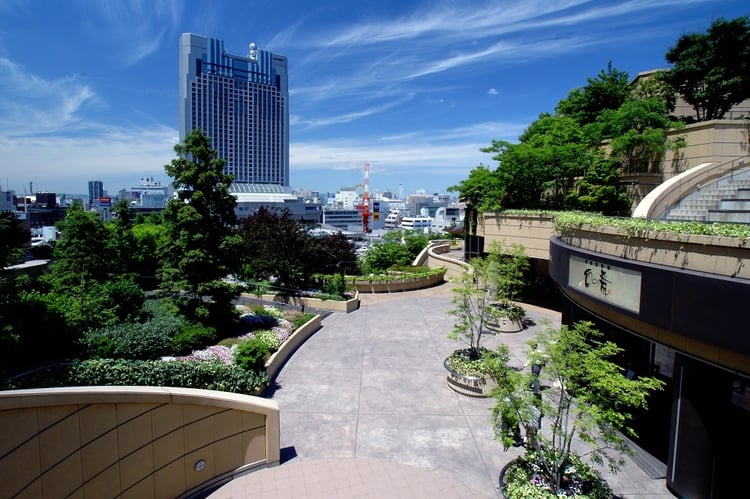 It is an ingenious use of space, and a great place to catch a few moments of greenery in an otherwise busy city centre.
Even if you aren't completely taken out of your urban environment, just seeing greenery can have a significant impact. Research in the US found that hospital patients with a view of trees from their windows were discharged a day earlier than those who had no view.
This same idea can be transplanted into the workplace, with views of plant life and even simply furniture and decorations that are green, increasing people's well-being and productivity.
Read more - Designing the perfect working environment
Central Park | New York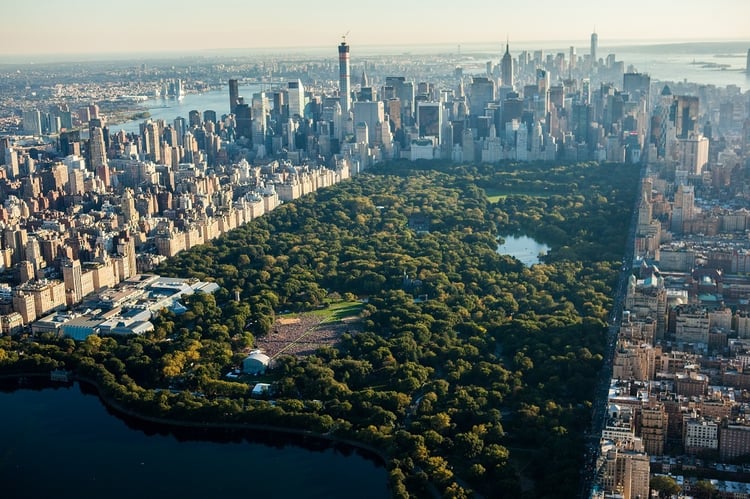 Photo by Anthony Quintano
One of the world's most famous parks, this perfectly rectangular green space is right in the middle of Manhattan, and provides a place of serenity and calm inches from the hustle bustle street life of The United States most populated city. While it provides an escape from the hustle and bustle of the city, it also allows you the chance to marvel at the city's tallest buildings from the comfort of green pastures.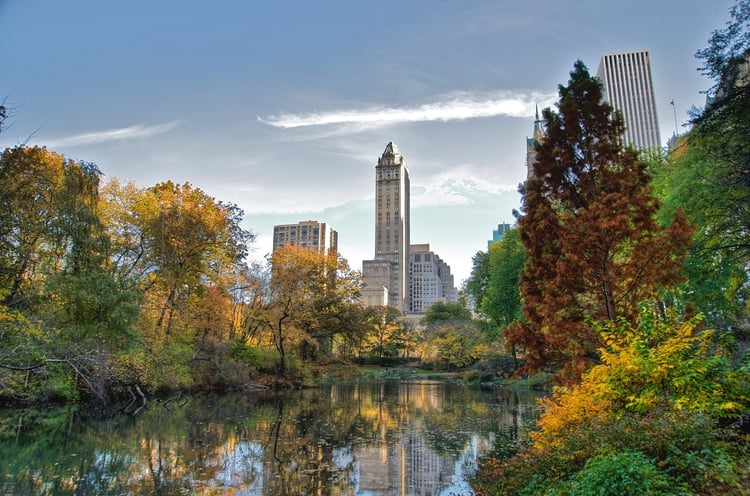 Photo by Ed Yourdon
Although it may be a place to absorb nature it can get quite busy, so your chance of finding a nice secluded place to relax are limited. Approximately 35 million visitors flock here annually, and it is also the most filmed location in the world! In April 2017 it was placed on the tentative list for UNESCO World Heritage sites.