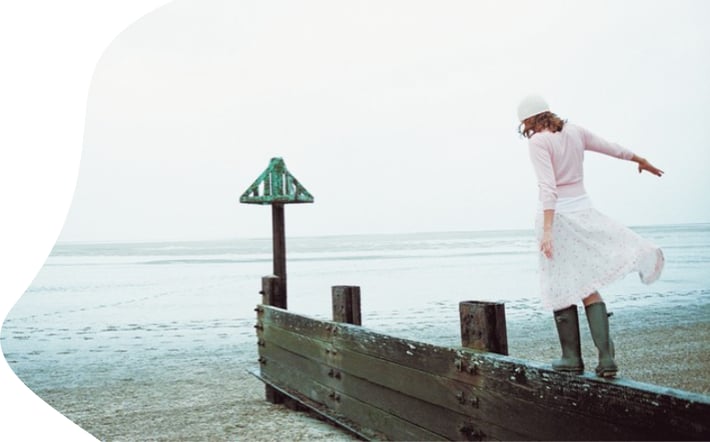 Inactivity is the curse of the modern world. As human activity is industrialised and computerised, manual activities involving continuous movement are rapidly being replaced by button pushing and screen watching. In our work life and our home lives sitting down and staying still is becoming the default position.
And it's not good.
Most people already know this. A lot of people also try to combat it. We buy ourselves stand up desks, we schedule in regular breaks, we get gym memberships, and we promise ourselves to watch less TV in the evenings. However, if we're being honest with ourselves, we have varying success with these methods.
Sure you bought a stand up desk, but a week later, the thought of standing up isn't so appealing. You have an important deadline, making a short break a luxury you cannot afford. The gym was great for a month, but research from last year suggested almost a million people in the UK rarely or never use the gym membership they bought. And with the days growing shorter and colder, it has never been more tempting to snuggle up on the sofa with the latest Netflix boxset in the evening.
So what IS the solution?
There are many solutions on how to beat sedentary behaviour, but like dieting, almost every method requires a level of discipline which can often feel draining.
Here at HÅG, it has been our goal to improve lives without imposing rules. To provide you with not only a comfortable and high performance chair, but also a seating solution which keeps you active, in movement, and more importantly, without you even realising it.
HÅG in Balance – An active solution to a sedentary problem
The HÅG SoFi mesh is the latest chair in our line of products which utilises the Balanced Movement Mechanism™, unique to HÅG, which allows you to move your entire body, without having to think about it. In fact, independent research carried out by one of the world's leading medical universities proved that a HÅG chair promotes movement and can keep you active, even when sitting down.
Karolinska Institutet Study: Does a dynamic chair increase office workers' movements?
"Everyone is talking about chairs that promote activity, but we are the only ones that can prove it."
We wanted to put our chairs to the test, so we supplied the renowned Karolinska Institutet (which awards the Nobel prize in Physiology & Medicine) with the HÅG SoFi, and asked them to find out exactly how beneficial it is to the user.
Using 3D accelerometers, force platforms and high frequency digital cameras, they measured the body movement of test subjects who were given a variety of tasks to simulate general office work, and then compared it to movement when sat in a conventional dynamic chair* and also standing. The results were startling.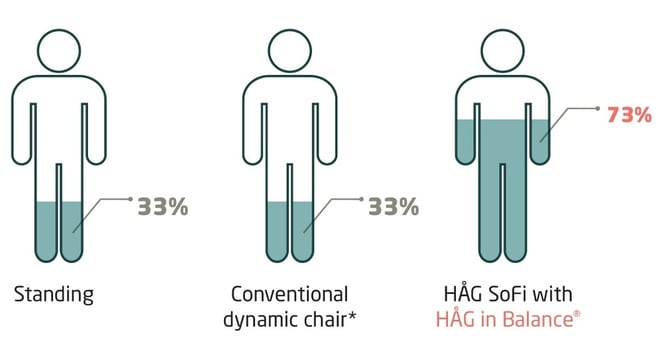 As many as 73% of the subjects in the study reached levels of movement classified as light human activity (i.e. not sedentary) when sitting in a HÅG SoFi, outperforming a conventional dynamic chair significantly. Light human activity.... whilst seated. That's the equivalent of taking a slow walk, and more beneficial to the body than hours of sedentary behaviour.
What is even more interesting is that it outperformed standing up by the same margin, suggesting that standing at work still isn't enough to combat the issues surrounding sedentary behaviour. Taking a direct line from the research results, "Our results indicate that desk-based office workers move more sitting on a dynamic office chair compared to a conventional office chair."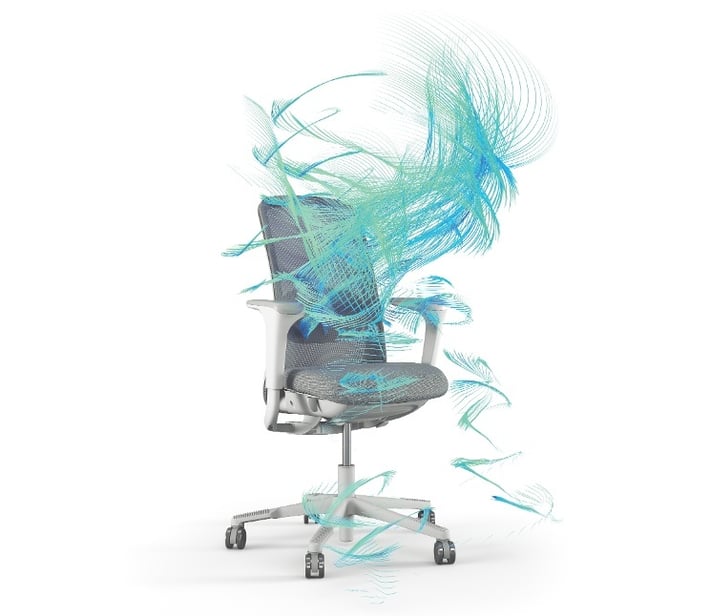 The Cyan swirls in the image above depict the full range of body motions which were tracked by the 3D accelerometers, force platforms and high frequency digital cameras, highlighting the sheer amount of movement which occurs whilst seated in the HÅG SoFi mesh.
Erlend Weinholdt, Physiotherapist and Lead Ergonomist at Flokk says "Everyone is talking about chairs that promote activity, but we are the only ones that can prove it."
The study was also recently published in esteemed science journal Applied Ergonomics, and will appear in their April 2017 edition!
If you want to know more, click here to download a summary report of the study.
*Conventional dynamic chairs are mainly task chairs with synchro mechanism. When leaning backwards in these chairs the chair seat will tilt backwards and the backrest will recline in a defined relation to the seat.
---
Movement without thinking – the ultimate goal
There are many chairs on the market which promote movement whilst sitting, but the key to HÅG chairs is that the movement is controlled, intuitive, and subconscious. The chair is a platform which allows your body to move naturally, without feeling like you are about to fall off. It compliments your typical tasks rather than distracts you from them. The HÅG SoFi mesh is the latest in the line of HÅG chairs which provide this benefit.
At HÅG we celebrate movement, and we want you to celebrate it with us.
Posted by
Richard Ferris on 09-Nov-2016 02:54:00