Flokk has implemented several trial projects to find out how the circular economy can give their chairs "eternal life". And there is no time – or waste – to waste.
"The circular economy is touted as a practical solution to the planet's emerging resource crunch", concludes the British newspaper The Guardian. The combination of excessive consumerism and scarce resources means that we have to think differently.
THE CIRCULAR ECONOMY
Circular economy prolongs the anticipated lifetime of the products, and eases the pressure on a planet under enormous strain. The Earth's resources are finite, and as a global player we must and should set a good example, says Ola Amer Tjade, Business Development Manager, Products & Brands in Flokk. He's in charge of the work to find out how Flokk can best adapt to the circular economy of the future. In his opinion, the greatest challenge will be to find feasible and profitable solutions which makes a circular business model possible in real terms. To think comprehensively from the first design and production all the way to use and reuse.
Circular economy is an exciting business opportunity, but at the same time a demanding readjustment because it affects so many different stages in various ways. We must, right from the very first sketch, have a plan for each individual component of a new product and how to make that part of a long-term cycle.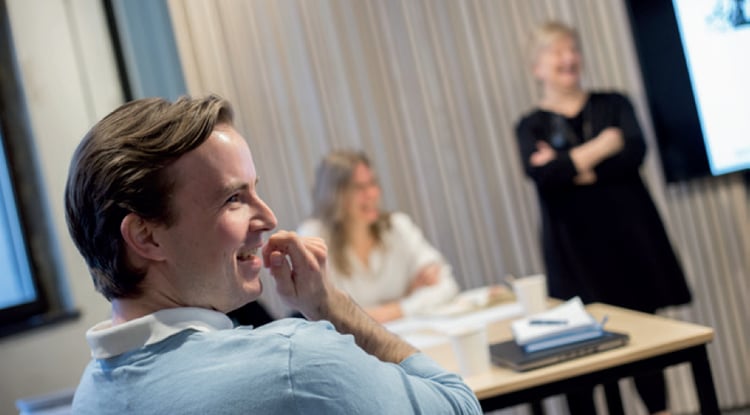 DESIGNED FOR DISASSEMBLY
In June 2015, Scandinavian Business Seating (now Flokk) acquired the Dutch company BMA Ergonomics. BMA has practiced circular economy for many years and built up a well-functioning, profitable system for taking back its chairs. The factory in Zwolle has a dedicated disassembly line where the chairs are disassembled, and parts and components are checked and cleaned. The parts are then either reused in "second life" chairs, or defective parts are sent back to suppliers for recycling.
GREEN AMBITIONS
The EU are ambitious in its work for a sustainable future. In December 2015 it launched an action plan for circular economy, and has announced forthcoming directives. The EU believes that the circular economy offers an opportunity to reinvent our economy, making it more sustainable and competitive. This will bring benefits for European businesses, industries, and citizens alike. With this new plan to make Europe's economy cleaner and more competitive, the Commission is delivering ambitious measures to cut the use of resources, reduce waste and boost recycling2.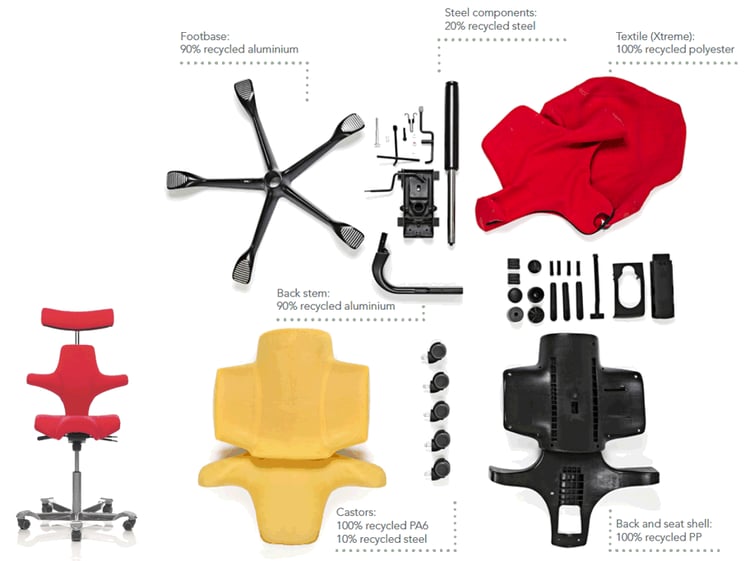 What was previously regarded as waste, should instead be seen as renewable resources. In this way materials can be kept inside a closed circle and breathe new life into both new and old products, says Ola, adding that a good circular cycle will rely on Flokk's credibility and ability to accommodate future needs. – We're already very good at maintenance and recycling. To pinpoint the opportunities offered by circular economy is a completely natural extension of our environmental strategy. Flokk has a clear target to increase the total percentage of recycled materials from its products to 60% by 2020, and we are already fully committed to trying out different models for circular economy in Oslo and the Netherlands. Right now we're in the middle of an extensive learning process. But we're learning fast.
1 https://www.theguardian.com/sustainable-business/10-things-need-to-know-circular-economy
2 http://ec.europa.eu/environment/circular-economy/index_en.htm
Flokk products come with a 10-year guarantee, and 95 % of the materials used in the production are recyclable. Flokk are already market leaders in recycling materials, but wish to get even better. The company hence has a clear target to increase the total percentage of recycled materials from its products to 60 % by 2020, and is currently trying out different models in Oslo and the Netherlands.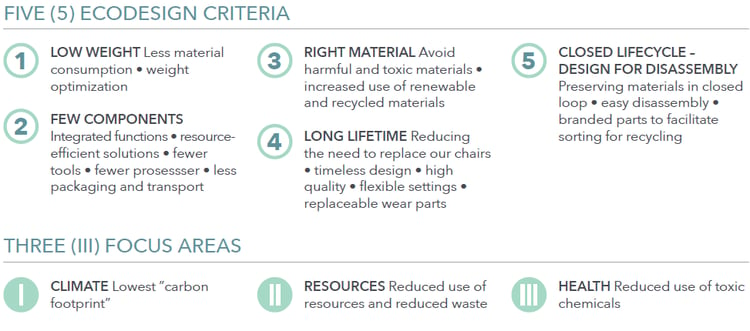 ---
This article was originally published in the Winter 2017 edition of Share Magazine.
Posted by
Richard Ferris on 20-Feb-2017 09:12:00