"To replace the nothingness of decoration with the everythingness of art" – that is the mission statement for Scandinavian wallpaper and fabric brand FEATHR., an ambitious company singlehandedly revolutionising how we decorate our walls.
Based in Finland, this exciting design house have worked with a host of vibrant artists from around the world to create a range of unique wallpapers and fabrics, as well as collaborating with Flokk brand RBM on a range of seating.
Ahead of our collaboration exhibition at the Stockholm Flokk showroom next week, we spoke to FEATHR. Founder Tom Puuko about their history, inspiration and what next for the brand.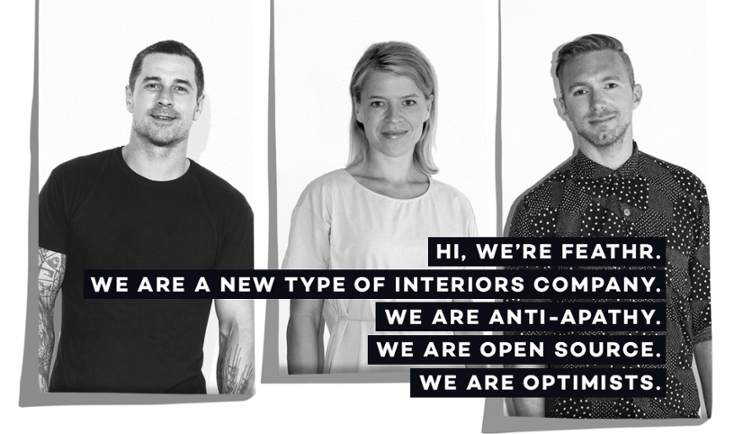 FEATHR. : L-R - Oli, Anne & Tom
Can you tell us a bit about how FEATHR. began?
We were looking for wallpaper for our own home and wherever we looked, on or offline, we saw the same kind of work from the same brands. One sales person even flicked through a collection book saying "don't get this, everyone's got it." As we left that store, we had the lightbulb moment: with so many amazing visual artists and creatives in the world, why wasn't their work available as wallpaper? We started working with Oli, our Creative Director, to contact the kind of artists whose work we'd want as wallpaper: they loved the idea and from there FEATHR. took shape.
Why the name FEATHR.? Does it represent anything?
People see it different ways. A thing of beauty, 'feathering your nest', a flock working together. But I've always believed that the name of any brand doesn't inherently mean anything: it's what you do and imbue it with that matters. Which for us bringing a new, fresh aesthetic and unexpected creative talent into wallpaper and interiors.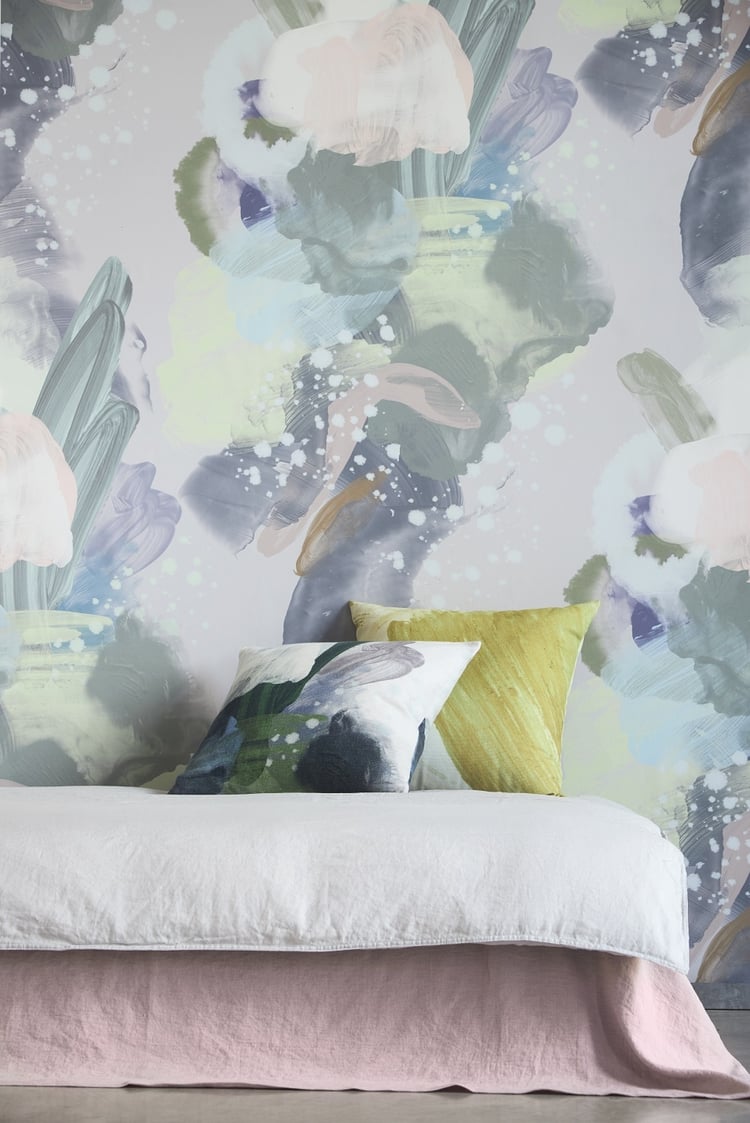 Wallpaper - English Rose, Pastel - Designed by Reeta Ek
Your mission is to fill the world with more art and less decoration – how does FEATHR. aim to achieve this?
Simply by bringing awesome contemporary artists and creatives from around the world into wallcoverings. To replace the nothingness of decoration with the everythingness of art. It's about bringing a new creative energy - whether from tattooists, photographers, graffiti artists or painters - into the creation of wallpaper.
You work with a vast array of artists, many with no background at all in creating wallpapers or fabrics – how do you translate their art into wallpaper? Is there a set process or is it different everytime?
It's as varied as art and artists are. We have artists who work in everything from crumbling cotton gin factories in America to East London tattoo parlours to old bombsites in Berlin. We always we respect their creative processes, so we work how they want to work.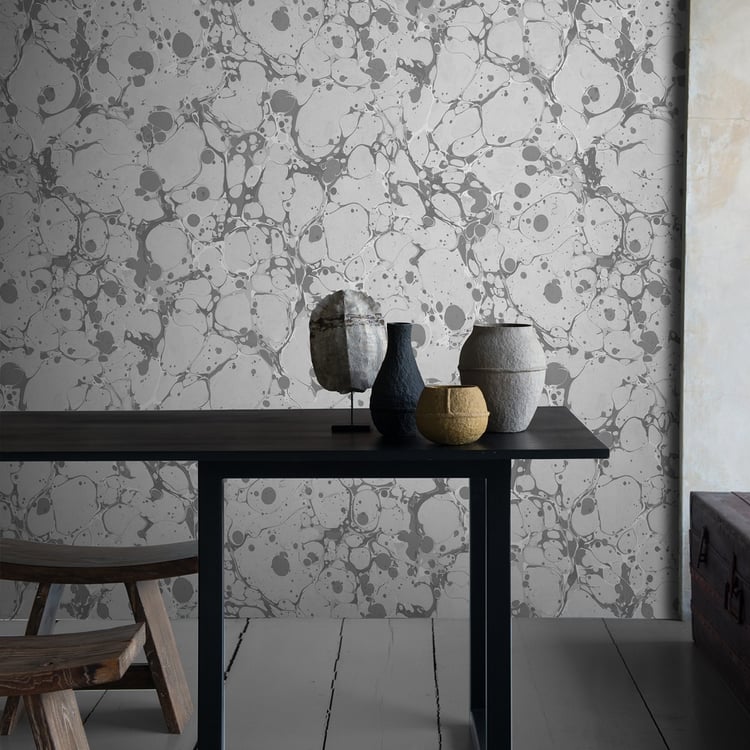 Wallpaper - Neural - Designed by Luke Evans
Can you tell us about some of your favourite designers you have worked with?
The thing I enjoy the most is the variety of talent and brilliant, wonderful, mad creativity of the artists we get to work with. Take photographer Luke Evans for instance. He became famed for eating 35mm and letting his stomach acid develop it - Charles Saatchi bought up that work. For us, he bought and microscopically photographed a cow's brain to create the Neural wallpaper. It's a total honour to spend time with people like Luke and all of our artists.
Last year saw the debut of the collaboration with Flokk brand RBM matching FEATHR. fabrics to the RBM Noor chair – how was this gone down?
We've taken the collaboration to designs shows in locations as diverse as Seoul, Los Angeles and Copenhagen and the reaction has been fantastic. The marriage of classic Scandinavian design and our vibrant fabrics has really piqued people's attention. The RBM Noor with English Rose Velvet and Oh La La linen fabrics have been particularly popular.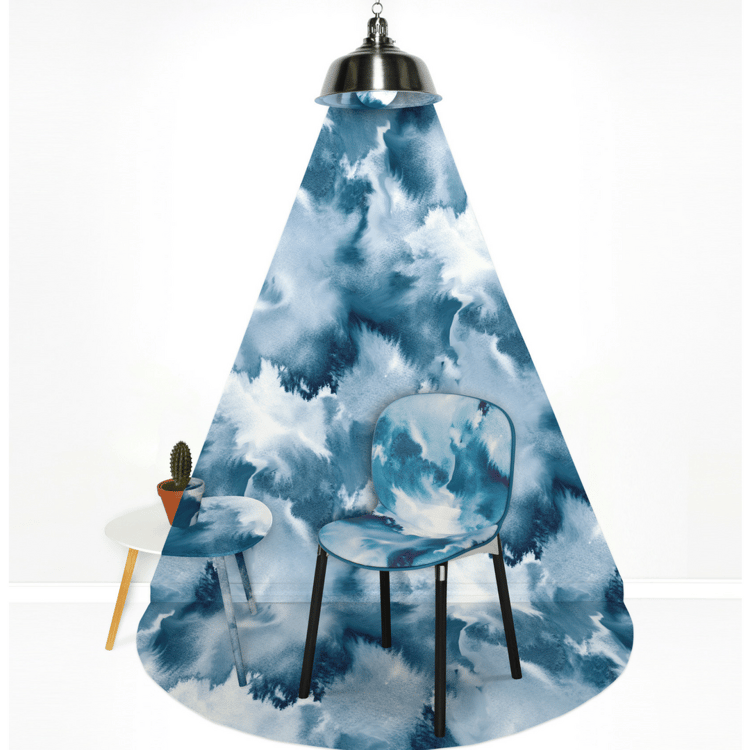 RBM X FEATHR. | Ft. Baltic Sea, by Teija Vartiainen
What can we expect to see from FEATHR. at Stockholm furniture fair 2018?
We'll be launching RBM chairs with two new fabrics: Persecution by Marcos Navarro and Tattoo Flash by Liam Sparkes. We're also going to be previewing some stunning new wallpapers from artists like Kiki Slaughter, Tamara Piilola and Clara Berta.
You can our FEATHR. collaboration exhibit all week at Stockholm Design Week, at the Flokk Stockholm Showroom. Tom will be speaking more about FEATHR. on Wednesday evening at the Stockholm Design District After Fair Event, where Flokk are located - for more information on all Flokk events during SDW - visit here.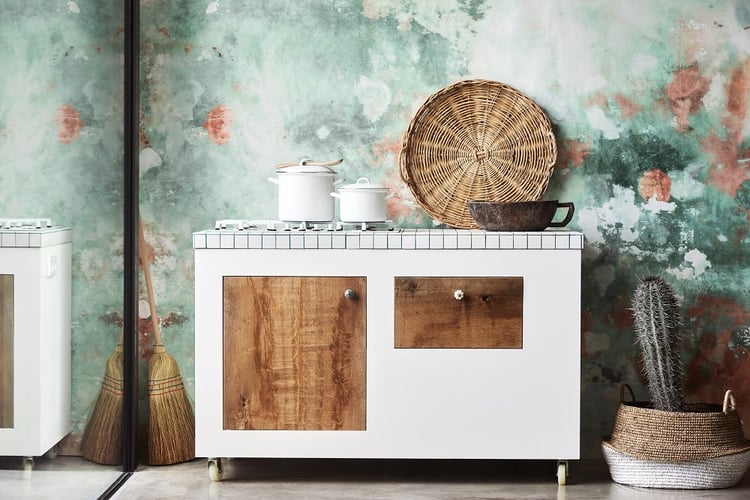 Posted by
Richard Ferris on 26-Jan-2018 13:16:05