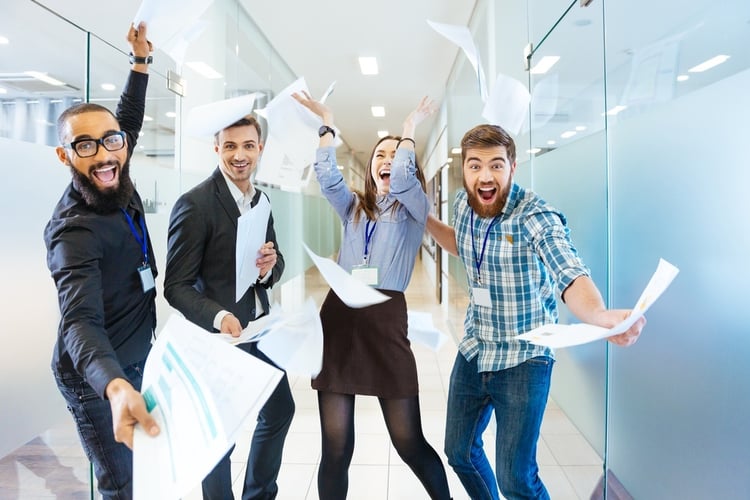 In recent times it seems as if a week doesn't pass without a news story going viral highlighting the extravagant new features of a modern successful office. A global trend epitomised by Google's campus', the addition of wacky amenities has spread across multiple sectors, but is it an effective strategy?
Apparently not, according to a recent survey by removals firm Kiwi Movers, which highlights a growing trend in companies ditching their ping pong tables and ball pits, and focusing on other ways of providing positive effects in the workplace.
We've all read the stories, and then wished our offices weren't so boring. In January it was Money.co.uk with their castle office complete with Star Wars cinema and ice cave, and whenever Google open a new campus, we know about it. Increasingly offices have attempted to introduce similar perks and amenities.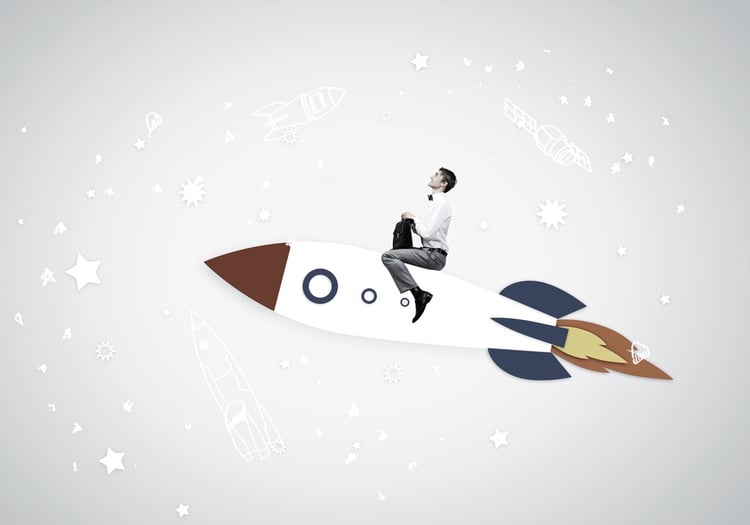 "The business casual tech startup office aesthetic is fast becoming a corporate interior design cliché," said writer Kristin Hohenadal in Slate last year, continuing "...innovative companies need to offer something more than sterile, old-school office environments to attract creative talent. But these days, every company wants to think of itself as a unique, innovative, creative, tech driven enterprise." This attitude has led to a frenzy of purchasing of quirky office furniture & amenities, but it isn't that easy.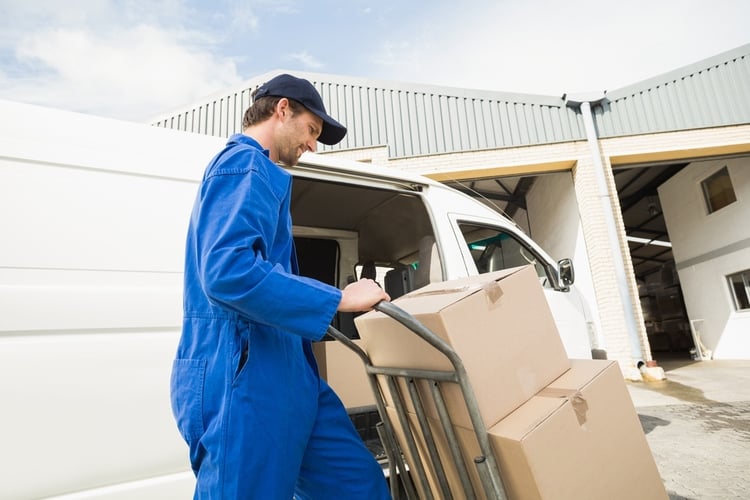 Kiwi Mover's, a removal's firm based in London & the South East, recently revealed that more and more offices are putting their newly acquired foosball, arcade games and ping pong tables into storage, removing them from working environments. To understand why, they completed a survey of office workers, and the results revealed that many employees found no value whatsoever in the 'fun' perks provided.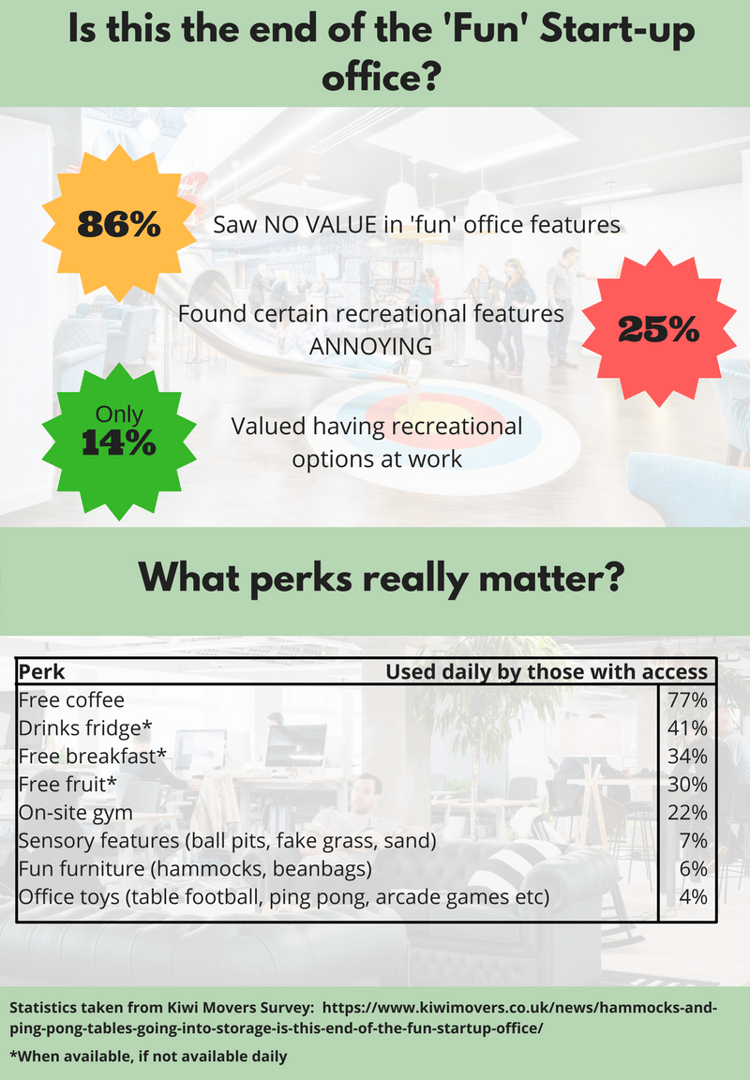 Their survey, published last month, found that 86% of those surveyed saw no value whatsoever in having 'fun' office features, whilst 25% actually found them annoying. Only 14% valued having the option of recreational activities at work.
These stark statistics show that there is a lack of thought going into creating a better working environment for employees. Office managers are increasingly being told that worker health, wellbeing and happiness is of increasing importance, but without proper research and planning, the wrong decisions are being made, causing not only financial losses, but losses in productivity. As highlighted in a previous blog, before choosing office amenities you need to do your research and understand your company culture, sentiments echoed by Occupational Health Expert Sir Cary Cooper CBE, a professor of organisational psychology & health at the ALLIANCE Manchester Business School, University of Manchester.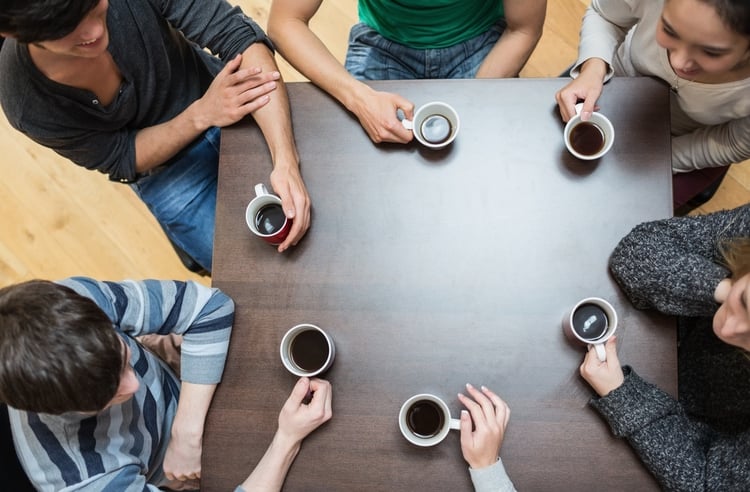 "Businesses often confuse perks with culture. Providing recreational spaces and a fun environment are not the same as establishing a positive culture that makes employees happy, improves retention rates and increases output. There's a growing trend for businesses to promote their superficial perks, such as welcome packs, free breakfast and 'fun' office spaces as if it's a sign of a positive culture, but it really isn't… Anyone can order a few hammocks and beanbags from Amazon, but it takes years of hard work, research and commitment to values to establish a meaningful workplace culture."
Is this really the end of the fun office then?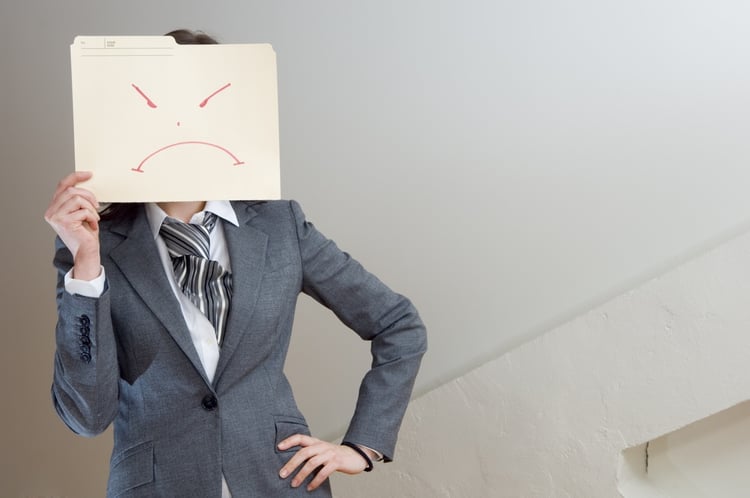 I don't think so. There is a perk for every office, and for some, quirky, fun amenities really do help to keep staff innovative, productive and loyal. Microsoft originally installed ping pong tables in the 1990s as a method of creating a competitive environment amongst employees, getting their creative juices flowing, and everything we are seeing today is an extension of that.
The challenge for office managers is to find appropriate and company culture aligned ways of keeping staff healthy, happy, and productive. Instead of simply ordering an arcade machine, find out what meaningful ways you can improve a workers time whilst in the office. This might be through introducing more interesting and inspirational decor, adapting areas for more variety in working environments, upgrading furniture to be more beneficial, or providing free coffee. Whichever way you do it, do your research first, of you too might be sending furniture into storage.
Posted by
Richard Ferris on 07-Mar-2017 08:45:00