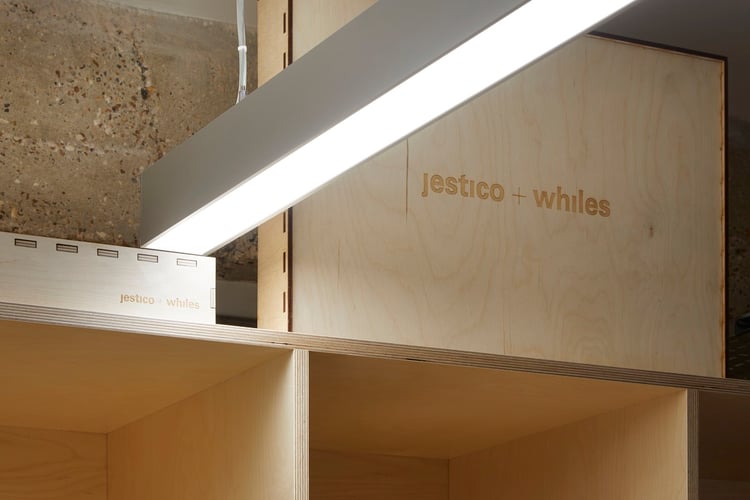 Faced with losing their home of twenty years, London-based design studio Jestico + Whiles embraced their unplanned exodus, relocating to the heart of the vibrant Clerkenwell District and adopting new, more agile ways of working, transforming their office into a 'showcase of their shared vision for the future'.
Jestico + Whiles is an employee-owned international architecture and interior design practice based in London and Prague. Established as a design-led studio 40 years ago, the practice has remained true to its core values of humanity and sustainability during a period of steady growth. After twenty years working from a mixed-use conversion in Central London's Euston locality, they were required to seek a new home, the result of a compulsory purchase order, demanded by the government to allow the construction of the High Speed Two (HS2) railway project which would be running directly through their offices.
Read more - Our favourite architecture & design projects from 2017
A new home
While it was an unexpected eviction notice, it helped to speed up plans already in the making for a growing company, as Jestico + Whiles Associate Director Howard Pye told us; "We had in fact outgrown the old Victorian stable building in Euston, which we had bought and sensitively redeveloped in the 90s – with our current size (over 100) necessitating the leasing of a local satellite office. The compulsory purchase therefore presented the opportunity for us to seek a space which could accommodate the whole London studio, and through which we would be able to revitalise our working practices."
Finding a new home took the firm longer than initially expected, but in 2017 they found an appropriate fit in Sutton Yard, a fresh, light-filled and elegant upgrade of a concrete and brick 1960s office building in the heart of vibrant Clerkenwell. They took space on the 2nd floor, with computer game designers and a media agency residing on the floors above and below.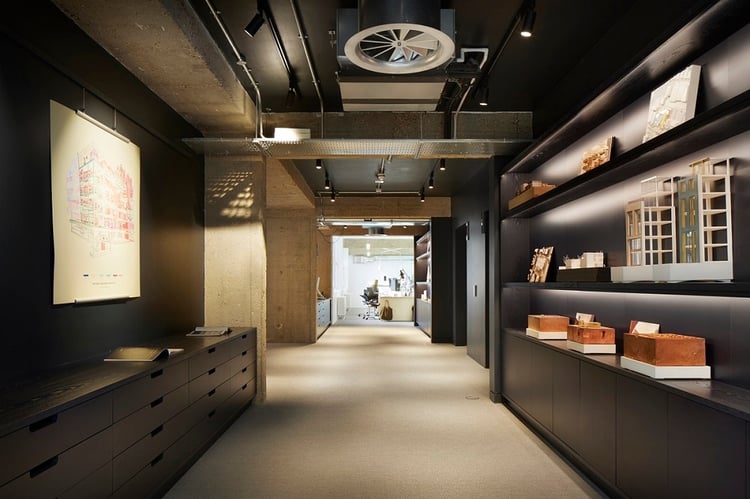 Photographer | Jack Hobhouse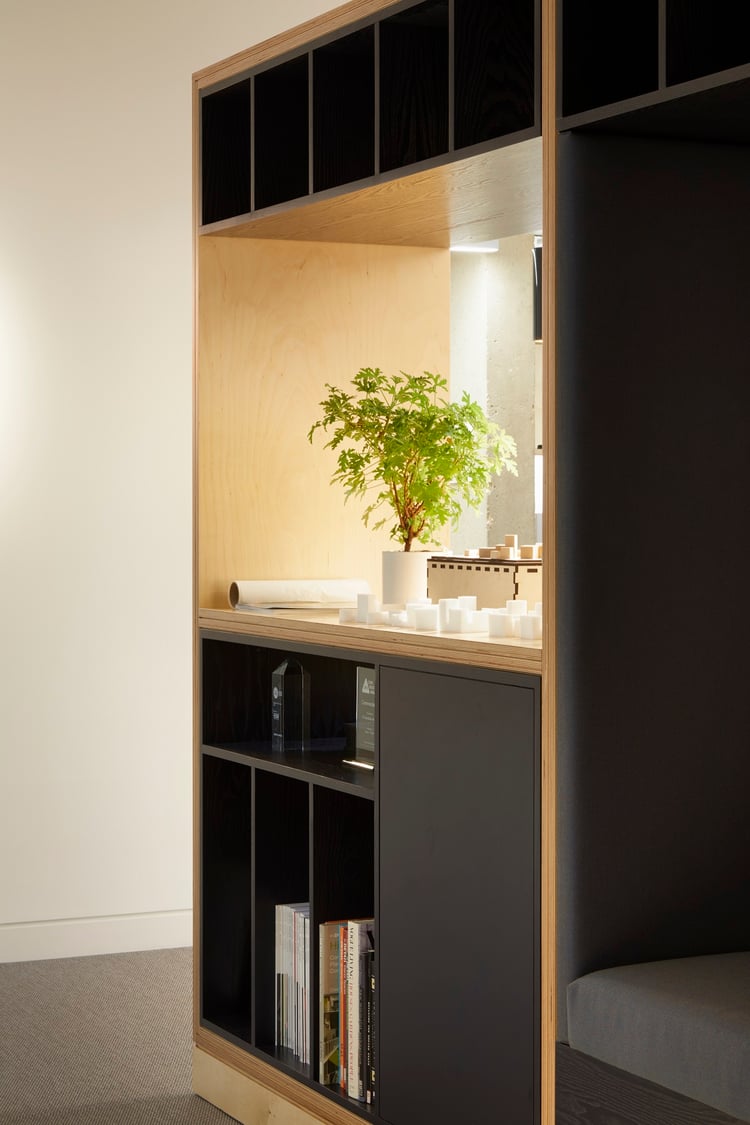 Photographer | Jack Hobhouse
The existing plan form has three distinct wings centred around an open central space. This enabled the arrangement of three working studios, with a flexible 'town square' at their heart used for meeting, eating, collaborating, and presenting, as well as hosting events. Through the introduction of custom-designed plywood benches and mobile tables – coupled with a linear 'working wall', designed to accommodate a range of uses, and touch down surfaces – more interaction amongst the team is encouraged. They deliberately created a non-corporate workspace that enables many of the things they do and make to co-exist seamlessly.
The existing building provided a modest base of finishes characterised by sand-blasted concrete which Jestico + Whiles has built upon through the use of stained ash, lacquered plywood and woven flooring. They also designed all the fitted furniture and workstations, which are bespoke to the practice.
A new way of working
Alongside a new office design, the architects studio decided to adopt a new way of working, with more agile working practices, and fewer desks than staff to facilitate open collaboration across the wide spectrum of design they are involved with, and also to provide new flexible and social spaces for the benefit of all. Workspace is now allocated based on need, not status – an approach ingrained in the company's ethos as an employee-owned practice.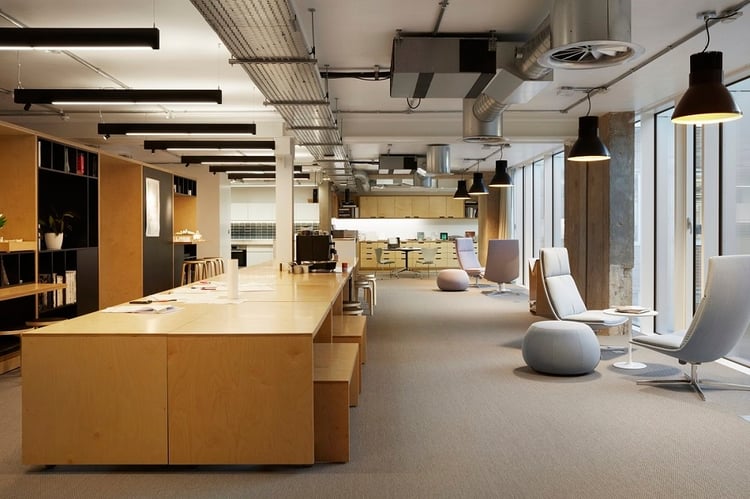 Photographer | Jack Hobhouse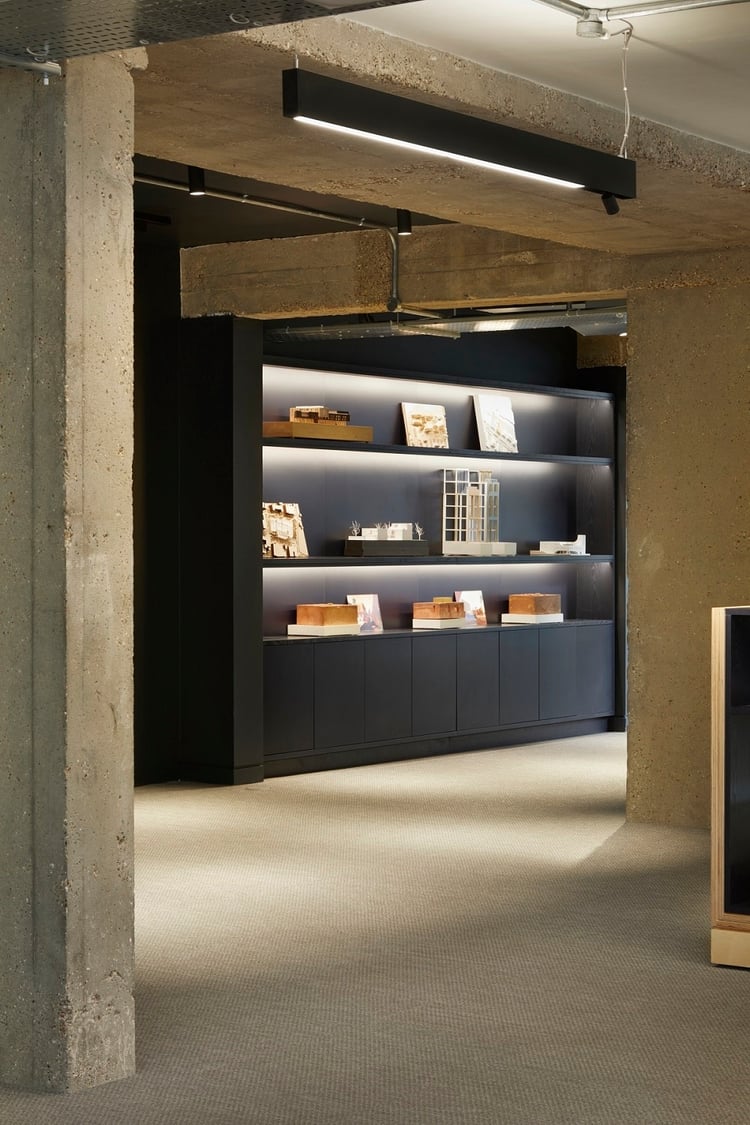 Photographer | Jack Hobhouse
Dotted throughout the workspace are enclosed meeting spaces of assorted sizes, as well as private workspaces which offer a temporary retreat from the open-plan office if needed. A visible model shop and making bench allows the creation of models; crafting, testing, and prototyping in house.
The design seems to be a success, as Howard explains, "Having settled into the building over the last few months, the 'town square' is buzzing and is actively being used for practice-wide meetings and serendipitous gatherings, client workshops and informal lunches, acting as a magnet for exchanging ideas."
Read more - Designing for collaboration: Workspace inspiration
Active Sitting
When it came to choosing chairs for the various workstations, the practice went for the HÅG Capisco Puls. Alongside their attractive appearance, HÅG chairs were chosen because of their core principle of active sitting. After a review process, they ultimately dismissed the potential for sit-stand desks, and instead encourage employees to remain active throughout the course of the day. They felt that active sitting worked well with this approach.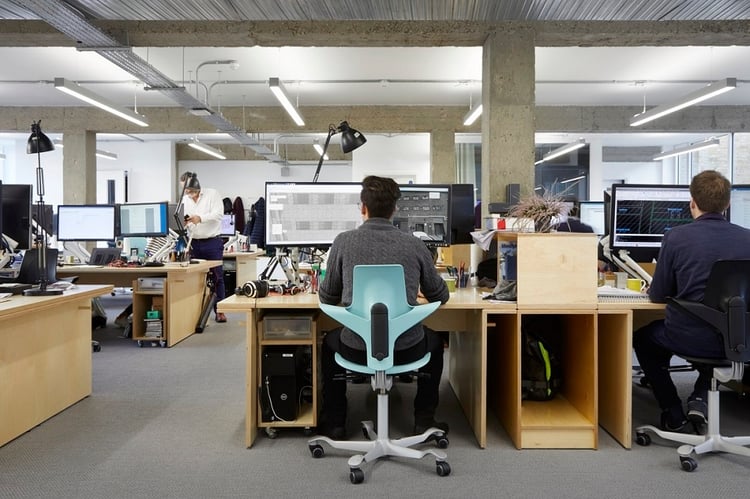 Photographer | Jack Hobhouse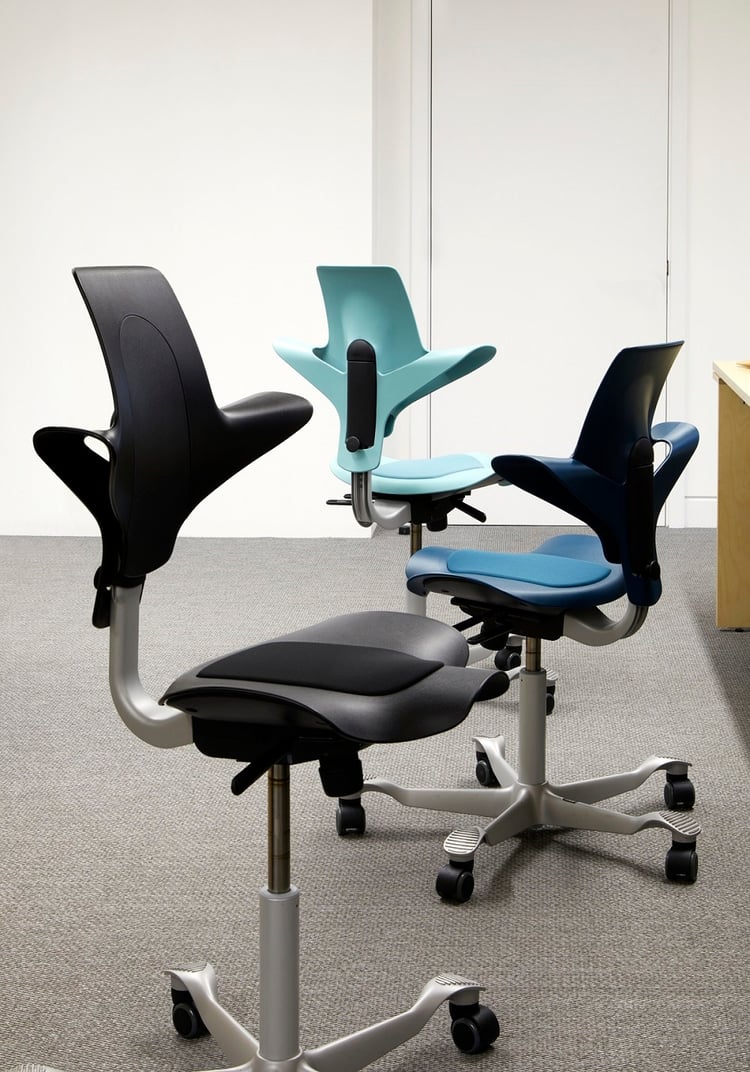 Photographer | Jack Hobhouse
"We had not specified the Capisco chairs previously but had noted them at a number of reference visits." said Howard, continuing, "Subsequently we arranged for some samples from Flokk and tested them for a number of months prior to confirming their selection and our move."
And how are they working out? "Well. It is fair to say there were some sceptics prior to the move, but our staff have taken to the chairs well, with many commenting on their improved posture."
Photographer | Jack Hobhouse
What started as an unplanned move has turned into a fantastic development for the architectural firm, who have been energized by their new working environment. "The new office has become a showcase of our shared vision of the future, which relies on collaboration, flexibility and a desire to promote excellent design and an inspirational working life."
Posted by
Richard Ferris on 09-Jan-2018 10:41:13