Providing strong support for people and collaboration is crucial for business success, according to Boston Consulting Group (BCG), a global management consulting firm. In a recent survey aimed at discovering which elements of organization design unlock value and determine success, companies with a collaborative, people-focused culture double their chance of being top performers, but 40% of those surveyed were not satisfied with their organisations efforts.
The business landscape has never been more uncertain. Rapid advancements in technology, constantly shifting economic pressures, customer preferences and market conditions all mean that what works one day may not work the next. In response to this, many are making changes to the way their business runs; generally becoming more flexible and agile in an attempt to unlock hidden value. The survey conducted by BCG discovered that two thirds of respondents had recently gone through organisational changes, but only half deemed the exercise a success, highlighting the danger of "change for change sake".
In response to this, BCG have highlighted six specific factors of organisational design they have observed which make a company more likely to be a top performer; taking higher profits and receiving faster growth:
Agile ways of working
Strong support for people and collaboration
A value-adding corporate centre
Clearly delineated profit and loss (P&L) responsibilities
A flat management structure with a strong frontline focus
Effective use of shared services
"The difference between organization designs that work and those that don't lies in the presence or absence of the six factors listed above. Organizations that incorporate those ingredients of design are likelier than their peers to be flexible and ready to respond to changing business conditions."
– Boston Consulting Group
We should point out that three of these factors – value-adding corporate centre, clearly delineated P&L responsibilities, and effective shared services – are deemed traditional elements of good business design, and are thus not new ideas. Supporting people & collaboration and agile working are much newer concepts, and are goals many organisations struggle to achieve.
Be Agile
Of the six factors identified by BCG, Adopting agile ways of working is the most critical, making companies up to 5 times more likely to be successful compared to competitors who do not. However, the survey found that of the 73% of respondents who agreed it was important, only half agreed that their company had adopted agile techniques successfully.
Originating from the software industry, agile work methods have spread to almost all working environments. At its core is a set of beliefs, to be "iterative, empirical, cross-functional, focused and continually improving." These beliefs manifest themselves in practices such as scrum teams, sprints, and stand up meetings. They also enable greater chances of successfully implementing the other 5 factors, especially in providing strong support for people and collaboration, in that the very practices of agile working are improved by this.
Collaboration
Agile working practices often require a people-focused culture with collaboration high on the agenda. You can't have a scrum team without a scrum room, and stand up meetings suggest an understanding of how creating daily face-to-face interaction can improve focus and drive performance.
Building this into the design of your organisation not only happens in strategy, but also requires physical workspace design. There are several elements to workplace design which encourage collaboration. Ensuring easy connectivity to technology, providing suitable working environments, creating the right atmosphere and supplying appropriate amenities all go a long way to help you achieve these aims.
You can read more about how to achieve successful collaboration workspaces here.
A Holistic Approach
The bottom line of the survey is that the more of these factors you can achieve, the more likely you are to be a top performer. Incorporating all six increases your chance of being a top performer by 50%, whilst incorporating just one 20% - and a 44% chance of actually under achieving. However, it may take convincing some companies that this is a problem they face. Of those surveyed by BCG, 80% of executives and 72% of top managers believed their company is already focused on these frontline issues, but only 40% of employees felt this way.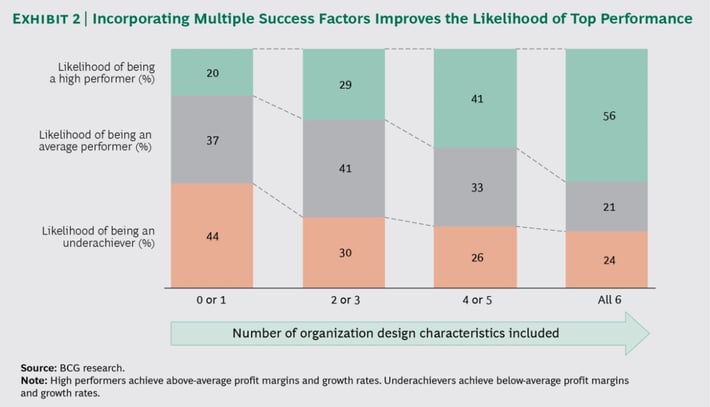 The report of the survey finishes with providing some helpful advice in how to find out if your company has room for success, and how best to employ these tactics.
"Companies should analyse those aspects of their organization design that may be falling short and then prioritize areas for improvement. This can be accomplished by conducting a systematic survey of the existing design based on reliable benchmark data and using the results as the foundation for an upgrade plan. Once a plan for improvement has been mapped out, determine which areas to work on first and design a pilot project to test the concept and see how well it works before rolling out more comprehensive changes."
– Boston Consulting Group
Click here to read the full report summary
Posted by
Richard Ferris on 27-Jul-2017 11:12:40