Norwegian architects Planforum Arkitekter recently completed a two year project, designing a remarkable expansion and redevelopment of a primary school in southern Norway. With modern features and a vibrant colour scheme, the project is a unique achievement in contemporary Norwegian architecture.
Originally built in 1998, Hebekk School, in the Ski province of Norway is located on the fringes of urban developments, in an area dominated by farmed fields and small scale housing. In 2016, Planforum Arkitekter embarked upon a major redevelopment project, expanding the learning centre to include a number of new facilities, whilst retaining the original architecture.
The project requirements included a new autism-department, educational facilities, offices and new common spaces, as well as a new compact sports hall. The central building added to the school includes common spaces, such as vestibule, canteen, library, "food & health", "arts & crafts" and music, as well as the indoor amphitheatre that form the very heart of the school.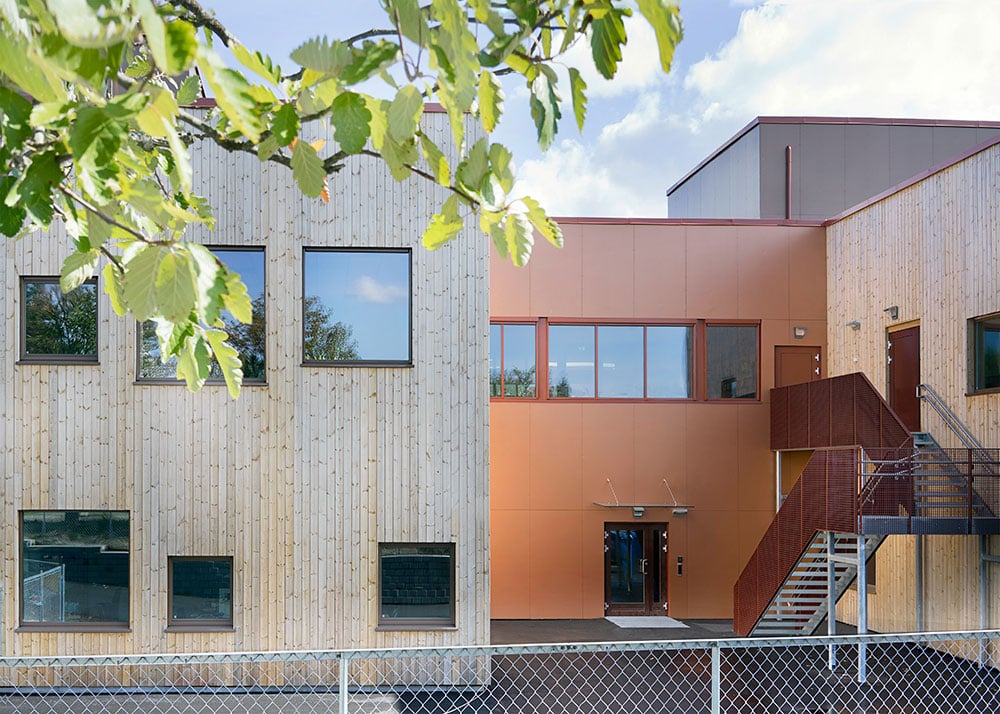 Photograph: Eli Haugen Sandnes/Planforum Arkitekter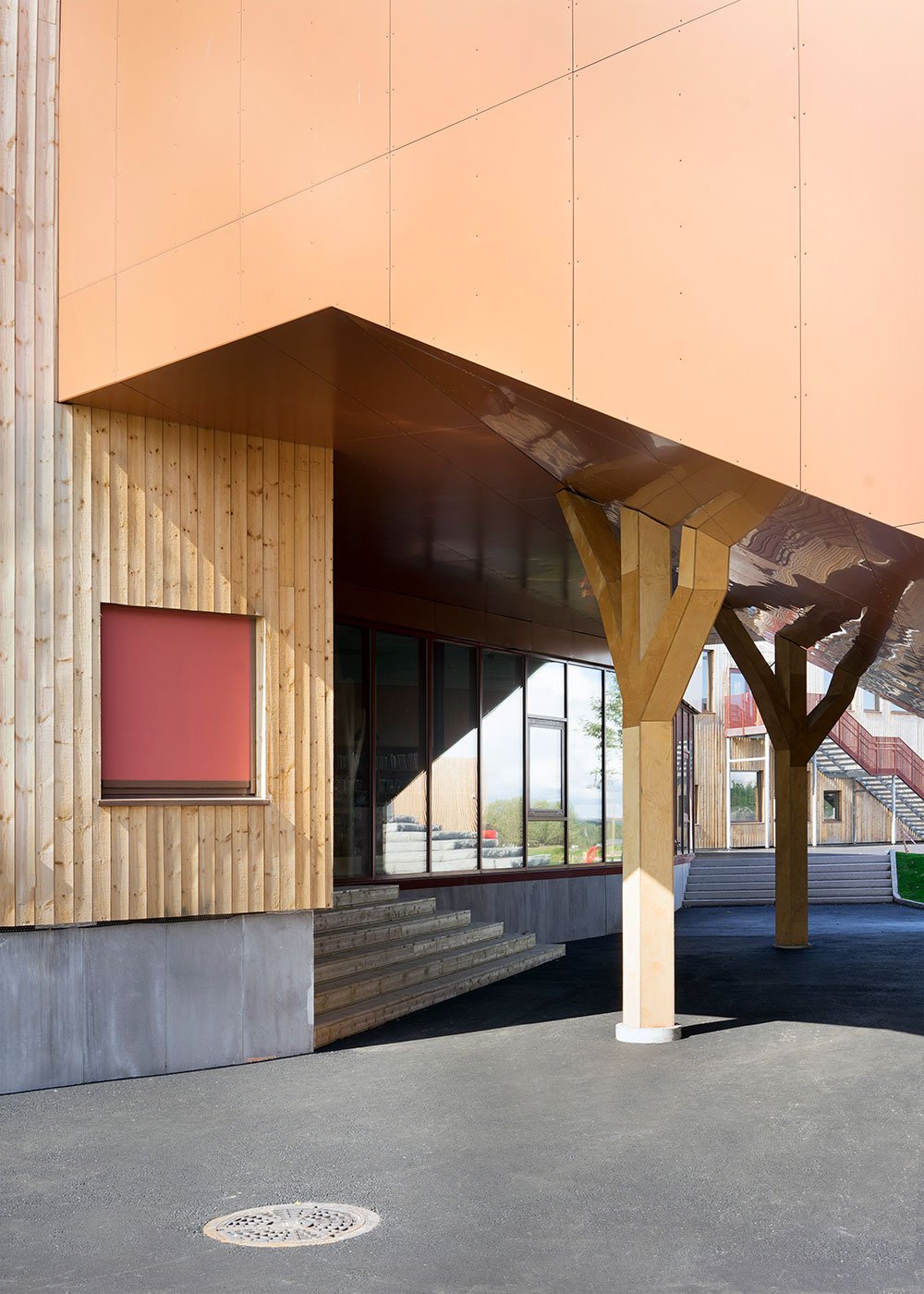 Photograph: Eli Haugen Sandnes/Planforum Arkitekter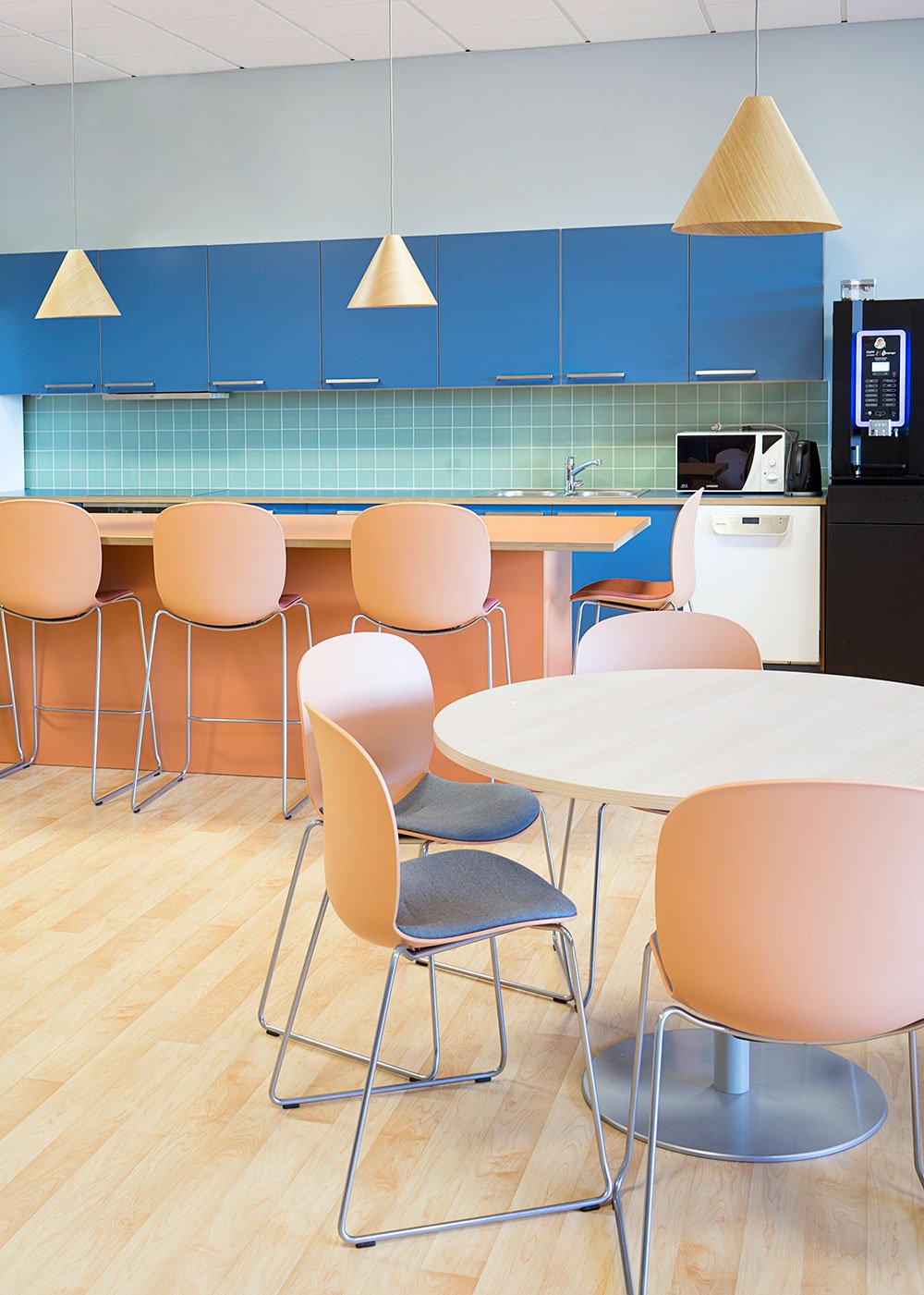 Photograph: Eli Haugen Sandnes/Planforum Arkitekter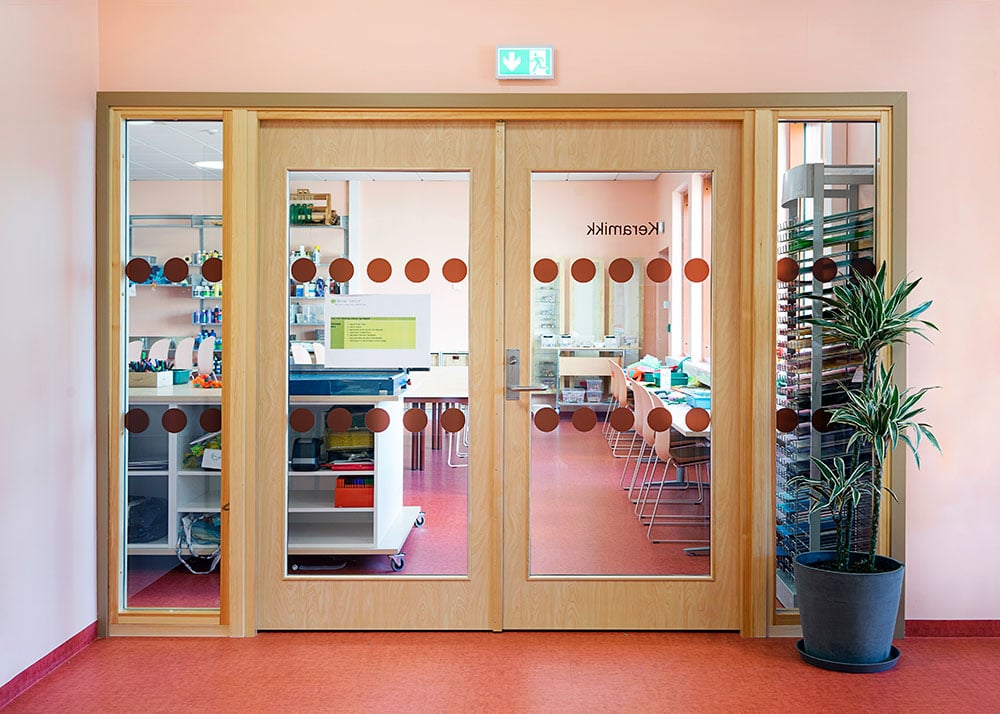 Photograph: Eli Haugen Sandnes/Planforum Arkitekter
Enriching Colour schemes
Throughout the project, colour played an integral role, both inside and out. Outside facades are designed with a delicate colour scheme that combines untreated pine-core panelling and warm shades of desaturated red, appropriate to the existing school and the surrounding landscape. While the materials visually distinguish the central building from the wings, colours on fittings and screens tie the parts together to create a holistic appearance.
Colours play a bigger role within the interiors, as Planforum Arkitekter architect Eli Haugen Sandnes explains; "These colours continue inside, but are also complimented by a richer colour scheme. By deriving inspiration from nature, employing knowledge of colour psychology and drawing from extensive experience with learning environments, we designed a warm and inviting interior, with variations of materials and colours, customized to the functions of each space."
Planforum Arkitekter worked in collaboration with Colour Expert Dagny Thurmann-Moe to create the colour scheme across the project.
RBM - Bringing life to classrooms - Download our inspiration brochure today
Library: A room for calm, warm and homely
Colours: Terracotta walls, sanded concrete, wood panel on walls
Furniture: RBM Noor chairs with light blue / turquoise seat and green legs. Table with blue / turquoise table top. RBM Noor chairs with terracotta seat and pink legs.
Vestibule: A room for fellowship, warm and homely
Colours: Terracotta walls, dark burgundy flooring, wood panel on walls
Furniture: Benches and table with light blue seat and burgundy red legs. RBM Noor chairs with green seat and legs.
Science: Space for research and creativity

Colours: Light blue walls, dark burgundy floor.
Furniture: RBM Noor chairs with turquoise seat and red legs.
Locally Sourced Furniture
Furniture for the interiors were chosen to meet the specifications of the school. Well made, robust and locally sourced – these qualities formed the basis of selection. Flexibility in colour choices, as well as a range of sophisticated colours, were also vital to work with the colour schemes of the interior design, as Eli continues;
"The colours of the furniture should enhance and enrich the school's colour concept and create a harmonious and sophisticated expression. Different colours are deliberately chosen for different zones."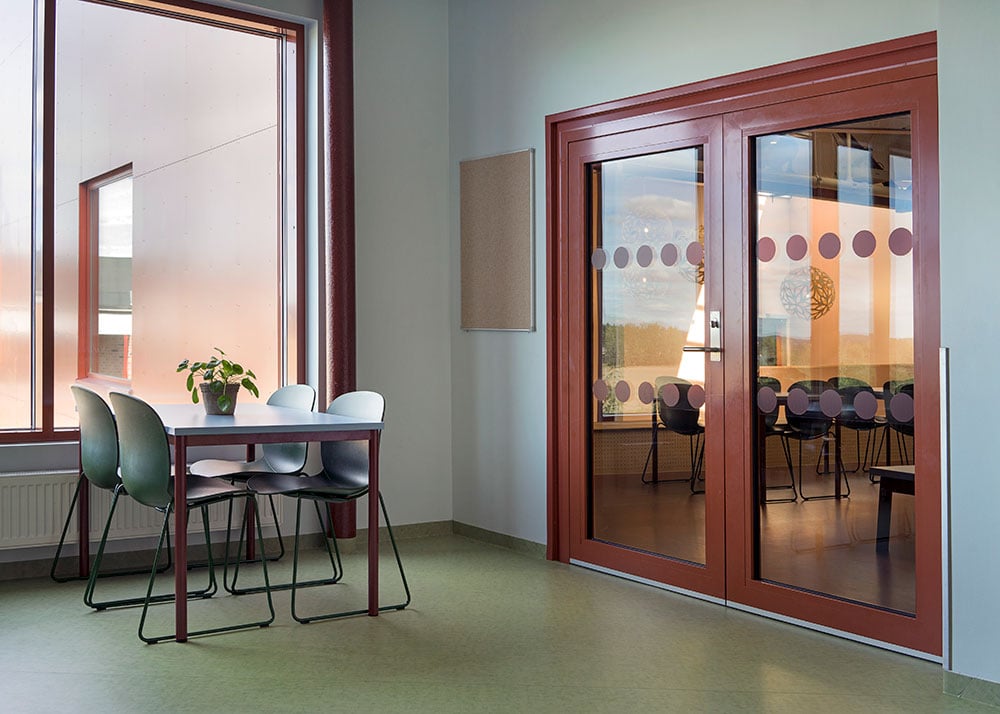 Photograph: Eli Haugen Sandnes/Planforum Arkitekter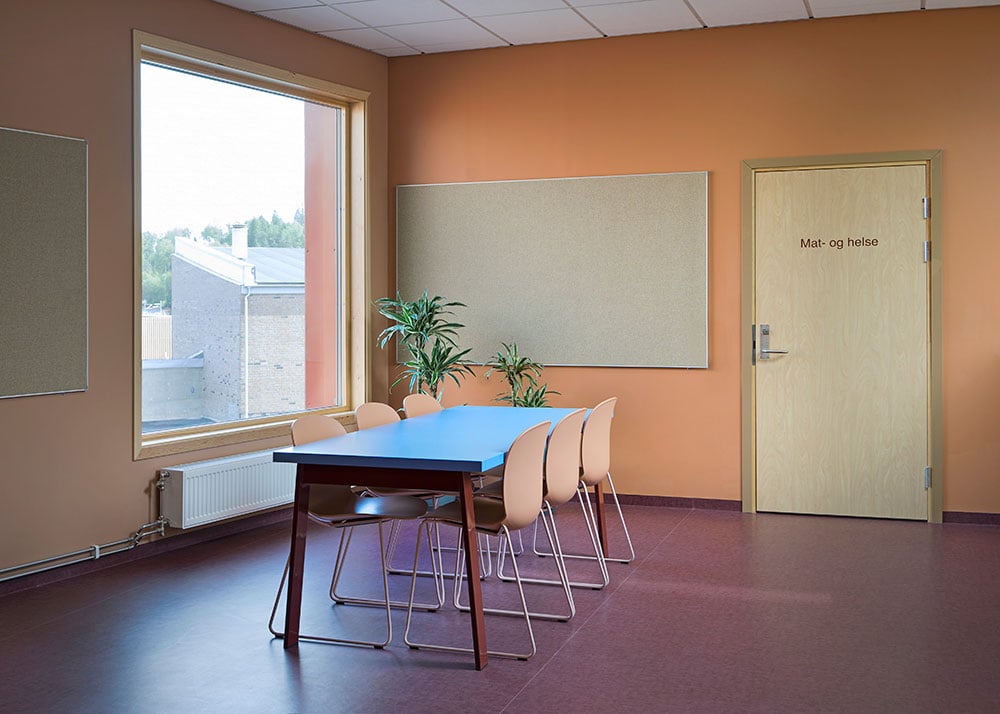 Photograph: Eli Haugen Sandnes/Planforum Arkitekter
The RBM Noor was specified throughout the project, and was placed in Art, Science, Music, Staff, Library, Canteen and Health environments. The great variety of colour and calibration options meant it could be adapted to the demanding colour schemes, and styled to fit each room. It's solid and comfortable design also ensured that both students and teachers alike would be comfortable whilst performing tasks, and the chair would be able to stand up to the rigours of school life.
The result is a modern and holistic municipal school which provides a welcoming and functional environment for learning and community activities. Characterized by a rich colour scheme, that supports the school´s educational and social goals, Hebekk School is a shining example of Norwegian architecture today.
Posted by
Richard Ferris on 10-Dec-2018 13:51:10