Norwegian architecture firm Snøhetta recently unveiled ambitious plans for a sustainable "energy positive" hotel to be located at the base of Norway's Almlifjellet mountain, inside the Arctic Circle.
The breath-taking circular structure will offer panoramic views of the landscape and aims to be one of the most sustainable and eco-friendly structures which exist today.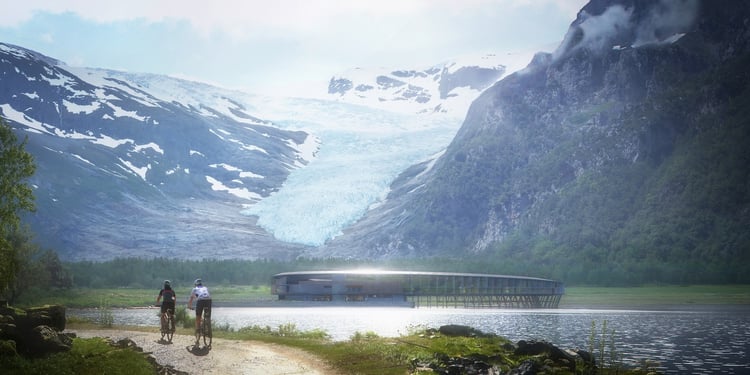 Image: Snøhetta/Plompmozes
'Energy Positive'
The Svart Hotel, named after the Svartisen glacier, will be the first building in the Arctic to fit the energy standard where the amount of renewable energy produced over its lifetime will surpass that which was required to build, run and eventually demolish the building, a model dubbed "energy positive". The sustainable building is being developed in collaboration with Arctic Adventures of Norway, Asplan Viak and Skanska.
Upon completion (a date has not yet been set) the hotel aims to consume 85% less energy than other hotels of a similar size, generating its own power through solar panels and hydro-energy. Despite its arctic setting the long summer nights afford ample sunlight, which should allow annual solar energy production to be greater than the amount gathered in the southern regions of Norway.
In fact, although the hotel will be situated over 700km north of Røros, where we make our furniture, the temperatures are significantly warmer, with the coldest temperature recorded over the last 12 months only -15.0°C compared to -30.7°C in Røros!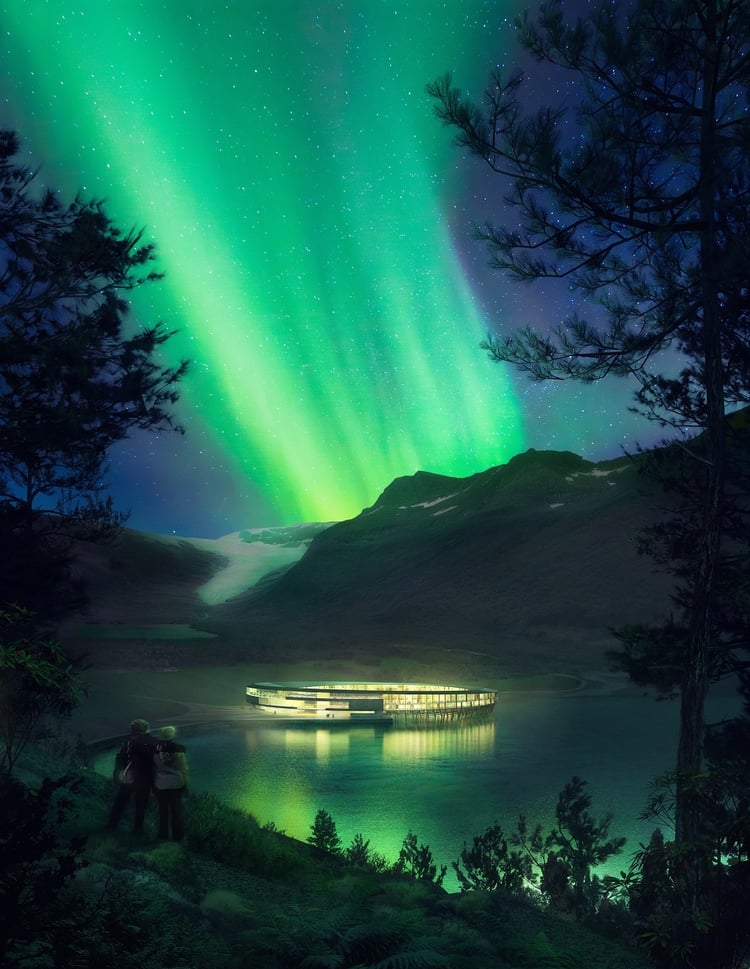 Image: Snøhetta/Plompmozes
Sustainable Design
Extending into the clear waters of the Holandsfjorden fjord the structure will be circular, the optimal shape for rooftop solar panels to able to absorb the most energy and for light levels to be adequate across all seasons inside the building.
Underneath, the main body of the hotel will be elevated off the ground using a system of V-shaped timbers as the majority of the hotel reaches out across the fjord. The design was inspired by the 'fiskehjell', the traditional wooden structures used for drying fish in Norway. In the summer months guests will be able to stroll a boardwalk built into the structure, which doubles as boat storage in the winter months.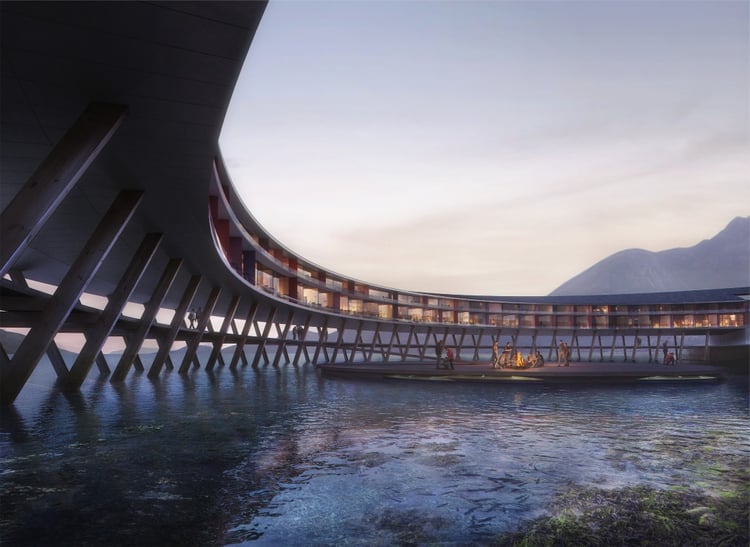 Image: Snøhetta/Plompmozes
The hotel's façade will feature recessed terraces which shade rooms during the summer months, removing the need for air-conditioning units. The large curved glass windows will also help to trap heat during cooler weather.
"It was important for us to design a sustainable building that will leave a minimal environmental footprint on this beautiful northern nature," said Kjetil Trædal Thorsen, founding partner of Snøhetta. "Building in such a precious environment comes with clear obligations in terms of preserving the natural beauty and the fauna and flora of the site."
Read more - Norwegian Wool: A sustainable partnership
Read more - 'The everythingness of art': Interview with FEATHR. founder Tom Puukko
Posted by
Richard Ferris on 16-Feb-2018 13:29:44