Given the choice, most people would not go in to work today. For almost everyone, a job is a means to an end; an income source to pay for all the requirements life entails. True, a lot of people enjoy their work, and some even love what they do, but it's not necessarily the actual work that creates this feeling, it can often be the environment the employer creates for them.
The theory goes that providing the right amenities can create greater employee engagement and reduce stress, which in turn increases creativity, improves productivity and ultimately increases profitability. When done right it can also benefit the health and happiness of employees too.
In recent years tech companies have stolen the limelight when it comes to amenity offerings, with quirky and extravagant additions often hitting the headlines, but not every company needs to install slides or build a theme park. Striking the right balance is key to bringing out the best in your employees without creating a costly distraction which does not benefit your employees or your company.
We have identified four aspects to consider when assessing what amenities your workplace should offer.
Survey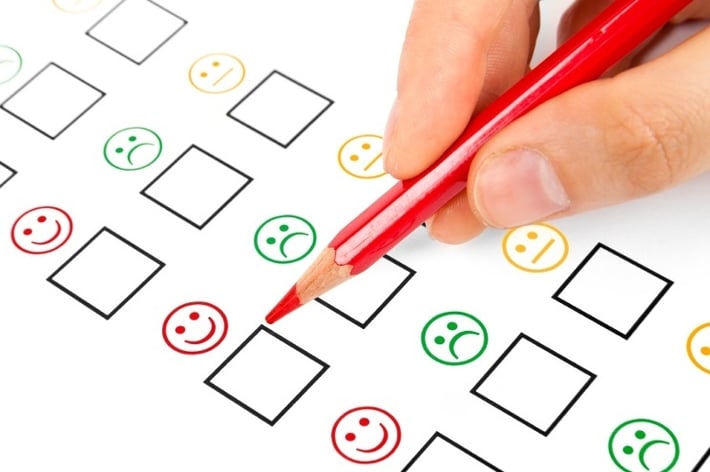 Starting with an employee survey is a great way to learn about your staff; their likes, dislikes and what they love about their working environment and what they feel is lacking. You can also discover the habits of your workforce which is important when considering change.
There may be a large contingent that enjoy getting out of the office during lunchtime as it's the only time during the day that they get exercise. Introducing an onsite cafeteria may not be appealing at all to these people, and a wasted investment.
You can also use this to identify what people's working habits are, and what they need from their working environment to be as productive as possible. Here you can use a Likert Scale with questions such as:
Eating healthily at lunchtime is important to me.
It is beneficial for me to have social interaction with my co-workers.
Having a space to take a break at work would help me stay focused and productive.
Wellbeing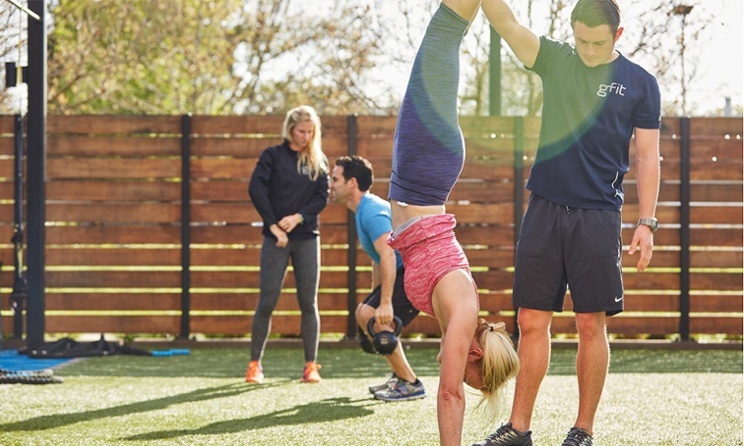 A study by the World Economic Forum found that when health and wellbeing are actively promoted within an organisation, employees are:
3 times more productive
8 times more engaged
Whilst the employers are:
5 times more likely to encourage creativity and innovation
4 times less likely to lose talent within the next year
There are so many options when it comes to amenities which promote wellness. Gym membership schemes, healthcare options, and access to open and green spaces are some excellent ideas, as well as providing healthy food alternatives.
Japanese recruitment firm Pasona have gone one step further, and actually grow and harvest their own food at their new headquarters created by Kono Designs. Employees are encouraged to maintain and harvest the crops, which are then prepared on-site in cafeterias.
Whilst not every office can (or should!) be turned into a farm, getting the fundamentals right for wellbeing is something everyone can do. Access to fresh air, natural light and quality office design is important, and so is the right furniture.
Read more - Good office design directly affects workplace retention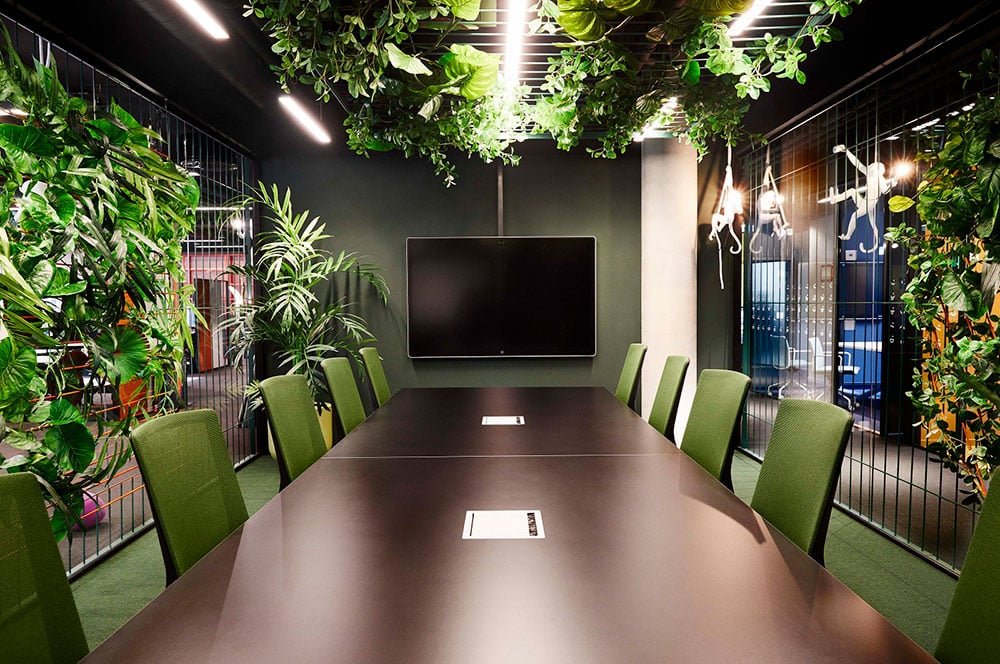 Norwegian mobile payment firm Vipps playful meeting room features HÅG Futu chairs, colour matched to the decoration to complete the jungle feel.
Providing quality furniture has multiple benefits. Employees know a good chair or a good desk when they see one, and will feel valued by their employer. Colourful and playful furniture can also completely change the character of a room, bringing a wow factor for staff and visitors alike.
Aside from the visual appeal of design led furniture, it can also be bring health benefits. The human factors of highly ergonomical seating and desking can prevent injury and illness, and with the right education and use, help make people work life healthier and happier.
Culture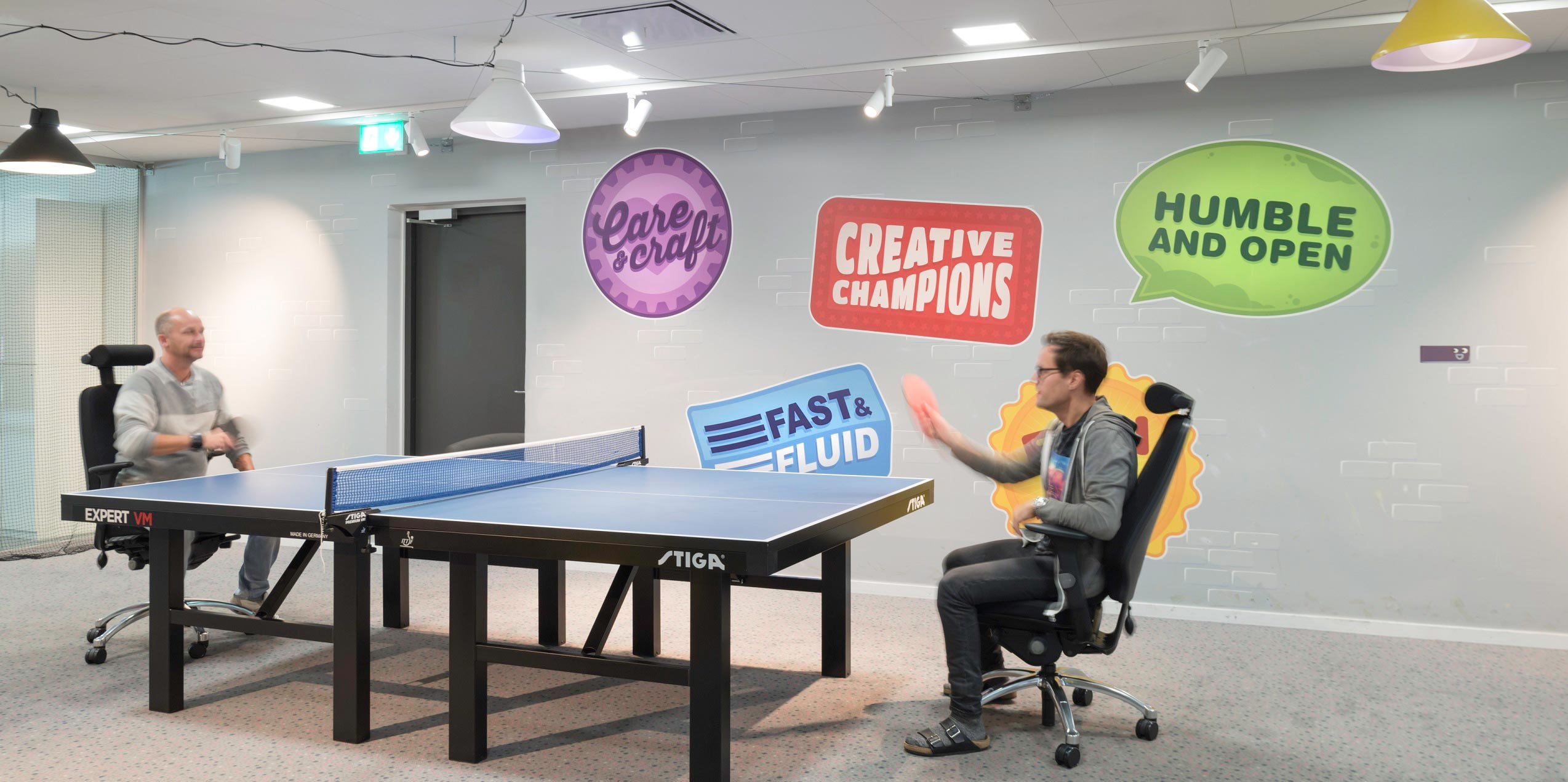 Gaming firm King provide an array of fun ways for staff to unwind, helping them to be creative when it comes to designing their own games.
All companies have a unique culture. It represents a company's mission, values, ethics, expectations and working environment. Having an amenity strategy which is in tune with your company culture is important if you want it to be successful. A perk that is great for one company may not be for another.
We spoke to Mina Pampus, a writer at employee benefit platform Perkbox, who shed some light on how perks can not only increase performance but shape company culture.
"It's no secret that a good company culture can increase employee motivation and engagement, thereby boosting profits and bottom line. Providing perks that promote a work/life balance show that you as an employer, value your employees' life outside of work. It can work wonders for enhancing your team's commitment to, and appreciation of, the company and can go a long way in boosting overall company culture.
"When looking to improve your company culture, it is very important to think about regularly rewarding and recognising the achievements of your team and encouraging peer-to-peer rewards and recognition, as well as top-down. This does not necessarily need to be a reward of a financial nature. In fact non-financial rewards can often be more successful in boosting motivation in the long term, so be creative!"
Location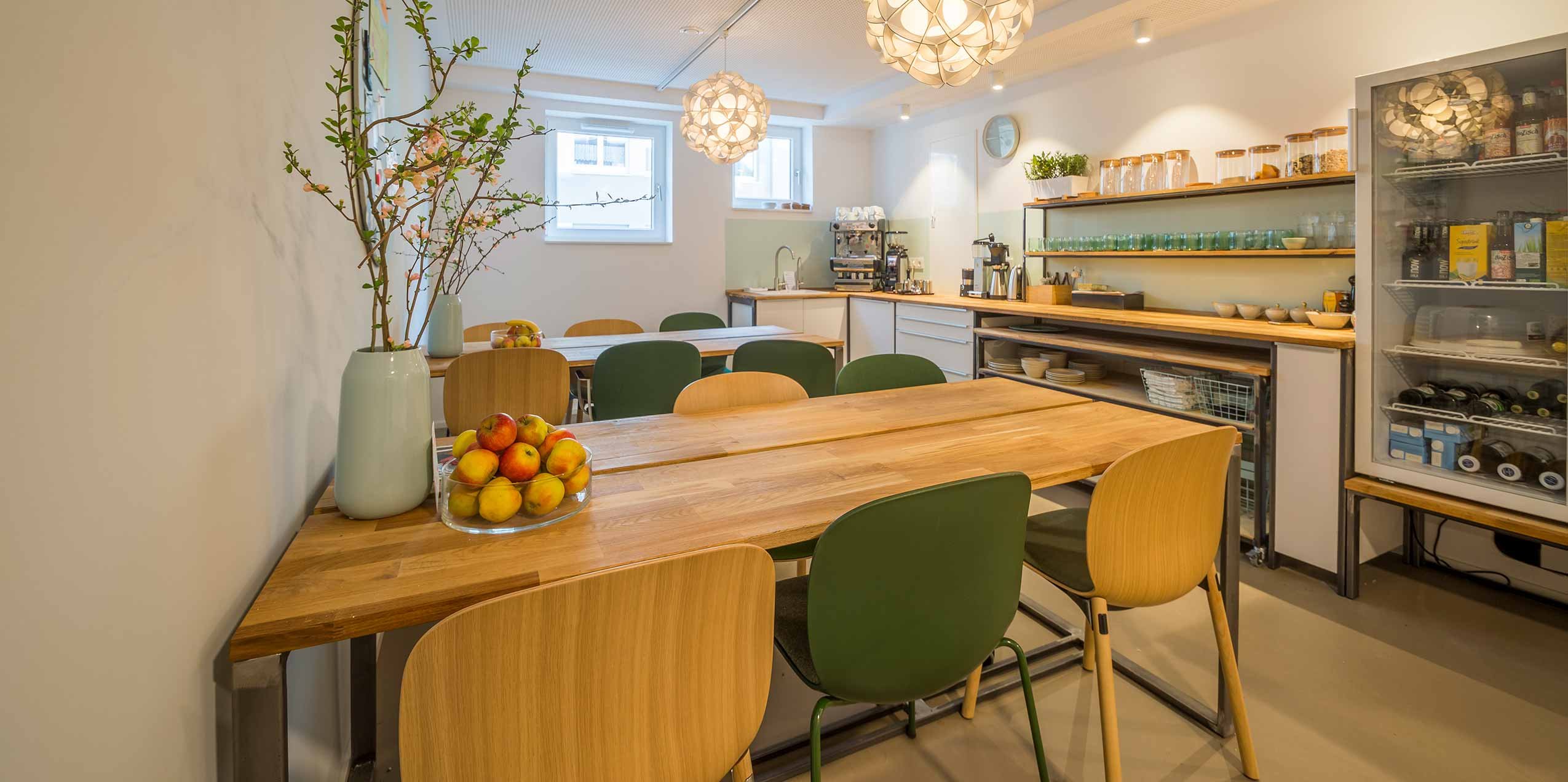 CoWoki Coworking Plus in Cologne have a homely kitchen area providing access to a coffee machine and refreshments, enabling them to prepare a bite to eat without having to leave the building.
Taking advantage of local facilities instead of building your own is a great way to keep costs down, but it can also create relationships with local businesses, opening new doors for commerce.

You may have a local gym nearby that you can offer employees membership for. You may even be able to get a group discount. You may also find yourself a new client!
Maybe your offices are isolated, or located out in the suburbs. Providing onsite amenities such as a cafeteria, or hooking up with a food service which offers healthy lunch options can help develop good eating habits for workers, increasing general wellbeing. It can also increase worker interaction in less formal areas, improving worker relations and stopping employees travelling far afield to find something to eat at lunch time.
The options for workplace amenities is endless, but always keep in mind that the aim is create greater productivity. Removing mundane time consuming habits (offering dry cleaning or free haircuts), keeping people healthy (with ergonomic seating and medical care) and keeping people on-site for longer (with cafeterias and fitness centres) all provide more time for individuals to flourish, and fosters an environment of greater creativity, increased focus, and improved profitability.
More Articles
How big data can inform workplace design
Flokk interior architect designs new office space for Northern Monk Brewery
5 benefits of sit stand desking
Posted by
Richard Ferris on 11-Jan-2017 08:30:00