A warm and welcoming workspace can seriously affect overall mood and productivity, but good office design can do much more for your business. With the right décor and interior elements, you can create an office environment that gives your entire business a boost.
Your office is a representation of your brand, and a well-designed office should express your company image in a way that makes employees feel proud, not oppressed.
A productive office is one that combines your business image with the comforts of home. Getting this right can truly inspire and motivate your team, creating a healthy active working environment.
Check out our office décor ideas to design the office you deserve.
Showcase your company's mission statement
Getting your company's mission statement out there in a creative and visible way is a brilliant daily reminder to your team about what your brand is all about and can motivate and inspire. It's also great at creating a positive impression to visitors and clients, letting them know exactly what you are about.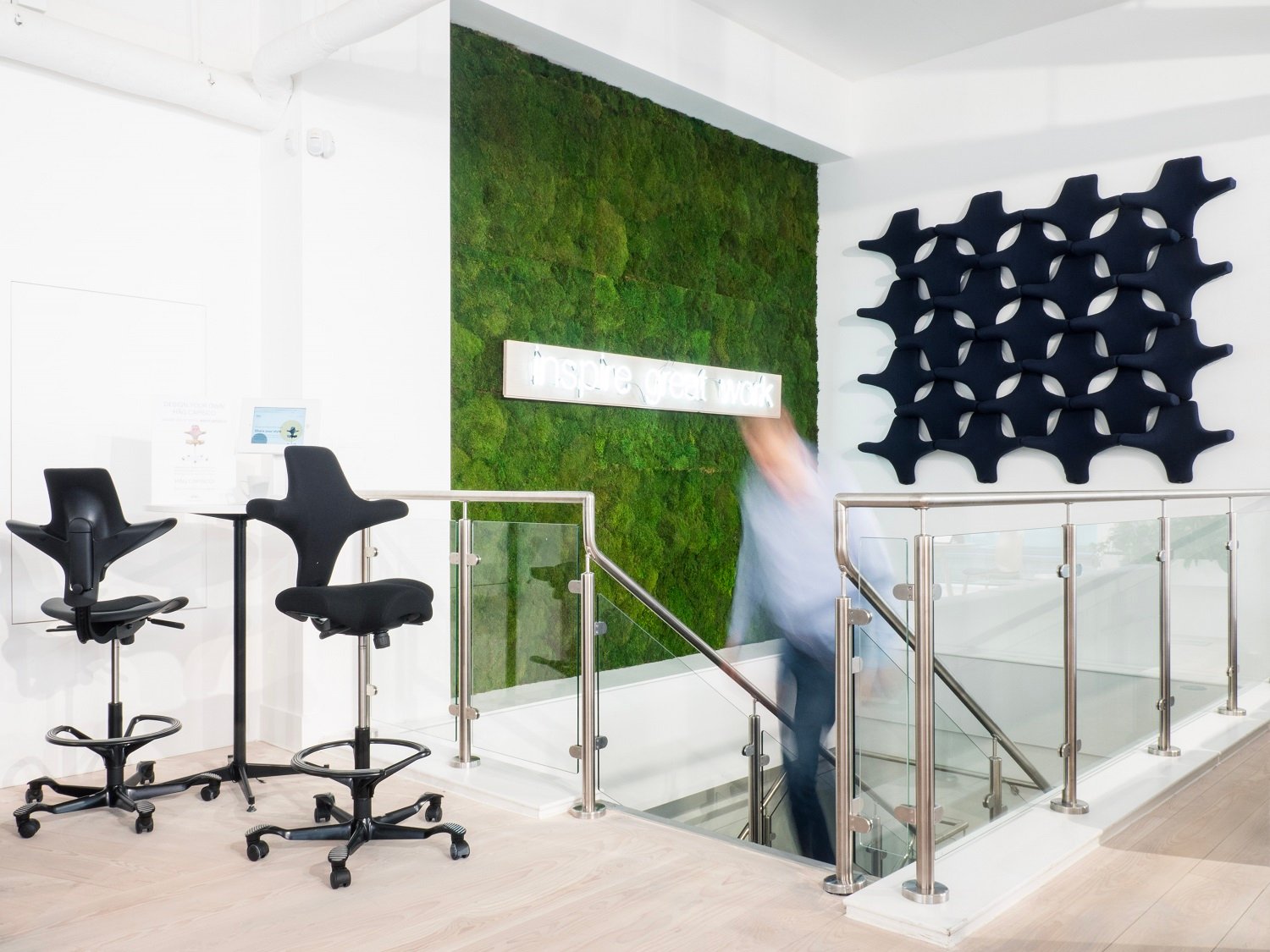 At Flokk our mission statement is the "Inspire great work"; we want our furniture to enable people to be as productive and creative as they can. Featured: HÅG Capisco Puls (left) & HÅG Capisco
Express your brand colours
Think about incorporating your brand's colour scheme into your interior design. This can help with promoting a consistent message, and also gives you a helpful guideline when choosing interior style options.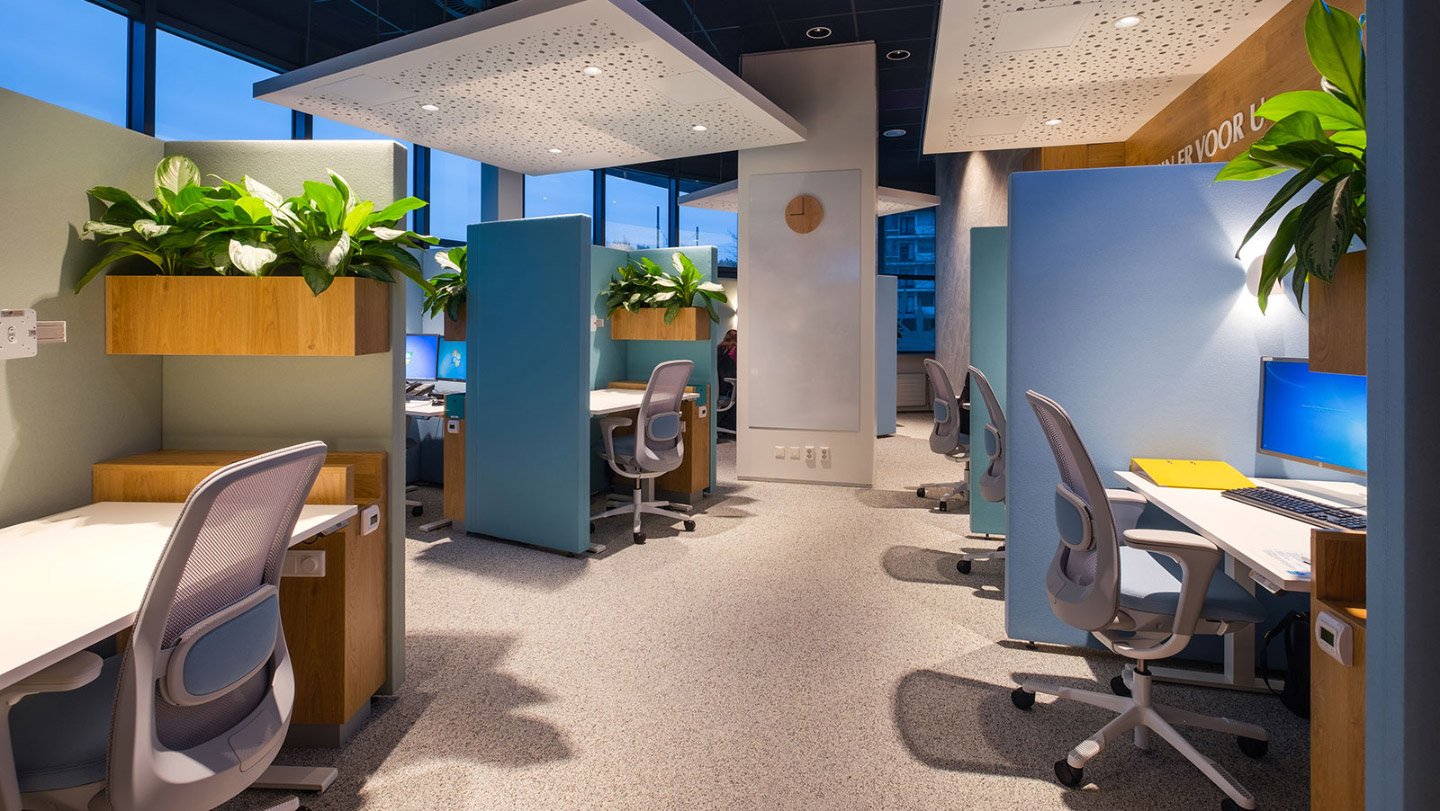 Designed by KuóStudios, this company's branding included a range of blues, expressed in the desk dividers and furniture material. Featured: HÅG SoFi mesh
Funky Lighting
Having as much natural light as possible is always a bonus, but where you do need lighting, look for creative options. Funky lighting can be a real talking point, and help to inspire creativity.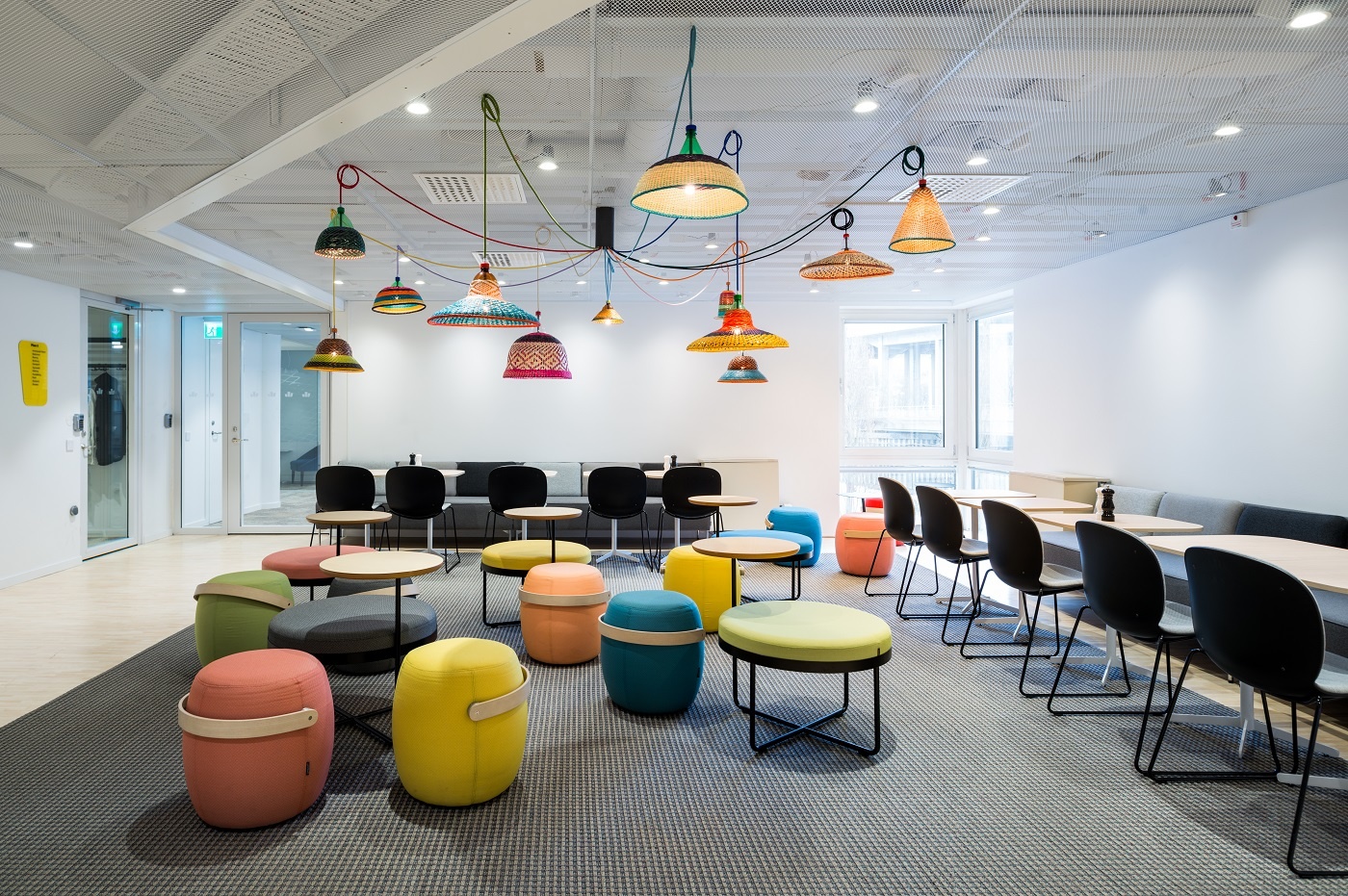 The Swedish Sports Centre in Stockholm livened up what was a relatively plain room with some seriously creative lighting. | Featured: RBM Noor chairs, Offecct Carry On Stools
Stylish Room Dividers
Breaking up an open plan office into different work zones can not only help with concentration and productivity, it is also an opportunity to add colour and texture to your office environment, breaking up a boring wide space and creating homely, cozy areas.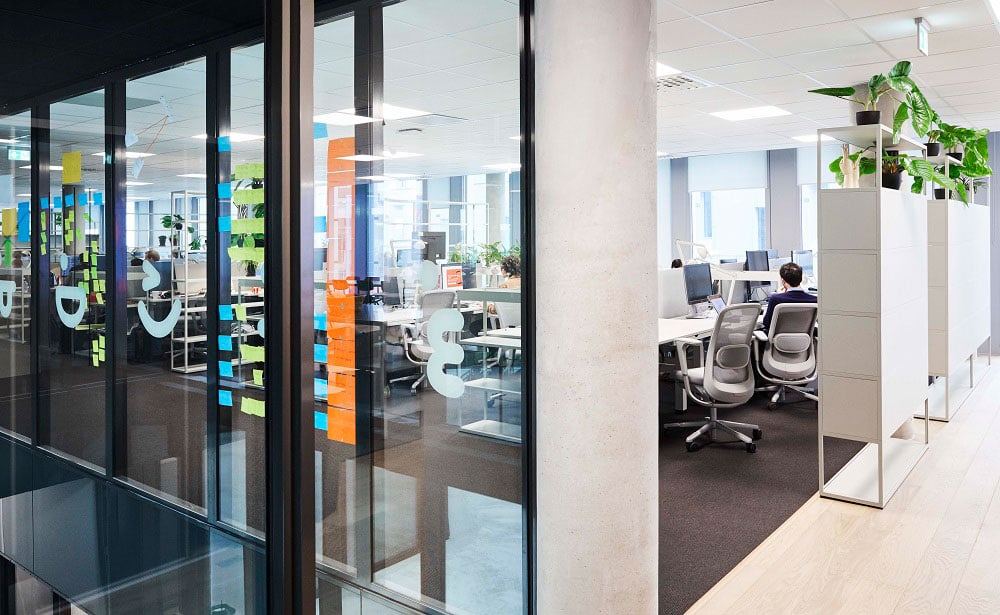 Rooms can also be divided creatively using furniture such as shelving or storage units. Location - Vipps.
Locally Sourced Artworks
One great way to add a community feel to your office is to seek out local artists to support and showcase through your office décor. Visit galleries and exhibitions in your local area to find something which suits your style, and you might even be able to get custom pieces made just for you.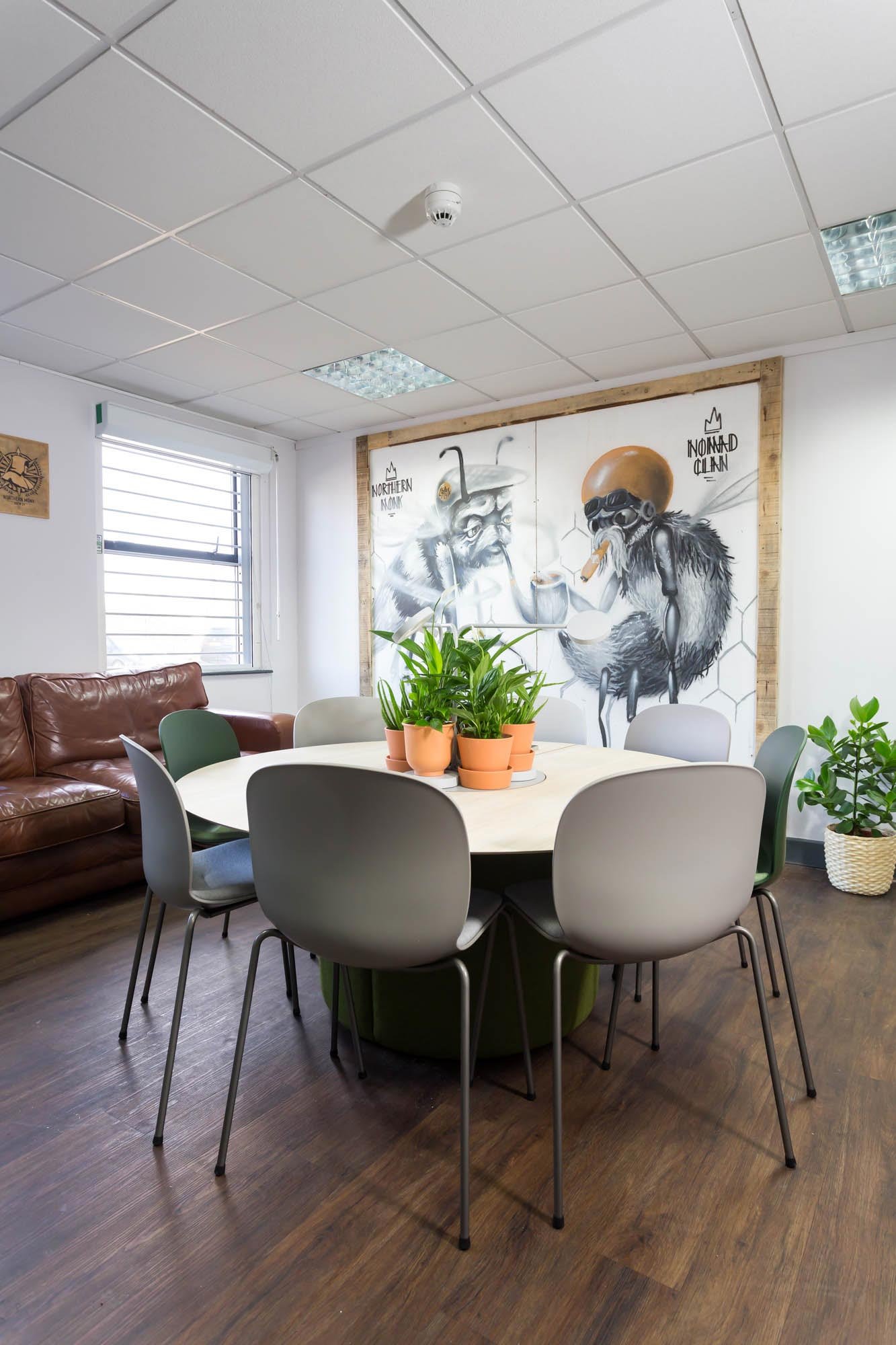 Brewery Northern Monk commissioned a local artist to paint a mural on their breakout room wall. Featured: RBM Noor
Furniture Appeal
Upgrade your drab office furniture with a few unique or colourful statement pieces. Adding furniture with an eye catching colour or print, or a creative design can really add to the environment.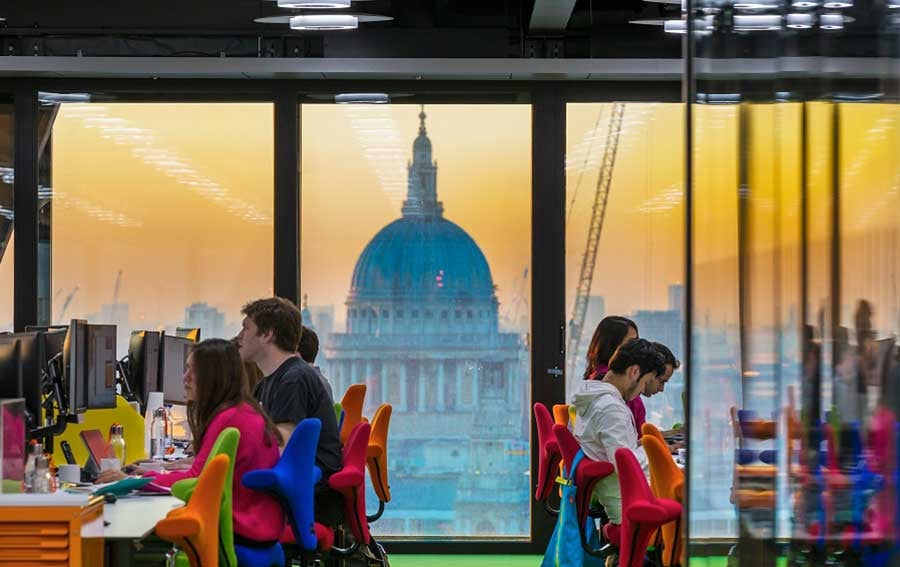 Architects RSHP installed a colourful array of HÅG Capisco chairs for their office workers, combining comfortable and human-centred design with colourful eye-catching upholstery to really make a statement with their office.
Nature
A simple and effective way to spice up your office environment is to add some plants. Dotting an array of potted plants about the room is cost effective and really does help to improve mood and wellbeing, as well as adding colour and personality. If you don't want the stress of watering real plants, there are a lot of synthetic options available.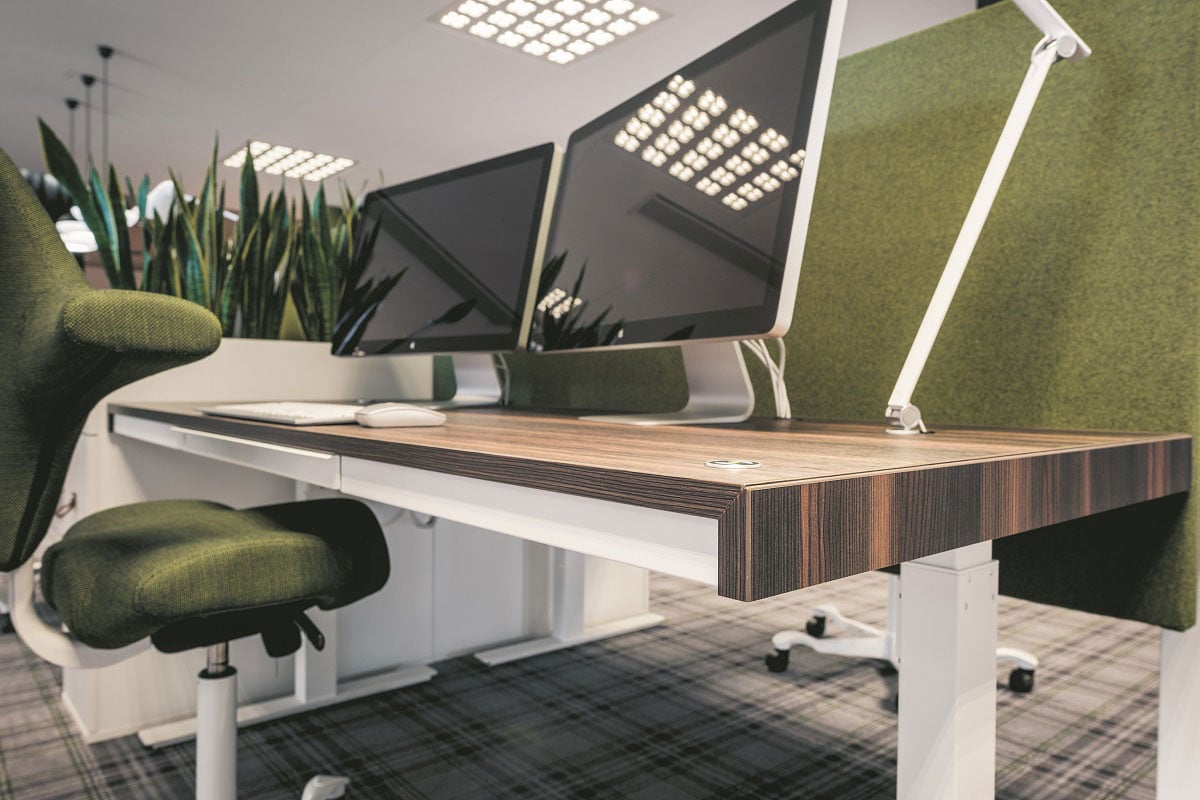 Golf retailers Dormy placed an array of plants across their open plan office, not only adding that natural feel, but doubling them up as workstation dividers. Featured: HÅG Capisco
What other tips do you have for making your office work for you? We'd love to hear your ideas too! Drop them in the comments below.
More Articles
6 steps to a healthy working environment
Global firm promotes new corporate identity with complete office redesign
How to choose environmentally friendly furniture
Architects M Moser deliver immersive brand experience at new APAC offices for global drinks firm Diageo
Posted by
Richard Ferris on 06-Aug-2019 13:55:49