This week in central London the White Collar Factory unveiled a 150m open-air running circuit located on their rooftop, offering employees a unique opportunity to stay fit and healthy at work with minimal fuss, proving that well-being is increasingly on the agenda in the workplace.
Designed by architects Allford Hall Monaghan Morris, the two-lane track is an exciting addition for those who rent space at the Old Street location operated by The Office Group. Made from a cushioned rubber, the track is marked out with a start sign, lanes and with a high glass wall, offers spectacular views of the city whilst employees work out.
Speaking about the project, Simon Allford, Director of Allford Hall Monaghan Morris said the entire project offers "A new naturally ventilated office building that we think is really rethinking how you build buildings for people to enjoy working in… Protected from the wind, magnificent views; it builds on an idea we've always had about making buildings give more to the city and its users."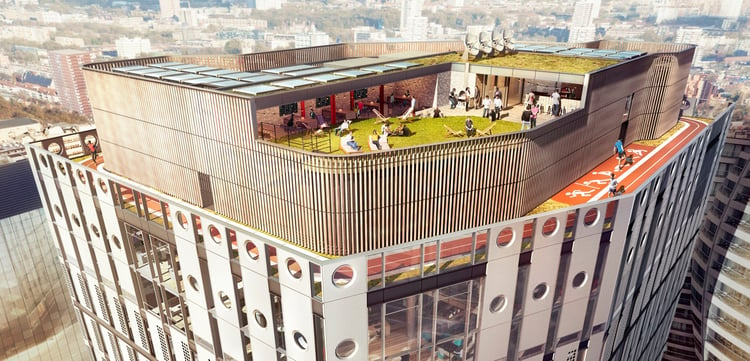 Earlier this year we spoke about the increasing importance of wellbeing in the workplace, and this project strengthens the belief that health benefits are attractive amenities to the modern workplace.
Whilst running tracks aren't an option for every office, other ideas have been put into action across the world, improving the health, happiness and life experience of thousands of workers.
Amazon & Healthy Eating Options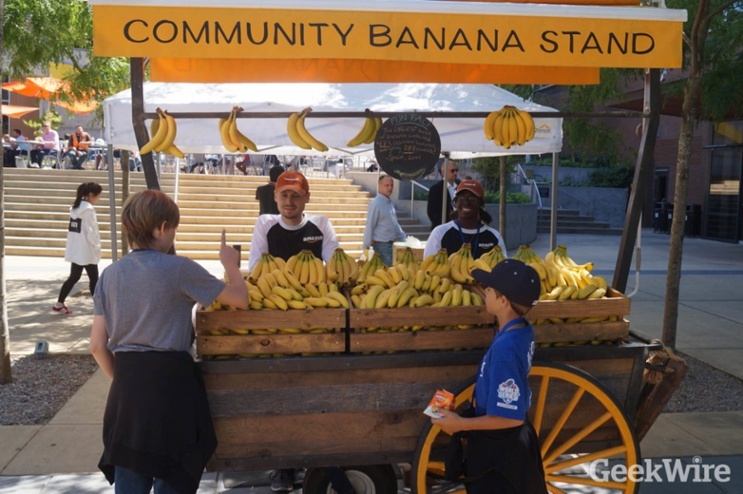 As highlighted in our Favourite Offices of 2016 blog, Amazon's new HQ complex in Seattle has an amazing array of healthy eating options for their employees, including a community banana stand which Amazon has operated since 2015, offering free bananas to those who want them (distributed by their 'Banistas'!) including members of the public. Offering healthy foods is a great option to improve well-being in the workplace, and research also suggests it can improve productivity.
Corporate nutritionist Kate Cook says: "Using sugary food as a reward can create an addictive spiral that wrongly associates sugar with spokes in productivity and hard work. Enlightened companies are seeing that introducing fresh fruit into the workplace, such as a punnet of berries for breakfast or for snacking on during meetings, leads to improved concentration, productivity, and a reduction in health problems and work absences."
JS Wright & Mental Wellbeing
Whilst every organisation can't afford to pay for full time banistas (and the 1.5 million bananas they distribute annually!), There are plenty of ways smaller companies can offer enticing health incentives. Building Service Engineers JS Wright has initiated a programme offering an array of services to its staff including legal advice, counselling, 24-hour GP access and a variety of discounts. This incredible service can help bring peace of mind to employees, lowering stress and anxiety levels and improving overall mental health. All of this has been done at the cost of just £5 per employee.
COWOKI & Sitting comfortably
COWOKI is a versatile coworking space in Cologne, the cultural hub of western Germany. Opening its doors in March 2017, the 360m² workspace provides 30 workstations, communal collaborative areas, private phone booths and dedicated meeting rooms spread over 2 floors.
Architects Architekturbüro Maier were tasked to create a healthy working environment where work and well-being are fully intertwined. This healthy, dynamic work environment would also be established to enhance the feeling of well-being in the workplace. Cowoko provide a full spectrum of well-being services, from dedicated childcare, to exercise plans, healthy organic foods and life enhancing furniture.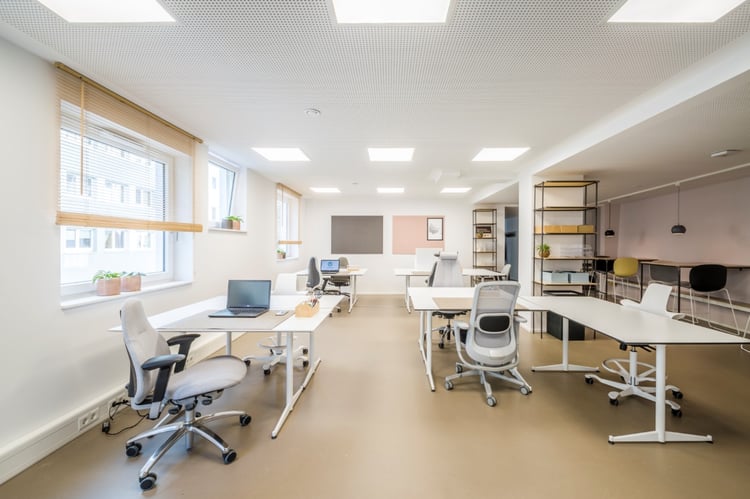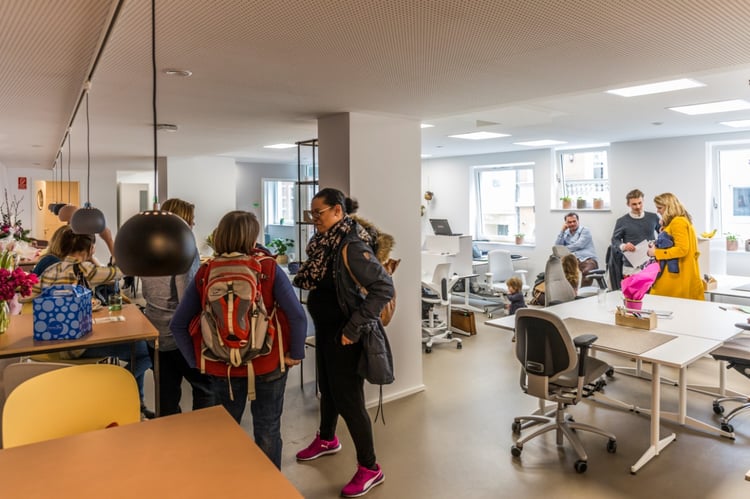 When it came to seating, they chose a selection of chairs from across our brands, with HÅG SoFi mesh and RH Mereo and BMA Axia in desking areas, RBM Noor in collaborative, and RH Lounge in social zones. The dynamic features, Scandinavian design aesthetics and environmentally friendly aspects of the product were key reasons for their selection.
"With the furniture we were able to achieve a welcoming, friendly atmosphere. In addition to being aesthetically pleasing, it is also extraordinarily flexible and functional. Since it can be moved around and adjusted so easily, we are able to create a variety of different work stations whether that be for a meeting, presentation or individual work with ease. Equally important to us was our commitment to sustainability. The well-thought out furniture, manufactured with fair-trade and high quality materials was a perfect fit for us. These are huge assets for our coworkers and strengthens the image of COWOKI." - Cowoki
Skype & Designing for well-being
As discussed previously, the very design of your building can effect on well-being, something which Skype took into consideration when revamping their North America HQ in Palo Alto. The 90,000 square-foot office infuses the workday with a dash humor, a splash of colour and a taste of the outdoors, all of which are proven to improve mood and increase personal well-being.
"The values of the company could be summarized by the words "disruptive, on the move," yet elegantly functional. The final design directly reflects these tones – the space makes you take notice, delights, has a fast feel to it, yet supports the expectations of high productivity."
- Dena Quinn, Regional Facilities Manager US and APAC, Skype