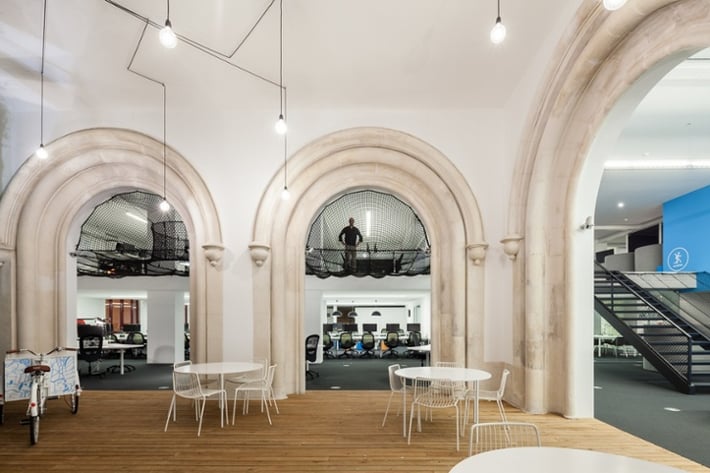 2016 was another great year for an abundance of workers around the world whose offices were transformed into beautiful and beneficial realms of joy. OK, so maybe not all 3.5+ billion people employed around the world had their workspace transformed, but some definitely hit the jackpot.
As we venture into a new year, we reflect on 2016, and pick 10 new offices from around the world that really hit the spot when it comes to design.
Uniplaces | Lisbon, Portugal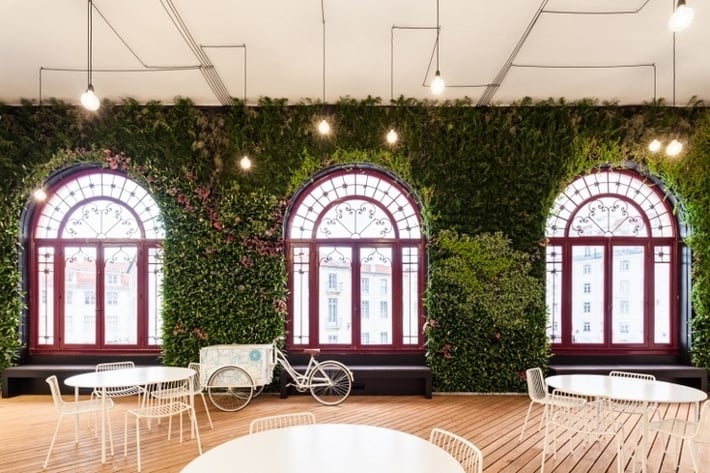 Global student accommodation platform Uniplaces moved in their new offices last year, designed by Paralelo Zero Architecture. Formerly a railway station, the new offices are in central Lisbon.
The design was aimed to enable maximum work performance whist representing the company's core values. Large open spaces, clear lines of inter-departmental communication and a balance between individual and collaborative zones are all key elements. 'Evolution friendly', the design allows for growth in team size with certain areas adaptable to accommodate more workers as the office fills up.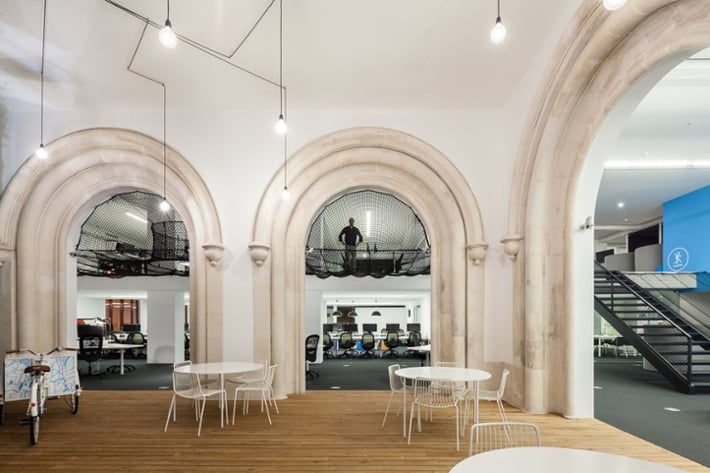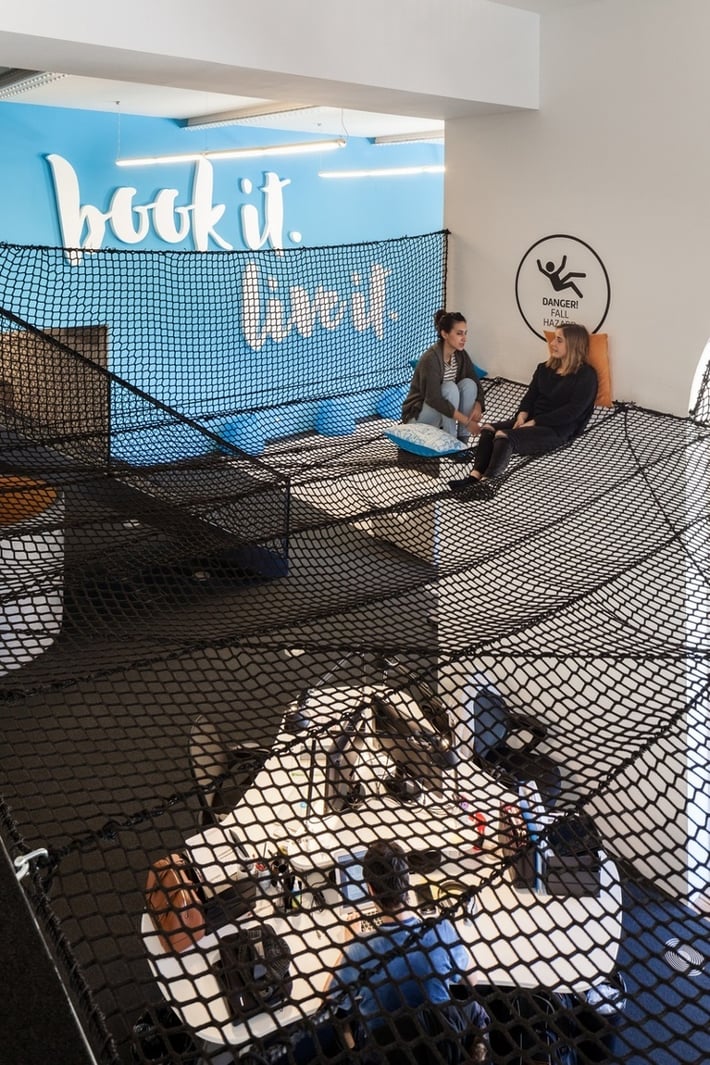 Speaking about the design Paralelo Zero said "Work space is not limited to a desk, but encompasses the whole of the supplementary areas intended for relaxation and leisure. The goal was to stimulate communication and interaction between employees and to make the work-day less tiring through a change in setting and the created dynamic."
Amazon | Seattle, United States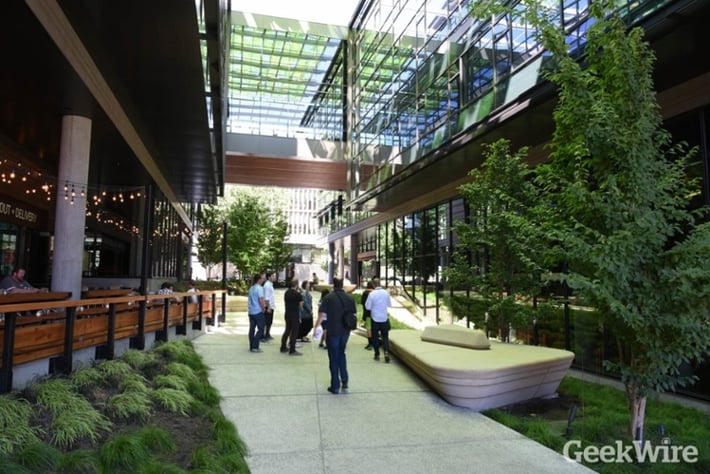 Amazon officially opened their latest development in Seattle in November 2016. Known as Day One, the 37 floor, 1,485,500 sq ft workspace is part of the continuously growing headquarters in the Denny Triangle neighbourhood of downtown Seattle.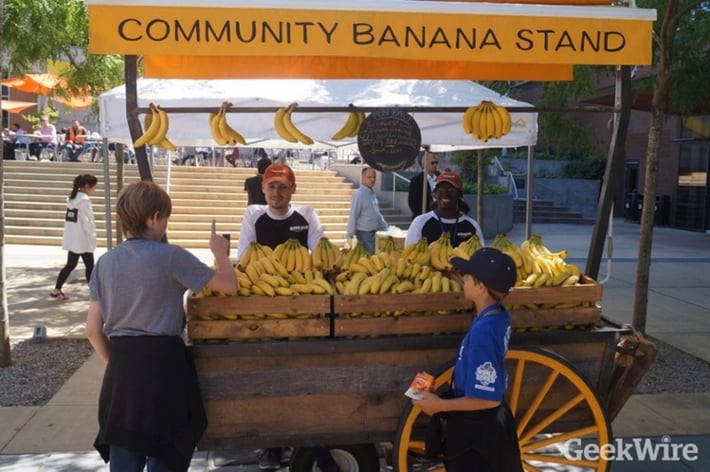 Exciting, amenity filled and experimental are just some of the words you could use to describe this new office, which contains imaginatively decorated rooms of all shapes and sizes for different levels of people, healthy food stands and even a library stocked with books which employees are free to take.
An awe inspiring bio dome is set for completion in 2018, filled with over 300 plant species form around the world. The idea is that workers will take breaks from their desks to walk through the gardens, or meet in tree top locations to brainstorm new ideas.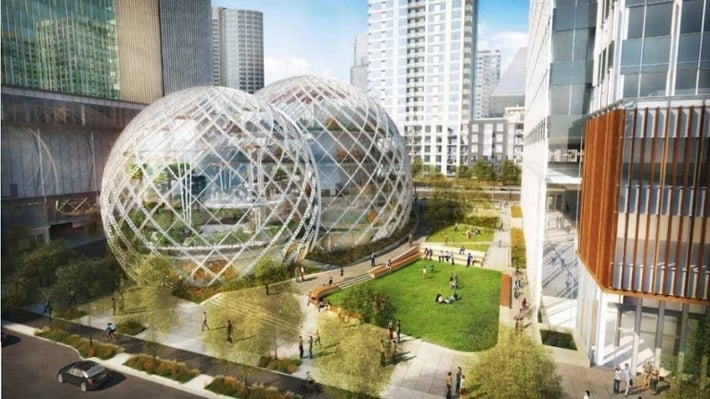 Speaking about the philosophy behind the concept, Amazon community specialist Allison Flicker said "Every day you come to work there is something new to experiment, to innovate, to invent. Never on any single day are you going to be doing the same thing over and over again."
Pinterest | Chicago, United States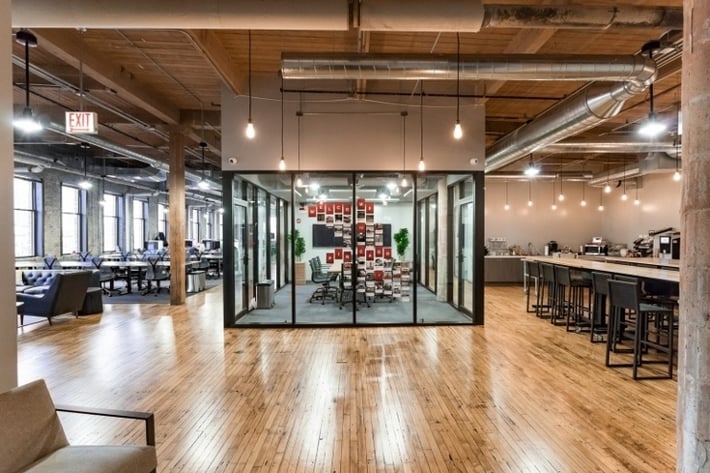 Horn Design were the team behind social media firm Pinterest's new Chicago offices, which opened its doors in October. Technology integration is a key aspect of the design, allowing uninterrupted communication throughout the whole building. Collaborative, semi-private and individual workspaces inspire creativity and productivity, and a transparent teleconference centre near the entrance engages visitors and employees alike.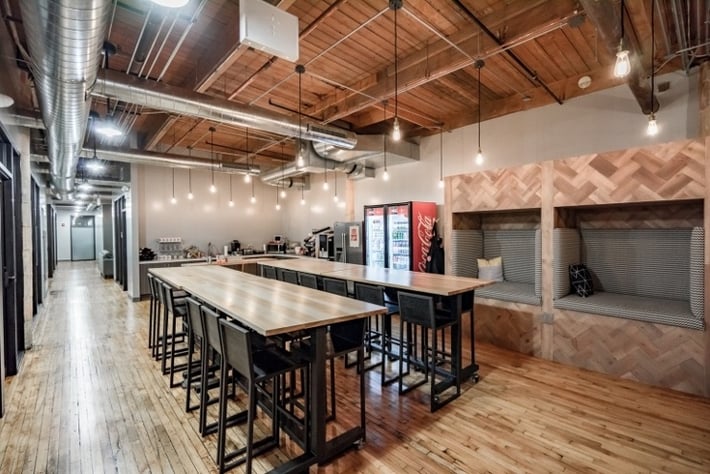 Stripe | London, UK
Global App experts Stripe had a total redesign of their London offices, with International Design & Build company M. Moser enlisted to rejuvenate their offices. We love the way that the office flows, encorporating many different working spaces enabling workers to find the right area for the right task, including several private collaborative spaces.
Large windows and well placed greenery help to bring the outside world in. Stylish lighting and furniture give the office a homely feel alongside the more industrial elements of the building's architecture. A well stocked and well designed kitchen area finishes the aesthetically pleasing office, which also utilises custom designed RBM Noors & HÅG SoFi chairs.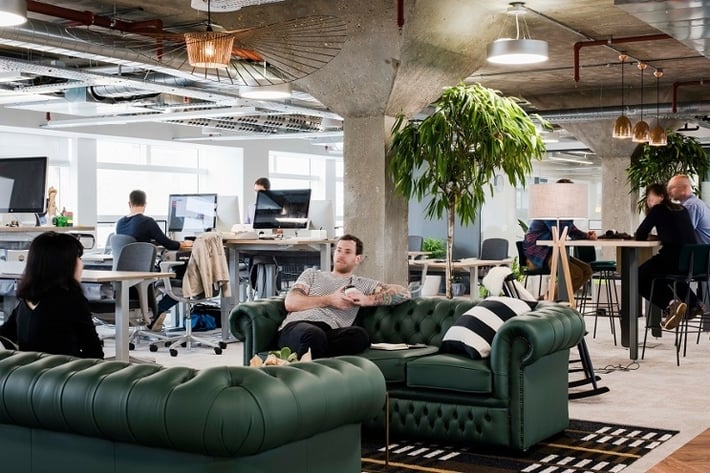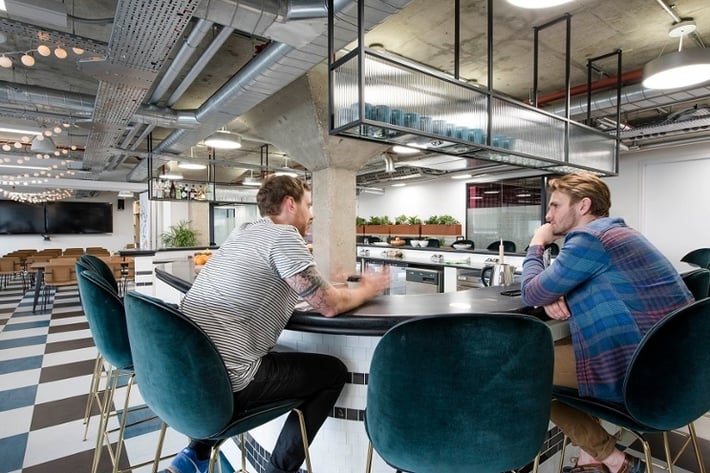 Airbnb | Sao Paulo, Brazil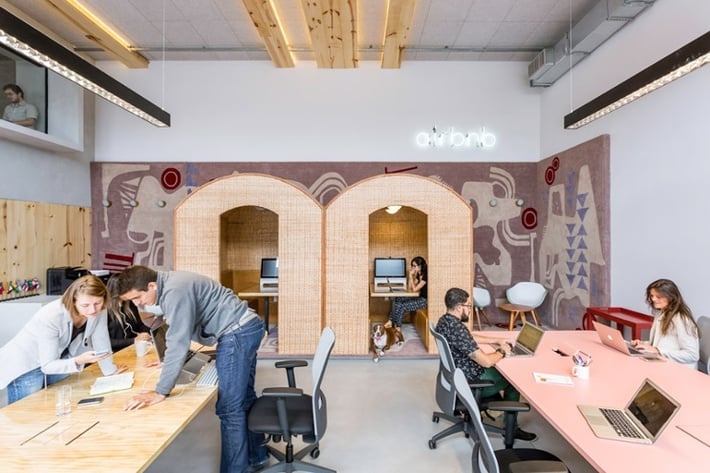 Airbnb's international offices are all intended to reflect the online rental company's 'belong anywhere' ethos, and each interior has been created in collaboration with local design studios.
Brazilian design firm MM18 teamed up with Airbnb's Environments Team to create their new workspace in Brazil. Selecting an existing modern building for the office, they organised the space around a large gathering area that includes an open kitchen and a series of large tables. This was to accommodate existing team rituals, such as eating breakfast together, and breaking for coffee in the afternoon.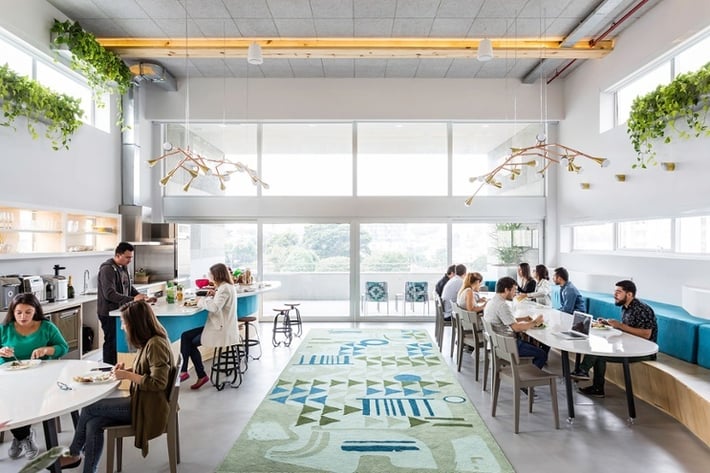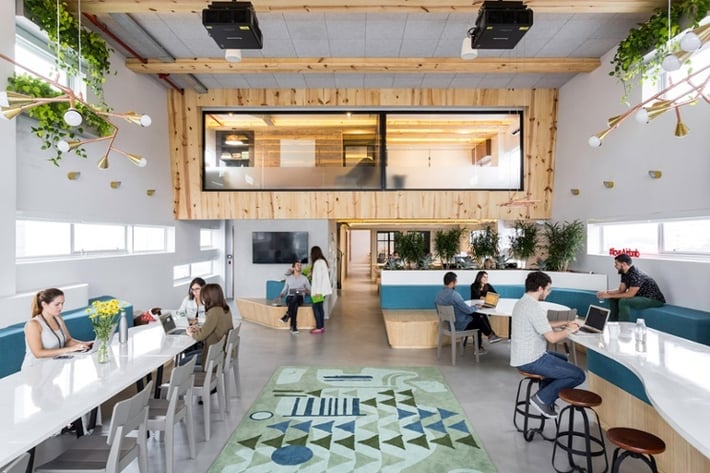 The offices also reflect Brazilian culture, with local artists and craftsman supplying furnishings and decoration throughout the office. A constant theme in all Airbnb offices is that actual listings on their site are references in conference rooms, acting as inspiration to employees and celebrating the truly global reach of the company.
They also wanted to provide enough space for a growing and developing team, while conveying the feel of an Airbnb property in Brazil.
Vanke Co-creative Space | Shanghai, China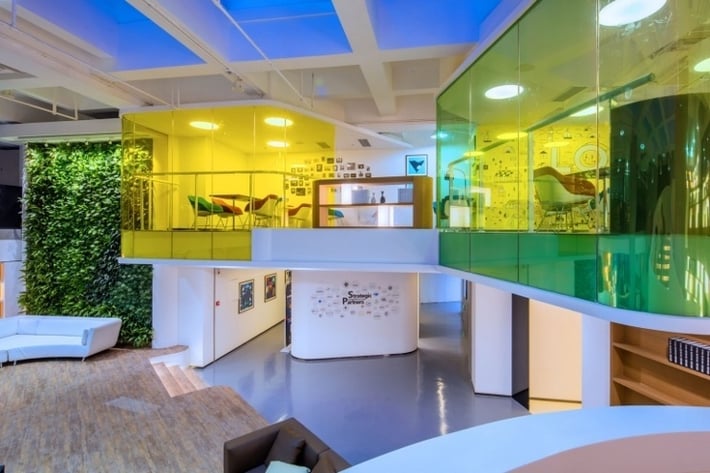 Property developer Vanke love to make Co-creative spaces, and aim to be Chinas best in the business. Their new flagship co-creative centre in Shanghai has a design which revolves around an interactive play on knowledge and amusement – combining individual work stations, casual meeting spots and enclosed meeting rooms. A "work café" zone for ad hoc activities and a huge communal area for seminars and product launches is also there.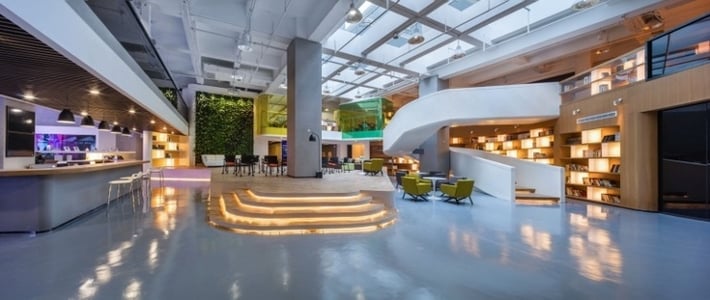 LinkedIn | Omaha, United States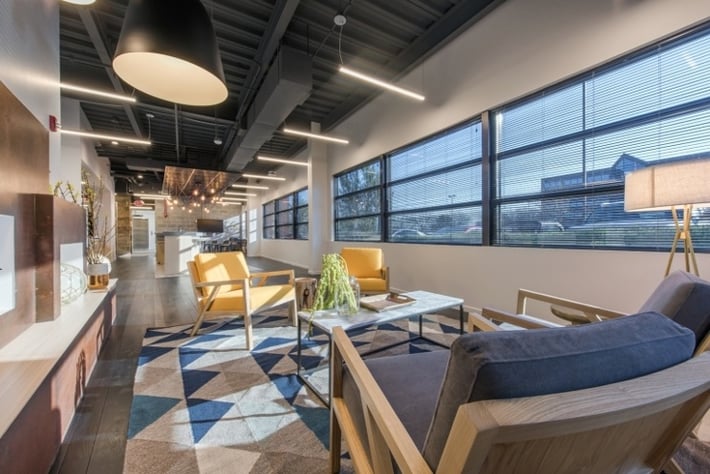 LinkedIn's expansion space in Omaha seamlessly blends the heritage of Omaha with the young vibrant culture of LinkedIn, creating a portal to cutting edge tech and design of the future. Clean architectural lines, creamy whites and warm greys host modern elements, ornate detailing and local art. Designers AP+I say "Materials combine effortlessly throughout the space, blurring the lines in which one area or era ends and the continuation of another begins; a space that is recognizing of the past, present and future."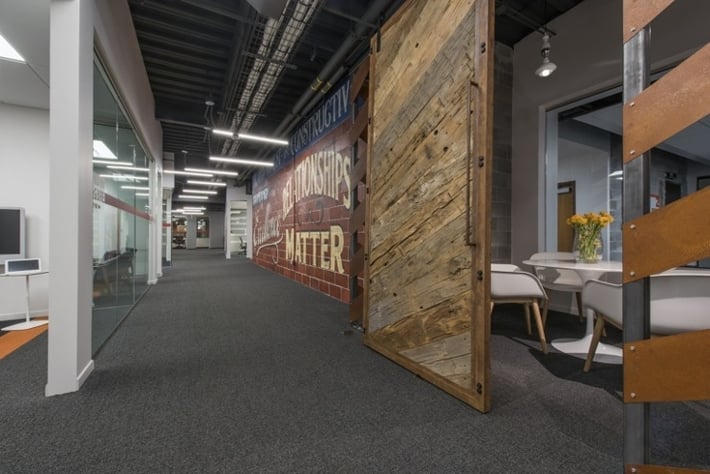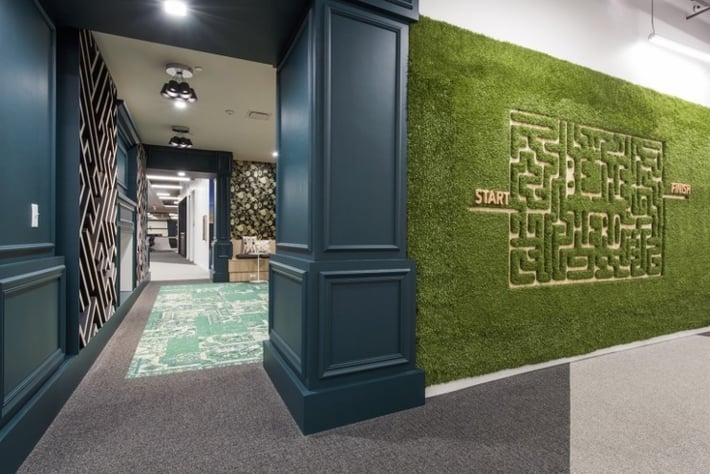 The Farm SoHo Coworking Offices | New York City, United States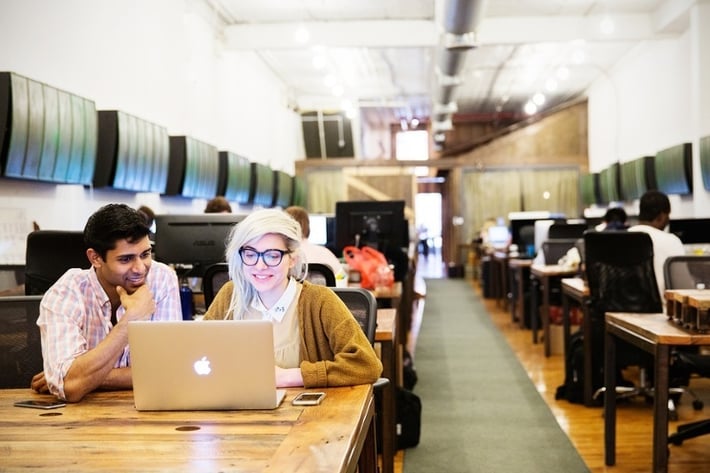 Coworking spaces were a real trend in 2016, and The Farm SoHo's new coworking office in New York City is beautiful. A barn discovered in Missouri was dismantled and rebuilt in the loft space, and is accompanied by rustic and homely décor, evoking a real sense of comfort and warmth. Lucas Seyhun designed the workspace which embodies the organisation's love for nature and the principles that guide it.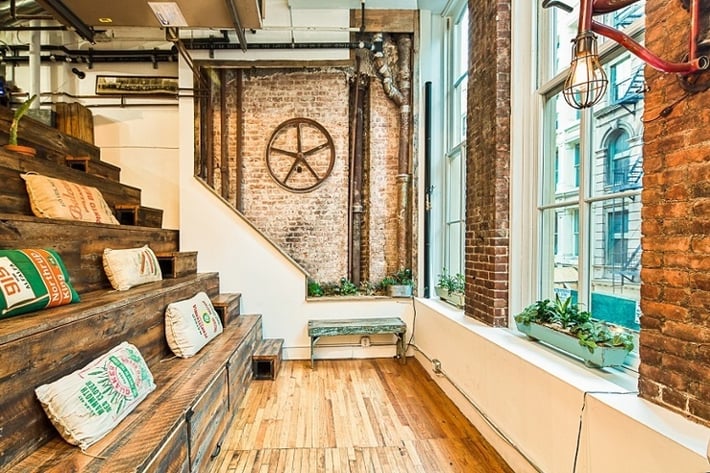 Situated in "the hippest district in Manhattan" the space aims to engage artists, designers and entrepreneurs, who can converge to share ideas, innovate and learn in a collaborative and nurturing environment.
King | Barcelona, Spain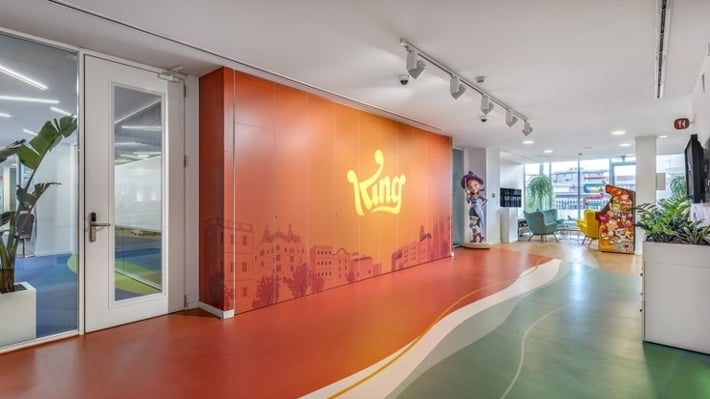 Mobile gaming brand King's new office in Barcelona is a bright and bold statement, offering a huge array of workspaces, leisure spaces and amenities for its growing workforce. A company which depends upon its creative juices, the design is aimed at stimulating and invigorating the mind, encouraging lateral thinking, creative problem solving and innovation.
Picturesque rest zones sit alongside playful ad hoc collaboration areas, and the entire office has a themepark feel to it, with style and décor vastly changing as you travel through the building.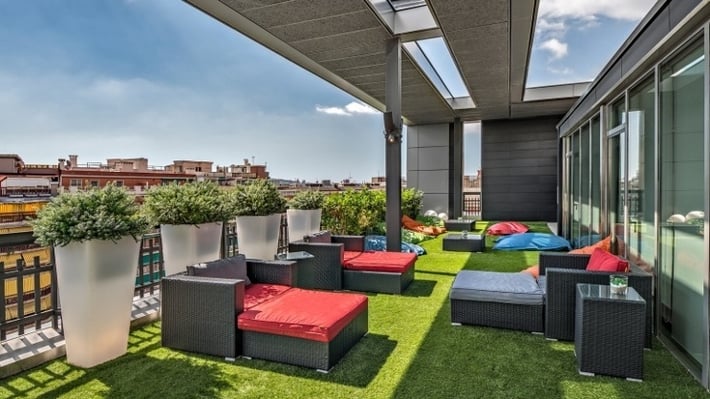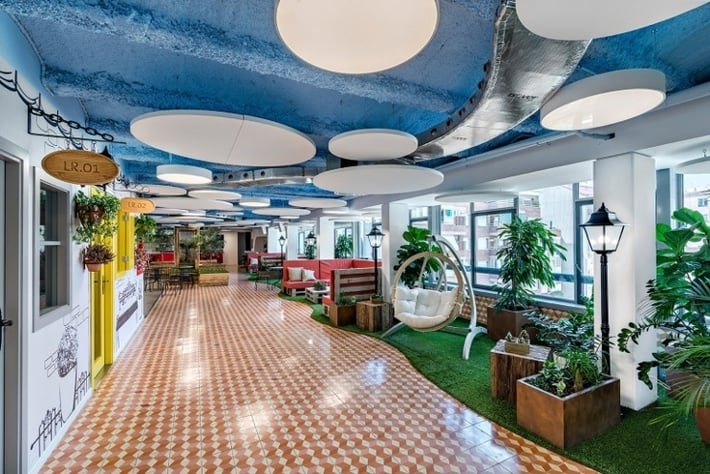 Etsy | New York, United States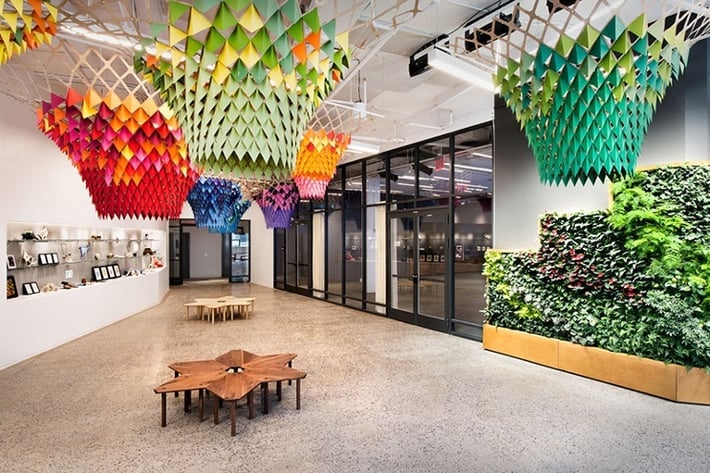 As sustainable as it is stylish, Etsy's new space in New York has some incredible sustainable features fincluding LED lights, locally sourced timber tables, and plush gardens fed from rainwater collected on the roof.
The Etsy labs dominate the 6th floor, which is a huge collaborative space filled with craft supplies such as paintbrushes, sewing materials and even a 3D printer to let workers experiment with new ideas.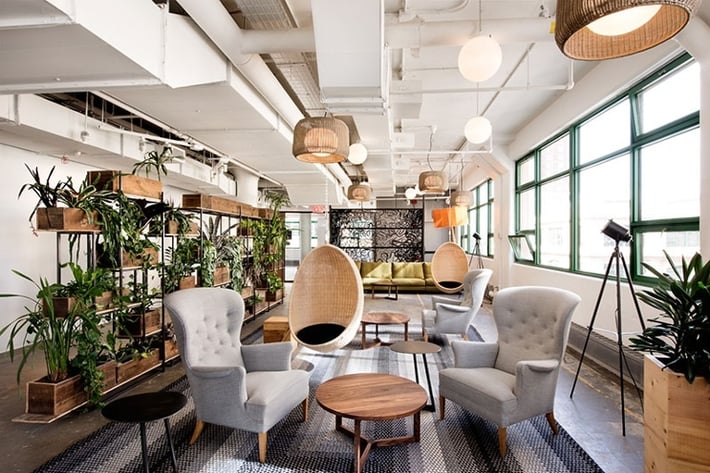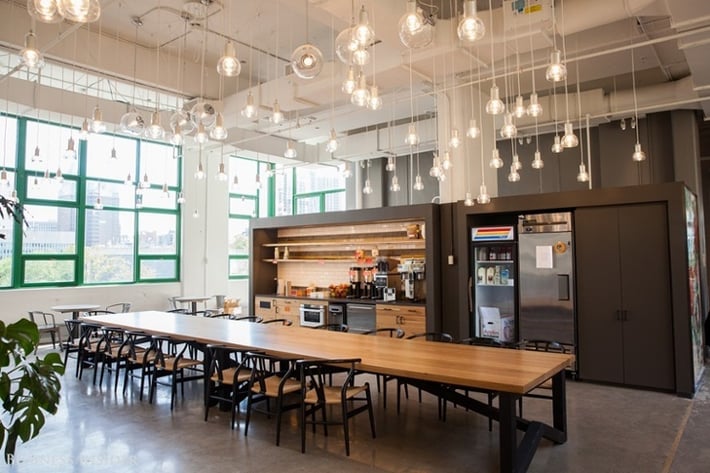 Speaking on their blog, Etsy say "Our design principles were influenced largely by our views on the nature of work itself. We envision a world where everyone — including the 850+ people who make up our workforce — has access to economically, socially and environmentally lasting and fulfilling work.
Using direct feedback from our employees, we've crafted a space that's designed for how they want to work: one that's open, beautiful and inspiring, with specialty areas allowing for collaboration and creativity as well as focus and solitude."
Posted by
Richard Ferris on 03-Jan-2017 10:06:00