When designing a building there are many areas that get designers enthused and excited; the flooring, the cladding, the landscaping, the open spaces. One thing that normally doesn't make the list is seating. Some items in a building are function led and some are design led. And seating, in most peoples minds, usually falls into the former category.
But it doesn't need to be. It is possible to combine both function and design. This requires a shift in perspective from designers, and an understanding that modern office furniture, including chairs, are able to bridge that gap and offer both aesthetic appeal and functional performance.
One of our clients recently took a brave and bold step. They ordered 135 chairs with about 20 different colour combinations. They carefully selected two-toned colours to go in specific areas of the building, matching the surroundings in that area. Each set of colours was chosen just for that area. This creates a lot of extra work firstly in the design phase and secondly in the installation, but its worth it. Taking an intricate approach like this, seating definitely becomes a feature. And why shouldn't it?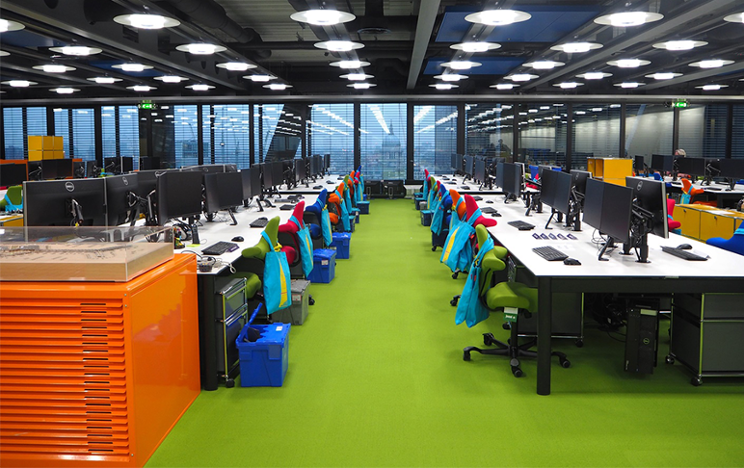 Rogers Stirk Harbour + Partners is an international architectural practice based in London.
Gone are our school days where we sit on an ocean of grey, stackable chairs that offer as little comfort to the eye as they do to the bum. In fact, some school children today don't even have this memory to go back to. Last year Tonbridge School in the UK redeveloped their library. They wanted to create a new, inspirational space offering a variety of flexible and adaptable, teaching and learning environments, and they wanted it to look good too. With chairs an essential item when studying, they wanted their seating to be comfortable and functional, but to add to the design of the project.

They chose the HÅG Conventio Wing. Utilizing the customization options available, the school chose colours they felt would be 'calm', in what is a calm, yet purposeful space. They used fabric on those chairs which were positioned in the private study areas, and would therefore receive use over a more sustained period of time. The fact the chairs gave the impression of looking like an 'open book' from certain angles was also very appealing in a library building, and adds great character to the interior.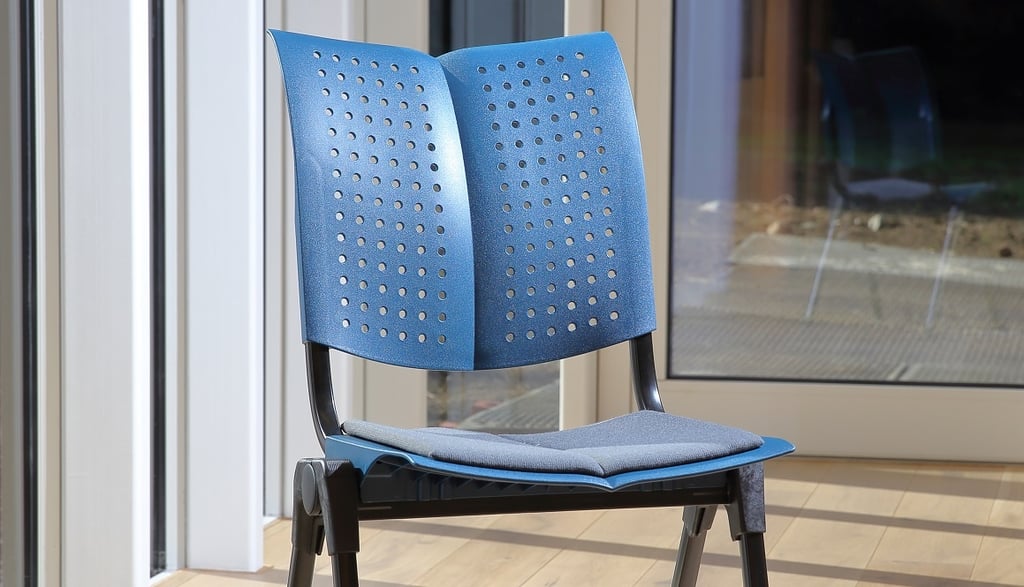 Read more about how we helped Tonbridge School in their renovation project
In today's market, designers are spoiled for choice in quirky, cool, chic and novel furniture. And going for cool or quirky no longer means you must sacrifice function. Most of the top manufacturers realise the importance of both function and design and have started to integrate the two. So it is possible to find a great piece of furniture that creates inspiration and excitement but also provides comfort or ergonomic support much needed by the user. Here are some ideas to create feature furniture in any workplace.
Check out our favourite office designs of 2016
Colour play
As we saw above, injecting vivid colours into interiors is a great way of turning seating into more than just a workers tool. Bright, vivacious colours help people feel alive and energised during the working day. However, not every workplace is suited to this approach, and what works for one doesn't necessary work for all. You can still use colour to really enhance your workspace though, you just have to be a bit creative.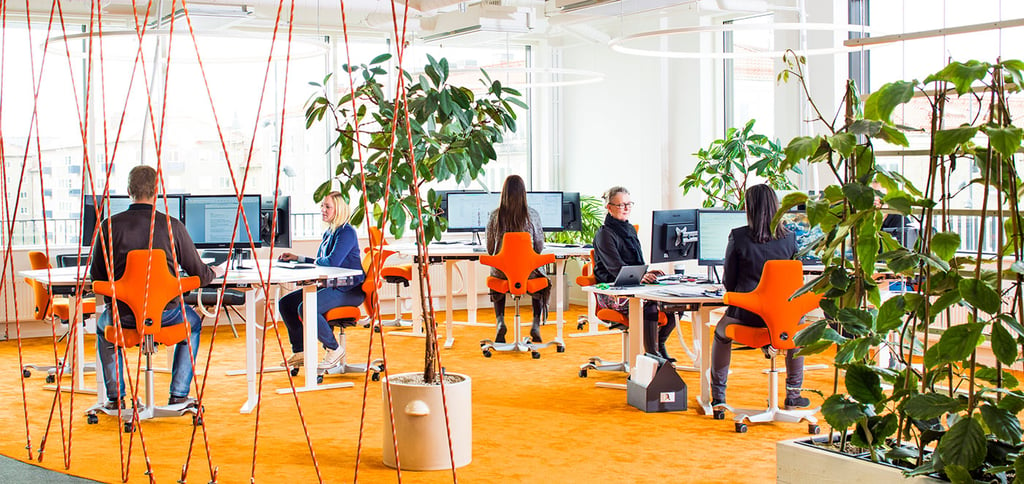 Vasakronan is the leading property company in Sweden.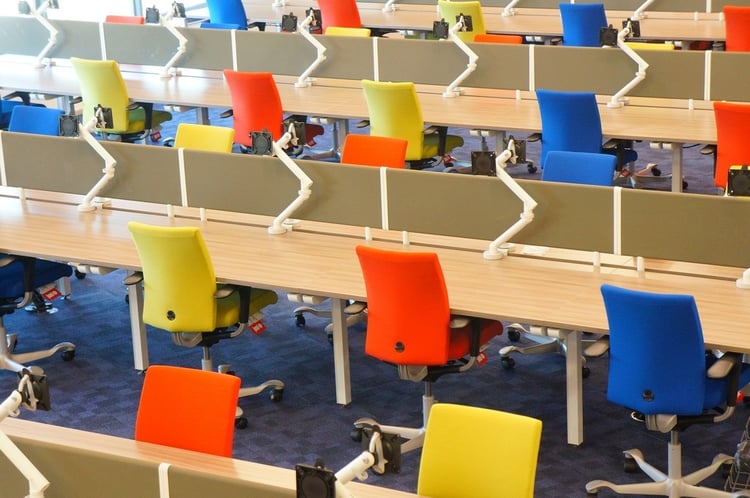 Hastings Direct, UK: This simple office colour scheme was given an injection of life with this bright colour chair combination
By drawing up on your company culture, you can play around with colour to really enhance it, making your environment stand out to employees and visitors alike.
When Sweden's Dormy Golf moved their head offices in late 2016, they had two clear objectives for the overall design of the workspace: they wanted the design to be a reflection of the world of golf, and they wanted their workspaces to encourage a healthy lifestyle for employees. Utilizing a variety of colour options, they selected a green fabric to match the naturalistic environments, which included lush plants and grass like surfaces, reflecting their sport. It really does make you feel like you are out on the course.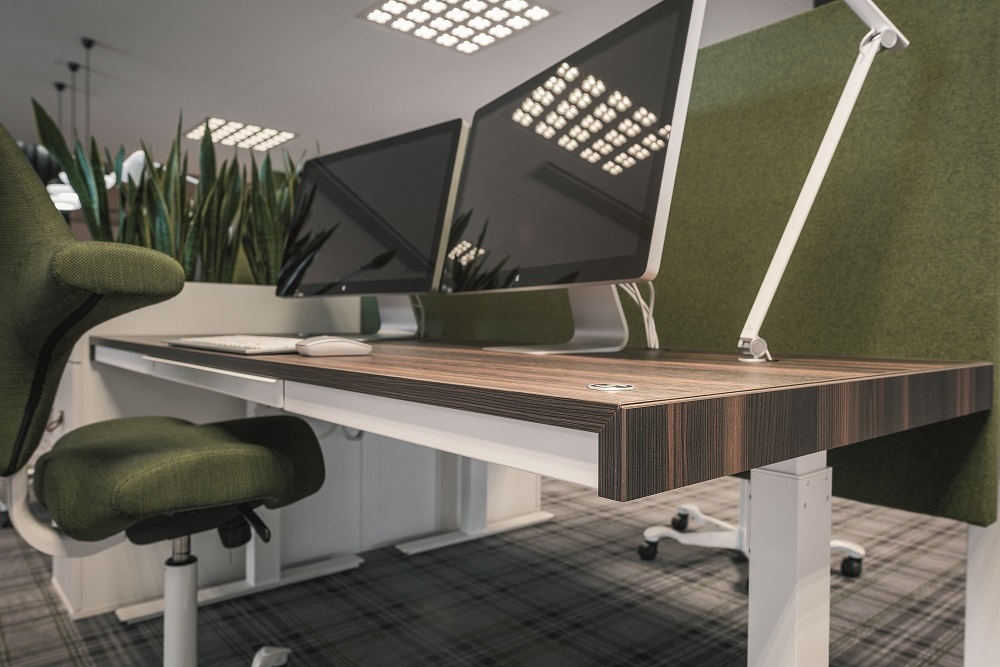 See more pics of Dormy's new HQ
Funky design
Whilst recent studies have challenged certain ideas on how to engender workplace creativity, it is generally accepted that introducing unorthodox designs into a workplace can give rise to creativity and lateral thinking. By utlising objects which challenge the accepted norms, it can help give rise to new ideas on problems faced by employees. This applies to furniture, such as chairs, as much as anything else.
Read more about designing for creativity and collaboration
A second way you can play with interesting designs is by choosing to have a "talking piece" of seating in your reception areas. It's always great to make a good impression, and when you have something original in your lobbies or waiting areas, you can make that first impression really something. Google do a great job in wowing visitors with their original office interiors, and it's not something only the top tech companies can pull off.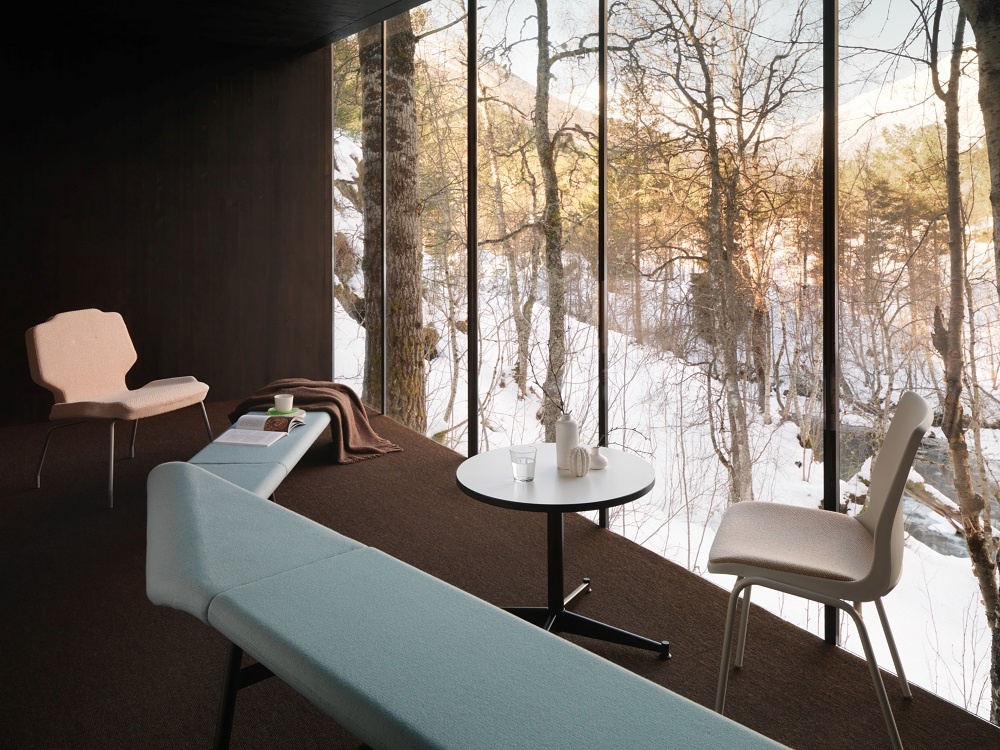 The RBM Flip & Fold is available in a variety of combinations, from this simple single fold to full circle designs.
There are a variety of seating options which fit the bill and they go great in lobbies, foyers, receptions or break out rooms. Southampton University recently installed one of these pieces in their newly refurbished campus. Furniture that is a little quirky and unusual helps people to break from routine and inspires them to think outside the box.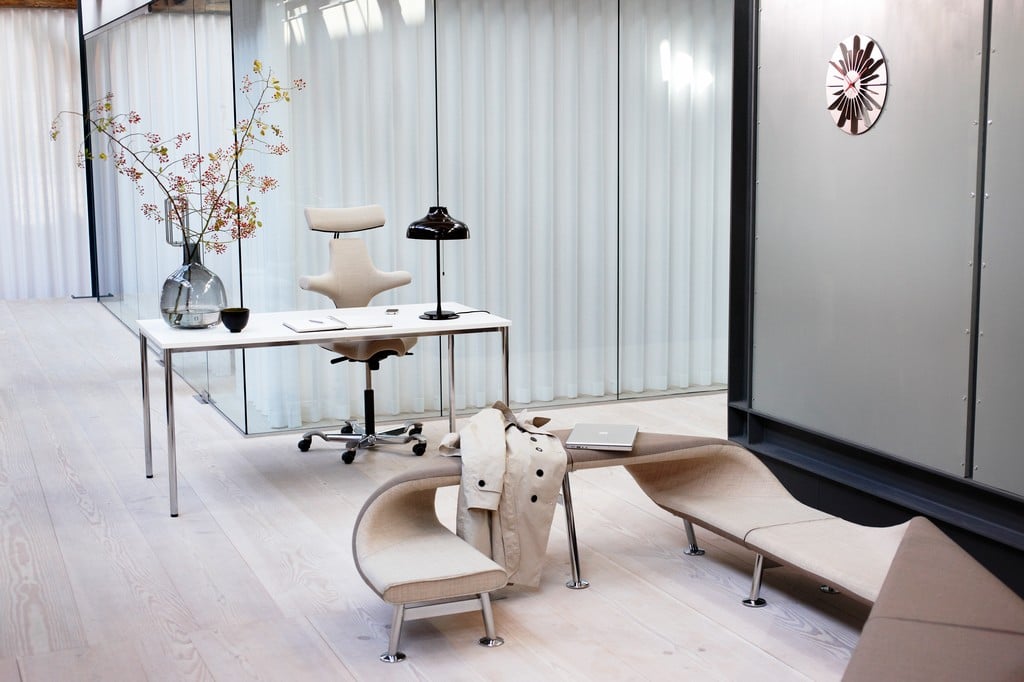 Brave & Bold Patterns
We spoke about colours, but you can also introduce some artwork into your seating, creating very bold aesthetics that can transform a room. You can hang a piece of art on the wall, but if you turn your seating into an artwork, it can be a unique and inspiring addition to your environment.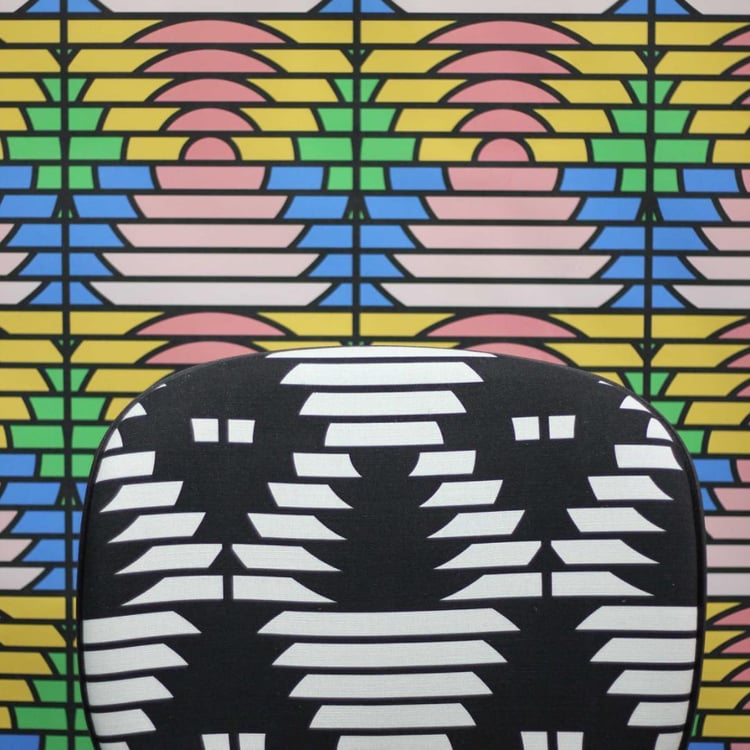 the RBM X Feather collab, featuring artwork influenced by Art Deco and the Memphis Group and inspired by sunrise in paradise.
Luxury Finnish wallpaper & fabric brand Feathr work with a variety of international artists to create stunning materials for a variety of interiors. Applied to walls, they transform the feeling of room instantly, and now you can get their pattern on chairs too. Collaborating with RBM, they have released a range of chairs which marry the RBM Noor chair to the designs they have created. These unique seats can bring a touch of art to a simple room, and can even be matched with their wallpaper.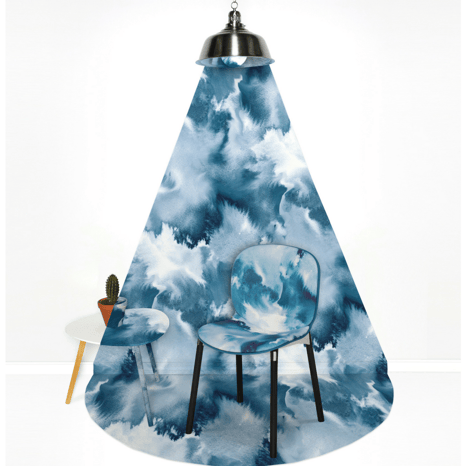 Inspiring break out areas
This is an area where designers can really get playful. Break out areas should invite people to meet, share and collaborate in an informal way. We have seen everything from swings to hammocks to rubix cubes being used in break out areas. Often, bright colours work well here also.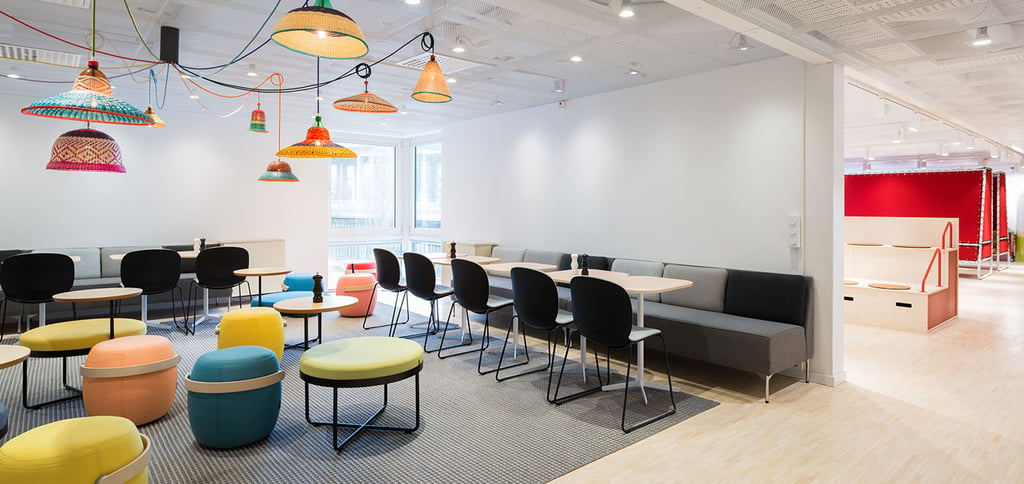 The Swedish Sports Confederation used a combination of Offecct Carry on stools and RBM Noors in their breakout area
If your layout can be off square or non-matrix then that will add to the originality of the space. Here we are not talking about being original for the sake of being original, rather that originality should serve a purpose; whether it's to inspire, invigorate or rejuvenate.
These are just a few ideas on how you can use seating creatively to bring life and character to rooms. Download our lookbook from the link below for more inspiration on how to get the most out of your seating.