When housing experts Stena Fastigheter needed to up-size their workspace, they took advantage of the opportunity to totally transform the way they worked, undergoing a complete office redesign, enlisting the help of Flokk brand RH to provide the support and comfort their staff craved.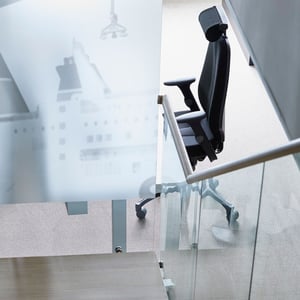 Stena Fastigheter is one of Sweden's leading private real estate companies. Through innovative new construction and renovation of the existing portfolio, they participate in shaping the future of housing in Sweden. Undergoing a complete design of their Headquarters in Gothenburg, Sweden, Stena Fastigheter enlisted the help of Independent Interior and Krook & Tjader Architects, who created the overall concept and planning of the redevelopment project.
The project involved a complete relocation from their previous property into a bigger property, to accommodate their growing needs and team of staff. Taking advantage of this complete change, they felt the need for a fresh design, and a new way of working, creating a more agile working workplace, with different environments for different tasks.
The new RH Lookbook - Download Now!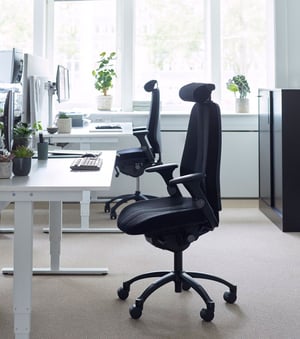 A previously good relationship and a good business offer for this relocation gave Ergona the opportunity to become the supplier for the project, who provided all their contract and procurement needs, as well as installing and fitting all furniture. Ergona has traded and coordinated interior design projects utilizing 30 different manufacturers from across Europe. For Ergona, the aim is to "never to limit the vision of the client and the architect." says Nicklas Åberg, consultant at Ergona.
Before Stena Fastigheter moved into their new location, the employees were asked to test a variety of different chairs. The RH Logic was a clear winner, chosen for its comfortable feeling, its quality and the many possibilities of instructions. For this project RH Logic chairs were installed into the workplace, used in all task seating areas.
Speaking about their relationship with RH, Ergona Interiors Specialist Marie Stark Järbur said; "Ergona has worked with RH and the RH Logic for more than 30 years and have had many really happy customers throughout those years. The RH Logic is an individual chair, which gives optimal comfort for the customer."
"The RH Logic chair is high quality and very flexible. It can easily adapt to all different kinds of customer needs, making it an easy to sell in to big projects."
More Articles
Benefits of ergonomics in the workplace - what does the research say?
Viacom MTV embrace workplace wellbeing with 'smart' office furniture
Brand new RH Lookbook Available online now!