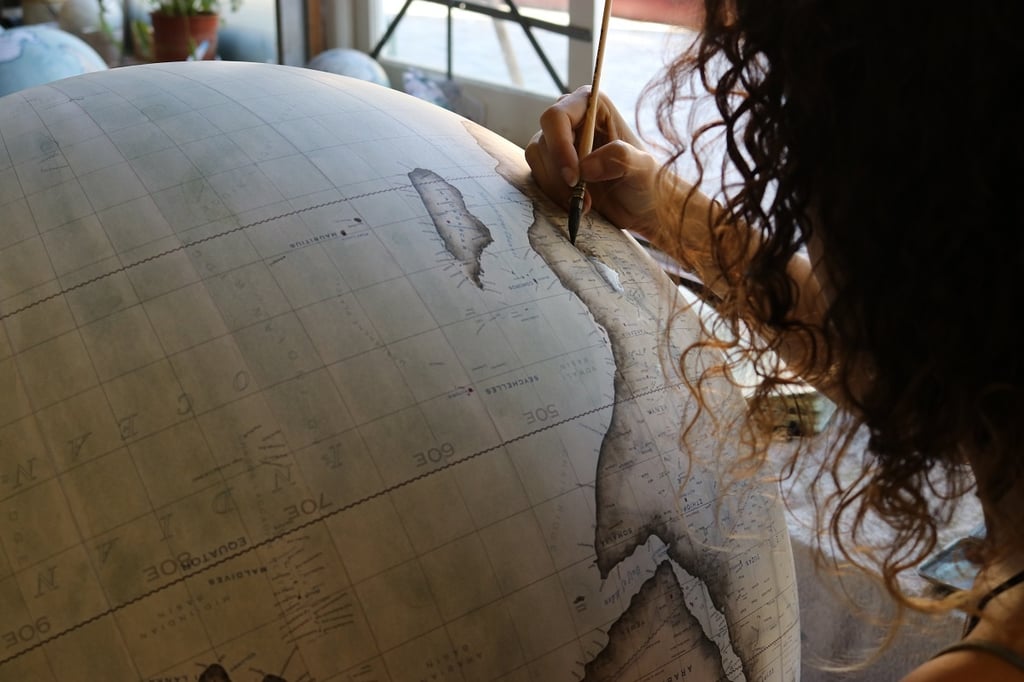 There is something deeply alluring about maps. Empowering, they provide a secret view of the world once solely the domain of birds. So when last year we got a call from the UK's (and probably the world's) premiere globe designers Bellerby & Co Globe Makers, we couldn't resist a visit to their workshop. What we found was a colourful world of exquisite cartography, a team of workers devoted to their art form, and stories of inspiration found in the most unlikely of places.
In a new series HÅG – A Life Less Ordinary, we take a journey celebrating the amazing ways people live, work, and express their extraordinary talents. Meet the globemakers.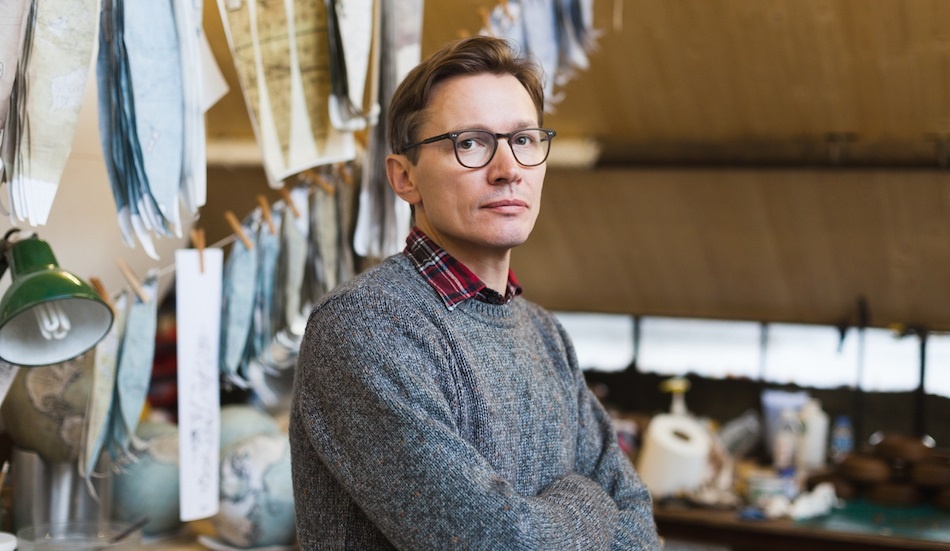 Peter Bellerby, Founder of Bellerby & Co Globes
"Craft is really having a resurgence at the moment." says Peter Bellerby, who founded Bellerby & Co a little over 10 years ago. "We choose to do things really painstakingly by hand and that's really appreciated by our customers."
It's a clear mid-May morning and we are sat in a sunlit workshop, located in the trendy Stoke Newington district of East London. It's a quiet environment, but clearly a busy one, with globes of all shapes and sizes in various stages of development taking up every available space. I'm sat with Peter, and we are discussing the birth of the company, which began with a search for the perfect present.
Peter: "It was very random really. I've bought my father rubbish birthday presents for the past 30 years or so and thought a globe would be a really good one for his 80th birthday. So I hunted around and went to auctions to try and find one but there was nothing available that was suitable. So I had a slightly mad idea to try and make one and having no experience, I gave myself 3 months to do the job. It took me 2 years."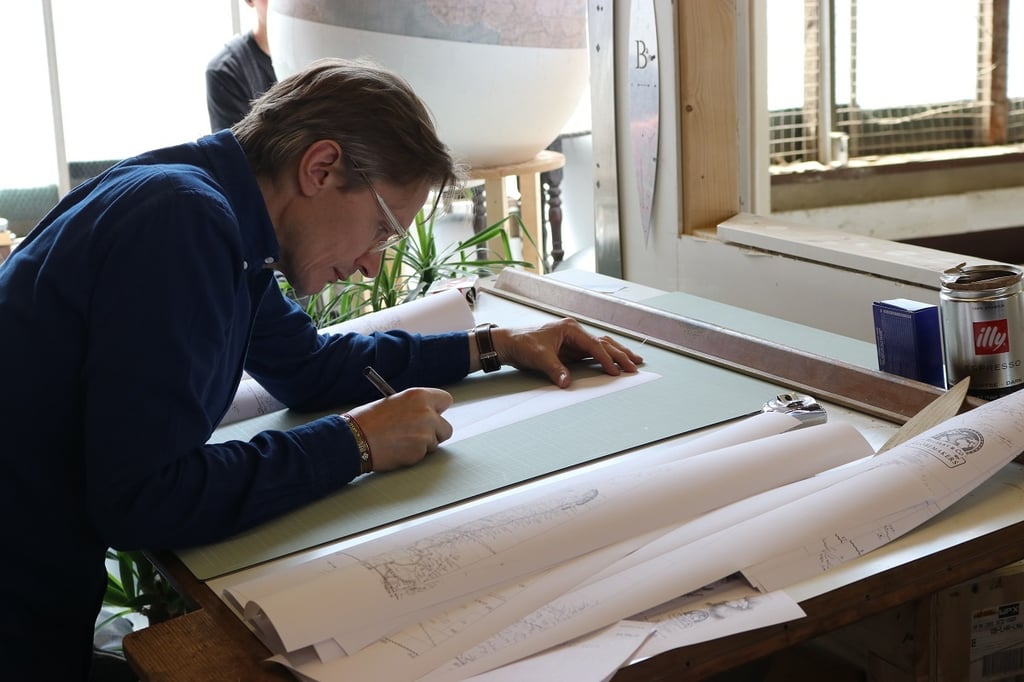 So for two years Peter experimented. With no professional background in art or manufacturing, he got his hands dirty, testing various papers, paints, techniques and methods. "There is literally no information out there to help you… I had to experiment and I didn't necessarily know what I was doing, which one was helping or which one was hindering. To be honest I had about 4 or 5 moments within that 2 years where something happened by sheer fluke. Without those happening I don't think I would be here today."
Fast forward 10 years, and the company Peter has since founded employs a dozen full time artists, who produce a vibrant array of handmade and bespoke globes. True craftsmen, the techniques they employ require expert skill, a steady hand and a lot of perseverance. "Everything we do here really is handmade, it's done by hand. There are other commercial globe makers that are using machinery, quick methods to make the globes, which is fine, but we choose to do things really painstakingly by hand."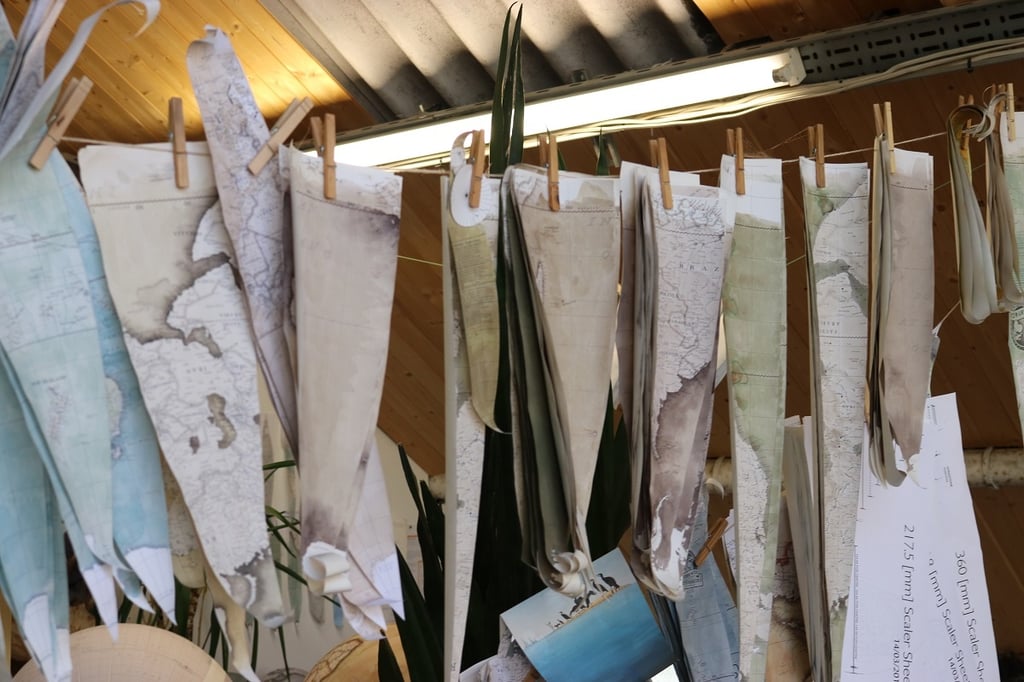 Various map segments awaiting to be applied to their globes.
The various stages of globe making each have their own difficulties, countered only through experience. From designing the maps, to cutting and applying the segments, painting and glossing, and then the woodwork to hold it in place; each element requires a unique skill. "We have globe makers who will cut the map into gauze. – the shapes that go onto the globe - They will lay the map onto the sphere, which itself is a process that takes about 6 months to learn."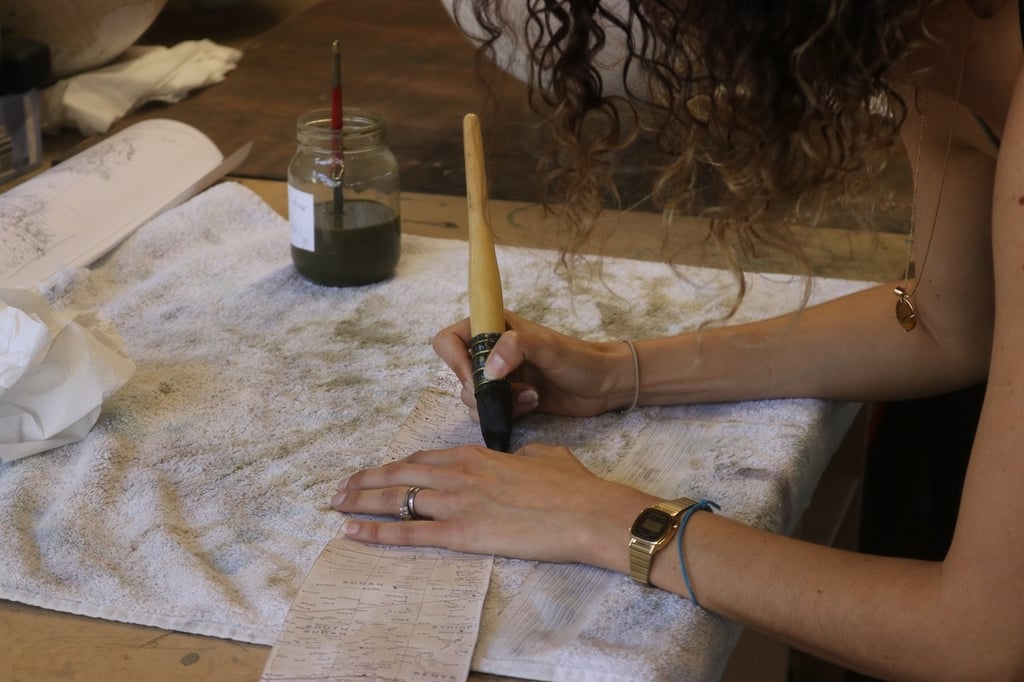 Before being applied to the globes, each map segment needs a base coat of waterpaint.
"We then have a team of painters who will highlight the continents and oceans which really brings the globe to life and then for certain things we have outside contractors. For instance the brass meridians are cast in a foundry and the engraving is done by a specialist engraver."
When asked about the hardest aspect of their work, Peter responds "The main challenge on an ongoing basis is actually having the patience and persistence to do the job. You will try and make a globe one day and it will go swimmingly well and the next one you make will go completely wrong… you have to have the strength of character to remember you actually know what you are doing, and keep at it."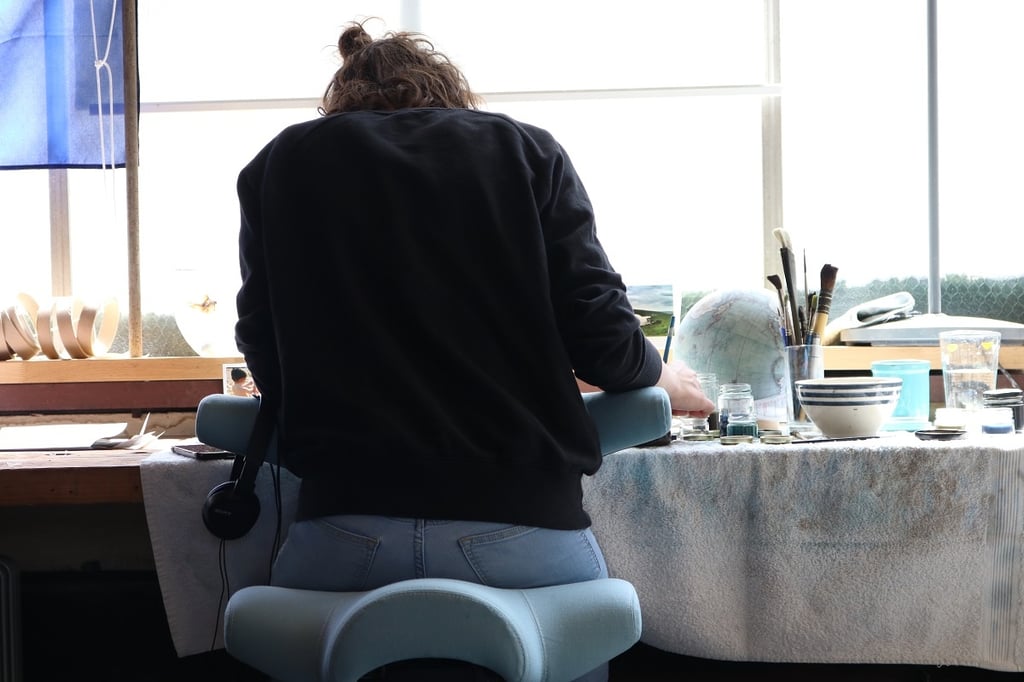 This hard work and patience has certainly paid off and his team's talents are in high demand, with various television and film productions, as well as more discreet clients, requesting pieces. One of their more high profile projects recently has been a large bespoke globe for Ascot Racecourse, one of the UK's most prestigious racecourses.
Reflecting on the project, Peter says "That was a complete one off bespoke globe. They actually created all the art work with about 30 different illustrations on there and the map was not the world that we know. It was amazing, it was all bespoke and every single element had to be individually commissioned, so yeah I was really pleased with that."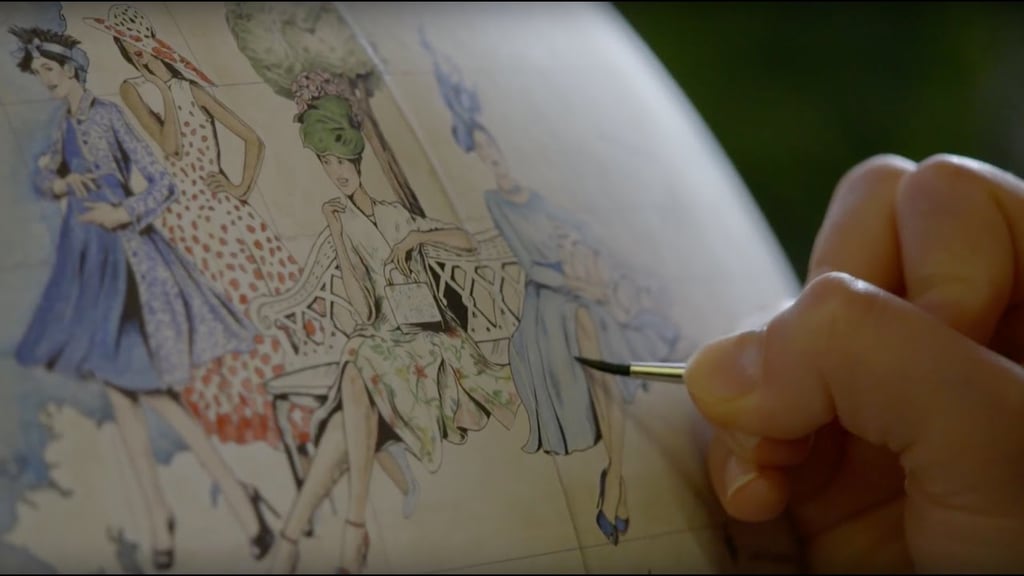 The bespoke Royal Ascot Globe (above and below) included 30 handpainted illustrations, depicting iconic elements of the world of horse racing.
As we discuss the techniques and day-to-day tasks of a globemaker, our conversation turns to how Bellerby & Co came to get in contact with HÅG. "One of my team actually introduced me to HÅG." says Peter. "The painters will essentially spend all day painting and they need something that can give them really good support, that is really comfortable."
That team member was Isis Linguanotto, graduate of the University of Arts, London, and Head Painter for Bellerby & Co. "A friend of mine told me about the HÅG Capisco, and he had heard it from his friend. I started looking on eBay, there aren't many around. It's like nobody wants to get rid of them! But I found one, from the 90's I think, and convinced Perter to buy it."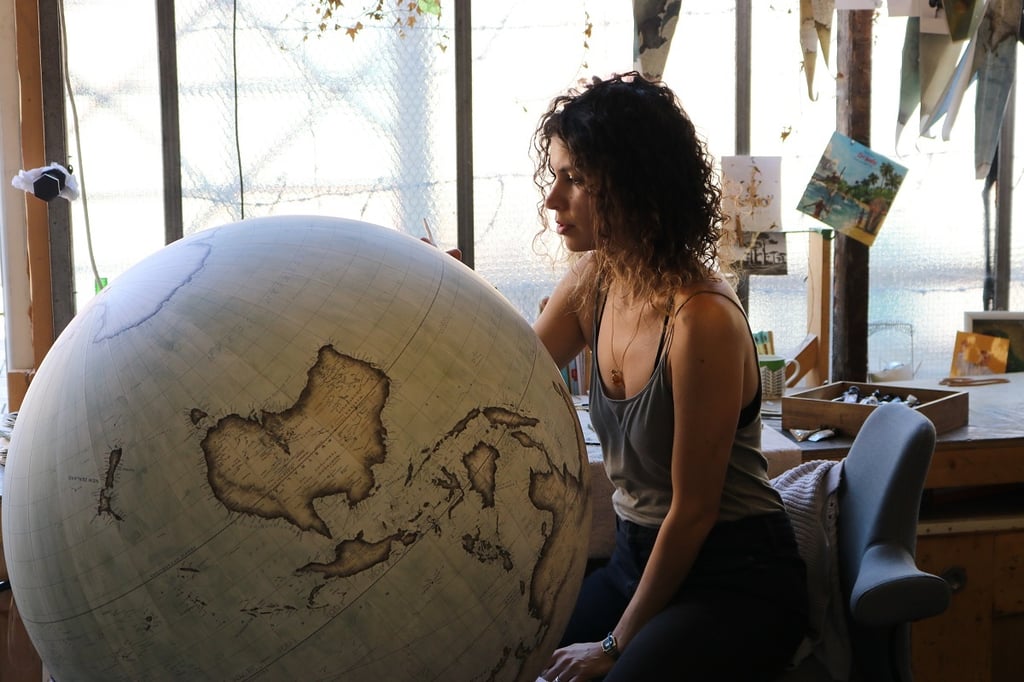 Isis Linguanotto is head painter at Bellerby & Co Globe Makers
"It turned out to be a revelation," says Peter, "The Capisco is really comfortable, and so we moved forward from there." A couple of months down the line and Bellerby & Co's have fully converted to the HÅG Capisco, with almost every worker using one.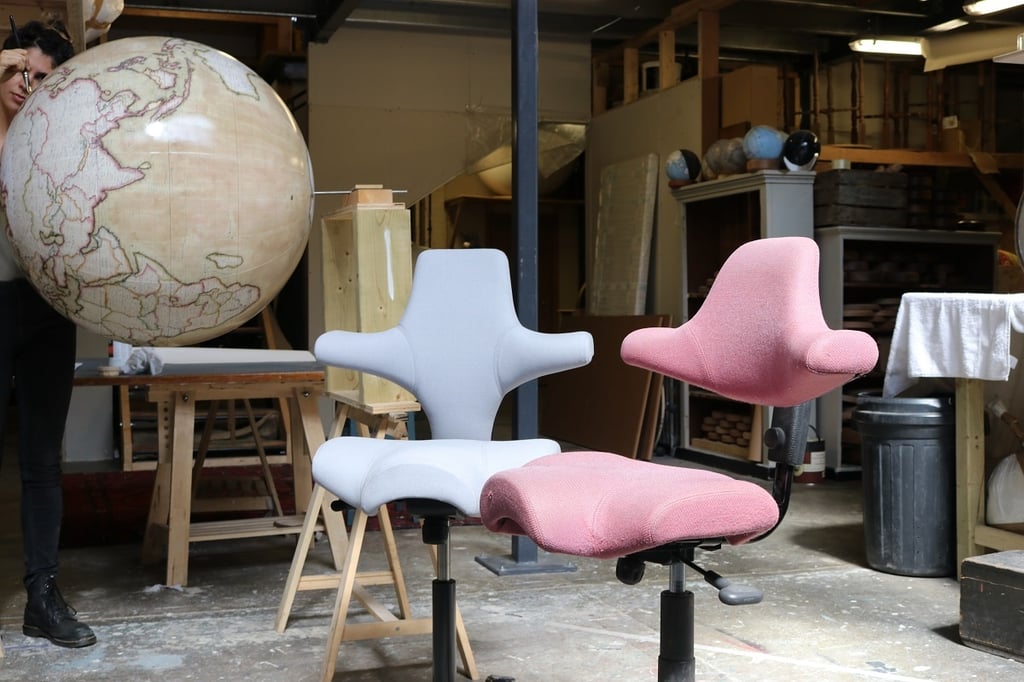 It all started with a chair - Bellerby & Co's eBay Purchase (right) alongside a brand new HÅG Capisco
Speaking to Isis, she explains how the HÅG Capisco has revolutionised the way she works "It's nice to move around so you are not sitting in the same position the whole day. When I had this vintage looking industrial wood stool I was painting in a really awkward position and only realised how painful it was later that night whereas with the Capisco, I can just wheel myself around the globe. My posture has become a lot better."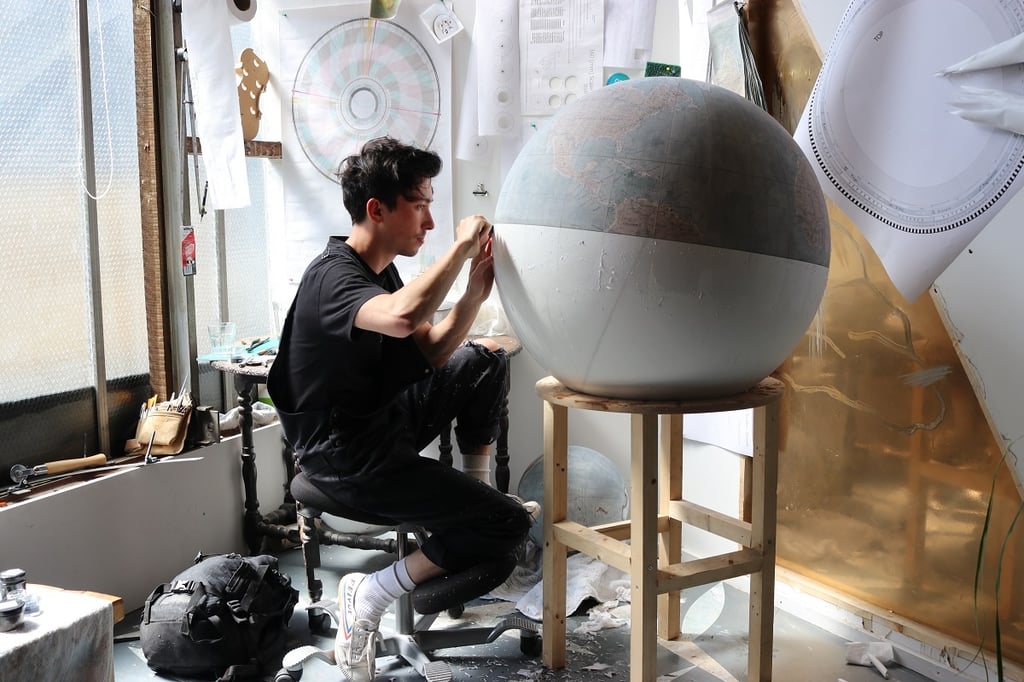 Head of Production Jon Wright uses another creation of Peter Opsviks, the HÅG Balance (no longer in production), when shaping the interior globe.
In Peter we see the same passion as the designers and manufacturers at HÅG. Individuals striving for perfection, paying attention to the finer details, and creating extraordinary things, something which Peter makes note of as we finish our conversation.
"The thing that I have learnt with setting up my own company is that we have had to really go to the best companies for anything that gets made for us. We have things made by Aston Martin technicians, we have things made by Formula One fabricators."
"Because we are sitting, sometimes 6 hours a day, we need to go to someone who takes pride in their product, who make incredibly good handmade products, and that, for me, is why HÅG is such a good company to work with."
Posted by
Richard Ferris on 15-May-2018 10:11:50