As we celebrate 75 years of HAG we take a look back at one of our most iconic designs, the HÅG Capisco.
The story of the HÅG Capisco is a story of philosophy. Of exploring our nature, and providing something better. It is a story of one man's vision which has helped to shape a brand ideology. And it is the story of a classic design which has outlived its contemporaries and continues to inspire to this very day.
"If we are allowed to move, we move"
Launched in 1984, The HÅG Capisco has received both national and international attention. Its unique design challenged the pre-existing concepts of seating, and offered a brand new experience. Developed by legendary Industrial Designer and jazz musician Peter Opsvik, the Capisco was the result of Opsvik's study of the human body, and his belief that "If we are allowed to move, we move".
Animation: Jan Konings, Script: Peter Opsvik
By the mid 1970's HÅG had begun to explore new and radical ideas about the way we sit. These notions revolved around the premise that humans are not designed to sit still. As a result, we strived to incorporate more movement as a natural way of sitting.
Over the years, ideas were developed in collaboration with designers, doctors and physiotherapists, to create something more in tune with the human body, but furniture which was still appealing to the eye. In 1979 we launched the HÅG Doc, the world's first commercially available "centre-tilt" chair, designed in collaboration with Danish doctor Aage Christian Mandal.
A critical success, it confirmed our beliefs, and over the next few years we continued to refine our thinking and pursue innovation. It was the collaboration with the now legendary designer Peter Opsvik that eventually created something that would take HÅG onto the international stage. The HÅG Capisco was born.
"The best posture is always the next one"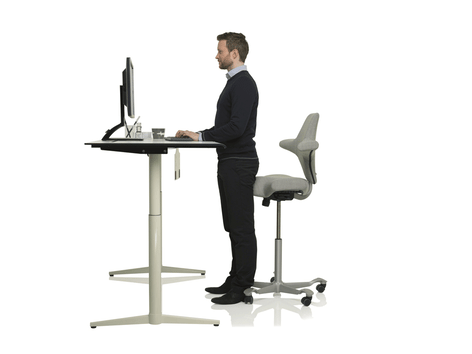 Inspired by the dynamic posture of a horse rider, the HÅG Capisco was innovative in more than just one way. Its unique aesthetic appeal lies in its sculptural saddle shaped seat and curvaceous back rest. However, it is the way that it encourages endless ways to sit is where Opsvik sees its true qualities lie, as he explained.
Over time the HÅG Capisco has become the embodiment of Opsvik's own mantra: "The best posture is always the next one."
Initially slow to take off, the Capisco steadily grew in popularity, and in 1988 received the Award for Design Excellent from the Norwegian Design Council, the first of 10 awards the Capisco has received, with the most recent received in 2017, the Design Classic Award at The Federation of Norwegian Industries Furniture + Interior Awards in Norway.
The man, the legend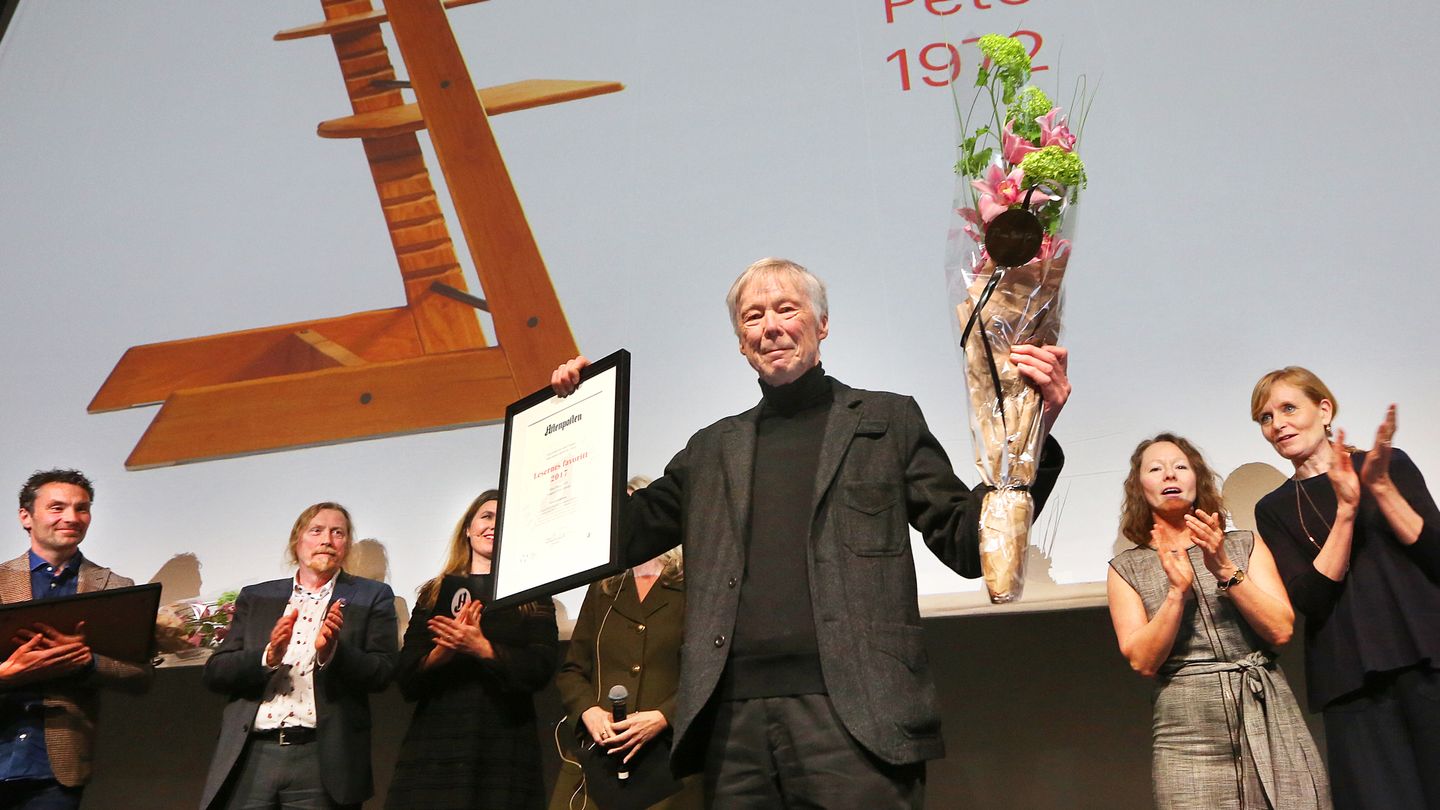 Peter Opsvik first made his mark in 1972 with the Tripp Trapp. Designed for furniture brand Stokke, the Tripp Trapp was a unique concept in that it grew with a child, from infancy to adulthood, featuring adjustable slats to incrementally accommodate for growth. Selling over 10 million copies, it has become a design classic. In 2017 The Tripp Trapp won Aftenposten's "Norwegian design of the century" competition. Photo credit: Rolf Øhman
Peter Opsvik's influence on furniture design is not limited to the HÅG Capisco - far from it. He has made it his life's work to free the human body through design and return us to a more movement based existence as found before the industrial era.
HÅG and Opsvik started working together by in the mid 1970's, and a close relationship has continued to this day. Opsvik's first collaboration with HÅG was the 1975 Calypso chair. The Opsvik designed HÅG Credo was also launched in 1984, further innovating on the centre-tilt concept first seen with the HÅG Doc.
The 2005 HÅG H05 chair was also heavily influenced by Opsvik's principles, with every detail of the chair encouraging movement and variation, empowering users to adjust it however they liked. A commercial success, it laid the foundations for future development.
HÅG Capisco – story of a design icon
Ever evolving
Since its launch in 1984, the HÅG Capisco has continued to be developed, with design improvements based both on user and customer feedback, as well as international rules and increased efforts in sustainability. In 2010 HÅG Capisco became the first office chair ever to obtain the Nordic Swan Ecolabel. At that time complex and heavy wood/steel constructions were replaced by low weight recycled plastics and aluminium. The backrest module had a reduction from 19 to 6 components, and all glue processes were removed enabling disassembly and thus easy recycling.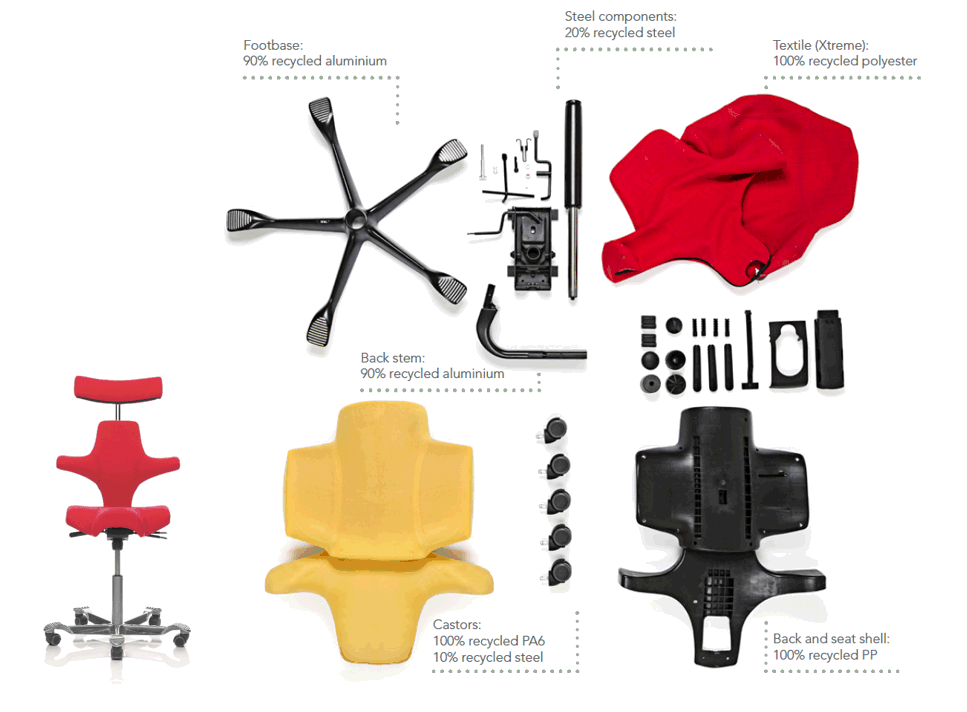 Today HÅG Capisco contains a total of 52% recycled materials (86% recycled plastics and 90% recycled aluminium), as well as an array of recycled or sustainable fabrics including renewable Norwegian wool, as part of a collaboration with Gudbrandsdalens Uldvarefabrik and Sandnes Garn.
Increasingly relevant
Today, the HÅG Capisco is a global design icon, easily our bestselling chair, and its popularity is still rising. Its unique design is perfectly suited to meet the increased awareness of the effects of sedentary behaviour, and the growth of both designers & consumers seeking alternative, unconventional features. Add that to the rising popularity of height adjustable desks, and the sit-stand trend, the chair is more relevant than ever. For some, the HÅG Capisco was truly ahead of its time.
The legacy of the HÅG Capisco also lives on in all of HÅG's chairs. "The best posture is always the next one" may be Peter Opsvik's mantra, but it is this philosophy that we try to instil into all of our products - Celebrating movement.
Read more articles
Røros: A cradle of craftmanship & creativity
https://blog.flokk.com/6-quick-tips-for-designing-a-home-office-that-works
3 features your office must have
https://blog.flokk.com/what-is-the-best-office-chair-for-back-pain