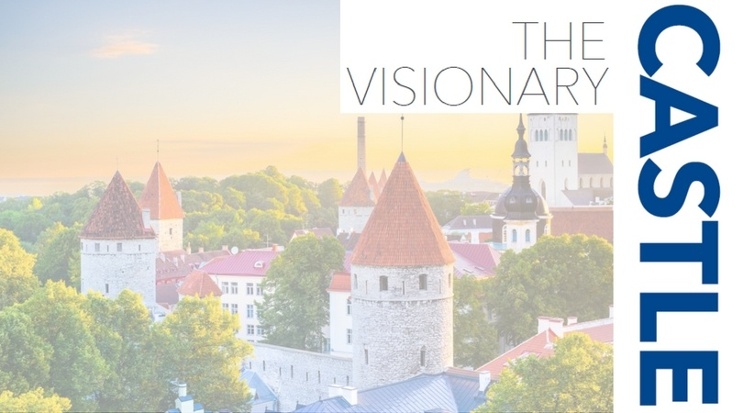 Kontorrama's new showroom is a truly majestic experience. They have transformed an old abandoned factory into a palace for modern interior. There is a new king in town.
8th September 2016, Oslo, Norway. The grand opening of Kontorrama's newly refurbished showroom in the old building that used to house Timms Reperbane, a company manufacturing rope. Businessman, art collector and owner of Timms Reperbane, Christian Ringnes, addresses the assembled party in loud and flowery terms.
CALL TO ACTION HERE
This building was far from a joy to behold. I had some good tenants who stayed the course, but it looked pretty awful. So, when I heard that the place was going to be showed to Kontorrama, I thought; this is never going to work out! Surely no one can be so visionary that they can delude themselves into thinking this horrendous monster of a building with its tacked-on windows and tarmacked floor can be turned into a castle!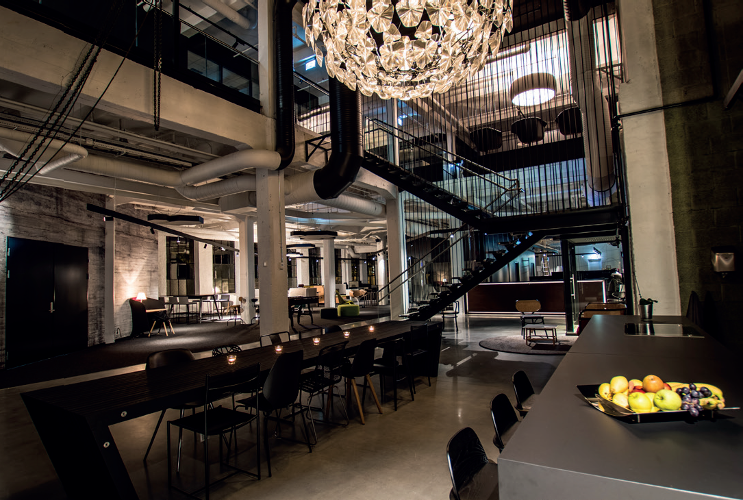 Kontorrama has transformed an old abandoned factory into a palace for modern interior.
LOVE AT FIRST SIGHT
However, a little 2000 m² kingdom it turned out to be. Because someone had the ability to look past the paint-flaking walls and tarmacked floor. They spotted the opportunity to transform the derelict building into – in the owner's own words – their own 'castle'.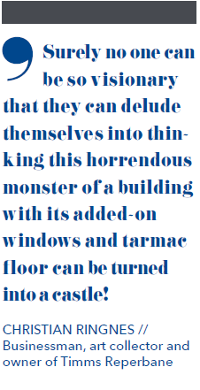 This place hit the right spot with us straight away. To transform it was obviously a very extensive job, but it was also very rewarding. Kontorrama's CEO Odd Bjørn Sæter for one, spotted the building's potential from the very first viewing. The sight that
met them could have been enough to scare anyone from wanting to spend as much as a single krone, but for Kontorrama it was love at first building site. And, after they moved in, their interest hit the roof.
The drive was pretty good beforehand, but this year it's exceeded all expectation. Barely 632 meters as the crow flies separate the old showroom from the new, but in terms of quality the new premises are lightyears ahead, enthuses Odd Bjørn.
A WORKED-THROUGH CONCEPT
The new premises appear open and spacious, with large windows and high ceilings, and a playful interior composition that follows the building's industrial feel from start to finish. Details which reveal a considerable room for creative input and ideas internally in Kontorrama.
The concept was thoroughly put together and well thought through, and all the employees contributed to shaping the premises, explains Odd Bjørn, adding that he has never seen a similar showroom anywhere. So far.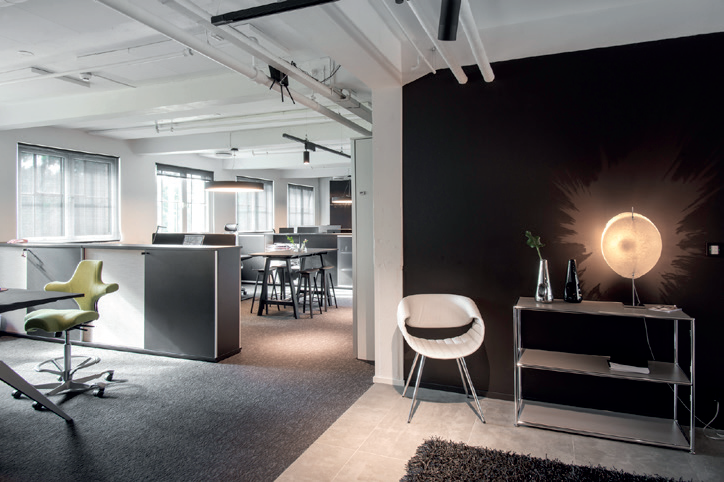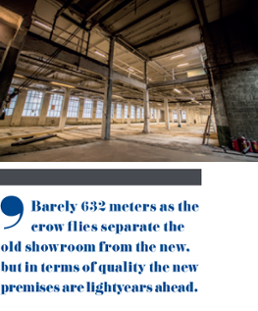 Kontorrama drew a lot of inspiration from the history of the building. Amongst other things, all the rooms have names based on its previous incarnation as a rope factory. They also preserved many of the old, rough details in the new design, creating a contrast to the modern interior.
The size is considerable too. As much as 2000 m² is dedicated to a combination of showroom, warehouse and administration. And on the day of the opening, Kontorrama's different-thinking staff would not settle for the traditional ceremony of cutting a red ribbon.


Oh no, we gave the landlord a newly sharpened axe and let him chop through a rope, much to the amusement of the audience, Odd Bjørn says.
KONTORRAMA LIKE TO THINK DIFFERENTLY
Hence they have a bespoke poem displayed on the wall to the joy of both staff and visitors, naturally inspired by the building's former inhabitant Timms Reperbane.
Here's one of the verses:
A hawser of ropes over ropes
we shall twirl
into a primal force that holds
when the storms hit
Our strength from wires and
ropes will hold
and tie us together where
the ropes are set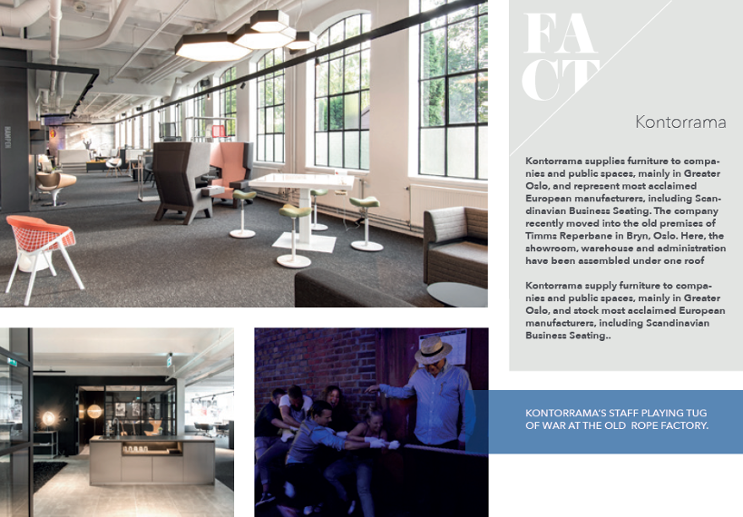 ---
This article was originally published in the Winter 2017 edition of Share Magazine. If you would like to read more articles like this, follow the link below to download your copy of the magazine today!
CALL TO ACTION HERE
Posted by
Stacey Turner on 08-Mar-2017 13:56:00