The modern trend for high performance office design is based increasingly on the Activity Based Workplace (ABW), a design concept that offers an array of work environments, suited to the specific needs of employees, tailor-made for the organisation.
What are the driving forces behind this new way of working, and what are the benefits?
Work in transition
The way people work is constantly in transition, with technology, political and social issues often driving changes. These developments have generally been gradual, but in today's fast moving world, change is coming at an increased rate.
Only in the last 20 years, we have seen:
A more mobile workforce, able to work from literally anywhere in the world
A reduction in the reliance of infrastructure
Ai and automation removing repetitive tasks
The "internet of things" infusing technology with the very fabric of our environments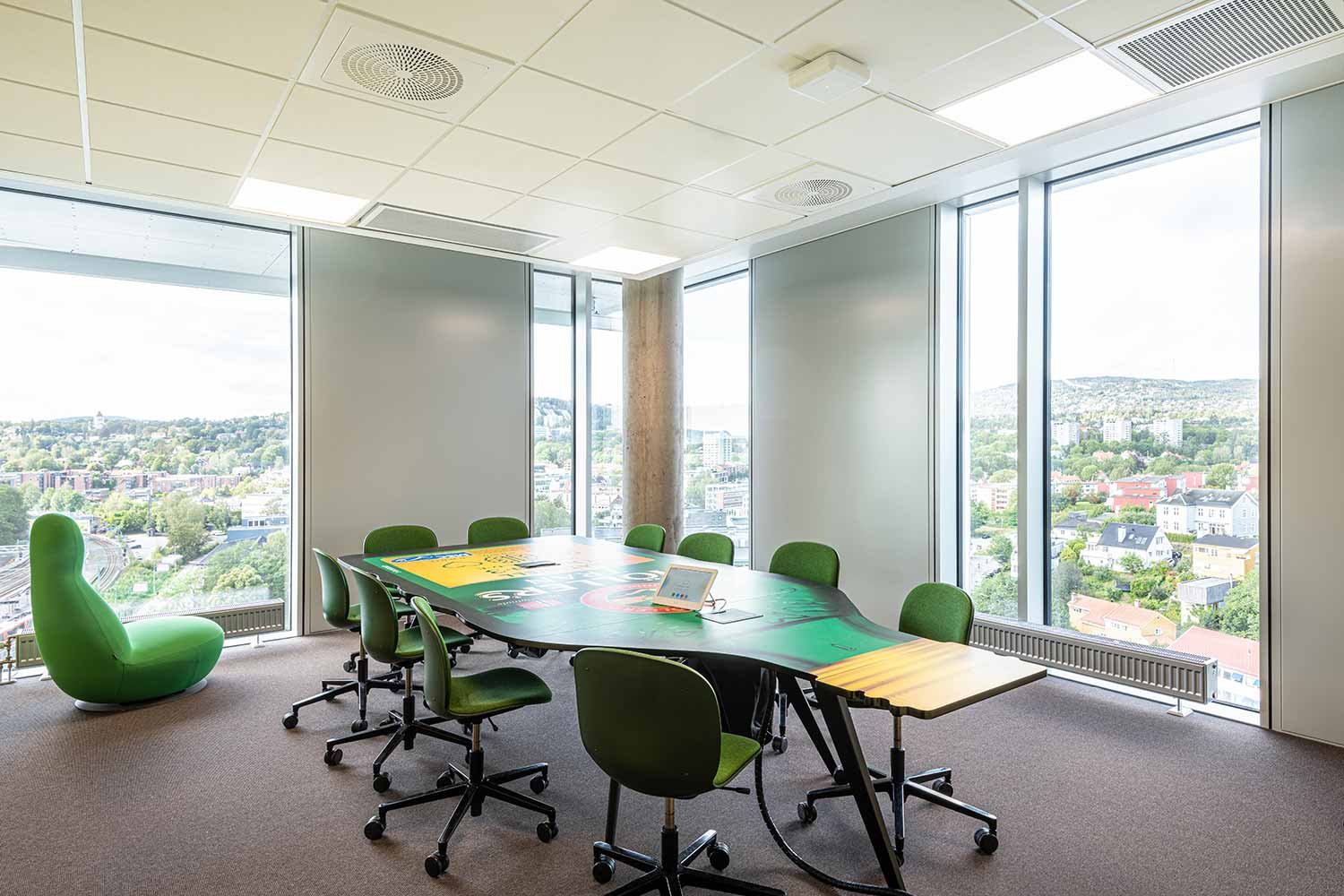 Orkla's new HQ in Oslo features a wide variety of working environments, including this open meeting room for one of its food brands. Featured: RBM Noor chairs.
Despite this shift, the workplace itself has not really changed much at all over the last 60 years. Most workers a provided with a single desk, designed for 9 to 5 individual task-focused work, with a meeting room or two for specific occasions. However, in large, modern offices, research has shown that:
Occupancy is generally only 40% at static workstations
Only 1/3 of all work is individual "production" work
However, people aren't necessarily aware of this.
A study in Norway found that the average worker assumed they spent 65% of their day working at their desk, but the reality was as low as 36%. People's working habits are taking them away from their desks and encouraging them to collaborate more often. But when a workplace isn't designed to cope with this, it becomes inefficient, uninviting and unproductive.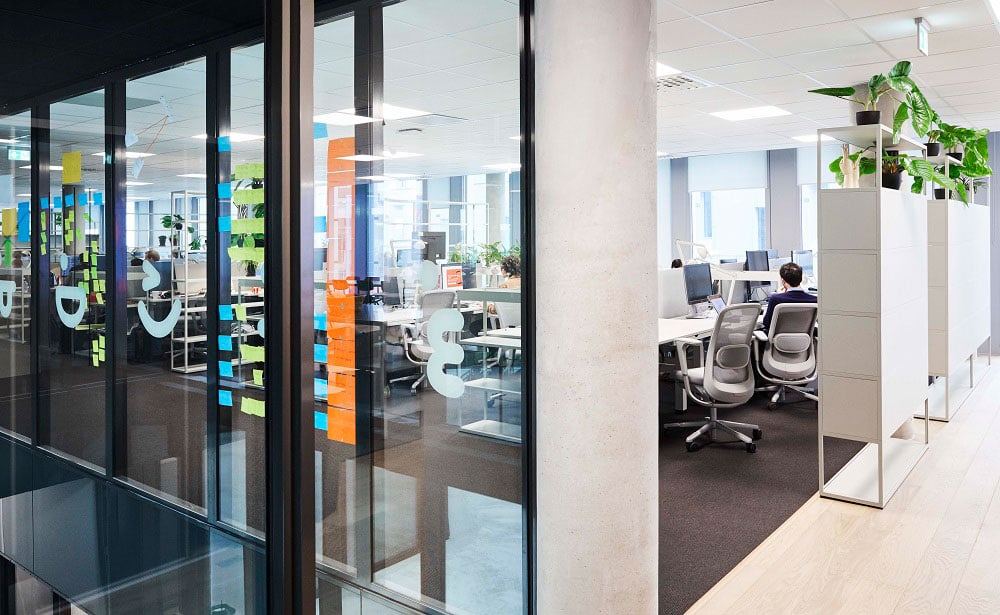 Online payment firm Vipps used ABW to create a workspace that promoted integration, communication and collaboration, featuring an array of exciting zones for staff members. Featured: HÅG SoFi
The Benefits
Activity Based Workplace Concept
Activity Based Workplaces aims to make the best use of an environment. they rely on the assumption that no employee 'owns' any particular workspace, rather that the entire workplace is a rich variety of predetermined activity areas, specific for different tasks including focusing, collaborating, learning or socialising.
Major benefits for Activity Based Working are seen to be:
Reduced running costs
Improved collaboration across teams and departments
Greater flexibility
Increased sustainability
Increase in staff performance and productivity
Support for cultural change
When it comes to the employees, there are even more benefits. These include:
More choice in where to work from
Greater variety in work settings
A less sedentary healthier workstyle
Increased contact with colleagues
Decrease in hierarchical differences
Lesser but better workplaces
Activity Based Working is often confused with simple flexible office design or hot desking solutions. Hot desking or 'free seating' is great when not everyone has to be in the office at the same time, but is distinctly different to ABW, which is a way of working in which employees make shared use of a diversity of work settings that have been designed to support different kinds of activities.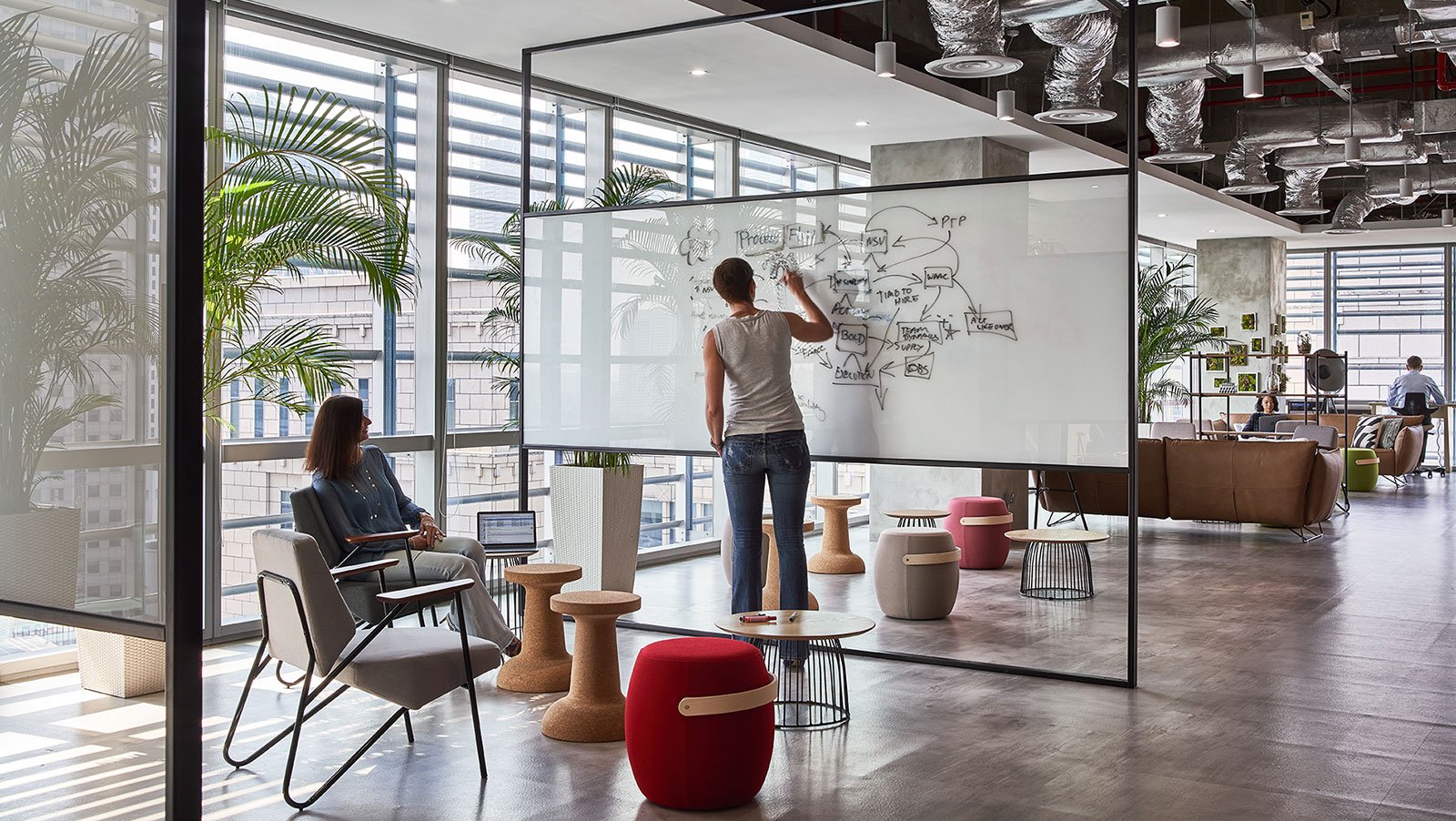 Diageo's Asia Pacific offices included a wealth of collaboration areas, including this casual meeting space for brainstorming ideas. Featured: Offecct Carry On stools
The Limitations
What ABW is not is a prescribed set formula, where one size fits all. A successful implementation requires detailed understanding of how a company works and what staff need to get things done. Norwegian firm Orkla held a pilot scheme over two years before opening their activity-based workplace, allowing architects to build the right environment from the early stages.
It also requires a commitment from both employer and employees to not fall back into old habits. Without proper adjustment, unfamiliar spaces can become neglected, with workers camping out at desks, returning to their 'default' position.
This behaviour is understandable. People don't like change. One study found that 76% of people, would prefer their workplace to stay the same. However, once implemented a similar study found that people did not want to change back – its' all about taking that leap.
Leesman Index Founder Tim Oldman explains how every workplace is different, with different needs, and different workplace solutions.
The Take Away
Adopting Activity Based Working requires a systematic implementation process - research, planning, execution and training. It will almost definitely be a unique formula for your organisation, but when done right, the benefits can be felt right across an organisation, from improved health and productivity, to a reduction in environmental effects and organisational running costs.
More Articles
How big data can inform workplace design - with the Leesman Index
6 steps to a healthy working environment
How to choose environmentally friendly furniture
Creating the 'anti-office' with Vipps & Radius Design
Posted by
Richard Ferris on 01-Feb-2020 09:35:00