A key part of the workspace design process is to define an understanding of the work being carried out by staff. Many workplaces involve sedentary postures, although postural variation and range are the important factors. In order to design a 'fit for purpose' workplace, you need to carefully review user's tasks and activities as part of a work study and then develop a design that closely supports this.
OBSERVE AND IMPROVE
A key part of any workplace study is to carry out on-site observations and semi-structured interviews with users, to gather the data to help define the requirements. Often project teams are unaware of how many of the subtleties in different work routines, need to be supported by careful workplace design. There are many decisive factors to consider, e.g. teamwork, privacy, concentration and important human factors in relation to noise, lighting, temperature, room layout and space allocation etc.
So as we start to unpick the arguments for studying the work before designing the workspace, we begin to realize that just selecting a furniture range and space planning it into position is risky, because it is highly likely that the arrangements won't be fit for purpose and will actually work against staff performance. Users also need to be carefully involved in the process and help to select options for the workplace. This is often felt to be too hard, although there are several good techniques that can be used to reduce the stress of involving staff in these decisions. There is a word for this approach to workplace design and it is called ergonomics.
REDUCING RISKS
So by now you should be starting to understand that the way users work can really help define a workplace that supports comfort and performance. One of the key elements of any good workplace is seating. The most efficient way to reduce the risks associated with sedentary postures, is training users to understand how to keep changing their sitting position and make better use of their seating. The RH400 is a great example of a performance seat, although the investment is only the starting point for a journey of staff engagement and learning. Running effective user centred workshops can help improve the selection and usage of seating, and this philosophy should be expanded to the complete workplace.
Once a suitable seat has been selected, it is very important to define a suitable desk. The desk is another factor in supporting a good working posture that will have a positive impact on comfort and performance. The desk must provide a good fit with the seat, allow for a comfortable arrangement of equipment that supports appropriate viewing distances and reach envelopes. This is especially true for staff with multiple displays that also need to use other items like files and folders. You can then look at room layout, space, lighting specification and acoustics to improve other elements of the working environment.
THE EVIDENCE
There have been several successful projects run with UK emergency services, where this type of workspace project has delivered excellent results with an increase in staff satisfaction and reduction in sickness. These dimensions are hard to measure because there are many contributory factors that affect satisfaction, e.g. work load, poor software, a change to business process and all are interrelated. There are certain qualitative techniques that can be deployed to define satisfaction, before and after a workplace redesign, offering clients some insight into how effective the new arrangements are.
"The most efficient way to reduce the risks associated with sedentary postures, is training users to understand how to keep changing their sitting position and make better use of their seating."
In a workplace study undertaken for an ambulance trust, it became apparent that the current 'ergonomic' seating was not very suitable. The seats did have a great range of adjustment and were actually sold as 24-hour ergonomic chairs, but on closer scrutiny the lumbar support was ineffective and there were hard edges on the seat and backrest that caused real discomfort problems. There were also other issues in relation to poor shoulder and neck support and once the workplace study was complete, it became obvious that a different style of chair was needed to provide a better fit with the work routines of users.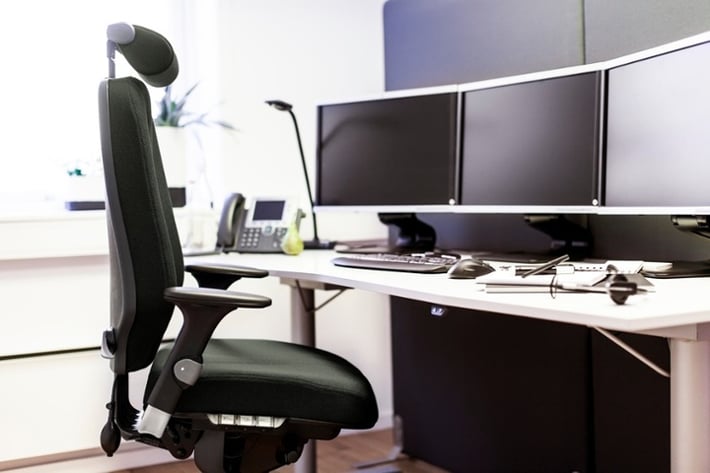 The RH Logic 400 is available in several specifications, including for 24/7 environments
There were also problems with noise, and the workplace study identified this was related to a poor room layout. The Trust invested in the RH Logic 400 unit and many users reported an immediate improvement in their comfort. Other users initially mentioned muscular pain in their backs, but later realized this was probably because the new seat was making them sit correctly and their body just needed time to get used to this. A new room layout was implemented and this reduced problem noise and overall staff satisfaction with the workspace increased. The trust was able to attribute these changes to a reduction in staff sickness in the following months of occupation.
INVESTING IN PEOPLE
There are many contributing factors to good workplace design, and a holistic approach is really needed if the new space is going to support users with their comfort and performance. Classic problems come from inappropriate seating, poor room layouts, difficult visual environments, noise and air handling specifications that just cause problems.
One important factor is to ensure good user engagement to define and target issues at the beginning of a project and then these can be dealt with. It is really important to ensure that your new workplace is suitable, because staff comfort and performance are now well known factors in relation to enabling an efficient and effective workforce.
This article was originally published in the Winter 2017 edition of Share Magazine.